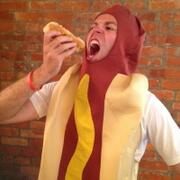 Jim Kukral Interview

Jim Kukral joins me on this show and we talk about his new book he is about to release, the event for aspiring authors he is putting on, and what it means to him to live a good life and one that we all want and deserve. Great advice, tips, and inspiration from Jim. Check all of his great work out at www.jimkukral.com

Ruth Milligan tedX Columbus Interview

This episode Ruth Milligan joins the show to talk about how she has built and curated tedX Columbus from the ground up! Plus great advice for anyone interested in improving their presentation and speaking skills. Visit www.tedxcolumbus.com for more info on tedX and www.ArticulationInc.com for Ruth's speech coaching!

Allan Karl Interview

Allan Karl is the guest on this podcast and he is the author of the amazing book "FORKS: A Quest for Culture, Cuisine, and Connection." He has been featured on Good Morning America, Forbes.com, and Newsweek for his journey on one motorcycle, spanning three years, and visiting 35 countries! The book is now available on Amazon or by heading to his website at www.forksthebook.com. Allan is a great guy and his book is part travel, part relationships, and part cooking and I loved reading it. You'll love hearing about his journey on this podcast!

AmySchmittauer SavvySexySocial Interview

Amy Schmittauer joins me on this podcast and we hit on tons of advice and tips for you in our conversation! From how you need to charge more in your business, to building a personal brand, to the 2014 Ohio Growth Summit with Chris Brogan! (Sign up with her code AMY20 at www.ohiogrowthsummit.com for 20% Off the event!) Amy can be found at www.savvysexysocial.com!

Junior D Sports Interview

Tom and Chee Interview

Formula o2 Interview

Bummers Podcast

Spark Space Interview

T-Bone 97.1 The Fan Interview

In this month's chronicles I sit down with Jonathan T-Bone Smith, co host of the Afternoon Drive Sports Talk Show Common Man and Company, of Sports Radio 97.1 The Fan in Columbus Ohio. The Flagship Station for the Ohio State Buckeyes. You can follow T-Bone at http://twitter.com/tbone971

Recovered

A Iannarino The Sales Blog Interview

Join me with a catalyst...an instigator...and an agitator this month! Anthony Iannarino joins the chronicles to discuss sales, value, the future of business, being a rockstar, and a hopeful trip to Italy! He can be found at www.thesalesblog.com

Mikey's Late Night Slice Interview

Volume 12 brings a thought provoking, tasty, and hilarious conversation with Mike Sorboro. He is owner and founder of Mikey's Late Night Slice Pizza in Columbus, voted best Food Truck in Columbus multiple years running! They can be found at www.latenightslice.com to see all of their locations!

Buckeye Nation Movie Director Interview

In Volume 11 I sit down with filmmaker Mike Newman about his upcoming documentary. NUTS is a feature documentary about Buckeye Nation, featuring the stories of the most passionate fans he could find and how they build a community. Visit www.buckeyenationmovie.com for Mike's full story!

Don The Idea Guy Interview

Possessing creative powers beyond those of mere mortals Don the Idea Guy joins me for a powerful talk on personal brands and hot dog stands! He can be found at www.dontheideaguy.com

The Unique Bird Interview

Volume 9 is here! This month we sit down with Sarah Canitano...childhood garage sale junkie turned into worldwide fashion designer...Sarah's journey has come full circle and she can now be found at www.theuniquebird.com and at www.twitter.com/garagesalegirly

Jekyll and Hyde Salon Interview

Volume 8 brings us a sit down with the owner of the Jekyll and Hyde Hair Salon, Angie Hatzifotinos. She gives us an inside look on the building and creation of her own business, the process and thinking behind it, and the ART she is creating each and every day. The best hair salon in Columbus Ohio can be found at www.jekyllandhydesalon.com

Michael Bowers OGS '13 Interview

Michael Bowers, founder of the Ohio Growth Summit, joins me to discuss their great event. It's a must for any small business owner in Central Ohio and you can sign up each year by visiting www.ohiogrowthsummit.com today!

Zach Bellas Music Interview

Zach Bellas's newly released solo album Whatever You Want is now available on I Tunes, join Zach and I as we discuss the future of music, life on the road, and the ability to make something he loves each and every day! Check him out at www.zachbellasmusic.com and at www.facebook.com/zachbellasmusic

Lisa Cisco Buckeye Cruise for Cancer

This month I chat with founder of the Buckeye Cruise for Cancer Lisa Cisco. Lisa's Buckeye Cruise has raised millions of dollars and transformed and saved hundreds of lives through their work to rid this world of cancer. They can be found at www.buckeyecruise.com and you can sign up for the cruise on their site!

Jim Lorimer Arnold Festival Interview

Interview with Jim Lorimer, the co founder and President of the Arnold Sports Festival. The largest multi-sport festival in the world! www.arnoldsportsfestival.com for more info!

Promowest Productions Interview

Interview with Scott Steinecker, CEO and Founder of Promowest Productions, a 30 plus year business that has put on over 5,500 concerts! More Info: www.promowestlive.com

Formula AM Interview

Dave Colina, founder of Formula AM joins me for the debut show! Dave and I chat about the lessons learned and formulated in the process of launching a business! Stay tuned for the reformulation launch in January of 2014!