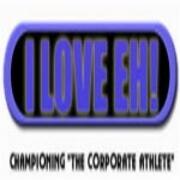 Determine Your Metabolic Type ILEH #20

Helping you determine your optimal macronutrient ratio (fats:protein:carbohydrates) with 14 Metabolic Typing questions. Answer the way you feel; not the way you think you should eat!

The Sleep Friendly Diet - ILEH #19

Sleep has an effect on how and what we eat but does what we eat (or how we eat) have an effect on our sleep? YES! Listen in as Executive Health Coaches Noel Lyons & Stephen Duncan explore how what and when we eat affects how well we sleep (and then eat the next day!)

ILEH #18: What's Your Pace - Alex Davids

Introducing the Brain - Body - Beliefs Inside 80 Performance Model! What's Your Pace? With CEO Alex Davids

ILEH #17: The Wheel of Wellness Model

Imagine how *awesome* it would be to always reach your goal(s)! How would you like to know how to achieve motivation that lasts & how to achieve results across all the important areas of your life? eg Total Wellness. The WOW gives you a useful snapshot of where you are (A) so you can get to where you want to go (B). When you have a confidence in your ability to reach a goal *and* the obstacles that will inevitably rise up, you are *far* more likely to do what it takes to reach your objectives!

ILEH #17: The Wheel Of Wellness Model

ILEH #16: Benefits of Interval Trg - 2

Why we need a range of workouts today to improve how we function and to maximise our bodies, times and energy levels!

#15 ILEH: Benefits of Interval Training

Who else wants: ENHANCED muscular strength, greater endurance, increased flexibility/agility, a higher anaerobic capacity, less body fat, improved athletic speed and performance, ability to achieve your fitness goals much faster, more energy, firmer skin and reduced wrinkles? Here's what you need to know about cardio interval training workouts ..

#14 ILEH - The Omni Diet (Review)

Do you know which foods are scientifically proven to: • Increase energy, youthfulness and feelings of well-being • Enable fast weight loss • Decrease systemic inflammation • Optimize brain function • Offer high-quality, nutrient-dense calories that satiate • Provide maximum quantities and diversity of nutrients • Decrease feelings of hunger and deprivation • Break the chain of food addictions by balancing hormones Then listen in to learn more about the revolutionary Omni Diet!

ILEH #13: Stress Free, Healthy Holidays!

EPISODE #13: I Love Executive Health - "Stress Free, Regenerative, Active Healthy Holidays!" In this session, we discuss how to get the most out of your annual Summer holiday! 1) Rest = Better Balance To restore productivity/perspective/creativity, clarity and decision making abilities; we need to create breaks. Stress ages us; causes body aches and pains plus adds fat to our belly area. 2) Practice Patience There are always uncontrollable issues with travel. You're leaving the grind behind, so try to embrace it rather than resist the "surprises" 3) Try Something Different Do things that promote relaxation that you might not normally do at home such as a leisurely walks in the morning or eve...

ILEH #12: The 8 Pillars of Success!

EPISODE #12: "Napoleon Hill: The 8 Pillars of Success!" In this session, we discuss Napoleaon's Hill's 8 success pillars as they relate to high performance living. "Most of us have two lives. The life we live and the unlived life within us." Stephen Pressfield 1 Definiteness of Purpose Your beliefs become your story. Your story becomes your expectation. Your expectations shape your life. So make the decision to get out of your comfort zone! 2 Desire 3 Self-Reliance When you react, you handover control of your mind. When you respond, you retain control of your mind. 4 Definiteness of Plans A Roadmap! 5 Accurate Knowledge (Course correction) 6 Co-Operation Who's in your corner? 7 Willpower (Ma...

ILEH #11: Fix Your Cholesterol Problem!

EPISODE #11: "Fix Your Cholesterol Problem!" In this session, we discuss whether Cholesterol is good or bad. Facts About Cholesterol: 5% of the dry weight of your brain is made of cholesterol. Your nerves are made of cholesterol. Most cholesterol in the body doesn't come from foods. It is made by the body itself. Your body uses cholesterol to make your hormones and Vitamin D. Every cell in your body is surrounded by a membrane containing cholesterol, without which, no cell in your body could function. Without cholesterol to help your digestion, you couldn't absorb the fat soluble vitamins like vitamin A and vitamin E. When following a low cholesterol diet, your liver makes up the difference ...

ILEH #10: Britain's Healthiest Company!

EPISODE #10: "Britain's Healthiest Company 2013!" In this session, we discuss the recent report into Britain's healthiest company in 2013: Measuring the impact of Healthy Living on productivity in the workplace Tracking Corporate Performance with the Vitality Age Index from PruHealth What an ageing working population means in terms of individual & business wellbeing The two key factors behind a successful program: Corporate culture & employee engagement 10 simple steps towards a healthier workforce (what's working) Britain's Healthiest Company – who are the winners in 2013?!

ILEH #9: Five Must-Do Exercises!

EPISODE #9: "Five Must-Do Exercises For The Corporate Athlete!" In this session, we discuss why all exercises are not always equal: Differentiating between exercises and movements Mindful movements versus mindless exercise! The two ways to build muscle (eg become more lean) How to avoid anterior knee pain when squatting 5 must-do exercises and why they are so important!

ILEH #8: Peak Performance EVERY Time!

EPISODE #8: "Hitting Peak Performance EVERY time!" In this session, we discuss how to get the most from your training efforts on Race Day: Why Periodisation matters when planning your races How to prepare the week before your race What to consider the day before your race How to prepare on raceday; organising your pre-race routine How to beat your PB (personal best) for 5km, 10km, half-marathon!

ILEH #7: Clean Up Your Body; Lose Weight

EPISODE #7: "How To Clean Up Your Body & Lose Weight Through Detoxification" What detoxification really means What are toxins and where do toxins come from? The 5 organs of detoxification What are the signs you need to detoxify? Some detox solutions for you to try (and not to try!) The problem with low calorie / low fat diets

ILEH #6: Superfoods 4 Energy & Vitality!

EPISODE #6: "Superfoods to Ramp Up Your Energy & Vitality Levels" What is a Superfood?! Why are they so popular? Which Plant Foods best alkalise and detoxify the body? Why are Raw Foods and Greek Yoghurt so popular? What roles do Essential Fatty Acids play? Which Herbs and Spices are recommended?

ILEH #5: Is Eating Meat Good Or Bad?

"Is Eating Meat Good Or Bad For Your Health?!" Why do we eat anyway?! What factors influence our nutritional habits? What nutrients can be found only in animal foods? What are the issues or concerns around eating animal foods? How can you get around some of these concerns or issues – eg still eat healthy? How to balance personal needs with personal choice when eating meats!

ILEH #4: Manage Your Sleep Problem!

"How To Manage Your Sleep Problem!" Do you often feel tired but wired?! Do you feel refreshed when waking up or do you remain tired throughout the day? Are you anxious, depressed or easily irritable during the day? Is this as a result of or is it causing your lack of sleep? Do you struggle through simple day to day tasks? Do you worry about falling asleep? Sleep is vitally important to your physical, emotional and mental wellbeing! You can't ignore it for long! Listen in as we discuss the effects sleep deprivation has on your body (and mind) Learn about the 5 hormones primarily affected by sleep disturbances Discover the 9 secrets to getting a better quality of sleep each night Find out the ...

ILEH #3: Becoming Bulletproof!

"Becoming Bulletproof in the Workplace!" Are you trying to dodge too many bullets?! Is your normal nimble thought process on a go-slow? Has the usual flow of ideas abandoned you? Do you keep covering the same ground, unable to complete things? Is your good judgment about things off a little off lately? Are things you usually find easy becoming a burden? Listen in as we discuss instant & practical solutions to Stress Learn the 3 things you need to know to master Stress Discover the secret to maximising your personal performance levels each and every day in the office Find out what resilience really means and how you can become more resilient Brainwave Optimization doesn't require willpower. I...

ILEH #2: The Truth About Coffee & Tea

"The Truth About Coffee & Tea Consumption" 1.30 The biggest workout mistake you can make! 3.00 Do you know where the majority of adults get their antioxidants? 5.02 Some of the health benefits of coffee 6.15 Why healthy gut bacteria is so important to nutrient intake 6.45 Differentiating between coffee itself & how our bodies respond to it 9.05 Instant coffee versus filtered coffee 10.35 Other important nuances that influence research into the health benefits of coffee (and media coverage!) 12.50 The downside of excess coffee drinking 13.36 The key cons behind coffee drinking (beware!) 15.02 How you brew the coffee itself can make all the difference 16.05 Can you guess how many reserach stud...

ILEH #1: Why Executive Health Matters!

EPISODE #1 Why Executive Health Matters! 1.00 What is Health? What makes up Robust Health? Why this matters to a Busy Executive 2.19 Three neglected essential components of Optimal Health 4.45 What to avoid before working out 7.15 What makes YOU tick? 7.46 Do this – before anything else! 8.50 Thoughts on the 5:2 Diet 14.00 The key to detoxification 15.45 Emotional eating & stress 17.20 The importance of tests and which ones to take 19.22 Setting your GPS 19.45 Four ways to test your motivation 20.10 Noel's 5 step Wellness action plan formula 23.00 Stephen's #1 tip for optimal health 26.10 What's coming up next (over the coming weeks)?