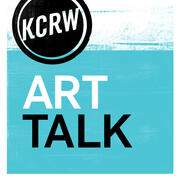 Helen Pashgian: Invisible Light

Hunter Drohojowska-Philp bathes in the cool atmosphere of the artist's installation at LACMA.

'Heaven and Earth' in Our City of Angels

Allen Ruppersberg: Drawing and Writing, 1972-1991

Hunter Drohojowska-Philp says this survey of drawings at Marc Selwyn Fine Art offers an intimate view of an enigmatic artist.

Allen Ruppersberg: Drawing and Writing, 1972-1991

W. Reveals Himself as 'a Decent Amateur' Artist

Edward Goldman invites George W. on a museum trip around LA.

Sharon Ellis at Christopher Grimes Gallery

The transcendent paintings of an artist at her mid-career...

Mike Kelley: The Sacred and the Profane

Mike Kelley and his haunted but revelatory life and career.

Mike Kelley at MOCA

The late great artist?s retrospective signals a new era for the museum and gives the new director a running start.

Rembrandt is in. Putin is out.

Questioning American politics' view on both national and foreign culture.

Kienholz: Berlin-Hope at LA Louver Gallery

A new appreciation of the artist in these rarely seen sculptures.

Wayne Thiebaud, Frida Kahlo: Art Calories Galore

Not-to-be-missed exhibitions of Wayne Thiebaud and Frida Kahlo in three Southern California museums.

Alfredo Ramos Martinez at the Pasadena Museum of California Art

Hunter Drohojowska-Philp is seduced by the Mexican modern artist, Flora Kao's Homestead and the early history of LA.

An Uneasy Coexistence of Art and Film

The highs and lows of the marriage of art and film.

Bill Viola

Hunter Drohojowska-Philp travels to Paris to see the Long Beach-based artist's survey at the Grand Palais.

Up Close and Personal

Edward Goldman talks about the newly restored Jackson Pollock mural opening at the Getty, as well as two major LA artists exhibiting at LA Municipal Gallery.

Take It or Leave It at the Hammer

An exhibition that explores appropriation and institutional critique.

Driving, Dancing, and Flying In and Around LA

Edward Goldman gets swept away on an inspiring journey through LA.

Ah Voyagers! Scott Reeder and Joel Kyack

Hunter Drohojowska-Philp wonders about the art of these space and sea adventurers.

Olympics in Sochi, Diebenkorn in Leningrad

Edward Goldman touts Russian and American cultural connections.

An Actor Who Makes Me Hear Stradivarius and See Mark Rothko

Edward Goldman pays tribute to great American actor, Philip Seymour Hoffman.

New Art Downtown and at Barker Hanger

Hunter Drohojowska-Philp flips out over Samara Golden and Oscar Murillo's installations downtown and Dave Hickey's new book.

Geometric Abstraction in Many Forms

Hunter Drohojowska-Philp muses on paintings by three generations: Leon Polk Smith, Morgan Fisher and Patrick Wilson.

To Kill or Not to Kill, That Is the Question

Edward Goldman on the execution of a small architectural gem.

Robert Graham: Early Works at Kayne Griffin Corcoran

Hunter Drohojowska-Philp talks about the 1960's work of the sculptor known for his bronze female torsos.

Diane von Furstenberg: Bright Past Revisited

Edward Goldman praises the glamorously theatrical von Furstenberg exhibition.

Tacita Dean at the Hammer

Hunter Drohojowska-Philp takes time out with the artist's film "JG," a meditation on Robert Smithson and JG Ballard.

Hurray to Pope Francis and MOCA Trustees

Edward Goldman celebrates good news for culture and art.

Us, from a Great Distance

Hunter Drohojowska-Philp is thinking about heaven and earth as she looks at photographs by Karen Apollonia Müller.

Looking Back

Hunter Drohojowska-Philp review high and low points of 2013.

Coming Attractions of 2014

Hunter Drohojowska-Philp notes the abundance of promising shows for the coming year.

'Hot' and 'Cool' Reasons to Go to Oxnard and Laguna

Edward Goldman shares his experiences with cool cars and fiery ceramics.

The Gift of Art, Really

Hunter Drohojowska-Philp suggests shopping for real art at reasonable prices available around LA.

Public Art: Here, There, Everywhere

Surprising discoveries and rediscoveries Edward Goldman made during his recent LA travels.

See the Light: Photography, Perception, Cognition

Hunter Drohojowska-Philp contemplates the Vernon collection of photography at LACMA.

Singing, Dancing and a Little Bit of Forest Hopping

Edward Goldman enjoys a little singing, a little dancing, and a little frolicking in beautiful portraits and landscapes.

Rob Reynolds at the Natural History Museum

Hunter Drohojowska-Philp checks out the artist's account of the LA Aqueduct saga.

Dancing Partners: Art and Architecture

Edward Goldman celebrates the dance-like quality of the work of Alexander Calder.

Alexander Calder at LACMA

Hunter Drohojowska-Philp raves about "Calder and Abstraction" and its Frank Gehry installation.

Hidden in Plain Sight: Great Art in Downtown LA

Edward Goldman rediscovers public art gems in the heart of Downtown.

Lari Pittman: From a Late Western Impaerium at Regen Projects

Hunter Drohojowska-Philp says that Pittman has flown to new heights on his flying carpet paintings.

Jim Shaw at Blum and Poe

Hunter Drohojowska-Philp marvels at the artist's high-minded grasp of arcane and popular culture.

The Legacy of British Pop Here and There

Hunter Drohojowska-Philp's visit to the British Pop Art show at Christie's London has her thinking about David Hockney and R.B. Kitaj.

Mysterious, Unsettling and, Well, Quite Disturbing

Edward Goldman provides unsettling insight into the art of Forrest Bess.

Kazimir Malevich and the Russian Avant-Garde

Hunter Drohojowska-Philp checks out the Stedelijk Museum in Amsterdam and the last shows under director Ann Goldstein.

The Amazing Ride with Artists at the Wheel

Edward Goldman was abducted and taken on two fantastic artistic journeys last weekend.

LA in London

Hunter Drohojowska-Philp visits the Frieze art fairs in London and finds L.A.?s artists in the galleries.

Free at Last

Edward Goldman rejoices over free museum admission and other local happenings.

Abelardo Morell at the Getty

Hunter Drohojowska-Philp says that the Cuban photographer?s use of a camera obscura is enchanting.

September: Chicago at Its Best

Edward Goldman discusses his time in Chicago and their current art scene.

James Welling: Monograph

Influential photographer gets a mid-career survey at the Hammer.

The Price to Pay for Messing with Gods and Muses

Edward Goldman discusses art in the face of political tides.

George Herms

Talking about Art Is like Dancing about Architecture

Edward Goldman recounts his exciting experiences with famous artwork.

Roy Dowell and Ivan Morley

Hunter Drohojowska-Philp visits two small galleries to declare that bigger is not always better.

Columbus, Here I Come..!

Edward Goldman recounts his surprising and inspiring adventure to Ohio.

Preview of a Few Fall Shows

Hunter Drohojowska-Philp says that photography dominates the promising fall exhibitions.

With Passion and Gusto: The Listeners Speak

Edward Goldman shares the varied and interesting perspectives of his listeners.

Richard Diebenkorn: The Berkeley Years, 1953-1966

Hunter Drohojowska-Philp goes to San Francisco to see the artist's early paintings

One Can Never Be Too Rich, Too Thin, or Have Too Many Museums

Edward Goldman talks about new LA museums and the psychology of art.

Sam Falls in Group Show at Hoffman Gallery

Hunter Drohojowska-Philp tours a group show at the Hannah Hoffman Gallery

Staring and Punching in the Name of Art

Edward Goldman critiques exciting and provocative new art films.

Labour and Wait

Hunter Drohojowska-Philp takes in a show at the Santa Barbara Museum of Art.

Pereira the Maverick, Pereira the Fool?

Edward Goldman discusses Pereira's architecture and the cultural value of LACMA's campus.

Sam Francis: Five Decades of Abstract Expressionism

Hunter Drohojowska-Philp gets a preview of the great Abstract Expressionist's work.

At the Getty: Tripping into the Fourth Dimension

Edward Goldman takes you with him on an artistic and musical trip to the fourth dimension. 

Grapevine: Magdalena Suarez Frimkess, Michael Frimkess, John Mason, Ron Nagle, Peter Shire

Hunter Drohojowska-Philp offers kudos to Ricky Swallow for organizing this tasty show of ceramic sculpture

In Champagne and Burgundy: Drunk On Art

Werner Herzog?s Hearsay of the Soul

Hunter Drohojowska-Philp goes with the flow of 17th century Dutch art in a video installation at the Getty Museum.

Out with the Old, In with the News

Edward Goldman addresses rumors, news and high profile exits in the museum circuit.

Jessica Stockholder's 'Lift' at 1301PE

Hunter Drohojowska-Philp says this show offers a substantial lift both literal and figurative.

Crazy and Fabulous: Art Adventures in Downtown LA

Edward Goldman beats the heat with wild and fabulous art adventures in downtown LA.

Jeremy Kidd at Leslie Sacks Contemporary

Hunter Drohojowska-Philp is energized by these whirling wild photographs.

The City of Angels in All Its Imperfect Glory

Edward Goldman responds to previous Art Talk comments and discusses the restoration of the Wilshire Boulevard Temple.

Charles Fine's 30-Year Survey at Ace Gallery

Hunter Drohojowska-Philp is taken by the artist?s wide ranging talents in sculpture and painting.

Could LA Museums Be More Generous to the Public?

Edward Goldman compares LA museum hours and prices to more progressive museums in the US and abroad.

The California-Pacific Triennial at OCMA

Hunter Drohojowska-Philp previews a survey of contemporary art from countries along the Pacific Rim.

Richard Artschwager!

Hunter Drohojowska-Philp talks about the hybrid sculpture and painting of the late great artist at the Hammer.

Exhibitions that Engage instead of Lecture

Edward Goldman gives praise to some excellent exhibition design at the Hammer.

Should LACMA's Imperfection Be Erased or Embraced?

Edward Goldman reflects on LACMA's new exhibits and ambitious architectural plan by Peter Zumthor.

Painting in Place

Hunter Drohojowska-Philp checks out the latest offering from LAND at the Farmers and Merchants bank downtown.

Traveling Abroad with LA in Your Backpack

Edward Goldman recaps his experience abroad as an American in Paris, Amsterdam and Dijon.

Hans Richter: Encounters at LACMA

Hunter Drohojowska-Philp checks out an artist significant for his own work and his friendships with the key figures of the Modern era including Man Ray, Kazimir Malevich and Alexander Calder.

William Wegman at Marc Selwyn Fine Art

Hunter Drohojowska-Philp talks about the recent discovery of Wegman's lost photographs from the 1970s.

Art Adventures This Side of the 405

Edward Goldman makes a voyage to Otis and the El Segundo Museum of Art.

Architecture and Art in 1970's LA and Now

Hunter Drohojowska-Philp finds an important connections in "Everything Loose Will Land" at MAK and "Larry Bell" at Frank Lloyd Gallery.

Happy Days, and Hours, Are Here Again

Edward Goldman rounds up the good news this month for American museums on both coasts.

Boogie with Ryan Heffington in KTCHN

Hunter Drohojowska-Philp is dancing to a different drummer after watching the art inspired dance installation.

It's a Mad, Mad, Mad, Mad World?of Museums

Edward Goldman reflects on architectural issues for LACMA and MOCA, while visiting two Los Angeles exhibitions.

Alexis Smith's 'Second Nature' at Craig Krull Gallery

Hunter Drohojowska-Philp is happy to see Alexis Smith take on the subject of landscape painting with a twist.

The Adorable, Weird and Somewhat Scary World of Gary Baseman

Edward Goldman is a guest of Gary Baseman at the Skirball Center and visits the Francois Ghebaly Gallery.

Paris Photo Comes to LA

Hunter Drohojowska-Philp applauds the mix of galleries showing photography and contemporary art together.

Paris Photo-LA: Lights, Camera, Action

Edward Goldman haunts the Paris Photo art fair at Paramount Studios and visits Urs Fischer at MOCA.