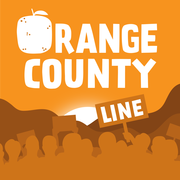 Renaissance for the Santa Ana River?

Gustavo Arellano on efforts to make OC's waterway beautiful again.

Injunction Disfunction in Santa Ana

Gustavo Arellano on the fight between the OC DA and residents of a Santa Ana neighborhood over a gang injunction.

ga140818emigdio_vasquezs_ora

OC's Coastline Belongs to Some, Not All

Gustavo Arellano on local efforts to target people who block access to Orange County's beaches.

Deposition Derby over Irvine's Great Park

Gustavo Arellano on a series of explosive depos released as part of a Great Park audit.

OC to Caltrans: No Toll Roads on 405!

Gustavo Arellano on the brewing war over toll roads on the San Diego Freeway.

OC Finally Gets a Year-Round Homeless Shelter

Gustavo Arellano on the political battle to finally get a facility for OC's homeless.

OC's Asian-American Explosion

Gustavo Arellano on Orange County's sharp rise in its Asian-American population.

ga140707costa_mesa_to_public

OC's Newfound Love for Choo-Choos

Gustavo Arellano on why Orange County pols suddenly want to improve passenger rail systems.

Is OC Probation Deporting Too Many Youth?

Gustavo Arellano on activists fighting OC's Probation Department.

Does Political Corruption Matter to OC's DA?

Orange County DA Tony Rackaukas' cautious approach to investigating political corruption in the county.

The End of the OC Register Dream?

Will the layout round of buy-outs and lay-offs at the Register spell the end of owner Aaron Kushner's bold experiment?

Are Rumors of the OC GOP's Death Exaggerated?

Do numbers showing a decline in OC Republican voters mean much?

The Fall of OC's Great Brown Hope

The decline of former rising GOP star Carlos Bustamante.

The Heat Is On the OC Fire Authority

The scathing audit regarding OC's largest firefighting agency.

The Thin Brown Line

The Latinos in charge of OC's two largest police departments...

Color OC Restaurants Bad

The push to make Orange County restaurants display restaurant safety ratings.

OC GOP to Angry White Male Candidates: Adios!

The Republican Party of Orange County's diversity effort.

Rick Warren Goes Hollywood - Literally

The influential pastor's move to save souls in LA.

Vietnam, the Eternal Third Rail in OC Politics

Why the Vietnam War still resonates in OC politics.

Anaheim's Little Arabia Rises

The push to officially recognize one of the largest Middle Eastern enclaves in America.

Are OC's Jails Better?

A federal investigation declares that Orange County's jails system have improved.

The War between OC's DA and Public Defender Offices

The curious legal battle that can influence many high-profile cases in Orange County.

For Whom the Bill Tolls?

The effort to establish OC's first veterans' cemetery.

The Great OC Gun Rush

Gustavo Arellano on how a change in gun laws is spurning major interest in concealed-carry weapon permits.

Santa Ana's Mayor-for-Life on the Ropes?

Will a state investigation bring down Miguel Pulid?

The Los Angeles Angels of Anywhere

The Halos threat to move from Anaheim.

Can Tony Rack Win a 5th OC DA Term?

OC District Attorney's Tony Rackauckas' bid for a fifth term ? and why this race may be his toughest yet.

The Great Park's Audit Blues

A controversial audit roiling the city of Irvine...

Santa Ana to the World: We're Safe

Santa Ana city officials' surprising response to a brutal nightclub killing...

Growing Pains for the OC Register

The surprising round of layoffs that afflicted OC's paper of record last week.

Kelly Thomas Trial Wraps Up ? What's Next?

The Kelly Thomas killing trial, and what follows...

OC's Hottest Political Races of 2014

Three races to watch...

Can OC Keep Its Young People Home?

What pushes Orange County's young professionals away to better places.

The OC Register of LA, Long Beach, Riverside and Beyond?

Aaron Kushner's audacious strategy to rule print journalism in Southern California...

Justice for Kelly Thomas?

The start of the Kelly Thomas killing trial...

OC Cholos Have Constitutional Rights, Too

OC DA Tony Rackaukas gang-injunction controversy...

'Real Orange' No More

The cancellation of the only television or radio show devoted to covering OC...

Which Way Irvine?

A new home-builder in Irvine plans to upend the infamous suburb.

Anaheim's Coming Mayoral Battle Royale

Anaheim's already contentious 2014 mayor's race...

The Phantom 405 Tollbooth

A proposal to charge carpool users of the San Diego Freeway.

Time-Out for Tet?

The cancellation of the United States' largest Tet festival...

A Tale of Two OCs: The Homeless and the Wedge

Gustavo Arellano on the ACLU's for OC's homeless, and surfers fighting bodyboarders in Newport

Surf Biddy? H.B. Cracks Down on Fun

Gustavo Arellano on Huntington Beach's war against its partying reputation.

OC's Man of "Maranatha!"

Gustavo Arellano on the passing of Calvary Chapel founder Chuck Smith.

Should Anaheim's Angels Stay or Should They Go?

Gustavo Arellano on the controversy surrounding keeping Arte Moreno's team in Anaheim.

Our Todd of the Canyons

Gustavo Arellano on whether the Board of Supervisors will allow development in Trabuco Canyon.

Adios, OC's Queen of Extreme

Gustavo Arellano on the life of Barbara Coe, godmother of the anti-immigrant movement.

The John Wayne Airport Vomit Comet

Gustavo Arellano on why OC's airport has such a notorious reputation for its take-offs.

The John Wayne Airport Vomit Comet

Gustavo Arellano on why OC's airport has such a notorious reputation for its take-offs.

Santa Ana Gives New City Manager a Golden Parachute, Throne

Gustavo Arellano on the city's controversial hiring of a new city manager.

The Orange County Register: One Year after the Revolution

Gustavo Arellano on one year of OC's paper of record under Aaron Kushner.

Costa Mesa Mayor vs. City Workers, Part 30

Gustavo Arellano on the latest skirmish between Costa Mesa's mayor and its public employees

The Zombie Toll Road that Won't Die

Gustavo Arellano on the continued efforts to try and build a proposed toll road extension

How OC Learned to Stop Worrying and Love Global Warming

Gustavo Arellano on how Orange County coastal cities are responding to rising sea levels

Anaheim, One Year after Its Summer of Rage

Gustavo Arellano on what's changed (and what's hasn't) in Orange County's Tragic Kingdom.

Arte Moreno at 10: The Good, the Bad and the No Bueno

Gustavo Arellano on a decade of Angels baseball under the ownership of the Phoenix businessman.

Last Bonfire for OC's Beach Fire Pits?

Gustavo Arellano on the battle over an Orange County coastal tradition.

Hour of Power No More

Gustavo Arellano on the downfall of Crystal Cathedral Ministries.

Little Saigon at 25 Years: What's Next?

Gustavo Arellano on the 25th anniversary of the largest Vietnamese enclave in the world outside Vietnam.

Anaheim's Unlikeliest Radical: The Mayor

Gustavo Arellano on the surprising turn of events in an ACLU lawsuit alleging voter discrimination.

No More 'Nofre, Now What?

Gustavo Arellano on the surprising closure of the San Onofre Nuclear Power Plant.

The Latino Nonprofit OC Politicians Love to Hate

Gustavo Arellano on Latino Health Access' pioneering work ? and the strange politics it must navigate.

The State of Gay OC: The Good, the Bad, and the FABULOUS!

Gustavo Arellano on the good and bad going on in LGBT Orange County.

'Arrested Development' as Metaphor for OC

The return of the best-ever portrayal of Orange County.

The Poseidon Misadventure

A controversial proposal for a desalination plant in Huntington Beach.

Making OC Christians Love Jesus

Gustavo Arellano on the struggles major OC evangelical leaders are finding in pushing their congregations to accept amnesty for illegal immigrants.