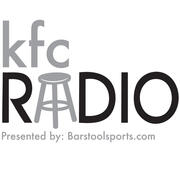 #MAILTIME: Mustard On The Beat

KFC gives out his Emmys a week before The Academy. Find out who wins the award for best nude scene and weirdest show. Also, Johnny Football ruins America with one finger and @KFCRadioPremium is live on Twitter. Thanks to NatureBox and Stamps.com for supporting the show. Shout out to Steve Czaben and the rest ot the PodcastOne Network. Check out more great shows on PodcastOne.com

KFCR #82: Feitelberg BDay

It's Feitelberg's birthday. Cunnilingus. The Little League World Series. Bloggers scoffing at the idea of World Peace. Happy bday Feits!

#MAILTIME: Robin WIlliams & Bachelor Party Stories

RIP Robin Williams. KFC had his bachelor party and lives to tell about it, plus listener stories about their bachelor party adventures. Thanks to Nature Box for supporting the show. Got to NatureBox.com/mailtime for a discount on your order.

#MAILTIME: Robin Williams & Bachelor Party Stories

RIP Robin Williams. KFC had his bachelor party and listeners send in their best bachelor party stories. Thanks to NatureBox for suporrting the show. Go to naturebox.com/mailtime for a discount on your first order.

KFCR #81: Who's Gonna Shoot Big Cat?

KFC and Feits debate which one of them is gonna shoot BIg Cat in the chest.

#MAILTIME: Here Comes The Money

@BarstoolJJ returns to talk about gloryhole days, decapitating cats, dating engaged girls and of course, peeing the bed. Big thanks to Harry's and Nature Box for supporting the show. Check out the Ross Tucker Football Podcast on PodcastOne.com

#MAILTIME: The ABCs of Mailtime

Barstool vs the World, Jay & Yonce divorcing, do immigrants learn the ABCs? All that and more on #MAILTIME

KFCR #79: Dog Days

KFC, Big Cat and Feits break the summer heat by discussing shit, jerking off and how cool it would be to be a dinosaur. 

#MAILTIME: Dropping the Seaward w/ @RadioSeanRyan

It's a KFC Radio reunion as @RadioSeanRyan rejoins KFC to talk Asian girlfriends and TV. It's a little Barstool DVR action with Fargo and Leftovers talk. Plus Dating Naked and the #KFCinlove papparazzi pic.

This Week In Barstool

The best stories from Barstool Sports from July 14th-18th

KFCR #78: Hot Dogs On The Grill Who Wants Spicy Mustard

KFC, Big Cat and Feits pass the time during the most boring sports week of the year by talking about sex. Also, Big Cat has a hot dog intervention. 

#MAILTIME: 90 Minutes of Mailtime

KFC is moving, again. The Homerun Derby sucks and so does that Jeter commercial. Barstool DVR returns as we talk Jack Bauer, the Leftovers and the Emmy nominations.

KFC Radio: Christopher Columbus and Oedipus

KFC, Feits and Big Cat discusss if Barstool could make it to the moon. Or Europe. Also pimping out your daughter and the Zombie Apocalypse with Barry Melrose. 

KFC Radio: Christoper Columbus And Oedipus

KFC Radio: Christoper Columbus and Oedipus

KFC, Feits and Big Cat discusss if Barstool could make it to the moon. Or Europe. Also pimping out your daughter and the Zombie Apocalypse with Barry Melrose. 

MailTime Mailbox: July - Ditch Your Boxers

KFC and JJ talk about the deepest darkets moments when you need to ditch your boxers, getting interviewed by a Tinder match, getting handjobs, Jeter vs Manziel, and more

#MAILTIME: Dead Eye on the 4th of July

Dead Eye is the name of KFC's Dad's one-eyed monkey that died 40 years ago. We also talk about all the classic 4th of July fireworks and KFC puking in broad daylight. 

#MAILTIME: Real Talk

KFC and JJ discuss the #RealTalkAreYouHorny phenomenon, and guide a young listener through a workplace sexual harassment situation. Episode presented by Audible. Go to audiblepodcast.com/kfc to get a free audio book.

#MAILTIME: World Cup Fever

We've got World Cup fever, the legend of Big Red, and one stoolie's sex tape.

KFCR #76: Handsome Hank

On the eve of #Hankapalooza the one and only Handsome Hank makes his KFC Radio debut. What would the OJ chase be like with Twitter? What are signs you are getting old. Plus Snapchatting nudes to Anastasia Ashley.

2 Years A Slave... to the PODCAST

It's our 2 year anniversary! TWO YEARS of podcasting. As one reviewer put it "I cannot believe how much of my life I have wasted listening to these guys" that sums it up nicely. This week KFC pronounces the Rangers dead, rates the NYC point guards, breaks down the Boardy Barn and talks Game of Thrones. Also, don't eat another man's lettuce. It's just weird.

KFCR #75: We Want the Cup

KFC, Feitelberg and Big Cat tackle fatherhood, getting arrested and their most embarrassing moments on this edition of KFC Radio. 

#MAILTIME: Mailbox featuring @BarstoolJJ

JJ is back under slightly less drunk terms. He and KFC talk about City Island swag and cunnilingus. 

#MAILTIME: Graduation

Ladies & Gentlemen of the graduating class of 2014... here is everything you need to know.

KFC Radio #74: Summer Session

KFC and Feits help kick off the summer season with an episode of KFC Radio. 

#MAILTIME: Summer Is Here

Memorial Day Weekend is here. Summertime means mailtime to the fullest extent. We play For Sure/For Sure Not and talk about all the wonders of summer.

KFC Radio #73: Poor, Poor Feitelberg

KFC and Big Cat try to console Feits through his post Bruins depression. 

#MAILTIME: Pet Peeves part 1

It's the little things in life... that you HATE. KFC hates a lot of stuff, and this is a list of them. Ples another addition of 1-Minute Man to get you caught up in everything that is going on in the world today.

KFC Radio #72: One Mo Time

@TallMaurice on his last day as a Barstool blogger. Farewell, sweet prince.

Barstool DVR: Jack is Back II

Jack is Back and so is KMarko. The original Barstool New York crew talks about 24: Live Another Day. Also we breakdown the greatest badass characters, the greatest mastermind characters and the biggest pimp characters in TV history.

#MAILTIME: Career Day

With the big shake up at Barstool Philly we discuss the past, present and future of KFC Radio and Barstool. Also another session of KFC: The One Minute Man.

KFC Radio #71

KFC, Feits and Big Cat show those PC losers that they're not racist, they're just misunderstood. 

BarstoolDVR: Jack is Back

Your boy @KmarkoBarstool might be the biggest 24 fan out there. KFC talks about how the golden age of TV might be over and previews The Leftovers.

#MAILTIME: Some Times Ya Gotta Race

A very racial edition of #MAILTIME this week. KFC give you his thoughts on Donald Sterling, Donald Sterling's Girlfriend, famous Jameis and MissionBelt.com

Best of MailTime - March

MailTime Highlights from the month of March

Timeflies

KFC chats the Cal & Rez from Timeflies. Their new album After Hours drops on April 29th. Go to http://timefliesmusic.com/ to download it.

KFC Radio #70: Kick a Chick in the Balls

What girl would you kick in the balls? What if your girlfriend could read your mind?

#MAILTIME: Mailbox Part I

Barstool Baseball Part 2: KFC, White Sox Dave, Banks & Smitty

More baseball talk with @CharlieWisco

Barstool Baseball Part 1: Feitelberg, JJ, and RDT

Charlie Wisco rounds up the Barstool bloggers to kick off the baseball season

Barstool DVR: Game of Thrones

Sirius Radio vet, @RadioSeanRyan joins KFC to talk Game of Thrones and the most satisfying character deaths.

#MAILTIME: Gym Class

Matball, pickleball, steal the bacon... all the good times from when KFC was last considered "athletic"

iLoveCollege: 10 Freshmen Tips

@CharlieWisco & Friends dish out advice after two whole semesters of going to college. Also Charlie talks with a UCONN student about winning it all.

KFC Radio Ep. #69: The Return of Big Daddy Trent

Trent comes down from his ivory tower to speak with the little people such as KFC, Big Cat and Feitelberg once more. @BarstoolTrent@KFCBarstool@BarstoolBigCat@JFeitelberg@KFCradio@CSheeran7

#MAILTIME: Nate Bargatze

Comedian Nate Bargatze calls in. Plus we discuss 3 of the best mailtime stories of 2014.

#MAILTIME: Paul Lo Duca

Former Mets catcher Paul Lo Duca calls in to chat with KFC. Plus other baseball talk in the the early 2014 season.

Wrestlemania

FIIINNNNAAAALLLYYY... KFC Radio has come BACK to Wrestlemania. 2 un-edited (like seriously we didn't edit out any of the dead air or anything) hours of grown men talking about Wrestlemania and loving every minute of it.

Barstool DVR

HIMYM finale, The Following, Turn, Awake, House of Cards. Barstool DVR.

KFC Radio Ep. #68: Spring Fling

KFC, Feits, and Big Cat kick off spring with an episode of KFC Radio. They talk about how they would bully midgets and Jeter's sexual conquests. 

#MAILTIME: April Fools Day

How do you think KFC feels about April Fools Day? He is not a fan. KFC calls Charlie Wisco to talk about Frank Kaminsky and the Final Four.

KFC Radio Ep. #67: Opening Day

The KFC Radio crew is back in action, talking baseball, Pres if he were a slave and white boys.

Barstool DVR: Arthur Chu

KFC interviews Arthur Chu and talk The Americains, Scandal and Girls

#MAILTIME: Misheard Lyrics

Wrapped up like a douche, concrete jungle wintery tomato. 

#MAILTIME Madness: Saloon with BarstoolJJ

Drunken madness at Saloon and @BarstoolJJ makes his KFC Radio debut. 

#MAILTIME: Madness

Billion dollar brackets & office pools. It's the most wonderful time of the year! Plus more on the Duke pornstar and a mailman mailtiming the mail.

KFC Radio Ep. #66: St. Patty's Day

Come celebrate St. Patrick's Day with the boys as we debate leprechaun sex and pots of gold

#MAILTIME: Spring Break

We miss college. We really, really miss college.

Barstool DVR: True Detective Finale

@KFCbarstool @JFeitelberg & @BrendanClancy wrap up the True Detective discussion. Stick around for a few clips or the best moments from Rust & Marty at the end of the show.

KFC Radio Ep. #65: Birthday Bonanza

It's KFC's birthday! Feminists vs sluts. Blogger's 60 point games. The Great American Challenge. True Detective. Other Stuff!

True Detective Hysteria Ep. #2

KFC & Feits talk about the 7th episode of True Detective. Now without all the garbage that I was supposed to edit the 1st time!

#MAILTIME at the Movies

We tried to break down the greatest year in movie history, 1994. To say we got a little off track is an understatement.

True Detective Hysteria Ep. #2

@KFCBarstool, @JFeitelberg and @BrendanClancy discuss the 7th episode of True Detective and take wild, blind guesses at what will happen in the finale. 

True Detective

#KFCBarstool & @JFeitelberg breakdown the 1st 6 episodes of the HBO smash hit True Detective

#MAILTIME: Mailbox Part 1

@KFCBarstool & @BrendanClancy plow through another bunch of your emails. Premium subscribers will be getting Part 2. Also look out for the True Detective recap episode we did with @Jfeitelberg.  

KFC Radio #64: Big Daddy Trent

@BarstoolTrent makes his KFC Radio debut

MAILTIME: Olympics Part 2

The closing ceremonies for the Olympics. 3 more medals for Mailtime Olympians. Hockey talk. And an update on how hammered KFC gets during the middle of the week.

KFC Radio #63: Lil Bit

Taylor Wright aka Lil Bit from CMT's Party Down South joins the crew. 

#MAILTIME: Olympic Gold

We hand out the gold, silver and bronze to some of the greatest Mailtimers. Sochi, Valentine's Day, Derek Jeter, donuts.

KFC Radio #62: Rear Admiral

Barstool's drunk uncle stops by for a visit. Rear Admiral and hockey talk, just what KFC Radio has been missing!

#MAILTIME Unchained: The Bachelor List

If you are a premium subscriber you got the update earlier in the week that KFC was going to be up in Maine and we weren't going to be able to record a new #MAILTIME this week. If you are NOT a premium subscriber, you lucked out because we are releasing a previously subscriber-only episode. We can't leave the people hanging! Mail never sleeps! This was originally released Dec 4, 2013. The Bachelor List. This episode expands on KFC's post on what you'll need to give up in order to be in a relationship and how chicks have no idea what they actually want. 

Francesacon

The 1st annual Francesacon at Saloon. @BizzaroZaun does his Mike impression. KFC talks to the only 2 females crazy enough to show up. Maniac mongos. And an unsettling story about a Beetlejuice look-a-like. 

#MailTime: Welcome to Atlanta

Snowpocalypse in Atlanta, the Super Bowl in New Jersy. KFC in Blue Heaven, and the introduction of the MailTime Olympics. 

KFC Radio #61

Chubbie chick vs religion, Cigs = Slut, Gameshow Roulette, Dogsled Midgets or Super Mario, $1M Deportation, Rivalry Smoke, Stinky Dapper Don, Something about a Sextape.

#MAILTIME: Zack & Kelly

Kelly Kapowski turned 40 years old this week so we countdown the hottest 90's chicks. Wedding registries and Super Bowl stories, and the 1st inductee into the #MAILTIME Hall of Fame.

KFC Radio #60: Super Bowl Party

KFC, Feits and Big Cat debate Peyton vs. Richard Sherman in a way that nobody ever has. How long do you have to wait after taking a shit to eat chips at a party? Who is winning the #BarstoolDiet challenge? Also check this episode out on the Youtube page http://kfcrad.io/youtube

#MAILTIME: The Mailbox

KFC answers questions from you, the people. Send questions and comments to tips@kfcradioshow.com or kfc@barstoolsports.com Follow us on Twitter: @KFCbarstool @KFCradio @BrendanClancy

KFC Radio #59: The Biggest Loser

THe Barstool Biggest Loser Challenge is on! Feits vs Big Cat with the Super Bowl on the line.

#MAILTIME: Cold As Ice

Featuring Big Pun, Ghostface Killah, Nicki Minaj, Jameis Winston, the Rza, the GZA, Ol' Dirty Bastard, Inspectah Deck, Raekwon the Chef, and the M-E-T-H-O-D MAN... and many more! In the middle of a Polar Vortex freeze KFC's fire flames rhymes will keep you warm. We breakdown the worst (but simultaneously best) lyrics in hip hop history. KFC also battles Jay-Z and Geno Smith. FUCK FREE WORLD! 3-1-3!

KFC Radio #58 feat. @SmittyBarstool: The Barstool Polar Vortex

Juggalo girlfriends, twin brother fucking, Barstool cannibalism, trading kidney stones for championships. We learned a few interesting things about Smitty's preference for women. Who would be the worst celebrities to party with? Cat Feits minus Feits. Cat Smits? Call the voicemail (646) 807-8665 or leave us video voicemails on instagram and vine: @KFCradio on both.

#MAILTIME: We Hope So Too Dude

Happy New Year you filthy animals! The final Mailtime episode of 2013. Been a good year. Thanks for listening.

MailTime Unlocked: MailMan of the Year 2013

Nobody is above MailTime...but who mailed it in the hardest? From professional athletes to fake CIA agents, these are your 2013 MailMen

#MAILTIME: The Office Party

Tales from the office Christmas party and the top Christmas movies.

KFC Radio #57: A Very Stoolie Christmas

A Very Stoolie Christmas

KFC Radio #56: Mo Money Mo Problems

Mo returns to rep Brooklyn Philly. @StoolPresidente makes an impromptu appearance. Who would be the best wingman at Barstool? Polar bear vs. Great White Shark. Another edition of #CatFeits. If you haven't already download the FREE mobile app. Search "KFC Radio" in iTunes or where ever the hell you get Android apps.

#MAILTIME: The Greatest Christmas Song Countdown Ever

From Michael Bolton to Justin Timberlake. Mariah to WHAM! Nelson Mandela and what to buy your girl for Christmas. Make sure you check out the mobile app on iPhone and Android for a special MAILTIME Deluxe: Hame Alone edition later this week.

#MAILTIME: The Most Wonderful Time of the Year

DOWNLOAD the KFC RADIO APP for iPhone or Android! @KFCbarstool and @BrendanClancy countdown the most ridiculous holiday stories with music that is not applicable in anyway. If you haven't already download the KFC Radio app in the iPhone App Store or whatever they call it for Android devices. 

KFC Radio #55: Nate

Nate Blog debuts. Feits continues his one man tribute to Paul Walker. A chick stoolie sends a video voicemail. A day with Rob Ford. Do you Eiffel Tower? Fart popcorn or sneeze butter? Cat Feits round 2.

CWP #3: Evan Roberts

Evan Roberts from WFAN stops by. Patrick, KFC, Evan Roberts and Sean talk Thanksgiving, KFC's engagement photos, WFAN and more.

KFC Radio #54: Cat Feits

The debut of Cat Feits. Instagram Video voicemails. The best and worst families to have Thanksgiving dinner with.

#MAILTIME: The Most Mailtime'd Days of The Year

Let the most mailtimiest time of the year begin! A-Rod & Rob Ford just doing whatever they want.

What's Your Number?

KFC, @CocksWithP, @KFCBarstool and @RadioSeanRyan call up chicks and play What's Your Number. Stassi Schroader is not a fan of Clancy-ing.

#MAILTIME: The Study Guide

Study says... that you can basically publish a study about whatever you want. Research about chicks with fat asses and how gus like sex. Fordham is the #7 worst party school in the country. Send us stories from college.

KFC Radio #53: Smitty

Smitty from Barstool Philly made his debut and Big Cat didn't make it awkward at all. Nope. Not one bit. Follow @SmittyBarstool's fat face on twitter.

#MAILTIME: The Cubicle Survival Guide

The 10 rules to obey to survive The Cube. Who ordered the Richie Incognito code red? We recap the Cocktails With Patrick experiment. Check out the interview KFC & Patrick did with Topanaga from Boy Meets World and Stassi Schroeder on the previous episode of @KFCradio.

Cocktails with Patrick 2.0: Danielle Fishel, Stassi Schroeder

Patrick, Kevin and Sean along with a few very special guests bring Cocktails with Patrick back on @KFCradio

#MAILTIME: I Quit

KFC takes us through the best ways to walk out of the cube. Also Halloween costume advice. Banksy is the monkey of the week and if you disagree you aren't a Stoolie.

KFC Radio #52: A Million Views

Big thanks to all you idiots who helped us get to 1 million channel views and over 12 million mins watched. Feits makes a disgusting miscarriage metaphor. Big Cat calls out DeLo. What moment from history would be the best with Stool coverage? How much would it take for you to not drink for a year? Call the voicemail or submit video voicemails on Vine and instagram. 646 807 8665 Instagram: KFCradio Vine: KFCradio

Glimmer of Hope

Peel yourself up of of Rock Bottom with the Glimmer of Hope episode. Also, Mailtime University is now accepting applications, Jenna Jameson lookslike a totem pole, Miles is a black god name and Cardinals fans are the worst.

#MAILTIME: It's Rock Bottom But There's Always More Jello

People are dressing as camels.

#MAILTIME: The Lovepisode

A star is born! #StarbucksDrakeHandsGuy has turned the whole game on its head. @KFCBarstool and @BrendanCLancy break down all the beautiful love stories on the Stool right now.

KFC Radio #51: Feitelbergs Apartment Sounds Lovely

West Coast Stoolies, Feitelberg's Apt. Big Cat predicts a new trend.

#MAILTIME: Breaking Bad Finale Recap

@KFCbarstool & @BrendanClancy break down the final episode of Breaking Bad and recap some of the best points in the series.

#MAILTIME: SHUT EM DOWN!!!!

The government shuts down but #MAILTIME never stops. It's Hocus Pocus season and Mike Zaun is a genius.

Breaking Bad Finale Preview

@KFCbarstool and @BrendanClancy break down Breaking Bad.

#MAILTIME: The Thunder Typer & Cube Redemption

KFC walks us thru his neck surgery, developed a pain killer addiction Used it as an excuse to do drugs and eat ice cream King Richards Fair behind the scenes Is Handsome Hank homeless? KFC hasn't had a drink in 2 weeks What should KFC do with his time? Go for a walk? How to get served quick at the bar Wife B, Undershirt, No Undershirt Peanut butter without jelly Thunder typer Cube Redemption Work Girlfriend 300 sandwiches guy Brushing your teeth at work Snapchat: KFCradio Send video voicemails to Instagram: KFCradio

#MAILTIME: KFC and The Cubettes

What goes on in the world of female cube monkeys? We revisit the "What Women Want" mind reading scenario. KFC Guilty Pleasures mix drops over on @BarstoolBeats. Stoolie of the week. Monkey of the week. Follow @KnotStandard on twitter and @BrendanClancy will hook you up with a discount. #MAILTIME the laziest 73 minutes of your week.

KFC Radio #50 pt 2

KFC Radio Ep. #50 part 1: Feitelberg's Rattle Snake Dick

The season's first NFL Monday! Would you rather be trapped in Jurassic Park or Jumangi? Part 2 later this week.

#MAILTIME: No One Is Above Mailtime

Last Friday of the summer. Really the only thing you should do at work today is listen to #MAILTIME and go home.

Stoolie Voicemails #48: The Viewers Choice

TallOne quit so we had the listeners vote on the voicemails. Video voicemails. Spaghetti arms. Feits tells a a story about how he got mad when he lost his viginity. Motorboating or rodent king. 

#MAILTIME: Dead Interns, Blogger Salaries and Porno Heads Up

If #MAILTIME can't save the lives of Bank Of America interns, nothing can. KFC chronicles his night terrors and his run-ins on the subway. We play Heads Up with strictl pornographic terms. The White KFC mix on Barstool Beats debuts soon. RATE KFC RADIO 5 STARS ON iTUNES! 

#MAILTIME: Dealbreakers, Kendrick vs. Pac, and Breaking Bad Breakdown

KFC Radio: Barstool Voicemail #48

#BdayBoozeCrews, shitting on a 1st date, does Rachel Nichols, Michelle Beadle, Erin Andrews and Charissa Thompson bang athlete?

#MAILTIME: A-Rod, Breaking Bad, and what every college freshman needs to know

Thes most hated man in America returns to the basebal diamond. Stoolie of the week. KFC's words of wisdom to those heading back to college. And a Breaking Bad preview.

Mini Monday MAILTIME

Monday morning misery

#MAILTIME: The Laziest Hour of Your Day

Scientists have determined that 2:55pm is the least productive point of the work day. We are doing are part to make sure it stays that way.

KFC Radio #47

KFC Radio #46: THe Bartool ESPYs

AUDIO in the beginning is a little messed up. It gets fixed a few mins in.

KFC Radio #45: 1 Year Later

KFC Radio #44: The Player Haters Ball

The commenters joined Big Cat, KFC and Feitelberg to discuss the depths of the Barstool Sports comment section and go over some voicemails. This one got weird.