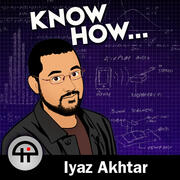 KH 71: Importing Analog Video & Editing with Premiere Pro

In this episode, you'll learn how to digitize your analog content and then how to edit it using a non-linear editor.

KH 70: Fun with Thermocouples and Organizing Your Ripped DVDs

We're making power with thermocouples and it's time to organize your ripped DVD collection.

KH 69: Choosing your Podcasting Camera and Building a Raspberry Pi MAME Part 2

How to choose the perfect podcasting camera for you, and build your own Raspberry Pi MAME inside a NES case.

KH 68: How to Make a Data-Only Phone and Your Own Mobile VPN

In today's episode, Iyaz shows you how to create a data-only phone, Padre explains mobile VPN solutions and more!

KH 67: Trick or Treat! Choosing an SSD and Iyaz's Favorite Tech Pranks

A special Halloween episode full of tech pranks, and all you need to know when choosing a SSD.

KH 66: How to Build a Raspberry Pi MAME and Choosing Your Podcasting Mic

What kind of microphone is best for you, build your own raspberry pi MAME, how ROMs are made, and more.

KH 65: Power Your Gadgets with Fire & Locating Your Electronics

Deep space exploration, power your gadgets with fire, locate your lost or stolen devices, and more.

KH 64: Audio Calibration and Wiretapping 101

Today you'll know how to tap your network using Wireshark, how to fine tune your home theater audio, and more.

KH 63: How to Build a Portable Podcasting Rig and Wiretapping with Wireshark

How to Build a Portable Podcasting Rig, Wiretapping with Wireshark, and More!

KH 62: Assembling a Reprogrammable LED Electronic Kit

Today you'll learn how to make an electronic LED project, and special guest Scott Wilkinson shows us how to Calibrate your home theater!

KH 61: VLANs, Podcasting Rigs, & More!

How to Make a VLANs, Brainstorming a Portable Podcasting Rig, and the ioSafe N2 NAS!

KH 60: Video Editing with an iPad

If you take video with your phone or tablet, why not make an amazing video? Today you'll know how to edit video using an iPad.

KH 59: Video Game Front Ends

Today we're going to show you how to watch videos from your local network on your video game system.

Know How... 58: Switching from iOS to Android

If you're interested in switching away from an iPhone or iPad to an Android device, it's actually pretty simple if you know some tips. In today's episode, you'll know how to make a switch without compromising your experience.

Know How... 57: Turn Your Android into a Spy Cam

Today, we're going to do a viewer request episode. Lots of you wrote in asking how to make your old phone into a surveillance camera.

Know How... 56: Securing Your Smartphone

Today, we're going to let you know what you can do to secure your phone should it ever part from your possession.

Know How... 55: Make Your Phone Into a Universal Remote

Today, we're going to use our smart phone or tablet to control our home theater. This is a project Iyaz was doing in his own home and he did plenty of research to find all the options.

Know How... 54: How to Fix a Cracked Touch Screen Phone

Know How to replace the glass on your touchscreen

Know How... 53: OwnCloud

Today, we took a look at how to install OwnCloud at a web server. This episode acts as a primer to get to know how to install then use OwnCloud.

Know How... 52: Setting up a Blog

Sometimes you want to communicate a message that is over 140 characters. Blogs are a great way to get your content on the web in a way you control. You won't be subject to Facebook or Twitter's redesign whims if you set up your own blog.

Know How... 51: Digitizing Books

Today's episode was inspired by viewer Tony. He wanted to know how to take a book and non-destructively scan it.

Know How... 50: Encrypt your email with PGP

We're going to encrypt our mail using PGP and thankfully, Shannon Morse dropped by to help us out.

Know How... 49: Loading ROMs on Your Samsung Galaxy S3

We're going to put a new ROM on our Galaxy S3, so we asked you what's your favorite ROM.

Know How... 48: Backing Up & Rooting Your Samsung Galaxy S3

Iyaz puts his personal phone on the line. We'll back up then try to root a Samsung Galaxy S3.

Know How... 47: Calibrating Your TV

If you own a TV, you should watch this episode. Today you'll know how to calibrate your TV!

Know How... 46: Make a Home Studio

If you've ever wanted to create your own videos there's plenty to know. We took a field trip to Tom Merritt's house in Los Angeles to see what it takes to create a home studio.

Know How... 45: Set up a Minecraft Server

OMGcraft's Chad Johnson is here to show us how to set up a Minecraft server. It's easier than you think!

Know How... 43: Encrypt Your Data with TrueCrypt

Theory

Know How... 44: Cameras 101

In today's episode, Leo explains the things you should know to get the most out of your digital camera.