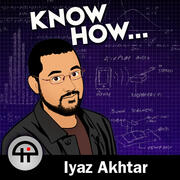 KH 90: Project Ara, Feedback and Heartbleed Demo

Project Ara is a modular smartphone concept, viewer feedback from our G+ community, Heartbleed in action, and more!

KH 89: Heartbleed, LastPass, and Make Windows Faster

The Heartbleed exploit explained with jellybeans, tweak Windows 7 or 8 for extra speed, manage your passwords with LastPass, and a first look at the WRT 1900AC.

KH 88: Soldering 101... with a DJI Drone

We learn some basic Soldering, take a sneak peek at the new HD Drone from DJI, and show you how to properly publish your new podcast.

KH 87: Titanfall Goat-Bloat Simulator in Low Def

We discuss Titanfall's clever anti-cheat system, tweaks to make your games run and look better, get rid of Adobe bloat, and creating the ultimate low def effect.

KH 86: Knowledge Is a Dangerous Thing

Learn how to prank your network friends and go back to the future to upgrade your Mac.

KH 85: Feedback and Mobile Podcasting Rig

We answer questions from our Google Plus Community, and build a mobile Podcasting Rig.

KH 84: Titanfall Rig and Monitoring Networks

Join the OC Hackerz Hackathon in Irvine California, prepare your computer for Titanfall, and network monitoring tips to see who's hogging your data.

KH 83: Linux on a USB and Sound Controlled LED

Why you should understand DNS, make a bootable Linux OS on a USB, and control a string of LED's using TIP31 transistors.

KH 82: RasPi Web Server and Panning Timelapse

Cryptocurrencies wasted energy, a Raspberry Pi Web Server, and use an egg timer for time-lapsing.

KH 81: Viewer Feedback and Speeding up DNS

We discuss getting rid of space junk with a tractor beam, viewer feedback straight from Google Plus, and speed up your DNS.

KH 80: Geeky Valentines Gift and Cantenna

Make the ultimate geeky valentines day gift out of a wearable LED, and extend your wifi by making a cantenna.

KH 79: Reviving your Hard Drive

Learn how to rescue your data from a dying hard drive, and answering viewer questions about USB Drive FreeNAS.

KH 78: FreeNAS

Got a few old computers laying around? Want an enterprise-level storage box? Expert guest Patrick Norton shows us how to create a FreeNAS using old system parts.

KH 77: Mavericks USB Boot Drive, RasPi WebCam, and Home Router Basics

Make your own Bootable OS X Mavericks USB Drive, build a Raspberry Pi WebCam, and learn Home Router Basics.

KH 76: GoPro TimeLapse Basics, Fixing your Dogecoin Miner, and Wireless 101

Simple how to GoPro time-lapse, cooling your Dogecoin miner, fixing block chain syncing, basic 2.4ghz wireless setup, and more.

KH 75: GreenScreen Basics in Adobe Premier and Upgrading Your Dogeminer

Learn the basics of Green Screen using Premier, a quick tip for Chrome, and upgrade your Dogeminer. Connect with us! Don't forget to check out our large library of projects on this site. If you want to search for a topic, try this custom search engine. - Google+ Community at gplus.to/twitkh - Tweet at us using the hashtag #twitkh - Email us at knowhow@twit.tv Please take the Please take the TWiT Audience Survey. It only takes a few minutes and we'd love to know what you think.TWiT Audience Survey.

KH 74: Switch Macbook with SSD and Basic Crypto Mining

Replacing your Macbook optical drive with a second hard drive, and learn the basics to mining cryptocurrency.

KH 73: How to Build a Professional Green Screen and Adobe Premiere Part 2

Learn what it takes to build your own green screen, and part two of how to use Adobe Premier.

KH 72: Network Videos on a Roku and Choosing the Monitor for Your Podcast

Today, we're going to show you how to play networked video on a Roku and tell you what you should know about studio monitoring.

KH 71: Importing Analog Video & Editing with Premiere Pro

In this episode, you'll learn how to digitize your analog content and then how to edit it using a non-linear editor.

KH 70: Fun with Thermocouples and Organizing Your Ripped DVDs

We're making power with thermocouples and it's time to organize your ripped DVD collection.

KH 69: Choosing your Podcasting Camera and Building a Raspberry Pi MAME Part 2

How to choose the perfect podcasting camera for you, and build your own Raspberry Pi MAME inside a NES case.

KH 68: How to Make a Data-Only Phone and Your Own Mobile VPN

In today's episode, Iyaz shows you how to create a data-only phone, Padre explains mobile VPN solutions and more!

KH 67: Trick or Treat! Choosing an SSD and Iyaz's Favorite Tech Pranks

A special Halloween episode full of tech pranks, and all you need to know when choosing a SSD.

KH 66: How to Build a Raspberry Pi MAME and Choosing Your Podcasting Mic

What kind of microphone is best for you, build your own raspberry pi MAME, how ROMs are made, and more.

KH 65: Power Your Gadgets with Fire & Locating Your Electronics

Deep space exploration, power your gadgets with fire, locate your lost or stolen devices, and more.

KH 64: Audio Calibration and Wiretapping 101

Today you'll know how to tap your network using Wireshark, how to fine tune your home theater audio, and more.

KH 63: How to Build a Portable Podcasting Rig and Wiretapping with Wireshark

How to Build a Portable Podcasting Rig, Wiretapping with Wireshark, and More!

KH 62: Assembling a Reprogrammable LED Electronic Kit

Today you'll learn how to make an electronic LED project, and special guest Scott Wilkinson shows us how to Calibrate your home theater!

KH 61: VLANs, Podcasting Rigs, & More!

How to Make a VLANs, Brainstorming a Portable Podcasting Rig, and the ioSafe N2 NAS!