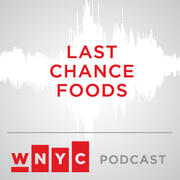 Last Chance Foods: Talking Ramen with Ivan Orkin

In the past few years, ramen shops seem to be popping up everywhere from Harlem to Flushing. Chef Ivan Orkin, who just opened Ivan Ramen Slurp Shop at Gotham West Market and published the memoir/cookbook Ivan Ramen, says that the reason ramen has gotten so popular is because it's the ultimate comfort food. "It's all in one bowl — it all gets eaten together," he says. "There's a lot of different flavors. There's fat and salt. And I think it just hits all those different points we need to make us feel good. And it's simple." Orkin opened his first ramen shop in 2007 in Tokyo, and went on to launch his own instant ramen brand. Not bad — for a Jew from Long Island. Orkin says being an outsider i...

Last Chance Foods: Tips on Creating a Thanksgiving Menu for Every Dietary Restriction

Gluten-free, dairy-free, soy-free, nut-free, vegan and vegetarian — has your Thanksgiving menu being undermined by food allergies and ethical objections? Tell us about what you don't eat in the comments below. Or share the extraordinary lengths you've gone to in catering to the dietary restrictions of your friends and family. Here's what three chefs and one caterer had to say about the subject. "I grew up in Maryland and on our way to the beach every year, we would see the poultry farms, or some of them, and they just really disgusted me," confessed Jacques Gautier, the chef and owner of the Brooklyn restaurants Palo Santo and Fort Reno. "That was the one thing that led me as a teenager to b...

Last Chance Foods: How Jacques Torres Does Thanksgiving

Master pastry chef Jacques Torres has a word of advice for anyone making pies for Thanksgiving. He says to keep it simple. "When you start to put too many [flavors together], you don't know what you eat anymore," he said. Instead, pick one main flavor and then use another ingredient or two to complement it. "When you start to put too many [flavors together], you don't know what you eat anymore," he said. Instead, pick one main flavor and then use another ingredient or two to complement it. "If you eat chocolate, add a tiny bit of salt. That salt [is] going to enhance the flavor of the chocolate," Torres said. "If you put pear, pear and chocolate, or orange and chocolate, marry very well toge...

Last Chance Foods: Getting a Start on Christmas Cake

Mid-November may feel too early to be bopping along to Christmas tunes, but there's one Christmas tradition that requires a long head start. English Christmas cake, according to Out magazine editor Aaron Hicklin, needs at least five weeks to mature, a process that calls for the cake being regularly soaked in booze. (If only human maturity was developed the same way.) Hicklin, who moved to New York from the U.K. in 1998, explained that Christmas cake is primarily made up of dried fruit such as raisins, cherries, orange and lemon peel, as well as almonds. After being baked at a low temperature for several hours, the cake is kept in an air-tight metal cannister. Then every few days, holes are p...

Last Chance Foods: Mastering Maitake Mushrooms

If you're out wandering the woods this weekend, you might want to keep an eye out for a ruffled mass of mushrooms stuck to the bottom of a hardwood tree. It could well be a maitake, or hen of the wood, mushroom. The fungi is delicious and has a meatier, more assertive flavor than average button mushrooms. "Their English name 'hen of the woods' is as such because they look a little like a slightly ruffled mother hen sitting at the base of a tree with her feathers all fluffed out," explained Marie Viljoen, the author of the new book 66 Square Feet: A Delicious Life, One Woman, One Terrace, 92 Recipes. "So those 'feathers' are the part that you eat. Those are the caps of the mushroom." Plucking...