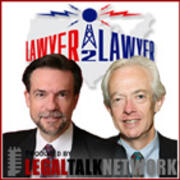 Google v. Authors' Guild: The 8-Year-Legal Battle Comes to a Close

This landmark case, involving Google's digitization project of scanning 20-million books to make them searchable through the Internet, was decided in favor of Google. "In my mind, this is a fair-use case that we will never see again," Andrew Albanese, senior writer for Publisher's Weekly, said, declaring the case a benchmark for future decisions. It was ruled that Google met the requirements of fair use and all four factors in defense of copyright infringement. In this edition of Lawyer2Lawyer, hosts Bob Ambrogi and Craig Williams chat with Andrew Albanese about the case, whether this constitutes transformative use, and what this case means for the online-media industry as a whole. Andrew Al...

Is U.S. District Judge Scheindlin's Removal a Question of Judges' First Amendment Rights?

"It's impossible to figure out exactly what the judge did wrong," University of Pennsylvania Law Professor Kermit Roosevelt says, discussing Federal District Court Judge Shira Scheindlin's removal from Floyd, et al. v. The City of New York, known as the "stop-and-frisk" case. The 2nd U.S. Circuit Court of Appeals ruled the Judge "ran afoul" of the Code of Conduct for United States Judges given her participation in media interviews and by making public statements about the "stop and frisk" case. The 2nd Circuit's ruling did not provide further detail or examples. In this edition of Lawyer2Lawyer, your host J. Craig Williams invites Roosevelt to discuss Scheindlin's removal, whether this actio...

The Lavabit Legal Battle: Should the Government Have Access to Secure Email?

Several email providers across the nation have chosen to shut down in reaction to the government subpoena of Lavabit's data. Ladar Levison, CEO of secure email provider Lavabit, chose to end operations after the government requested the company's SSL keys, which would grant access to more than 400,000 users' emails. Levison challenged the subpoenas under the fourth amendment and organizations including the ACLU and EFF have filed amicus briefs on behalf of Lavabit – but at this juncture, the security of secure email is unknown. In this edition of Lawyer2Lawyer hosts Bob Ambrogi and J. Craig Williams invite Attorney Jesse R. Binnall, Levison's counsel, to discuss the case, what it means for a...

F. Lee Bailey and Kenneth Fishman Discuss Excellence in Cross Examination

Cross-examination is a skill that every trial lawyer hopes to master, but few do. In the new book, Excellence in Cross Examination, published by Thomson Reuters, two giants of the trial bar, F. Lee Bailey and Judge Kenneth J. Fishman, share their insights and lessons on how to excel in cross-examination. In this edition of Lawyer2Lawyer, host Bob Ambrogi invites Bailey and Fishman to discuss their newest book and the key skills lawyers need to be effective in cross. Having represented high-profile names such as O.J. Simpson, Dr. Sam Sheppard, and Captain Ernest Medina, F. Lee Bailey is known for his successful career as a trial lawyer in criminal and civil cases. He has been a licensed attor...

What to Expect for the 2013-2014 Supreme Court Term

We saw a number of high-profile cases in the last Supreme Court term. With the nation currently alert to gay rights and Obamacare, some say this new term has fallen under the radar. But take note – as the spotlight shifts to campaign finance laws, free speech, and the president's power to make recess appointments – the upcoming docket could have some monumental decisions in store. On this edition of Lawyer2Lawyer, hosts Bob Ambrogi and J. Craig Williams invite the editor of the SCOTUSblog Amy Howe and LA Times Supreme Court correspondent David Savage to discuss the new term. • Amy Howe has been with SCOTUSblog since 2003. She has served as counsel in over two dozen merits cases at the Suprem...

How You Could Be Sued for Sending a Text Message

The New Jersey State Appeals Court recently ruled that texting someone while that person is driving may cause the sender to be liable if an accident occurs. Supporting arguments say those texting drivers are "virtually present" at the accident. This potential liability affects the distribution of responsibility amongst drivers when a collision occurs. On this edition of Lawyer2Lawyer, your hosts Bob Ambrogi and J. Craig Williams invite Attorneys Ted Frank and Marc Saperstein to the discuss the case ruling, whether this advisory ruling will effectively prevent distracted driving, if it's a fair allocation of responsibility, and more. • New Jersey Attorney Marc Saperstein is a founding member ...

Defining the ObamaCare Essential Health Benefits

On this edition of Lawyer2Lawyer, your host J. Craig Williams speaks with Dr. Shana Alex Lavarreda and David Cusano, Esq., two health-insurance industry professionals, on the implementation of the Essential Health Benefits within the Affordable Care Act, a.k.a. ObamaCare. There are ten Essential Health Benefits that all states are required to include, but the missing element is the lack of definitions for these benefits – which leaves us all wondering how to confirm the 50 states are correctly implementing them. • Dr. Shana Alex Lavarreda is the director of health insurance studies for the UCLA Center for Health Policy Research. Her research focuses on discontinuous health insurance, under i...

Can We Constitutionally Implement Stop and Frisk?

On this edition of Lawyer2Lawyer, Bob Ambrogi speaks with Sunita Patel of the Constitutional Center for Human Rights and Heather Mac Donald of the Manhattan Institute for Policy Research on Judge Scheindlin's recent ruling, Floyd vs. City of New York, which deemed the NYPD's use of the stop-and-frisk policy unconstitutional. • Sunita Patel, an attorney for the Center for Constitutional Rights, litigates racial profiling, immigrant justice, and other human rights issues. She represents the named plaintiffs in the Floyd class action, four minority men who argued that the stop-and-frisk law was being upheld unconstitutionally and caused indirect racial profiling. The case was filed by the CCR. ...

New American Bar Association President James Silkenat Outlines His 2013-2014 Agenda

On this edition of Lawyer2Lawyer, hosts Bob Ambrogi and J. Craig Williams speak with ABA President James Silkenat, on his first day in office, about his goals and initiatives for the ABA agenda. James Silkenat has been working in international law for more than forty years. He joined the ABA's first delegation to China in the mid-1970s and since then has chaired the International Law Section. He is a member of the Council on Foreign Relations and of the American Law Institute, and has served as a Fellow in the U.S. State Department Scholar/Diplomat Program. As well as numerous other positions in and outside of the ABA, he will now serve as the president of the nation's largest legal organiza...

Should a Chimpanzee Have Human Rights?

If it's not legally a human, it's a thing. But animal rights advocates argue these alternatives fail to recognize that there are many cognitively complex species who deserve to be treated as people. The Nonhuman Rights Project is planning to file a writ of habeas corpus on behalf of a chimp to grant her the right to bodily liberty. This will release her from the cage she is currently living in, and the project will have her admitted into a cageless sanctuary. Steven M. Wise, president of The Nonhuman Rights Project, has been researching and planning this case for 20 years. Steven M. Wise has been practicing animal protection law nationwide for for the past 30 years. He was the first professo...

Post DOMA and Prop 8 Rulings: The Next Move for Gay Rights

With the Supreme Court's Prop 8 and DOMA rulings, same-sex marriage is now legal in California and same-sex married couples can receive federal benefits across the nation. These landmark decisions for gay rights have sparked the question: is nationwide marriage equality on the way? On this edition of Lawyer2Lawyer, hosts Bob Ambrogi and J. Craig Williams will talk with Constitutional Law Professors Mark Tushnet and William Eskridge about what the history of both the gay rights and the civil rights movements have to say for the future of gay rights in America. • Harvard Law Professor Mark Tushnet specializes in constitutional law and theory, with a focus in examining the practice of judicial ...

Is Batman Legally Dead?

On this episode of Lawyer2Lawyer, J. Craig Williams chats with Entertainment Lawyer Michael Baroni and superhero-law expert James Daily about the ending of The Dark Knight Rises. Proceed with caution – there are spoilers ahead! The city of Gotham sees Batman die at the end of the film. Does that mean that Bruce Wayne is legally dead, as well? And if so, who gets the batmobiles? Legally speaking, Warner Brothers' design patent on the batmobile will run out, as will their patent on the story. Will another company fill the role and bring back Batman? • Baroni has been watching the Batman films since he was a kid and continues to be an enthusiast. Batman fan by night, he works as general counsel...

Personal Audio vs. Electronic Frontier Foundation: The "Podcast Patent" Dispute

Personal Audio's founder Jim Logan created and patented an idea which, in his eyes, covers the concept of podcasting. "This is the story of the American inventor," Richard Baker, Personal Audio's vice president of licensing, says. Personal Audio has filed lawsuits against several podcasters and media companies, claiming patent infringement by popular programs such as NBC's The Adam Carolla Show and by CBS for its podcast distribution of multiple shows including The Voice and Meet the Press. On the other side, The Electronic Frontier Foundation (EFF) has spearheaded a campaign dubbed "Save Podcasting!" to rescind Personal Audio's patent. EFF's goal is to revoke Personal Audio's right to compe...

Sacramento's New One-Day Divorce Program

On this episode of Lawyer2Lawyer, Bob Ambrogi and Craig Williams invite California Judge James Mize to discuss his first-of-its-kind idea to address the heavy congestion of divorce cases in Sacramento's family court: The One-Day Divorce Program. This allows couples, who meet the specified requirements, to participate in an expedited divorce process that finalizes the separation in just one day. This program aims to serve couples who can't afford a divorce lawyer. According to Judge Mize, 72% of family law litigants in California don't have representation. Judge Mize began his career with an undergraduate degree in psychology, followed by graduate work at the School of Social Welfare where he...

Private Prisons, Profits, and Prisoners' Rights

On this edition of Lawyer2Lawyer host Bob Ambrogi discusses private prisons with Susan Herman, president of the American Civil Liberties Union (ACLU), and Adrian Moore, vice president of the Reason Foundation, a non-profit in support of libertarian principles and privatization. Susan Herman was elected president of the ACLU in October 2008. As Centennial Professor of Law at Brooklyn Law School, she teaches courses in the area of Criminal Law and Procedure and Constitutional Law. The ACLU has been studying and protesting against private prisons as a for-profit business for decades. Dr. Adrian Moore is vice president of policy at the Reason Foundation. He has conducted studies, written publica...

Will Accused Boston Marathon Bomber Dzhokhar Tsarnaev Get the Death Penalty?

Dzhokhar Tsarnaev, the surviving brother of the accused for the Boston marathon bombings, has become a face of the media lately. His prosecution and potential sentence raises many questions for both the public and the legal world. Attorneys and co-hosts Craig Williams and Bob Ambrogi join Attorney Jack Cunha and Professor Douglas Berman to discuss the prosecution and trial of the suspect. • Jack Cunha, of Cunha & Holcomb, is a practicing criminal attorney based in Boston, Massachusetts. A former instructor at Suffolk and Harvard Law Schools, Cunha lectures nationally for various associations and schools such as The National Association of Criminal Defense Attorneys, Harvard Law, and CLE Prog...

Defending a Serial Killer

What is it like to defend one of America's most infamous serial killers? Lawyer2Lawyer hosts Bob Ambrogi and Craig Williams join retired judge and lawyer, Sam L. Amirante, and retired lawyer, Daniel J. Broderick, to discuss their new book, John Wayne Gacy: Defending a Monster, and the constitutional right to a defense.

Predictive Policing and the Law

Some law enforcement agencies, like the Los Angeles Police Department, are turning to crime prediction software to aid in decreasing the rising crime rate, better known as predictive policing. Weighing the advantages of these programs to reduce crime raises questions about racial profiling within specific neighborhoods and our civil liberties. Lawyer2Lawyer hosts Bob Ambrogi and Craig Williams join Dr. Jeff Brantingham, co-founder of the company, PredPol and Professor Andrew G. Ferguson from the University of the District of Columbia David A. Clarke School of Law, as they look at the legal issues surrounding predictive policing.

Lawyer2Lawyer: A Retrospective

We started Lawyer2Lawyer back in August of 2005 with the idea of providing quality content and discussion of timely legal news and information for the legal profession with regularly published podcasts and often videos too. Since our inception, we have set the precedent for legal podcasting in numbers of listeners globally, but more importantly, we've been one of the leaders in great content - our priority over the past 7 years. On this final edition of Lawyer2Lawyer, hosts Bob Ambrogi and Craig Williams, talk about their personal experiences over the years with this legal podcast.

Legal Implications Surrounding the Meningitis Scare

The New England Compounding Center (NECC) shipped out tainted steroid shots to 23 states in what authorities believe resulted in a national fungal meningitis outbreak. Lawyer2Lawyer host Craig Williams chats with Attorney Michael F. Barrett, a personal injury attorney from the firm, Saltz Mongeluzzi Barrett & Bendesky, PC and Glenn Cohen, Assistant Professor of Law and Co-Director of the Petrie-Flom Center for Health Law Policy, Biotechnology, and Bioethics at Harvard Law School, about the litigation stemming from this meningitis scare, the role of the FDA and CDC and regulation.

Revisiting Voter ID Laws

Since our program spotlighting Voter ID Laws and Voter Purges across the country, there have been big developments in Arizona, Tennessee and key battleground state, Ohio. Lawyer2Lawyer hosts Bob Ambrogi and Craig Williams chat with Daniel Tokaji, Professor of Law at The Ohio State University's Moritz College of Law and Lawrence Norden, Deputy Director of the Brennan Center's Democracy Program, about this how the upcoming election might be impacted.

Prop 34, The Death Penalty Initiative Statute

On November 6, 2012, Proposition 34 will be one of the initiatives on the ballot in the state of California. If approved, Prop 34 will eliminate the death penalty in California and replace it with life imprisonment without the possibility of parole. Lawyer2Lawyer host Craig Williams joins Attorney Donald H. Heller to discuss Proposition 34, support and opposition and ultimately the impact on our prison and justice system.

The Presidential Race and the Judiciary

On November 6, 2012, people across the States will cast their vote for President. Whatever the outcome, it will influence our justice system. Lawyer2Lawyer hosts Bob Ambrogi and Craig Williams join Kenneth L. Manning, a professor of political science at the University of Massachusetts at Dartmouth and Professor Carl Tobias from the University of Richmond School of Law, to discuss everything from diversity in the courts, Supreme Court vacancies and obstruction and the impact on the justice system.

Key changes to Patent Law

Back on September 16, 2011, President Obama signed the America Invents Act (AIA) into law, vastly changing the core of the patent system and patent law. Now, a year later, some of the key provisions are going into effect. Lawyer2Lawyer host Bob Ambrogi talks with Attorney Matthew I. Kreeger, the Co-Chair of Morrison Foerster's Patent Interferences Practice Group and Dennis Crouch, Associate Professor of Law at the University of Missouri School of Law and editor of Patently-O, about the implementation of some of the most important provisions of the America Invents Act and their impact.

Civility as an Art Form in Diplomacy and the Law

Civility is a skill in the management of differences, disagreements and conflict and is good for the law profession. So how essential is civility to the legal profession? And is it practiced well by lawyers? Lawyer2Lawyer hosts Bob Ambrogi and Craig Williams join Dick A. Semerdjian from the firm Schwartz Semerdjian Ballard & Cauley LLP and chair of the ABA Tort Trial and Insurance Practice Section (TIPS), to discuss the status of civility in the legal profession.

Lawyer2Lawyer 7th Anniversary

On the longest continually produced legal podcast, Lawyer2Lawyer hosts Bob Ambrogi and J.Craig Williams share their experiences with great guests and insightful legal topics - some serious and some not so serious. And hear a behind the scenes special interview.

From the Courtroom to the Comedy Club

Lawyers are very often the brunt of jokes, but there is a group of attorneys that has turned the tables and is making people laugh with them instead of at them. Lawyer2Lawyer co-hosts and attorneys, Bob Ambrogi and Craig Williams, share the stage with two of the Comedians At Law. Alex Barnett and Matt Ritter explain how they transitioned from lawyers to comics and how they now make people laugh at the lighter side of the law.