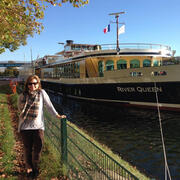 Let's Talk Travel-Fear Of Flying 72614

Afraid to fly? You're not alone. Captain Ron Neilsen, commercial pilot and best-selling author of THE FEARLESS FLIGHTKIT-REMEDY FOR A FEARFUL FLYER offers advice and answers on how to deal with your fear of flying. Visit his website www.fearlessflight.com

Let's Talk Travel-Atlantic City 53014

"The Queen of the Coast"-Atlantic City today. It's the boardwalk, the beach, the incredible and luxurious hotels and casinos...and the gambling. And there's more. Melissa Birdsall from Caesars Entertainment will take us on a tour to explore AC

Healthy Travel for Summer Vacations

Dr. John Goldman joins us again to talk about the MERS in the news. What to pack in your travel kit this summer and advice for those who had a recent death in the family.

Ireland With CIE Tours 51314

Tips on travelling to Ireland with Susan Cloyd from CIE Tours who was born and raised in Ireland.

Munich 41514

Munich, Germany has so much to offer. Beer, brats, BMW and so much more. Learn about German's second most popular destination with Rupert Geiger, Director of Dept. of Munich Tourism. To learn more visit www.munich-tourist.de

Touring China With Wendy Wu Tours 031114

Dreaming of a visit and touring China? There's never been a better time to explore the land with thousands of years of history and unique culture. Mark Grundy, President of Wendy Wu Tours to China will give us some expert tips on travelling to China.

Historic Omni Hotels

Historic and luxurious hotels in the State of Pennsylvania. The Omni Bedford Springs Resort in the Southern Allegheny Mountains and the Omni William Penn in the heart of downtown Pittsburgh.

Let's Talk Travel-Royal Caribbean 13014

Looking for "The WOW Factor" on your next cruise? Royal Caribbean has been setting the bar with both passengers and within the cruise industry including many onboard firsts at sea. Roxanne Steel is my guest as we explore their 22 ships including their newest, "Quantum of the Seas" which will WOW passsengers starting in November 2014.

Viking River Cruises

European river cruises are soaring in popularity. Having two sailings under my belt, I totally understand why. Viking owns and operates the world's largest and most popular fleet. Michelle Saegesser of Viking River Cruises did a show with me so we can tell you why your next cruise should be a river cruise.

Healthy Travel W Dr. John Goldman-Jan 14

Dr. Goldman is an infectious disease specialist with Pinnacle Health and joins us again to answer your questions on how to stay healthy while travelling. This time travel tips when visiting an exotic country, what to put in your travel medical kit, and when to call 911.

Healthy Travel-January 2014

Dr. John Goldman, infectuous disease specialist from Pinnacle Health is back to answer your questions on how to stay healthy while travelling. Tips when visiting an exotic country, what to pack in your travel medical kit and when should you call 911.

The Pocono Mountains in Pennsylvania

The Pocono Mountains in northeastern Pennsylvania attracts thousands of people from New York, New Jersey, and Pennsylvania for those looking for a mountain getaway. The Poconos are especially attractive during the winter and holidays for the snow and their many ski resorts. In this episode of Let's Talk Travel, Sandy and her guests take you on a tour of the fabulous Pocono Mountains.

Exploring South Africa & Its Wines

Winemakers from Rusten Vrede and Ernie Els Wines flew in from South Africa and are my guests to talk about their incredible wines and also the place they call home.

Tres Bonne Annee 2013

The 13th annual Tres Bonne Annee (French for-A Very Good Year) is one of the most successful wine auctions for charity on the East Coast. Bill Kohl is the founder/president. This year features wines from South Africa with wine makers from that region as the special guests

Monterey CA & The Sardine Factory

Ted Balastreri & Bert Cutino from the world famous Sardine Factory Restaurant on Cannery Row in Monterey California.

Insight Vacations

Is an escorted motor coach tour for you? I've always received alot of questions from listeners about them so after waiting 20 years, I've done it. These are not our parents' "bus tours." This is what I like to call "business class" touring. Insight Vacations is an award winning premium first-class tour company. Joining me for this travel segment is their president, Marc Kazlauskas and vice-president Phil Capelli. Learn more about Insight Vacations at www.insightvacations.com

Princess Cruises 92813

Their ship was THE LOVE BOAT on the popular TV series. Princess Cruises is one of the best known names in cruising. Sandy interviews Linda Pastorkovich from Princess about their incredible new ship The Royal Princess christened by Princess Kate that features an incredible "sea walk." Learn more at www.princess.com

Exploring Alaska

Sandy talks to the folks from "On Stage Alaska" about taking a vacation to "The Great Land."

RV Trvl-RV Show 90513

Sandy interviews Dan Saltzgiver, RV dealer and from the largest RV show in America, this month in Hershey, PA. Dan tells us about RV's, what they cost, where you can go and a preview of the show.

A Career At Sea Onboard A Cruise Ship

Sandy Fenton, host of Let's Talk Travel speaks with Frankie Verroca about what it's like to work at sea on a cruise ship. How to apply and also advice for first time cruisers.

Healthy Travel With Dr John Goldman

Sandy Fenton, host of Let's Talk Travel talks to Dr. John Goldman from Pinnacle Health's Travel Clinic on what to pack in your bag when you go on vacaton.