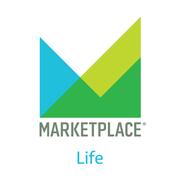 This is an office, not a jungle gym!

Marketplace Datebook for Thursday, April 24, 214

What's on that dollar bill? Maybe some anthrax

Maybe you want to put down that money now.

If life gives you eggs, make egg salad

Marketplace Datebook for Tuesday, April 22, 214

Got a favorite tree? Throw it a party

Marketplace Datebook for the week of April 21, 214

Clarissa explained it all ... now she's 8

The Marketplace Datebook for Friday, April 18, 214

What 1717 means: your trolley number guess

Is it the answer to the ultimate question of life, the universe and everything?

International business and Ukraine

Diplomats from Ukraine, Russia, the U.S. and the EU are in Geneva

Born to fly

Marketplace Datebook for Wednesday, April 16, 214

Datebook: Say cheese... all April long

Marketplace Datebook for the week of April 14, 214

Last week may have been Goulda, but this week is Feta

Marketplace Datebook for April 11, 214

Roses are red, violets are blue

Marketplace Datebook for Thursday, April 1, 214

Tired of your name? A one day solution

Marketplace Datebook for Wednesday, April , 214

Biofuels, beer and Boardwalk Empire

Marketplace Datebook for Tuesday, April 8, 214

Did Andy Warhol actually say his most famous quote?

A lesson about branding from the world of art.

Pin the week on safety pins

Marketplace Datebook for the week of April 7, 214

Mama may have, Papa may have...

Marketplace Datebook for April 4, 214

It might not lead to a pot of gold, but it could

Marketplace Datebook for Thursday, April , 214

PB'ampJ tops the menu

Marketplace Datebook for Wednesday, April 2, 214

Happy Birthday, world's most valuable company

Marketplace Datebook for Tuesday, April 1, 214

As the world turns, don't stress about it

Marketplace Datebook for the week of March 1, 214

Lady Gaga(s)

Marketplace Datebook for Friday, March 28, 214

Datebook: Let's give a hand to the X-ray

Marketplace Datebook for Thursday, March 27, 214

Left in the dust by kale

Marketplace Datebook for Wednesday, March 26, 214

Grab your coat, we're going to the frozen food aisle

Marketplace Datebook for Tuesday, March 25, 214

A day to be neighborly

Marketplace Datebook for Thursday, March 2, 214

Kudos to the Tooth Fairy

Marketplace Datebook for Friday, February 28, 214

Marketplace Music: Our very own music station

Listen to some of our favorite tunes.

What it's like to be (well, voice) a Disney Princess

Janet Hsieh on playing the Mandarin-speaking Princess Anna in 'Frozen'

The 5 steps of snowday acceptance

Commentator Beth Teitell feels for parents stuck at home on snow days

Dispatch from a woman stuck in her car in Atlanta

The city of Atlanta is in the middle of a giant two-day snow and ice storm that has left kids stranded at school, people in makeshift shelters, and commuters trying to get two or from work stuck on the roads in miles-long gridlock.

Stop checking your email. Really.

But if you want to be productive, go ahead and check Facebook

Rural schools are struggling to keep the lights on

When rural families leave to search for better jobs, schools scramble to make cuts -- and may even shut down.

If adults use their phones more than teens, who's 'quotaddicted'quot?

One teen says "Look at the data." Not on your phone.

Is grad school 'quotprofessional suicide'quot?

Consultant Karen Kelsky says a change in school funding is leaving many grad students buried under a pile of insurmountable debt.

Mustaches are up shaving is down

Too much information about body hair

Is 'art' a dirty word at Sundance?

Grantland's Wesley Morris says studio execs looking to buy flicks are expecting more these days

Why I'm saying goodbye to the NFL

One commentator ends her love affair with professional football

The elements: Carbon's all around

Carbon is the ultimate bonder but in some forms, it can be dangerous. Carbon Monoxide can poison you. Carbon Dioxide is blamed by some for global warming.

To compete for students, colleges roll out the amenities

Forget cinder block walls and communal bathrooms, today's student housing features granite countertops, high-end mattresses, and high-tech laundry.

The skeletal remains of farm life on the Plains

A photographer and sociologist pair up to document the changing landscape of a once bustling farm region

Don't have a credit history? Utility bills could soon help

Congress is considering a bill, the Credit Access and Inclusion Act, that would make it easier for nontraditional borrowers to build a credit history.

A tactical approach to personal finance

When it comes to personal finance, a military-esque dedication to discipline can work well.

The Federal Reserve chairs are getting shorter and shorter

Approaching the zero lower bound, some might say.

Why is it so hard to make a career as a short story writer?

Alice Munro's Nobel Prize for Literature is unusual in that she was a short story writer, rather than a novelist. How did she manage to make a career as a short story writer?

Australians ahead of the curve when it comes to moving health care to the digital world

In Australia, digital medical records and other health care technologies have been in place for years.

Comedy on Vine and YouTube: Bo Burnham

Comedian Bo Burnham talks about his new book of poems and his theory behind comedy.

Liar, liar, pants on fire!

1.2 million swallowed this one: hook, line and sinker.

Arsenio Hall show: Late night rerun or classic TV?

The late night host and comedian returns to TV with a new CBS talk show.

Candy cane-eating bees make red-tinted honey

Red honey is showing up in beehives around Utah. The source seems to be the bees, feeding off leftovers from a local factory that makes candy canes.

Heroin use on the rise in rural areas

The number of first-time heroin users in the U.S. is on the rise, and overall, heroin use went up 66 percent in 211.

Latest inflation victim: Tooth Fairy

Kids these days are getting more than $ a tooth from the Tooth Fairy.

Father of foam finger unhappy with Miley Cyrus

"I would say that she certainly misrepresented its intent to encourage team support."

The Abercrombie & Fitch Chair in Inflammatory Bowel Disease

Ohio State trustees will vote this week on also renaming its medical school's emergency department after retailer Abercrombie ' Fitch.

The mindset of incoming college freshman, born in '5

Incoming college freshmen were born in 15, so don't date yourself by making stale pop culture references.

The country club-ization of college living

With classes starting soon, college students are heading back to campus. But you might not recognize where they are living. In fact, you might be jealous.

How one family went bankrupt spending $100,000 on Beanie Babies

A documentary filmmaker tells the story of how his father's obsession with the plush collectables cost the family everything.

What Amanda Bynes' parents want for her

The 27-year-old actress has run through $1 million in recent months while acting increasingly erratically. Her parents are seeking a conservatorship to put them in charge of her finances.

Many teachers schedule summer babies

With limited maternity leave, many teachers try to have their babies during the summer break.

Public school families hit with fees as kids go back to school

Public school is supposed to be free, but around the country families are being asked to foot the bill for laptops and tablets for their students.

Dinosaur bones for sale: 'Dino Cowboy' avoids museums

Auction house plans to sell the bones of two fighting dinosaurs.

CBS blackout? 4 tips and tricks to get your fix

Some savvy Time Warner Cable customers have schemed out ways to watch CBS and Showtime during the cable dispute. What are they?

Red pants aren't snobby, right?

But it's tradition here at Marketplace!

'Sharknado' -- How the low-budget flick went from Twitter to the big screen

Once upon a time a little low-budget movie about a tornado and sharks taking over Los Angeles became a hit on Twitter, and grew up to head to a movie theater near you.

Why gay activists shouldn't be boycotting Stolichnaya Russian vodka

Latvians are saying not to boycott Stolichnaya Vodka over Russian gay rights abuses...because Stolichnaya is actually made in their country.

The suburbs: No longer the American Dream?

The American Dream is moving away from suburbia. Why?

Facebook getting more primetime viewers than any major TV network

The social network is getting half of television viewers between 18 and 24 years old during the primetime hours.

Living life as a target-market female

What it's like to live in an advertiser's world of the target-market female, aged 25 to 45 years old.

Book picks for your summer reading list

Need a book that can help your finances too?

The final interview with George Mitchell, father of fracking

The 94-year-old oil pioneer who changed the face of the energy industery with his fracking procedure died today. He gave his final interview to Marketplace's Scott Tong.

'Genies' head to Salt Lake City to grow family tree

Salt Lake City has become the genealogical capital of the world, and it's all because of Mormonism.

A few books to dive into this summer

Need a book with an economic theme this summer? Here's a few choices.

The art in Walmart: A painter turns his canvas on store aisles

A whole new meaning to the term 'sexting'

'On the Floor' with a former investment banker

Americans don't think journalists contribute a lot to society

Thank you not very much for my address labels

Recreating the feeling of Starbucks, without the high-priced coffee

Student debt: The burden on seniors

Dealing with a large amount of student debt

'Baywatch' = California, 'Golden Girls' = Florida

Business school students learn leadership from Battle of Gettysburg

A window that talks to you

Fireproofing your home in the wilderness

Hundreds of homes have already been lost to wildfires this summer. There are ways to make these houses less likely to burn, but fire mitigation is a hard sell to homeowners.

James Patterson books continue to pile up

James Patterson releases his 108th and 109th book and has no plans to slow down.

Big changes coming for gay couples' personal finances

The Supreme Court's landmark rulings on same-sex marriage this week mean gay couples have new legal territory to consider when it comes to merging their financial lives.

Aaron Hernandez jerseys: Trade 'em in, for free

The New England Patriots organization is offering a free exchange for another player's jersey this weekend only.

Yuck: A fourth-grader's undercover look at school lunch

In the fall of 2011, fourth-grader Zachary Maxwell set out to show his parents and the world his less-than-appetizing lunch tray reality.

In health care reform, art keeps patients in the picture

Local artist Regina Holliday has recruited a walking gallery of story tellers to make sure patients get as much attention as profits

Blastoff! Talking robot Kirobo to head off to space

This fall, a "humanoid communication robot" called Kirobo will travel to the International Space Station to keep astronauts company.

Headed for your fish and chips: The lowly dogfish

Cod fishermen off Massachusetts catch few cod these days. Their allowed limits have been slashed because cod are fished out. What does take their hooks is dogfish -- lots of dogfish.

Historic theaters reopening in small Georgia towns

In the age of multiplexes, hundreds of small American towns have historic theaters that sit empty. But one of the country's largest old-time theaters hopes to reverse that trend.

Hi-top fade haircut: It's all business

The iconic '80s hairstyle, the hi-top fade, is making a comeback. Part of the reason: It's good for business.

Ahh... The scent of alma mater...

Notre Dame is the latest school to market its own fragrance.

Forget the IRS; investigate the Girl Scouts!

An Iowa congressman is calling for an inquiry by the House Ways and Means Committee into the finances of the Girl Scouts.

Teens face stiff competition in the search for a summer job

Many young people are struggling to find jobs now that school is out for summer. The usual seasonal employment is being filled by older workers so what are teenagers to do to earn income?

Yes, you're an intern -- but you do have rights

With so many lawsuits popping up from interns claiming they were exploited by their places of work, it's a good time for a refresher on what your rights are as an intern.

Your summer job stories: The good, the bad, the ugly

We asked you to tell us about your best and worst summer jobs. Read some of the stories, including that of 15-year-old Delaney Stokes, who just scored her first summer job.

Get amped! There are affordable summer camp options

Summer camp can be an unforgettable experience for kids...and a costly one for parents. But, there are ways for families to get a good deal.

The reinvention of LEGO

University of Pennsylvania professor Dave Robertson writes about the company and how it recovered from its near-death experience.

Putin says he'll replace lost Super Bowl ring

The Russian president claims he doesn't remember the incident involving Robert Kraft's Super Bowl ring.

Does new TV show stereotype Latinas?

The new TV show, "Devious Maids," is a soap opera aimed at a Hispanic audience, but some Latinos feel it trades in stereotypes.

'Mad Men' fan? You have 'The Sopranos' to thank

Television hasn't been the same since Tony stepped outside and found ducks in his swimming pool.

The case of the Super Bowl ring: Kraft says Putin pocketed it

New England Patriots owner Robert Kraft and Russian President Vladimir Putin have differing stories about what happened to Kraft's Super Bowl ring.

Writing a better college essay

Parents spend a lot of money to help their kids get into college. But students also have to write a great admissions essay. We've got some tips on helping your college admissions essay stand out.

Dear Son: A father's financial wisdom

New Jersey CPA Tom Corley, author of the book "Rich Habits," graciously shared the words of wisdom he gave to his son about how to achieve financial independence.

Caffeine withdrawal is officially a mental health disorder

The new edition of the Diagnostic and Statistical Manual now lists caffeine withdrawal.

U.S. NAVY STOPS YELLING AT YOU by dropping all-capitals communications

For 150 years, the official Navy communications system only allowed FOR ALL CAPITAL LETTERS.

Reinventing the standing desk

To sit or stand at work? That is the question. For those of you who can't decide, how about something in the middle?

The most cat and dog friendly states in the US

Does your home state prefer the companionship of canines or cats?

Semi-retirement: Getting a second-act career

Not everyone can afford -- or even wants -- to retire these days. But there are ways to profit during semi-retirement.

Film preview: 'The Internship'

A new comedy opens at the box office this weekend. It's called "The Internship," and its a hilarious take on starting over in the workforce.

Graduates take the stage at Oyler School

As our year-long series on Oyler School concludes, the neighborhood of Lower Price Hill gathers to celebrate the class of 2013.

Photojournalist John H. White on layoffs, 35 years at Chicago Sun-Times

He won a in Pulitzer in 1982, but didn't stop there. Chicago's legendary photojournalist John H. White reflects on the power of pictures days after he was laid off along with the Sun-Times' entire photo department.

How to pronounce Germany's longest word

Rindfleischetikettierungsueberwachungsaufgabenuebertragungsgesetz. The longest German word is no more. Now that its gone, we teach you how to say it.

In New York, all teachers will be graded

New York is going to start evaluating teachers in all subject fields, and tests results will be part of their performance evaluations. This week, the teachers start getting trained in the new grading system.

Tired of paying to check your bags? Here's one solution.

Paying for your airplane bags in bulk?

'When work feels overwhelming, remember you're going to die' and other uplifting greetings

Plenty of disgruntled workers have discovered Someecards.com -- a funny greeting card site where snarky messages express everything you're thinking, but would never say aloud. The card's

Wearing the wrong bra size? Jockey has a $60 solution for you

Oprah can vouch for it: an estimated 8 in 10 women wear the wrong bra size. So underwear stalwart Jockey spent eight years developing the solution: a $60 bra that comes in 55 sizes.

What do asteroids and the Federal Reserve have in common?

QE2. Quantitative easing or an asteroid?

New entries in the AP Stylebook: 'Flash mob,' 'Google Hangout'

The go-to manual for print media turns 60 this year.