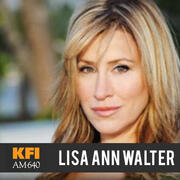 Classics and Remakes (12/8)

Remaking classics, The Sound of music, Creeps, and Florida!

Sandy Hook Audio and Paul Walker's 16 Year Olds(12/7)

Sandy Hook Audio and Paul Walker's 16 Year Olds(12/7)

Hollywood Hates Women and Gift Ideas(12/1)

Hollywood Hates Women and Gift Ideas(11/30)

Black Friday and Angel City Chorale

Black Friday, Angel City Chorale, and Small Business Saturday

Is Gluten Linked to ADHD?

Shopping Etiquette, Gluten and ADHD, and Stuffing!

First Female Soldiers and What Was Your "Red Rider"?

First women to graduate from Marine Corp. Infantry School, KFI for Caterina's Club, and the best toys!

Black Friday Deals (11/17)

Black Friday specials, parents returning adopted kids, and creeps of the week!

Black Friday Deals (11/17)

Black Friday specials, parents returning adopted kids, and creeps of the week!

Health Care (11/16)

Lisa discusses the ACA, senior's love lives, and more!

Veteran's Day (11/10)

Veteran's causes, Steve Gregory stops by, and creeps of the week!

Sexually Charged (11/09)

Websites for cheaters, rape culture, and tweets from the drunk tank.

Cold and Diet Remedies (11/03)

Diet Tips and Cold Remedies. Plus, more wal-martians and Creeps of the Week!

Is Chivalry Dead?

Lisa asks listeners: Is chivalry dead and who killed it?

Monique Marvez Subs (10/27)

Monique Marvez Subs (10?27)

Monique Marvez Subs 910/26)

Breast Cancer Awareness (10/20)

Lisa discusses sexualizing cancer awareness, breast exams, and creeps of the week!

Bullying (10/19)

Lisa discusses problems in schools, from bullying to over-reacting administrations.

Great Shake (10/13)

Lisa talks about great shake and earthquake preparedness. Also, Florida stories and Creep of the Week.

Mmm. Newsy. (10/12)

The government shutdown, prescription drugs affects on teens, numerology, and "the big one".

American Made (10/6)

Local made-in-America businesses call in! Creeps, Florida, and more!

Shut Down, Shutin' Down (10/5)

D.C. Crazies all over the news, Mel Gibson, and the impact of the gov. shutdown.

Nigerian Terrorist Attack (9/29)

Lisa Ann discusses the latest on the terrorist attack at a college in Nigeria.

Pumpkin Lattes and Football (9/28)

With the season turning, Lisa Ann tells you just what fall means.

Bye Bye (9/22)

The show says goodbye to "Hey" Megan Murray. Stories include: a stank in L.A., a 300 pound woman takes pics of herself nearly naked and "Creep of the Week"

Warriors and Food Stamps (9/21)

The Wounded Warrior Project and the food stamp program to possibly receive cuts

Monkey Business (9/15)

Monkeys on the loose! Also, double standards on HBO, how many dates before you have sex, leaving kids in the car and "Creep of the Week"!

Inspiring Stories (9/14)

Thousands of bikers ride into D.C., Miss Kansas Theresa Vail and X Factor contestant Rion Paige. Also, Steve Gregory joins the show to discuss the latest news.

Lisa Shares With You (9/8)

Lisa will tell you exactly what she thinks and feels. Topics include: zits, girlfriends, Pat Robertson, and online dating.

Syria (9/7)

Lisa discusses Syria

Serious Sex Talk (9/1)

Topics include: Robin Thicke and Miley Cyrus as role models, what women want in bed, plastic surgeon marries woman after he gave her work, McNugget rampage and "Creep of the Week"

Syria and Spanking (8/31)

Lisa talks to Bryan Suits and Dr. Robin Goodman about Syria. She also goes over the wife spanking movement.

Ben Affleck (8/25)

Russian intolerance, Affleck as batman, and Creeps!

Get it together, Time Warner (8/24)

Lisa's missing some channels, DWP is jacking prices (Again!), and pathetic ways people are dealing with autistic children.

Tribute Bands (8/18)

Lisa talks about the best tribute bands in Southern California. Also, more Filner, food stamps, Florida stories and "Creep of the Week"

Liog (8/17)

Chinese zoo tries to pass dog off as lion. Also, Hannah Anderson, DWP and animal news.

Monique Marvez (8/11)

Monique Marvez fills in

Amber Alert Suspect Killed (8/10)

James DiMaggio, abductor of CA teen Hannah Anderson, is killed in Idaho.

Food Coma (8/4)

Lisa is in a food coma after her birthday celebration. Topics include: celebrity news, terror alert, GMOs, Florida stories, and "Creep of the Week"

Happy Birthday (8/3)

Lisa celebrates her birthday by talking about crazy mall kiosk workers, Weiner and Filner, and tampons.

The Plague (7/28)

The Plague hits the Angeles National Forest! Also, Kris Jenner's new show and the shocking lack of self-control from Anthony Weiner and Bob Filner.

Change for Change! (7/27)

Lisa is ready to start a revolution on how they give back your change at the store! Also, internet privacy and "Made in USA"

Sex Addiction? (7/21)

Lisa talks about Sexual Addiction or is it? New research from UCLA might convince you otherwise. Also, creep of the week and Florida.

Kids These Days (7/20)

Lisa talks about the woman who was killed on a roller coaster in Texas. She also discusses the parenting of kids.

Zimmerman Verdict (7/14)

Callers vent their feelings about the Zimmerman trial verdict, Florida, and Creeps!

Greatest Albums Ever (7/13)

We play Lisa's favorite albums of all time, violent food commercials, and weigh in on the paparazzi picking on Suri Cruise.

Flying (7/7)

Lisa goes over her ritual for flying. Also, protesters rally against Hawthorne Police, vegans gone wacky, PETA, female inmates sterilized, and "Creep of the Week!"

Boeing 777 Crash (7/6)

The latest information on the Boeing 777 crash at San Francisco International Airport

Government Issue (6/30)

Things the government gets wrong, where to watch fireworks this week, and creeps!

The Heat (6/29)

The Heat! No not the heat wave, but the movie! Also, Paula Deen vs Alec Baldwin, young women dating older men, and "head orgasms"

Naked and Famous (6/23)

Topics include: CicLAvia, TV show "Naked and Afraid," website for teens "Make Love Not Porn," Creep of the Week, and an interview with Ross Matthews!

From Skunky to Sad (6/22)

Lisa tangles with her two pups after they're sprayed by a skunk. Also, James Gandolfini, the Hollywood stabbing and a wedding gift debate.

Vaca Time (6/16)

Lisa is enlisting the help of listeners to help her find a new vacation spot! Also, "Creep of the Week" and Lisa's own version of "The Dating Game"

Privacy Please! (6/15)

Lisa is pissed at Yahoo! for knowing all her business. Also, the woman who lost her $23,000 ring, the sexy Kraft dressing guy, and Carl's Jr. ads.

Dream Date (6/9)

Favorite childhood games (and most dangerous!), Florida weirdos, and creeps!

Problem Child (6/8)

Kids and mental health, news on the Santa Monica Shooting, and apolitician's wife fights back on the facebook.

Helllooo! (6/2)

Weekend movie numbers, parents outrage over "Gender Bender Day" at school, racist comments about Cheerios commercial, Megyn Kelly, Florida, and Creep of the Week!

Wild Teens and Wild Pets (6/1)

Keeping an eye on your kids, what makes pets vicious, nicknames for boobs and more!

Aging (some-what) Gracefully (5/26)

Lisa discusses favorite TV shows, changes in prowess as you age, poor crazy Amanda Bynes, and creeps!

Memorial Day Weekend (5/25)

Lisa Ann Waltertalks about her trip to New Orleans. She also discusses the recent rise in terrorism attacks, Amanda Bynes, and all the information you need for Memorial Day.

"O Canada!" (5/19)

Lisa comes up with a new national anthem for Canada. Also... Walmart, Florida, and "Creep of the Week"

Tom and Cheatin' (5/18)

Tom Bergeron joins Lisa in studio and she also goes over what Pat Robertson said this week

Mother's Day (5/12)

Mother's Day fun with Lisa's mom, Cloris Leachman, and more!

Boycotting (5/11)

Lisa and her KFI babies are boycotting all sorts of things including Abercrombie & Fitch and Disney's new makeover of Merida.

Super Sunday (5/5)

Iron Man 3 opens, the Reese Witherspoon arrest, body issues, Florida, and "Creep of the Week"

Kid Concerns (5/4)

15-year-old girls being able to get "plan B", 12-year-old boys given condoms, inappropriate commercials, an all vegetarian school, and how to avoid getting scammed at carnival games.

Rock n' Roll (4/28)

Concert memories, Supreme Court may limit use of race in college admission decisions, 10 things not to do in the bedroom, and "Creep of the Week"

Sex Shops (4/27)

Ventura Blvd is littered with sex shops! Also, McDonalds offering breakfast all day, restaurant tricks, Ben Affleck, and our new segment "News Most Likely To Become A Lifetime Movie"

Lisa's Sunday Sermon (4/21)

Lisa dishes up a Sunday Sermon of topics including: CicLAvia, Mayor Tony Villar aka "Mayor Cute Buns", Reese Witherspoon arrested, crazy school stories, and Creep of the Week!

Boston (4/20)

Lisa recaps and discusses the events in Boston this week.

The 70's Were Hairy (4/14)

Top show theme songs, deadly games kids are playing, and creeps.

Meals on Wheels (4/13)

Cooking for your kids, where charitable donations at thrift shops go, and a sad look at today's rape culture.

No News (4/7)

Lisa wants to know where the real news is. Also, North Korea, celebrities without makeup, Jenna Jameson, Gwinnie's cookbook and Creep of the Week!

Autism Awareness (4/6)

Autism Awareness events, where not to travel and spring break safety issues

Jesus Christ Easter Show (3/31)

Encore of The Jesus Christ Show in honor of easter Sunday.

Heidi Cuda Fills In (3/30)

Interviews with Debra Tate regarding new Manson information, Pensions, Bullying, and checking in with Father David o'Connell.

Cookin' With Lisa (3/24)

Lisa shares cooking tips from celebrity cookbooks, restaurants that are giving back, the truth about diets, and of course Creep of the Week!

Gay Marriage (3/23)

Kidnappings increasing across the country, and gay marraige gets more support.

St. Patty's Day (3/17)

Happy St. Patrick's Day from the Fabulous Lisa Ann Walter Show!

Rap Names (3/16)

Lisa promotes her new Rap Name game. Also, she discusses the L.A. Marathon, the man who called out the man his wife was having an affair with, and dumb infomercials.

YAY USA (3/10)

Products that are made in the USA and all sorts of scams: door-to-door, over the phone, internet, etc. And of course Creep of the Week.

Can You Hear Me Now? (3/09)

Free cell phones to the homeless in California, Holly Madison names her baby Rainbow, men's shameful secrets and Florida and Maryland should be expelled for looking like guns.

Mayor's Race (3/3)

The L.A. mayoral race and the always hilarious Creep of the Week!

Toodles (3/2)

Ali Syed update with Steve Gregory, Joan Rivers and her Holocaust joke, Seth Macfarlane's Jewish jokes at the Oscars, NFL and Clint Eastwood approve of gay marriage, bratty fashion and crazy vegans

Oscar Party (2/24)

Lisa's 2nd Annual Oscar Party! She talks about best and worst dressed, Oscar snubs, previous winners and so much more!

Catching Up (2/23)

Lisa catches up on all the news that happened this week. Lisa also gives listeners a sneak peak of her special Oscar show.

Cop Hating (2/17)

Jillian Michaels said she hates cops, Dorner support grows, celebrity "Wife Swap", Sports Illustrated racist photos, people walking around with weapons, and Creep of the Week!

Stinkin' Cruise (2/16)

Catholic bashing, Carnival cruise ship finally docks, Dorner supporters protesting LAPD, Dateologist Tracey Steinberg tells you how to flirt, and Valentine's Day gone wrong.

No Romance Here (2/10)

Dorner update, Rex Reed goes off on Melissa McCarthy, Anti-Valentine's Day ideas, Grammys fashion and Creep of the Week

Manhunt/Bratty Kids (2/9)

Steve Gregory joins Lisa to discuss the continued search for Christopher Dorner and Lisa goes off on the bratty kids in the news this week.

Football? What's A Football? (2/3)

Who needs the Super Bowl? Lisa discusses the importance of "Zero Dark Thirty", things that are wrecking your sex life, and Creep of the Week!

Good Tippin' (2/2)

Waitress at Applebee's who was fired over posting mean receipt, Alabama boy is being held hostage, gay rants in football, and gluten free eating with Nora Lynch

The Good, Bad and Ugly (1/27)

The good: Heather McDonald in studioThe bad: The movies that opened this weekendThe ugly: The parade of pedophiles this week

Lady Rage (1/26)

Lisa has got a lot to say about SoCal gridlock, bicycles, Tina Turner, women in combat, and lady rage.

Kardashians and Kreeps (1/20)

The Kardashian Franchise, Disney's pull, and creep of the week.

Toddlers, Guns, and Drugs (1/19)

Gun laws, ADHD in toddlers, and an interview with journalist Kelly O'Meara

And The Award Goes To... (1/13)

Awards Season and Creeps of the Week!

Gesundheit! (1/12)

Flu season, cold weather in SoCal, and Lance Armstrong's meeting with Oprah.

Like, Oh My God (1/6)

2012 Movies, Annoying accents, and crazy news from Florida and Wal-Mart.

Celebrity Mug Shots (1/5)

Josh Brolin intoxicated, LGBT issues in school, and Lance Armstrong.

Creep of the Week (12/30)

Lisa discusses the fiscal cliff and goes through this week's creeps.

Silvio Berlusconi (12/29)

Lisa Ann Walter hosts Saturdays and Sundays from 4 to 6 PM.

Creep of the Week (12/23)

Lisa discusses Lake Forest's overturned sex offender ban in parks and goes through this week's creeps.

Violent Video Games (12/22)

Lisa discusses violent video games with Dr. Reef Karim.

Creep of the Week (12/16)

Lisa discusses the tragedy in Newton, Connecticut and goes through the creeps of the week.

Tragedy in Connecticut (12/15)

Lisa discusses the tragedy in Newton, Connecticut.

Kennedy Fills In (12/1)

The Fiscal Ciff, Sex Ed, and more!

The Worst of the '70s (11/18)

Lisa goes over the worst songs of the 1970s.

Death to Twinkies (11/17)

Lisa discusses Hostess, Thanksgiving turkeys, and PETA's latest offense.

Veterans Day (11/11)

Veterans Day discounts, Skyfall's opening weekend, Women's Guild's Fall Gala, Florida criminal round-up, and Creep of the Week!

Dressed for Success (11/10)

PETA attacks Thanksgiving, and Revealing outfits, tattoos, and attitudes in the workplace.

Rescue Dogs (11/4)

New LA ordinance bans puppy mill pets at pet stores. New film uses local 'at-risk youth' for its production.

Staten Island Devastation (11/3)

Staten Island is one of Hurricane Sandy's hardest hit areas, and residents feel like they are forgotten. New polls predict proposition outcomes for election.