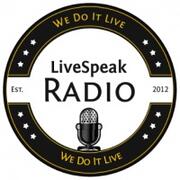 Turkey's War with Social Media

Samsung grabs ahold of Graphene to create a new type of phone. We also discuss Turkey's ban on Twitter and Youtube. Listen anytime at www.livespeakradio.com

No More Government Control ...maybe Pt2

The government says they are giving up control of the massive world we call THE INTERNET. They have said they will not give control to the United Nations, but they're not commenting further. Why is this a concern for everyone? We talk about why, and we will also let you in on a little secret from NASA. the world is screwed. Tune in 2:00pm today, join us at www.livespeakradio.com or grab the @IndianaTalks smartphone app and listen on the go.

No More Government Control ...maybe

The government says they are giving up control of the massive world we call THE INTERNET. They have said they will not give control to the United Nations, but they're not commenting further. Why is this a concern for everyone? We talk about why, and we will also let you in on a little secret from NASA. the world is screwed. Tune in 2:00pm today, join us at www.livespeakradio.com or grab the @IndianaTalks smartphone app and listen on the go.

No More Government Control ...maybe

The government says they are giving up control of the massive world we call THE INTERNET. They have said they will not give control to the United Nations, but they're not commenting further. Why is this a concern for everyone? We talk about why, and we will also let you in on a little secret from NASA. the world is screwed. Tune in 2:00pm today, join us at www.livespeakradio.com or grab the @IndianaTalks smartphone app and listen on the go.

Let's do this - SXSW 2014

SXSW 2014The South by Southwest® (SXSW®) Conferences & Festivals offer the unique convergence of original music, independent films, and emerging technologies. Fostering creative and professional growth alike, SXSW is the premier destination for discovery. If you want the full schedule check it out here: http://schedule.sxsw.com/ For more information on SXSW 2014 visit there website http://sxsw.com/

Intellectual Property - Who's is it?

Intellectual Property - a work or invention that is the result of creativity, such as a manuscript or a design, to which one has rights and for which one may apply for a patent, copyright, trademark, etc. We talk about Intellectual Property and apparently ointment, and paranormal activities. That's what happens when Scheiffer Bates stops by. Get the IndianaTalks.com mobile app and listen anywhere you go and get 50 bucks just for downloading a free app!

The Art Of Explanation - Lee LeFever

Founder of CommonCraft, author of The Art of Explanation. Dedicated eater, soccer fan and friend to dogs everywhere. Check out www.commoncraft.com

Brian Brushwood -- Scam School Host

Brian Brushwood (born January 17, 1975) is an American magician, podcaster, author and comedian. Performing on college campuses, he is known for his display of bizarre magic and fire-eating performances. He is the author of The Professional's Guide To Fire Eating and is the host of Revision3's Scam School, a web series that features ten-minute tricks. He also co-hosts TWiT.tv's NSFW Show, a comedic podcast with Justin Robert Young Check him out at www.shwood.com if you want to watch some fun stuff and stay tuned to watch him on regular network television.

Impressionist Scheiffer Bates

22 year old YouTube Impressionist/Voice Actor Scheiffer Bates talks about his life as an impressionist and voice actor. If you need a laugh we highly suggest you check out Scheiffer's Youtube channel below. Leave a few thumbs up for him on his videos and subscribe to his channel to get updates about new posts and impressions. Scheiffer was kind enough to do a few impressions for us on the show, including Christopher Walken and Captain Jack Sparrow. Great guy and all around talented person and now our friend here at LiveSpeak Radio. http://www.youtube.com/ScheifferBates

Best Vine Videos - Zach King

Zach King, creator of some of the most creative Vine videos, will be on the show with tips to create your own catchy Vine videos. As usual lots of tech news, crowdfunding stories and WTF News from around the world. Don't forget to visit livespeakradio.com for updates on the show and upcoming guests. You won't want to miss next week. Voice actor/Impressionist Scheiffer Bates will be on the show. Make sure to check out Zach King at www.finalcutking.com and follow him on Twitter and Vine @finalcutking Be sure you visit his youtube page to catch all of his amazing creations: http://www.youtube.com/user/FinalCutKing/

DiWire Revisit and LSR Life-Hacks

On today's show we will be talking with the creators of DIWire, by Pensa Labs. DIWIRE was a successfully funded Kickstarter project a couple of months back. We also be delivering the latest ttechnology news as well as the weird stories from around the world. Find their website here at www.pensalabs.com and don't forget to follow us on Facebook and Twitter @livespeakradio

CES 2014 | What tech will be used most?

CES 2014 | What tech will be used most? We talk about the trend of 2014 and what experts say will consume the consumers. Visit us and chat live on the show at www.livespeakradio.com. Make sure to check out our supporters at www.indianatalks.com and www.spreaker.com Get the iHeart Mobile app and listen to us anywhere you go www.iheart.com

Dinosaur Porn and AirDroids

That's right, it says Dinosaur Porn. You don't want to miss that story. Also we discuss a fantastic app for your smart phones and tablets. Let's make 2014 great. Check out www.livespeakradio.com for great stories and past episodes.

Merry Christmas Everyone

Merry Christmas from the guys at LiveSpeak Radio!

Kanye West | At It Again

We talk tech news and crowdfunding as usual. We also give you some great stories about Kanye West and the Police Officer who wrote him a letter expressing his gratitude to Kanye West for laying down his life for us every day on the stage. Listen live right here, and check us out on www.livespeakradio.com

Johnny Georges | ABC Shark Tank

Tree T Pee was created by Johnny Georges an Arcadia, Florida entrepreneur and inventor. Georges has spent his whole life around citrus growers and he knows the industry well. His passion is to help the industry and to provide a water conservation solution. Check out www.treetpee.com to order yours today.

Star Wars | Episode 0 - The Pop Quiz

John and Alan quiz me on Star Wars and see if my geek car can be reinstated. We also discuss a paper airplane you can control with your phone! Check us out on http://livespeakradio.com and contact marketing@livespeakradio.com for prices on advertising and sponsorhips.

Boston Boot Company and JFK Memorial

Two guys, one with decades of industry knowledge and a desire to turn the category upside-down teamed up with a buddy with the connections to make it all happen. We added a 3rd, a talented-as-hell shoe designer with a cutting-edge sense of style. Our shared vision: to bring style, durability and comfort together in a pair of boots as resourceful as we are. In short, we wanted to make boots the right way. Great show today. Check out the website at www.livespeakradio.com

Tornadoes and Hover Bikes

Michael Poole joins us today to discuss his Kickstarter, The Hover Bike. Yes I said it, HoverBike, like in Back To The Future. We also discuss the tornadoes in Alan's home town of Fort Wayne, Indiana. As usual, we talk WTF News, Tech News and other Kickstarters. You can join the chat by following us on Facebook.com/livespeakradio and twitter.com/livespeakradio Don't forget to visit www.livespeakradio.com for more about today's show and past shows.

LiveSpeak Radio 2013-11-12

On this episode, we discuss the latest technology news including Google's Gmail integration with Drive as well as Windows XP and Windows 7 vulnerabilities through the use of Internet Explorer. We also discuss Google Glass and the inclusion of stereo earbuds in the new version, Google Glass 2.

Amy Newmark stops by LiveSpeak Radio

Amy Newmark stops by LiveSpeak Radio to discuss the 20th anniversary of Chicken Soup For The Soul as well as amazing news. Tune in to hear what is coming your way from Chicken Soup For The Soul. We want to share our opinion on how we feel about Google+ and YouTube integrating. We will probably be banned from YouTube after this show. So tune in and join the chat. www.livespeakradio.com

Former Pro Wrestler Diamond Dallas Page

We will be speaking to retired WCW and WWF professional wrestler, actor / director and fitness instructor, Diamond Dallas Page. Be sure to tune in to @Livespeakradio Sunday at 2pm PST on Spreaker.com and iHeartRadio.com . #wedoitlive

Trouble Shooting Obamacare.gov

We go off script today. No structure, some commercials, no guests but tons of talk about the Obamacare website. We have a phone call from Sean Hannity calling the troubleshooting line, the employee was fired from this phone call. Jon Stewart's The Daily Show clips will be played during the show, links to these are below. http://www.thedailyshow.com/full-episodes/mon-october-21-2013-alan-greenspan https://www.youtube.com/watch?v=8aF9LxlmJTU Remember to visit us at www.livespeakradio.com to catch these stories and many more interviews.

Write Your Own Kindle Book

Easy Edit For Kindle - Now you too can publish your work to Amazon. Authoring software for Amazon Kindle eBooks. Easiest to use method to get your Kindle book published. You're a writer--get published! How This Project Came About They set out to write an eBook related to Computer Security, but quickly discovered there is no simple way to create an eBook without either paying a third party, having specialized technical knowledge, or wrestling with overly-complicated authoring and conversion programs. So, they decided to develop their own software that makes it really simple to create an eBook for the Amazon Kindle (Kindle family of devices, Kindle apps for Apple iPad and iPhone, etc.). They'v...

Ali Spagnola Power Hour Show

The inpsiring and fascinating Ali Spagnola, leader of the Power Hour League will be calling in today. We'll be talking with her about her nationwide Power Hour Tour and her Power Hour Album. "Ali Spagnola is a pop/rock/electro musician. She created a Power Hour Drinking Game Album that contains 60 one-minute songs that are also a drinking game. She self-released the album on a USB drive kept within a shot glass. She has also created several of the ringtones shipped on multiple Android phones." -Wikipedia Some of these songs have been featured on MTV's The Real World and Oxygen's Bad Girls Club. In December 2012, Huffington Post included her performance of "HuffPost Weird News" on their "End ...

Another Show Another Day

Unfortunately Scott Macintyre had a last minute engagement so he cannot be with us today. However, we discuss the launch of our new website and theft and impersonation on YouTube and how you can prevent it. As usual we talk tech news, WTF News and Crowd-Funding Projects to get you over the government being shut down. Check out our website for news and episodes at www.livespeakradio.com

Support The Red Fred Project

Kickstarter Kind Of Day

We speak with Sloane Men, about their successfully funded Kickstarter "The Invisible Undershirt" Sloane Men was started by three friends to solve the age-old problem of "visible undershirt." All of the traditional white undershirts on the market left us feeling tacky and unprofessional due to the tell tale signs of a white undershirt Visible neck and sleeve lines showing through our outer shirts. Cheap material (cotton) Poor fit (too short and/or too baggy) They asked for $20,000 and received $28,501 with a total of 573 backers. This is truly one of those innovations that make you ask yourself "Why didn't I think of that?" Tune in and maybe we'll have a few giveaways. Former Livespeak guest ...

ChromeCast Vs. Apple TV

Today we discuss comparisons between ChromeCast and Apple TV and the future of home media. Alan and I recently received our ChromeCasts and we review them for you to decide if it's worth getting. As always we give you great tech news and WTF News to make you laugh and wonder what is wrong with people. Next week Nat Iwata launches his brand new Kickstarter Campaign LIVE on LiveSpeak Radio. We are also now accepting applications for advertising on the show as well as on the website. Feel free to email us at marketing@livespeakradio.com for more information. Thanks again for listening, we'll be here next week...On LiveSpeak Radio.

Nick Bolton - Save Synergy Software

Nick Bolton from Synergy.com needs your help to keep his free software going. For those that don't know, Synergy is a software application for sharing a keyboard and mouse between multiple computers. It is used in situations where several PCs are used together, with a monitor connected to each, but are to be controlled by one user. The user needs only one keyboard and mouse on the desk — similar to a KVM switch without the video. Tune in to see how you can donate and keep this amazing software going strong. If you want to try out the software, visit www.synergy.com and try it. After all, it's FREE!

American Idol Finalist Scott Macintyre

American Idol Season 8 finalist, Scott Macintyre, stops by today to discuss his new Kickstarter campaign to create his new album. He's revolutionizing how album's are made by allowing the backers of his campaign to dictate how the album is made is so many ways. Scott is an amazing talent, he plays piano, guitar, sings and snow ski's...did we mention that he's blind? And yes, he is the guy who Ryan Seacrest ATTEMPTED to hi-five on American Idol. A truly inspirational story and incredible person. Listen in to hear more about his album. Visit his kickstarter here and pledge now! http://www.kickstarter.com/projects/2051228595/american-idols-scott-macintyre-new-album?ref=live Don't forget to visi...

Please Wash Your Keyboard

We mash together tech news about privacy, social media and a washable keyboard that is bound to get some attention. We'll also be following up with Kickstarter master Nat Iwata on the progress of his many Kickstarter projects.

Steampunk Galore With Nat Iwata

What a phenomenal guest and truly amazing artist. Nat Iwata talks with us about his awesome Steampunk Kickstarters. You can check them out here: http://www.natiwata.com/index.html Get an autographed copy of his Steampunk Alphabet book also when you go to his website. We'll be following Nat every week on LiveSpeak to see how his projects are selling.

Ninite Co-Creator Patrick Swieskowski

Ninite Co-Creator Patrick Swieskowski stops by to tell us how Ninite came to be and how it's helped millions of I.T. professionals and also home users. Listen to hear great tech news and fantastic investment strategies. Release your inner-geek...Listen to LiveSpeak.

Today is Tech Day

Today's show gives you some amazing tech news in words you can understand. Also, we have amazing Kickstarter projects that we recommend you invest in. We always pick a bad Kickstarter, one that is just so bad we recommend NOT investing in. Tune in and hear great music by Hotel Union. Their song Youngblood was featured today from their EP also titled "Young Blood". You can find their music at: www.hotelunionmusi.com and on twitter @hotelunionmusic Make sure to FOLLOW this show by clicking the FOLLOW button to the right and we'll see you next week. Here are some links from the show: Dell is making 32" 4K monitor http://www.redsharknews.com/technology/item/932-dell-announces-4k-32-monitor-aim...

Google Chromecast Reviews

If you haven't already, order your Chromecast now! They are on backorder as of now. You won't regret it, you'll open up an entirely new world. Check it out here: http://google-chromecast.com/

Gabriel Weinberg DuckDuckGo CEO

Join us in a talk about online privacy with Creator and CEO of DuckDuckGo.com, Gabriel Weinberg. We'll discuss how you're being tracked online and what is happening with your information. You won't want to miss this episode. For more information about our guest, Gabriel, visit the following links: http://about.gabrielweinberg.com/ Feel free to check out his book at: http://tractionbook.com And of course make sure to head over and try out Gabriel's private search engine DuckDuckGo at: http://www.duckduckgo.com You won't regret it if you enjoy your privacy and don't want to be tracked anymore.

X Factor Finalist Tabby Callaghan

We chat with X-Factor (UK) Season 1 Finalist "Tabby Callaghan". We feature some of his music as well as our regular segments, Tech News, WTF News, and some Kickstarters. Today Alan will host the show with one of our friends/listener John Rainey as the co-host.

Simultaneous Broadcast IndianaTalks.com

This is our first simultaneous broadcast. We broadcasted live on Spreaker as usual but also on IndianaTalks.com at the exact same time. Thank you to Gary Snyder for allowing us to be a part of IndianaTalks. For those that don't know, Alan our co-host, is from Indiana hence the reason we are on IndianaTalks. On this episode we set a personal best for the longest LiveSpeak show and we loved every minute of it. We had fantastic fans chatting throughout the entire show and we kept them excited and laughing the entire time. We'll be interviewing Kickstarter inventors and designers on the upcoming shows so stay tuned.

Making of a 21 Year Time Lapse Video

News, Video, Facebook, Twitter, Google, Youtube, Technology, Soap, Zombies, Boys, Cory, Ian, Views, Viral, Beastie, Kickstarter

Stand Up Comedian Philippe Schafer

Fantastic show with comedian Philippe Schafer. We talk about his course on Udemy so you too can become a stand-up comedian, or simply improve your public speaking. Links mentioned in today's show: www.pscomedy.com Philippe's Comedy Course: https://www.udemy.com/ultimate-beginners-guide-to-stand-up-comedy/ Use Coupon Code: AIRJUSTIN to get $20 off. ***If you want to join the Coalition against the NSA surveillance visit the following link and sign up**** https://optin.stopwatching.us/ Thanks for listening!!

Adobe Conference and The Cloud Suites

I met with Adobe geniuses Steve Forde (Sr. Product Manager) and David Simons (Original Creator of After Effects) to discuss the future of cloud technology. Tune in to hear some hilariously goofy news from around the country in our new segment "Crazy News" Head over to blogs.adobe.com/aftereffects to learn about the cloud suite from Adobe and much much more!! Visit http://aepdx.org/ to learn more about After Effects Portland! "Innovate and Create!"

Social Media Empire

Today we talk tech news: Google Talk, YouTube vs Microsoft, Apple I and more... Main topic: Decline of interest in Facebook among the younger audience and about the history of social media in general from AOL to Friendster / MySpace to Facebook and Google +

Spreaker.com CEO Francesco Baschieri

Amazing and inspirational show with CEO and Co-Founder of SPREAKER, Francesco Baschieri. We discussed how Spreaker came to be, and what is next for this amazing platform. Francesco tells us some tips for the startup entrepreneur and how you too can be successful. He was gracious enough to answer some listener questions and provide us with a look into where digital radio will be in the near future. Thank you again for listening and please feel free to follow us and leave us your comments.

What Exactly Is Big Data You Ask?

"From the dawn of civilization until 2003, humankind generated five exabytes of data. Now we produce five exabytes every two days." - Eric Schmidt, Executive Chairman, Google. That's how incredible Big Data has become. Finally, data is being put into terms that everyone can understand.

Promoting Anything - Justin Mitchel

Justin Mitchel stops by and gives up exclusive, key-insights on how he was able to get 1,400 subscribers to sign up for his online course "Coding For Entrepreneurs" in JUST 24 HOURS!! You don't want to miss this episode.

Technology You Don't Want To Miss

Great gadget reviews and news about upcoming technology that you seriously don't want to miss.