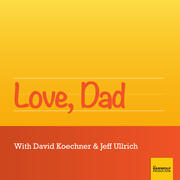 Thursday January 09, 2014

Thursday January 02, 2014

Thursday December 26, 2013

Thursday December 19, 2013

Thursday December 12, 2013

Thursday December 05, 2013

Thursday November 28, 2013

Thursday November 21, 2013

Thursday November 14, 2013

Thursday November 07, 2013

Sunday September 01, 2013

Wednesay August 28, 2013

Sunday August 25th, 2013

Wednesday August 21st, 2013

Friday June 14, 2013

Thursday June 13, 2013

Wednesday June 12, 2013

Tuesday June 11, 2013

Monday June 10, 2013

Sunday June 09, 2013

21 Holiday Traditions

The grizzled veteran returns with some important news on todays Love, Dad! The dads discuss the future of the podcast, share tales of babysitting, and talk about Daves recent venture to New Orleans. They also talk about their holiday plans, holiday s...

20 Making Decisions

This week Jeff is joined by improviser, father, and fellow Earwolf podcaster Owen Burke. Owen talks about what it was like moving to Los Angeles from New York without a job and a child on the way, cereal shopping with his daughters, and the importan...

19 Keeping Your Cool

Host of the Guys With Feelings podcast, regular on Sklarbro Country/County, and father Jason Nash joins Jeff this week to discuss fatherhood. Jason talks about his relationship with his father, why its always better to be nice to other parents kids,...

18 Tagging Out

Today Jeff is joined by the amazing impressionist, father, and resident of Sklarbro Country Chris Cox. Chris talks about having play dates with his daughters, sometimes losing his patience taking his daughters to school, and how parenting is hypocri...

17 Young Dad

This week Jeff is joined by fellow Earwolf podcaster, father, and one of the best freestyle rappers in the world -- MC Nocando. He talks about what it's like having three daughters and marrying his high school sweetheart all before the age of 30. Noc...

16 The Talkabout

Today Jeff is joined by fellow Earwolf podcaster and special guest Jason Sklar as they discuss fatherhood. Jason tells us about chatting with his son before bed with a series of talkabouts, getting him into music on drives to school, and putting his...

15 Music Fun!

Join Jeff and special musical guest/co-host Eban Schletter as they delve into the world of fatherhood. Many topics are discussed including gender norms, the "other n-word," and environmental activism. Also, Schletter gives Jeff advice about what to e...

14 Speech Therapy

Earwolf Studios own Frank Serrano takes on co-hosting duties to share all kinds of stories about his family on todays Love, Dad! Frank talks about getting through the rough patch of his baby daughters open heart surgery, the immediate changes during...

13 Responsibility

Its the triumphant return of the grizzled veteran on todays Love, Dad! The dads discuss the effects of getting injured, the unnecessary competitiveness among dads at kid soccer games, and precautions to take on Halloween. Dave talks about about teach...

12 Self-Awareness

Author, journalist, and regular contributor for Time Magazine, Joel Stein stops by to guest co-host on this weeks Love, Dad! Joel talks about his boot camp training in preparation to becoming a dad while writing his book Man Made: A Stupid Quest For...

11 Balancing Time

Singer-songwriter, fellow podcaster, and father Grant-Lee Phillips takes a break from interviewing musicians on Shortwave to assist Jeff as a co-host on todays Love, Dad! Jeff discusses feeling disconnected from his daughter, having difficulty factor...

10 Sports

The grizzled veteran and rookie father welcome actor/writer/father Jerry Collins to his very first podcast on this weeks Love, Dad! Jerry tells us about being involved with his sons love for sports, how he deals with dads who live through their kids,...

9 Divorced Dads

Today we welcome our very first guest, actor and fellow dad Ethan Embry to the show to talk about being a divorced dad. Ethan describes his relationship with his ex-wife, tells us about having the intentions of being the best father, and explains why...

8 Consumerism

Were getting to the bottom of consumerism on this weeks Love, Dad! Dave & Jeff discuss how to limit the many things children consume today from video games to smart phones. We also explore the importance of teaching kids the value of a dollar, settin...

7 Listener Questions

Todays Love, Dad is a very special episode where we answer your e-mail questions! Dave & Jeff give some advice on what lies ahead for an expectant dad, discuss how kids are sometimes pressured into a religion, and weigh in on how to deal with a bully...