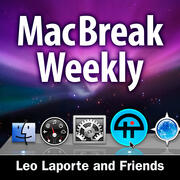 MBW 392: Mountain Dew and Protein Bars

The secret behind the Apple store, support for Snow Leopard ends, iOS 7.1 news, inside gossip about Tim Cook, and more.

MBW 391: I'm Sorry Kenny

Apple SSL TLS security fix, Goto fail exploit, Steve Jobs postage stamp, iTunes Festival at SXSW, and more!

MBW 390: Rip, Mix, and Burn

Rumors of an Apple TV, 15 years of Apple's homepage, passionate photos from a new Mac Pro owner, and more.

MBW 389: A Boy, a Pipe, and a Dream

Tim Cook's interview with the Wall Street Journal, iWatch expectations, could sapphire crystal be used in future iPhone displays? And more.

MBW 388: Policing the Karmic Balance

New iWatch rumors, behind the scenes of Apple's 30th anniversary ad, iBeacons deployed in stadiums, and more.

MBW 387: Like a Man!

Apple's first quarter results, why the iPhone 5c didn't sell well, is the iPod dead? And more.

MBW 386: The Path to Madness

It's the 30th anniversary of the Macintosh, China Mobile starts selling iPhones, does Candy Crush own the word "Candy?" And more.

MBW 385: Fondle cam

Google acquires Nest, Apple's latest ad, when Apple reach parity with Windows, and more!

MBW 384: He's on the Aperture Team

Michael Bay melts down at CES, the Pebble Steel, Samsung 12.2" tablets and more.

MBW 383: Buy That Ferret!

The new Mac Pro, NSA's backdoor access to the iPhone, China Mobile getting the iPhone and more.

MBW 382: Best of 2013

The best of MacBreak Weekly for 2013

MBW 381: No Gain, No Grain

Netflix's ISP Speed Index, Mac Pro pricing revealed, Apple's new holiday commercial and more.

MBW 380: MacBreak Weekly 380: The Knife Hurts Twice

Apple launches "12 Days of Gifts", iBeacon transmitters, iOS adoption at 74%, and more.

MBW 379: A Big Block of Cheese

A ship date for the Mac Pro, which one you should buy, is the iPod dead, and more.

MBW 378: The Apple Blacklist

Is there such a thing as an Apple blacklist, Apple's acquisition of PrimeSense, why someone bought a $977,000 Mac Pro, and more.

MBW 377: Save the Sea Turtles

Leander Kahney joins us to discuss his new book "Jony Ive".

MBW 376: Now With More Angstroms

iPad Mini with Retina display, sapphire is a big deal, iWork for Mac, and more!

MBW 375: Angry Santa

The new iPad Air, iPad Air tracker shows availability at up to 20 stores, Apple working on a fix for new Retina MacBook input issues, and more.

MBW 374: The Circle of (Commercial) Life

The new iPad era, problems with iOS 7, why Larry Lessig is up in arms, and more.

MBW 373: The new iPads are here!

Apple announces new MacBook Retinas, MacBook Pro, iPads and more.

MBW 372: Unapologetically Runway

The invitations are out, what will Apple announce next week, and more,

MBW 371: Trojan Squirrel

Leo finally gets to unbox his new iPhone 5.

MBW 370: A Simple, Humble Potter

Are we getting used to iOS 7 yet or are the motions making us sick, why are so many Apple execs on magazine covers, and more!

MBW 369: Unlock Your Nipples

9 million iPhones sold, 200 million versions of iOS updated, new iMacs, and more.

MBW 368: The 25th Amendment

The 5S, the 5C and iOS 7, is it ok to bring a non-iPhone to an Apple event, and more.

MBW 367: The 'C' is for Kids

The new iPhones are here!

MBW 366: The $18 Toblerone

The big Apple announcement is coming soon, Microsoft buys Nokia, and more.

MacBreak Weekly 365: Andy's Fish Ladder

Did the MacBook Air survive the water test, what to expect on September 10th, and more.

MacBreak Weekly 364: That's gold, Jerry! Gold!

What to expect with the iPhone 5S and 5C, 'Jobs' mixed reviews, iCloud.com's iOS7 redesign, and more.

MacBreak Weekly 363: The iPhone Outie

September 11th event rumored for an iPhone 5C and 5S announcement, Larry Ellison on Apple and Steve Jobs, and more.