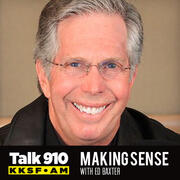 Making Sense - New GM CEO

Ed's tired of having to hear that the new CEO of whatever company is a woman, and is here to tell you why.

Making Sense - High Tech Giants vs the NSA

Ed questions the motive of the high tech giants' cry for restrictions on the National Security Agency's spy activities.

Making Sense - Vacation

Ed contrasts the United States' concept of vacation with several other countries.

Making Sense - Best Butt Award

Ed reacts to actress Evangeline Lilly's voiced displeasure at being the recipient of a "best butt" award.

Making Sense - NSA Spying & the Truth

Ed's pondering of the valid usefulness of the National Security Agency's spying missions brings out memories of Jack Nicholson in the movie, "A Few Good Men."

Making Sense - Victoria's Secret & Male Cusomers

Does Victoria's Secret hustle its male customers? Listen in to Ed's answer to this question.

Making Sense - Gender Differences

Ed boils a new study on gender differences down to its essentials.

Making Sense - Amazon Drones

Ed voices his main concern about the announcement of Amazon's in-the-works, drone delivery system.

Making Sense - Bullet Train Stopped

Ed looks at the current state of the California high- speed- rail project, and wonders if it's still worth considering.

Making Sense - Obama Heckled in SF

Ed suggests the possibility that the heckling of President Obama during his speech on immigration in San Francisco might have been staged.

Making Sense - Obama's Popularity

Ed uses the football game as a metaphor by which to assess President Obama's floundering popularity.

Making Sense - JFK : 50 Years Later

Ed reflects on the significance and relevance of the assassination of President John F. Kennedy 50 years later.

Making Sense - Bias Online

As a wealth of discriminatory video, tweets and Facebook post make their way online, Ed voices his concern.

Making Sense - A Child's Health

Ed talks about a new study which reveals the lack of physical activity of today's children in contrast to generations past.

Making Sense - BART Do-Over

Ed airs his frustration with BART management and related parties responsible for dragging the San Franciscio Bay Area public into another potential transit strike.

Making Sense - Dick Cheney on Same-Sex Marriage

Ed portrays former Vice President Dick Cheney's diliemna as he stands in the middle of his daughters' fight over stances on same-sex marriage.

Making Sense - Sports Attitude

A couple of local sports stories have compelled Ed to vent the rational side of his sports fananticism.

Making Sense - UC President Janet Napolitano

Ed expresses his approval of new UC President Janet Napolitano's plans for making an education in the UC system affordable and predictable.

Making Sense - Fixing Obamacare

Ed wonders what it is going to take to make the Affordable Care Act affordable.

Making Sense - Violence in the Movies

Ed spotlights a new study on the amount of extreme violence found in movies with PG-13 ratings.

Making Sense - Korean War Veterans

Ed shares his interaction with veterans of the Korean War on this Veterans Day.

Making Sense - Porn Good for Health

After much "research", Ed discovers that porn, in moderation, is good for your health.

Making Sense - Twitter Goes Public

Ed considers the volatile nature of Twitter's decision to go public.

Making Sense - Election Day 2013

Ed comments on a couple of results from the November 5th elections that show democracy in action.

Making Sense - SpongeBob & Unemployment

Ed lauds SpongeBob SquarePants' ability to start a debate on unemployment, low wage earners, and corporate America.

Making Sense - The San Francisco A's?

Ed considers, outloud, the possibility of the A's sharing AT&T Park with the San Francisco Giants.

Making Sense - Hi Tech and Spying

Ed ponders how a group of high-tech giants may be able to change the way the National Security Agency conducts its methods of surveillance.

Making Sense - Electronic Devices on Airplanes

Ed comments on the news that airlline passengers will now be allowed to use their electronic devices on flights.

Making Sense - Solar Energy

Ed observes the solar energy industry and the pushback from large, traditional power companies.

Making Sense - Cal Athletes Academics

Ed addresses the poor academic performance of Cal athletes, as shown in the dismal graduation rate.

Making Sense - Obamacare Open Enrollment

Ed discovers sticker shock while enrolling online for health insurance via Obamacare, and has a few select words to share.

Making Sense - First Born

Letting his bias show through, Ed comments on a blog's revelation that first born children are smarter and more successful than their younger siblings.

Making Sense - BART Strike: Never Again!

Ed echoes the sentiment of California Lieutenant Governor Gavin Newsom's vocal response to the BART strike: NEVER AGAIN!

Making Sense - Obamacare Fix

In terms of fixing the software glitches plaguing the current stage of the Affordable Care Act, Ed does believe that action would speak louder than words.

Making Sense - BART on Strike

Ed contributes some solid suggestions of things that need to happen, now that the BART strike has begun.

Making Sense - Island of D.C.

Ed pulls out lessons to learn from watching our United States Congress' performance(?) over the last few weeks.

Making Sense - NFL Brain Injuries

Ed speaks his mind about severe brain injuries to NFL players and the despicable coverup by team owners.

Making Sense - Affirmative Action

With the United States Supreme Court set to rule on the issue of affirmative action once again, Ed looks at the arguments that go back decades to try and make some sense.

Making Sense - No BART Strike!

Ed presents a plan to prevent anymore of this game playing going on between BART management and public-emplyee-service unions.

Making Sense - CA Law to Strenthen Shield Act

Ed talks about a new California law which enhances press freedom in the state.

Making Sense - GOP Ready to Default

Ed cites evidence that the leadership of the GOP in Congress doesn't seem to understand what raising the debt ceiling would accomplish.

Making Sense - Paul Ryan's New Budget Plan

Ed finds some worth in the newly proposed federal budget plan from Congressman Paul Ryan.

Making Sense - Adult Education

Ed comments on the dismal state of adult education in the United States.

Making Sense - Finacial Preservation

Ed voices his distrust of Congress as it plays games which could lead to the ruining of our his and your life savings.

Making Sense - Twitter IPO

Ed ponders Twitter's financial status and question's the timing of the social media company's timing of its IPO.

Making Sense - Pre Paid Phones

Ed comments on the popularity of the pre-paid phone.

Making Sense - Revenge Porn Law

Ed takes a look at the new California revenge porn law from several different angles.

Making Sense - Obamacare

With the state health exchanges, mandated by the Affordable Care Act, now opened, Ed voices his hope that the doomsday rhetoric may dwindle regarding "Obamacare."

Making Sense - Masters of Sex

Ed comments on Showtime's latest series based on the research on human sexuality by Masters and Johnson.

Making Sense - Government Shutdown

Ed encourages (wink,wink) the Congressional Republicans to shut the government down.

Making Sense - Senator Ted Cruz

Ed tries to make some sense of the 21+ hour speech by Senator Ted Cruz on the United States Senate floor.

Making Sense - John McAfee

Ed asks, Should we trust John McAfee with our cyber-security concerns, considering his questionable behavior over the last couple of years?

Making Sense - Apple's iPhone5s Launch

Ed takes a look at Apple's launch of its iPhone5s, trying to make sense of its market position.

Making Sense - Confused American

Ed documents his confusion and resolution following his viewing of talking heads on one of the Sunday morning political talk shows.

Making Sense - Vets and Guns

Ed sees a need for the military to work with civilian law enforcement to keep firearms out of the hands of veterans coming home who have committed serious offenses while serving.

Making Sense - Google and Health

Ed lauds the launching of Calico by Google's leaders.

Making Sense - Gun Control and the News

Ed frames the gun control debate through the prism of today's news.

Making Sense - UC President Compensation

Ed discusses and questions incoming UC president Janet Napalitano's compensation package.

Making Sense - Sexism and Racism

Ed provides two examples which prove that sexism and racism are still prevalent in our modern society.

Making Sense - Twitter IPO

Ed takes stock of Twitter's annoucement about its plan to go public.

Making Sense - Fed Talk

Ed vents his frustration with how a few words from the Federal Reserve can make mortgage markets go bonkers.

Making Sense - Jerry vs Willie Brown

Ed spotlights California Governor Jerry Brown's contempt for the renaming of the eastern span of the San Francisco-Oakland Bay Bridge for former Assembly Speaker and San Francisco Mayor Willie Brown.

Making Sense - GOP Debate on Syria

Ed finds it refreshing to watch the debate going on within the Republican party over the decision on how to deal with Syria's use of chemical weapons.

Making Sense - Poll on Polling

Ed shares information about a poll taken on polling.

Making Sense - NSA Encryption Program

Ed discusses the National Security Agency's encryption program and how it could endanger your right to privacy.

Making Sense - State of Jefferson

Ed considers the rationale of Siskiyou County's decision to secede from the rest of California.

Making Sense - Smartwatch

With it's introduction of a smartwatch, Ed wonders if Samsung is planning on a world of Dick Tracy's moving about our planet.

Making Sense - Syria

Syria made as simple as possible...

Making Sense - CIA Budget

The CIA's Black Budget. Should it be spent there or finding cure to disease?

Making Sense - Cancer Murder

Ed tries to frame the news story of the Kentucky man on trial for fatally shooting his wife who was suffering from breast cancer into a plea for a campaign to end such suffering forever.

Making Sense - Abortion Rights

While several U.S. state governments work to restrict abortion rights, Ed explains how California is doing the opposite.

Making Sense - Miley Cyrus

Ed wonders if Miley Cyrus was considering how her image was affected by her suggestive performance at the MTV Video Awards.

Making Sense - Google Glass

Ed, commenting on the Google Glass product, focusses on the potential downsides of personal-computer-eyeware.

Making Sense - Racial Equality

Ed pays heed to a new Pew Research poll regarding racial equality.

Making Sense - Manning's Gender Transition

Ed lays out the facts of Bradley Manning's request to begin a gender transition procedure while starting his 35-year prison sentencing.

Making Sense - Obamacare

Ed asks, isn't it time that we know what we should be doing in regards to the Affordable Care Act (better known as Obamacare).

Making Sense - Sperm Donor Rights

Ed takes a look at the sticky, legal quagmire of sperm donor rights, especially in California.

Making Sense - McCartney and the Stick

Ed ponders the idea of having Sir Paul McCartney and Wings closing down Candlestick Park.

Making Sense - Area 51

The CIA has come clean as to what "Area 51" was, and Ed can't resist sharing a few words about the confession.

Making Sense - GlamourUs

Is our envy for glamorous people well founded? Ed says maybe we have it better off.

Making Sense - High Tech Society

Ed comments on the seemingly huge divide between the young, high tech society and middle class families in the San Francisco Bay Area.

Making Sense - Hyperloop

Ed asks us not to discount Elon Musk's Hyperloop.

Making Sense - Bullet Train Delay

Ed address the lose-lose situation that is California's bullet train project.

Making Sense - Jimmy & Nancy Fallon's Secret

The secret is out! Jimmy and Nancy Fallon have a baby, and Ed finds their delayed candor refreshing.

Making Sense - MLB Disregard for Anti-Trust Law

Ed makes a case for how the MLB is trampling anti-trust laws to keep the Oakland A's from moving to San Jose.

Making Sense - Longer Life

Ed ponders issues surrounding the extending of life expectancy.

Making Sense - Steroid Use in MLB

Do we really want to see an end to the steroid "scandal" in major league baseball? Ed has his doubts.

Making Sense - BART Negotiations

Ed likens the current BART negotiations and Governor Jerry Brown's interactions to the plot of a movie.

Making Sense - Plastic Surgery

Ed cites a periodical which lists several actors and actresses whose looks are desirable by people seeking plastic surgery for themselves.

Making Sense - NSA & the Government's Trust

Now that the National Security Agency has admitted it uses our phone records to catch terrorist, Ed asks us to consider how much "trust" we have in our government.

Making Sense - Bradley Manning's Trial Verdict

Ed questions how the verdict in the Bradley Manning military trial will affect the ability of future whistleblowers trying to expose what they consider criminal or unethical.

Making Sense - BART Strike Solution

Ed, sick an tired of the ongoing negotiations between BART management and unions, presents a practical solution to the averting of another strike by the transit workers.

Making Sense - Pope Francis

Ed comments on Pope Francis's recent press conference, and wonders if the Pope might be properly ushering the Catholic Church into the 21st century.

Making Sense - Hateful & Ignorant Speech

Ed takes Congressional representative Steve King (R-IA) to task on his speech in Congress regarding immigration reform.

Sitdown with George Gascon

SF District Attorney George Gascon sits in studio with Gil to discuss a variety of lawsuits in the Bay Area.

Breaking the Anthony Weiner Story

Nik Richie, editor of The Dirty, speaks with Gil about his website and how it works.

Weinergate: Sympathy for the Wife

Lisa Bloom, American civil rights attorney, speaks with Gil about Anthony Weiner and his wife Huma.

Sexual Harassment in San Diego

Morgan Rose, a psychologist in the San Diego Unified School District and founder of http://www.americasangel.org, has come out as the third accuser of San Diego Mayor Filner"s sexual harassment scandal and she speaks with Gil about what happened to her.

Dumb Criminals 07/25/13

Gil opens up the Dumb Criminal file and shares a few examples of why crime doesn't pay.

Making Sense - KTVU Firings

Citing the recent firings at KTVU over the Asiana Airlines fake-crew-name hoax, Ed calls for the need for integrity in news gathering and dissemination.

Making Sense - Anthony Weiner

Ed comments on Anthony Weiner's sexting combined with his need to continue his political carreer.

Making Sense - Royal Baby Hoopla

Ed contributes his two pence on the arrival of the son of Prince William and Kate Middleton, the Duke and Duchess of Cambridge.

Making Sense - Pension Reform

Ed describes two recent of examples of city government ruining the retirement years of government workers.

Making Sense - Emmy Nominations

Ed, in talking about the just- announced Emmy nominations, wonders how the traditional networks are reacting to the internet-related choices.

Making Sense - NSA Hops

Ed hones in on the section of the Patriot Act which is allowing the National Security Agency to gather our phone information for the purpose of catching terrorists.

Making Sense - PUC Punishing PG&E

Ed questions the California Public Utilities Commission's decision to punish PG&E with a fine destined toward the state's general fund, when what is needed is a better, safer natural gas delivery system.

Making Sense - Oakland Protests

Ed voices concern over the city of Oakland as the seemingly preferred scene for out-of-control protests.

Making Sense - Zimmerman Acquittal

Ed comments on the acquitttal of George Zimmerman in the killing of Trayvon Martin.

Making Sense - Ben Bernanke

Who's the most powerful person in the world? Ed makes his case in today's commentary.

Making Sense - Government Transparency

Ed finds National Transporation Safety Board Chairperson Deborah Hersman's governmental transparency refreshing.

Making Sense - Hillary and Sarah

Ed sees some signs that Hillary Clinton and Sarah Palin may come back into the political limelight, thus charging up the world of politics.

Making Sense - Asiana SFO Crash

Ed factors in the possibility of management failure in the crash of Asiana Airlines on the runway of San Francisco International Airport last Saturday.

Making Sense - Energy Rich

Ed notes the richest companies seem to be envolved in the energy business.

Making Sense - Texas Abortion Restrictions

Ed comments on the new bill, making its way through the Texas legislature (a second time) that could make abortions in the Lonestar state nearly impossible to get.

Making Sense - Fashion Bras

Ed tries to make sense of the marketing concept "fashion bra."

Making Sense - BART Strike

Ed makes the case for putting the brakes on this BART strike sooner than later.

Making Sense - Meta Data Mining

Ed wonders if the secrecy of meta data mining is so important to the government that so much time and energy needs to be expended in bringing National Security Agency whistleblower Edward Snowden "to justice."

Making Sense - Catholic Church and Same-Sex Marriage

Now that the United States Supreme Court has opened the door for same-sex marriage in California, San Francisco Archbiship Salvator Cordileone has voiced his disappointment over the court's decision which leads to Ed's question, Should we care about the Catholic Church's stand on this issue, and if so, why?

Making Sense - Supreme Decision on Same-Sex Marriage

Ed breaks down what the United States Supreme Court decisions regarding the same-sex marriage issue mean for the LGBT communities throughout the country.

Making Sense - Edward Snowden

Ed notes several ambiguities regarding the ongoing "catch-me-if-you-can" saga of Edward Snowden and the Obama administration.