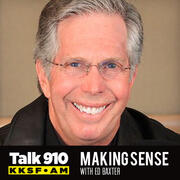 Making Sense - Kill Switches

Ed presents the battle between the manufacturers of mobile devices and the government over the need for security devices, like kill switches, as part of smartphones and other mobile devices.

Making Sense - Google Glass

Now that Google Glass is being made available to the public, Ed wonders about the product in the sense of public intrusion.

Making Sense - Tesla and the GOP

Ed points out how prominent Republicans are singing the praises of Tesla Motors.

Making Sense - Kaepernick Investigation

Ed comments on a Miami, Florida police report that possibly implicates San Francisco 49er quarterback Collin Kaepernick, and the media buzz surrounding it.

Making Sense - TV Glut

Now that online video content is competing with broadcast and cable shows, Ed wonders how all this competition for our watching time will play out.

Making Sense - Court Disrupted by Smart Phones

Ed explains how mobile devices are interrupting the progress of the Apple vs Samsung patent trial.

Making Sense - Chick-fil-A CEO's Conflict

Ed notes the conflict between faith and business as it relates to Chick-fil-A CEO Dan Cathy.

Making Sense - CSU Success Fees

Ed finds a recent movie that describe his view of the California State Universities' way of dealing with tuition freezes.

Making Sense - Congressional Hearing on GM Recall

Ed comments on the Congressional hearings dealing with the General Motor recall, new GM CEO Mary Barra, and the image of the car maker.

Making Sense - Mammogram Confusion

With the news that an annual mammogram is not necessary, Ed if there is an alternative diagnostic tool to detect breast cancer.

Making Sense - Big Money in Political Contributions

Ed tries to discern how the United States Supreme Courts latest ruling on political contributions will alter the role of big money in the influence of Congress' law making.

Making Sense - Obamacare Tally

Ed expresses his frustration with the squabbling over facts and figures regarding the number of people who have signed up for health insurance as required by the Affordable Care Act.

Making Sense - Is CA Legislature Dirty?

Are the chronicled indiscretions of California Senator Leland Yee indicative of just Yee, or do they run deeper within the state's legislature? Ed's thoughts are heard here.

Making Sense - Leland Yee

Ed makes his case against the legislative outcry to oust Leland Yee from his senate seat in the California legislature.

Making Sense - Spanish Jews

Ed opines on what Spain's effort to make amends to Jews of Spanish ancestry for actions taken during the Spanish Inquisition could mean in world affairs.

Making Sense - MLB Video Replay

Ed has his say about the introduction of video replay to Major League Baseball games this season.

Apple TV

Ed attempts to see the direction in which Apple TV is moving.

Cold War Revisited

Are we in a cold war with Russia once again? Ed has his opinion on this matter.

Making Sense - Valuation of Sharing Economy

Ed puts the spotlight on Airbnb, one example of a new type of business sweeping the nation.

Making Sense - Childhood: Yesterday and Today

Ed ponders how today's technology has changed childhood as experienced by Baby Boomers versus that of Millenials

Making Sense - The SAT

Ed takes note of how several entertainment and political luminaries did when they took the Scholastic Aptitude Test, while trying to figure out the exam's significance.

Making Sense - Political Hot Talk

The early speechmaking has begun as the political parties try to make some noise. Ed points out it really starts to look like the same old circus.

Making Sense - Groceries

Will the way we buy groceries change or are we changing itT Ed tries to look at the potential Safeway sale.

Making Sense - My Home My Rules

An eighteen year old girl is demanding child support from her parents. They say she moved out because she doesn't want to abide by their rules. Ed takes a look at whether she makes sense.

Making Sense - CarPlay

Apple's CarPlay is going to bring audio content directly to car dashboards. Ed is trying to make sense of how all of this will work.

Making Sense - Oscars 2014

Did the Oscar show nail a balance of entertaining and award show? Ed takes a look at what he thinks is one of the best shows ever.

Making Sense - Barry Switzer

Ed provides us with a bit of the wit and wisdom of former football coach Barry Switzer.

Making Sense - Gov Brewer's Veto

Ed reflects on Arizona Governor Jan Brewer's decision to veto the bill which would have allowed business owners to discriminate against gays and others based upon religious beliefs.

Making Sense - ShowBiz Nonsense

Ed comments on some entertainment news featuring pop stars such as Katy Perry and Robin Thicke.

Making Sense - Gov Brewer's Decision

As Arizona waits for Governor Jan Brewer to sign or veto a new bill which would permit business owners to refuse service because of their religious beliefs, Ed presents the some of the conflicting values that may cloud her decision making.

Making Sense - Comcast and Internet Service

Comcast will take over the responsibility of streaming Neflix, and Ed views this in light of what it means for you, the internet user.

Making Sense - Zuckerberg Business Model

With Facebook's purchase of WhatsApp for $19 billion, Ed waxes whimsically on the unconventional business philosophy of Mark Zuckerberg.

Making Sense - Miley Cyrus Concert

With all of the previous media attention on Miley Cyrus' salatious acts onstage, Ed asks how parents could be so clueless as to take their youngsters to a concert by the former Hanna Montana star.

Making Sense - License Plate Tracking

Ed makes his case for why the state of California should not be handing off the responsibility of the license plate surveillance system to a vehicle repossession firm.

Making Sense - Saving Water

In light of the drought conditions in California, Ed asks us to decide what are reasonable ways for us to conserve our domestic use of water.

Making Sense - Presidents Day

Ed considers some of the the positive accomplishments of some of our more recent Presidents of the United States.

Making Sense - Guns and Facebook

Ed takes on concealed weapons and Facebook's way of identifying gender, which will make sense if you choose to listen.

Making Sense - Gentrification in Oakland

Ed senses changes happening in Oakland that could potentially change the city's ethnic diversity.

Making Sense - Shirley Temple Black

With the passing of Shirley Temple Black, Ed puts the former child actor's life up against some of the more contemporary kid celebs.

Making Sense - Samuel L. Jackson Interview

It's a case of mistaken identity that puts an entertainment reporter in an embarrassing situation and sends Samuel L. Jackson into verbal orbit at the reporter's expense. Here's Ed's take on this moment.

Making Sense - AOL 401K Investments

Ed wonders aloud what AOL's decision to scale back 401K investments for its employees means for the trend of other such companies.

Making Sense - Dog Clone

Do you love your pet so much that you would consider having it cloned? Ed looks at the logic of such a procedure.

Making Sense - Speed Traps

A court case in the news leads Ed to weigh the consequences of law enforcement speed traps versus on-the-road driver shenanigans.

Making Sense - Heroin Use

In light of actor Philip Seymour Hoffman's likely OD on heroin, Ed discusses the rise of the drug throughout society.

Making Sense - Super Bowl Commericials

Ed has a few choice words in his commentary of this years collection of ads aired during Super Bowl XLVIII.

Making Sense - Super Bowl Hype

Ed notes some of the hype previous to the actual Super Bowl 2014 game.

Making Sense - Deport Bieber?

With the Obama administration expected to possibly weigh in on Justin Bieber's deportation, Ed considers the scope of the singer's criminal activity.

Making Sense - Obama and Income Inequality

Ed hones in on the subject of "raising the minimum raise" found within the content of President Obama's State of the Union address, and praises his intent on taking action regarding this issue.

Making Sense - NSA-Tech Company Deal

Ed tries to make sense of the new agreement between the NSA and Tech companies.

Making Sense - The Grammys

Ed reviews the new and improved Grammy Award Ceremony.

Making Sense - GOP View of Women

As evidenced for a recent sound bite from Mike Huckabee, Ed rails at the Republican Party's misguided attempt to woo women members to the GOP.

Making Sense - Justin Bieber

Ed explains why you should not be encouraging your children to look up to pop star Justin Bieber as a role model.

Making Sense - Sexual Assault

Ed calls for law enforcement to step up its game when it comes to keeping down the number of rapes in this country.

Making Sense - Passwords

Ed talks about one of the most frequent hassles of modern day life: changing passwords.

Making Sense - Richard Sherman's Rant

Ed questions the use and the meaning of the Seattle Seahawks Richard Sherman's post-game rant following Sunday's NFC championship game.

Making Sense - Obama's NSA Concerns

Ed, in addressing President Obama's directives to the National Security Agency regarding its metadata mining procedures, reads between the lines and this commentary is what you get.

Making Sense - Hollande's Love Life

Ed asks, who's to blame for French President Francois Hollande's dalliances?

Making Sense - Net Neutrality

A recent U.S. Court of Appeals ruling leads Ed to wonder aloud about the direction of net neutrality on the World Wide Web.

Making Sense - Mitt Romney Gangnam Style

Mitt Romney surprises Ed by dancing Gangnam-style, which leads to a special commentary from Mr. Baxter.

Making Sense - A-Rod Doping Scandal

Ed comments on the media coverage of the the Alex Rodriguez doping scandal and suspension.

Making Sense - Credible Yelp Reviews

Ed considers Yelp's legal and moral obligation to ensure that reviews contributed to its website are valid opinions.

Making Sense - Chris Christie Apology

Can Chris Christie convince us he had no part in "Trafficgate"? Ed takes a look at both sides and tries to make sense.

Making Sense - Reaction to Rodman

Ed presents reactions to Dennis Rodman's sports diplomacy antics.

Making Sense - Rodman Diplomacy

Ed compares Dennis Rodman's relations with North Korea's leader Kim Jong Un to the United States' ping pong diplomacy of the early 1970's.

Making Sense - Cold Football

Ed wonders why the NFL doesn't require domed stadiums where the weather makes playing football unhealthy and extremely dangerous.

Making Sense - Beautiful Challenge

A Seattle woman has eaten only Starbucks for year. Ed tries to make sense of whether she is persistent, or just a bit whacko.

Making Sense - Hollywood Truth

Does it make sense Hollywood be truthful and factual in making movies? Also, there is some interesting news regarding Leo DiCaprio's lap dance scene in Wolf on Wall Street.

Making Sense - Vietnam To Western

2013 saw a dramatic change in how we honor and treat our military veterans. Ed says it makes sense for this trend to continue.

Making Sense - Robin Roberts

Robin Roberts has come out. Ed takes a look at her very successfull year.

Making Sense - Made in America

Ed talks about the difficulties surrounding the claim "Made in America."

Making Sense - Smart Tattoos

Ed considers what our lives would be like when the smart tattoo becomes a reality.

Making Sense - Duck Dynasty Circus

Ed has some good fun with the interaction between a few vocal Republicans reaction to A&E's shelving of Duck Dynasty.

Making Sense - Conflicting Moral Decisicions

Ed notes the disparate viewpoints of a major cable network and a religious demomination's decisions related homosexuality.

Making Sense - Jennifer Lawrence

Ed addresses actress Jennifer Lawrence's need to have the media self-regulate whether young women are called fat.

Making Sense - Multi Vitamin News

With new study results declaring potential problems with multi-vitamins, Ed considers how the new information should affect our supplement intake.

Ed's Waiting at Red Lights book signing

Ed will be at Book Passage in San Francisco on Tuesday, December 17, starting at 6 p.m., for a signing for his new book, Waiting at Red Lights" Reflections of a Questioning Mind."

Making Sense - Happy Holidays

Ed speaks out on the complications of uttering the "right" words of greeting during this time of year.

Making Sense - GOP Turmoil

Ed wonders if the passing of a federal budget is an indication of the loosening up of the Republican Party.

Making Sense - Home Plate Collisions

Ed comments on Major League Baseball's throwing around the idea of banning home plate collisions.

Making Sense - New GM CEO

Ed's tired of having to hear that the new CEO of whatever company is a woman, and is here to tell you why.

Making Sense - High Tech Giants vs the NSA

Ed questions the motive of the high tech giants' cry for restrictions on the National Security Agency's spy activities.

Making Sense - Vacation

Ed contrasts the United States' concept of vacation with several other countries.

Making Sense - Best Butt Award

Ed reacts to actress Evangeline Lilly's voiced displeasure at being the recipient of a "best butt" award.

Making Sense - NSA Spying & the Truth

Ed's pondering of the valid usefulness of the National Security Agency's spying missions brings out memories of Jack Nicholson in the movie, "A Few Good Men."

Making Sense - Victoria's Secret & Male Cusomers

Does Victoria's Secret hustle its male customers? Listen in to Ed's answer to this question.

Making Sense - Gender Differences

Ed boils a new study on gender differences down to its essentials.

Making Sense - Amazon Drones

Ed voices his main concern about the announcement of Amazon's in-the-works, drone delivery system.

Making Sense - Bullet Train Stopped

Ed looks at the current state of the California high- speed- rail project, and wonders if it's still worth considering.

Making Sense - Obama Heckled in SF

Ed suggests the possibility that the heckling of President Obama during his speech on immigration in San Francisco might have been staged.

Making Sense - Obama's Popularity

Ed uses the football game as a metaphor by which to assess President Obama's floundering popularity.

Making Sense - JFK : 50 Years Later

Ed reflects on the significance and relevance of the assassination of President John F. Kennedy 50 years later.

Making Sense - Bias Online

As a wealth of discriminatory video, tweets and Facebook post make their way online, Ed voices his concern.

Making Sense - A Child's Health

Ed talks about a new study which reveals the lack of physical activity of today's children in contrast to generations past.

Making Sense - BART Do-Over

Ed airs his frustration with BART management and related parties responsible for dragging the San Franciscio Bay Area public into another potential transit strike.

Making Sense - Dick Cheney on Same-Sex Marriage

Ed portrays former Vice President Dick Cheney's diliemna as he stands in the middle of his daughters' fight over stances on same-sex marriage.

Making Sense - Sports Attitude

A couple of local sports stories have compelled Ed to vent the rational side of his sports fananticism.

Making Sense - UC President Janet Napolitano

Ed expresses his approval of new UC President Janet Napolitano's plans for making an education in the UC system affordable and predictable.

Making Sense - Fixing Obamacare

Ed wonders what it is going to take to make the Affordable Care Act affordable.

Making Sense - Violence in the Movies

Ed spotlights a new study on the amount of extreme violence found in movies with PG-13 ratings.

Making Sense - Korean War Veterans

Ed shares his interaction with veterans of the Korean War on this Veterans Day.

Making Sense - Porn Good for Health

After much "research", Ed discovers that porn, in moderation, is good for your health.

Making Sense - Twitter Goes Public

Ed considers the volatile nature of Twitter's decision to go public.

Making Sense - Election Day 2013

Ed comments on a couple of results from the November 5th elections that show democracy in action.

Making Sense - SpongeBob & Unemployment

Ed lauds SpongeBob SquarePants' ability to start a debate on unemployment, low wage earners, and corporate America.

Making Sense - The San Francisco A's?

Ed considers, outloud, the possibility of the A's sharing AT&T Park with the San Francisco Giants.

Making Sense - Hi Tech and Spying

Ed ponders how a group of high-tech giants may be able to change the way the National Security Agency conducts its methods of surveillance.

Making Sense - Electronic Devices on Airplanes

Ed comments on the news that airlline passengers will now be allowed to use their electronic devices on flights.

Making Sense - Solar Energy

Ed observes the solar energy industry and the pushback from large, traditional power companies.

Making Sense - Cal Athletes Academics

Ed addresses the poor academic performance of Cal athletes, as shown in the dismal graduation rate.

Making Sense - Obamacare Open Enrollment

Ed discovers sticker shock while enrolling online for health insurance via Obamacare, and has a few select words to share.

Making Sense - First Born

Letting his bias show through, Ed comments on a blog's revelation that first born children are smarter and more successful than their younger siblings.

Making Sense - BART Strike: Never Again!

Ed echoes the sentiment of California Lieutenant Governor Gavin Newsom's vocal response to the BART strike: NEVER AGAIN!

Making Sense - Obamacare Fix

In terms of fixing the software glitches plaguing the current stage of the Affordable Care Act, Ed does believe that action would speak louder than words.

Making Sense - BART on Strike

Ed contributes some solid suggestions of things that need to happen, now that the BART strike has begun.

Making Sense - Island of D.C.

Ed pulls out lessons to learn from watching our United States Congress' performance(?) over the last few weeks.

Making Sense - NFL Brain Injuries

Ed speaks his mind about severe brain injuries to NFL players and the despicable coverup by team owners.

Making Sense - Affirmative Action

With the United States Supreme Court set to rule on the issue of affirmative action once again, Ed looks at the arguments that go back decades to try and make some sense.

Making Sense - No BART Strike!

Ed presents a plan to prevent anymore of this game playing going on between BART management and public-emplyee-service unions.

Making Sense - CA Law to Strenthen Shield Act

Ed talks about a new California law which enhances press freedom in the state.

Making Sense - GOP Ready to Default

Ed cites evidence that the leadership of the GOP in Congress doesn't seem to understand what raising the debt ceiling would accomplish.