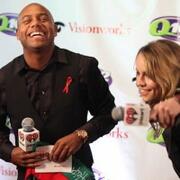 Hope Santa Comes to My Home

We all want St. Nick to stop at our house

A Little Chat With New Hollow

Had the chance to talk to Mookie, Chad, & Evan of New Hollow...and I found out they're pretty effin' cool!!

Enrique Talks About Twerkin' Miley!!

Had the chance to catch up with a buddy of mine! Enrique Iglesias...had to ask him about the Miley twerkin' obsession!

76ERS FLY SQUAD AUDITIONS!!

Got to catch up with my man Christian Crosby representing the 76ers Fly Squad this morning.....and if you've ever wanted to be those cool people at a 76ers game I suggest you check this out!!

Lady Gaga is Pumped for the VMAs

Before she hits the stage for the MTV VMAs...Mother Monster talks about how excited she is to hit the stage and just might have CONFIRMED an *N Sync reunion!!

Is Macklmore Pissed At Kendrick!?!

Had the chance to chat with the amazing Macklemore this morning...and I had to ask him if he was mad that he was the ONLY one not mentioned in Kendrick's crazy verse on "Control" w/ Big Sean!!!

Jason Derulo Chats With Maxwell

Will Maxwell be invited to Jason & Jordin's wedding??? Where's the bachelor party going to be??

DEMI LOVATO Directs 'Made In The USA'

Demi talks about directing her 'Made In The USA' music video and answers your fan questions!!

EMBLEM3 Answers Your Questions!!

I get to chat w/ the homies EmBlem3 and while they answer fan questions they say what type of girl turns them off!!

Robin Thicke Talks About New Album

Robin Thicke called in and gave us the scoop on his album that will be released August 30th!!

Austin Mahone VMA Nomination

Got a chance to catch up with my homie Austin Mahone this week!! We talked about his nomination for the VMA's and what he would do with his Moon Man!!

Fear the Capital Cities Beard

Sebu & Ryan hang in studio and talk about the beard!!

No Doubt Calls Up

Gwen and the guys talk about what they do on their day off!!

Bruno Calls About World Tour

Bruno chats about what his Moonshine Jungle Tour is all about!

J. Lo Hangs in Studio

Jennifer hangs out with on the day of the WORLD PREMIER for "Live it Up" just before Mother's Day!!

Armin Van Buuren Calls from Sweden!!

What artists ARE NOT afraid of 138???

Ke$ha Dials in!!

Nothin like a little flirty chat with Ke$ha!!

Imagine Dragons in Studio!!

The one and ONLY clue about the anagram!!

Ne-Yo is a Thief!!

What does Ne-Yo like to steal???

Diplo Calls in to Chat

Who are Diplo's top 3 hottest girls???

Adam Levine Calls the Show

Does Adam remember his first tattoo experience??