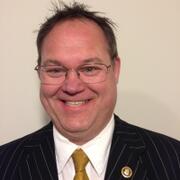 Oldham Co, Ky 4H Awards Banquet

Tim served as the guest speaker at the Oldham County 4H Awards Banquet in La Grange, Ky. In this speech you will learn something that not even some of the folks in Oldham County, KY knew, and just maybe you will learn something about Robert Frost you did not know. Tim loves poetry and he shares the poem "Devotion" written in 1928 and explains how we can apply that to our lives today.

Tim H Mills message w/Poem by Lou Pope

Speaking from Psalm 100 Tim share with the First Presbyterian Church in Harlan, Ky how and why we should give thanks and praise to God. Tim's message thoughts are all about "What happens when others see us thanking Hin". The message concludes with the story of God's praise and "Thanks-Giving"when we are in a right relationship with Him. To conclude the talk Tim shares a poem written by a former church member Lou Pope, and what "Thanksgiving" means to her.

Phillipians 4:6 "Thanks-Giving

Count Your Blessing Message

I am a Union College Bulldog Speech

Pineville Football Motivational Speech

God's Abundant Pardon- Isaiah 55:1-9

This message was delivered to the congregation of theFirst Presbyterian Church in Harlan, Ky. Speaking from Isaiah 55:1-9. Tim encourages you to see the answer that can only be found in Him. Our rants can be good when they turn us to the answer.

Wedding Tim & Emily Moore Piqua, OH

The joy of discovering love is celebrated officially in the hearts of individuals committed to each other. As a sign of their love Tim Moore & Emily Hile invited family, friends and guest to the St James Episcopal Church in Piqua, Ohio. Listening to this broadcast hear their vows to each other and celebrate their love for each other too.

Serenity Prayer Psalm 139:

This is Part III of the Series on the Serenity Prayer. Listen to thus message as Tim will share thoughts of the previous messages as he concludes with an understand if the difficulties of the Serenity Prayer and how it will easily work if we understand Psalm 139: When you listen to this message you will laugh and think. Reflect and consider. Most importantly you will be challenged and inspired.

Talk-Union College Athletic Trainers

Speaking in Lebanon, Tn Tim spent time with the Union College Athletic Training Team. He shared some personal history and experience in sports and related their skills and talents to the work of Robert Frost "Time with a Friend". If you work in athletics on the medical side if things you will be inspired from the words Tim shares.

Funeral Llewellyn Padgett -Amazing Grace

Honoring the life of my Great-Aunt Llewellyn "Lou" Padgett (Bingham) She was born in Lincoln County, Ky. Lived in Harlan County and the mother of Terri Warren of Corbin, Ky and Ronnie Bingham Sr & Ricky Bingham both of Harlan. Tim shares her family history and stories about the family history along with the most important family trait to demonstrate "love". Tim concludes the service with the hymn Amazing Grace.

Wedding - Nick & Allie Ruggieri

Join with Nick & Allie as they Celebrate their love in Fayetteville, NC. Sweet hearts that share their love for each other through their vows and exchanging of rings. "Love is the greatest gift of all". Be a part of their special day by listening to their ceremony.

Pt II Serenity Prayer" 2 Chronicles 32

Need encouraged? Need a good word? This motivational message is for you. Lets face reality and rebuilt together. Share thus message with a friend. We all need to claim serenity.

University of Kentucky 4-H Keynote

As the Keynote Speaker for the 2013 UK Communications Day event, Tim shared about growing up in 4-H, and he favorite "Four Things" to the students, parents, friends and volunteers in attendance. After listening you will see hear his passion for helping others and what makes him such an asset to any event.