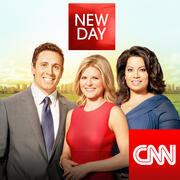 'Nixon is the hero of the year'

Historian Douglas Brinkley talks about Richard Nixon's taped Oval Office conversations.

'We're approaching the breaking point'

Robert Turner, director of operations for the United Nations Relief and Works Agency, speaks about life in Gaza.

Yankee fan finds Sox World Series ring

See what a lifelong Yankees fan does when he finds a Red Sox World Series ring in New York.

Strike on Gaza market captured on video

The Gaza-based al-Manara media agency captured images of Wednesday's Israeli air attack on a Gaza market.

Former Israeli president defends Obama

Former Israeli president Shimon Peres says President Obama is a friend to Israel.

Cruz vs. Boehner on border bill

John King, Julie Pace, and Ron Fournier go Inside Politics, breaking down the latest with the stalled border bill.

House votes to sue President Obama

CNN's John King, National Journal's Ron Fournier, and the AP's Julie Pace discuss the law suit against President Obama.

Son of American battling Ebola speaks out

Jeremy Writebol, son of American Missionary Nancy Writebol, talks about his mom's battle with Ebola in Liberia.

Gaza fighting strikes market, UN school

After yesterday's brief ceasefire, fighting in Gaza continued with shells striking a UN school and an open-air market.

Peres: 'What can we do?'

Shimon Peres, former Israeli president, speaks with CNN's Wolf Blitzer about Israel's current actions in Gaza.

Ebola doctor killed by virus

A doctor on the front lines fighting the Ebola outbreak in Sierra Leone has died from complications of the disease.

Why should Putin care about sanctions?

Deputy National Security Adviser Ben Rhodes says sanctions against Russia are working.

Ebola victim's wife speaks out

The wife of the first American who died in the current Ebola outbreak speaks out about losing her husband.

House cuts $3 billion from border bill

CNN's John King discusses the border markdown with Politico's Manu Raju and Bloomberg's Lisa Lerer.

An impeachment conspiracy?

CNN's John King asks Manu Raju and Lisa Lerer why Democrats are so happy to talk about impeachment.

Should Congress leave for break?

Rep. Steve King talks about the possibility of getting a solution to the border crisis before Congress leaves for break.

King defends comments on immigrant kids

Rep. Steve King, (R) Iowa, defends comments he made about likening immigrant children to drug smugglers.

Parents search for daughter on MH17

Fatima Dyczynski's parents traveled to Ukraine to find her near the MH17 crash site.

How easily can Ebola spread to the U.S?

CNN's Kate Bolduan speaks with a representative of the Centers for Disease Control about the Ebola outbreak in Africa.

Anchor shares personal story of violence

CNN anchor Carol Costello shares her experience with domestic violence after the issue takes the spotlight in the NFL.

Middle East: The blame game

CNN's Fareed Zakaria breaks down all the sides of the current Israel, Gaza conflict.

'I'm not a military person'

Palestine's Ambassador and Permanent Observer to the UN Riyad Mansour responds to a question about Hamas' tunnels.

Internal campaign memo leaks

Jake Tapper, Jonathan Martin, and Molly Ball examine the Michelle Nunn campaign memo we weren't supposed to see.

MH17 investigators delayed again

The Dutch PM has called on the president of Ukraine to "please stop the fighting." CNN's Ivan Watson reports.

U.S. says Russia violated missile treaty

The U.S. is accusing Russia of violating a 1987 missile treaty. CNN's Elise Labott has more.

Explosions rock Gaza City overnight

After a deadly day in the Middle East, more fighting ensued overnight with Israel striking several Gaza targets.

Investigators can't reach MH17 site

International investigators and observers were again prevented from reaching the MH17 crash site due to fighting

'Gaza is now like a burning building'

Chief Palestinian Negotiator Saeb Ereka talks about tunnels used by Hamas and Israel's military action in Gaza.

'Border is not open to Central Americans'

Cecilia Muñoz, director of the Domestic Policy Council, reinforces the Obama administration's stance on immigration.

Israeli official discusses Hamas tunnels

Israeli Foreign Ministry Spokesman Yigal Palmor talks about tunnels from Gaza the Israeli's have destroyed so far.

U.N. Security Council demands cease-fire

The U.N. Security Council held an emergency meeting early Monday to push for a cease-fire in Gaza.

New York Times endorses legal pot

Jake Tapper, Julie Pace, and Jackie Kucinich analyze the New York Times' decision to endorse legalized marijuana.

Congress struggles with border bill

Jake Tapper, Julie Pace, and Jackie Kucinich break down Congress' struggles in dealing with the border crisis.

Michelle Obama joins '14 campaign

Jake Tapper, Julie Pace, and Jackie Kucinich discuss Michelle Obama stumping for the DCCC in a new web video.

Pilot, air traffic control's heated spat

Hear the testy exchange between a Delta pilot and an air traffic controller. CNN's Michaela Pereira has more.

Detroit: Self-defense or murder?

The trial continues for a man who said he accidentally shot and killed a woman he thought was breaking into his home.

Plane strikes, kills man on beach

A Georgia man was killed and his daughter was injured when a plane struck them while landing on a Florida beach.

Fighting stalls MH17 investigation

The investigation into the downing of MH17 is on hold as fighting rages near the site. CNN's Matthew Chance reports.

Mideast cease-fire falls apart

The U.N. Security Council held an emergency meeting calling for a renewed cease-fire but neither side has accepted.

Hamas agrees to new cease-fire extension

Hamas has agreed to an extension of the cease-fire with Israel that had expired.

Kerry: Libya evacuation not permanent

Secretary of State John Kerry says that the U.S. is suspending activities at the embassy in Tripoli, Libya.

U.S. evacuates embassy in Tripoli, Libya

The Unites States evacuated its embassy in Tripoli, Libya due to intense fighting in the city. Barbara Starr reports.

10-month-old child dies in hot car

A 10-month-old Kansas child died after she was left in a hot car. Police arrested the girl's foster father.

Friend: Joep Lange was an "inspiration"

Jacques van der Gaag, friend of MH17 passenger Dr.Joep Lange, chats about Lange's impact in the AIDS research community.

Can we help prevent aviation disasters?

Three aviation tragedies in one week have many rethinking safety precautions. Camiel Eurlings, CEO of KLM weighs in.

Airline CEO discusses aviation disasters

Camiel Eurlings, President and CEO of KLM, Royal Dutch Airlines, weighs in on recent aviation disasters.

Kerry presses for cease fire

Secretary of State John Kerry is pressing both sides to agree to a cease fire in the Middle East.

MH17 victim's mom makes plea to Putin

Silene Fredriksz, who lost her son on MH17, asks Russian President Vladimir Putin to help bring all the bodies back.

Queen Elizabeth's royal photobomb

Queen Elizabeth II photobombs a selfie of two Australian hockey players during the Commonwealth Games in Glasgow.

Political Funny: President Vader?

Darth Vader's popularity is way up - Stephen Colbert and Jimmy Fallon have fun with his potential presidential ambitions.

A kinder, gentler GOP?

John King, Peter Hamby and Nia-Malika Henderson on Paul Ryan and Chris Christie taking a stance on social issues.

Obama to meet Central American leaders

John King, Peter Hamby and Nia-Malika Henderson on how Obama and Congress are grappling with the border crisis.

Can passengers ensure their own safety?

CNN Safety Analyst David Soucie explains acronym of what passengers can do to ensure safety on flights.

Gaza bombing impedes cease-fire talks

A U.N. shelter in Gaza was hit, killing at least 16 amid cease-fire efforts. CNN's Wolf Blitzer reports.

Family of 17 wins $20 million jackpot

A family of 17 siblings is going to split a $20 million lottery jackpot. CNN's Michaela Pereira has more.

New questions on shelling of U.N. school

There are new questions over who's responsible for a deadly shelling of a U.N. school in Gaza where 16 were killed.

U.S. confirms shots fired from Russia

The U.S. says it now has proof that Russia is actively firing into Ukraine. CNN's Phil Black reports.

U.S. lifts ban on flights to Israel

The Federal Aviation Administration removed its ban on U.S. passenger planes flying to and from Tel Aviv Wednesday night.

Weather impacts on Air Algerie 5017

Indra Petersons looks at the weather around Air Algerie Flight 5017 at the time that it went missing.

Politics behind FAA Israel ban?

John King, Manu Raju and Jonathan Martin on political fallout after the FAA's brief flight ban at Israel's main airport.

Jeb Bush joins immigration debate

John King, Manu Raju and Jonathan Martin discuss Jeb Bush weighing in on the latest debate over immigration.

Senator admits Plagiarism, blames PTSD

John King, Manu Raju and Jonathan Martin on a Dem. Montana Senator admitting plagiarism.

Buy a new couch, browse for pets too

Ikea teams up with some animal shelters to establish a new way to entice the public to adopt pets.

The Netherlands honors MH17 victims

In a somber ceremony, the Netherlands received the first remains of MH17 victims. CNN's Chris Cuomo reports.

Witnesses tell of 2-hour execution

Witnesses differ on their account of a 2-hour execution in Arizona. CNN's Poppy Harlow reports.

U.S. lifts ban on flights to Israel

The Federal Aviation Administration removed its ban on U.S. flights to and from Tel Aviv. CNN's Martin Savidge reports.

Missing Algerie flight prompts search

An Air Algerie flight, with 116 people on board, has dropped off the radar, prompting a search for the missing plane.

White House weighs in ...

Deputy National Security Adviser Tony Blinken offers perspective on Malaysia Airlines Flight 17 and the conflict in Gaza.

Obama approval; Health care; GOP primary

Your political headlines in 90 seconds: latest approval polls on Obama and health care; an outsider win in GOP primary

Recall impacts peaches, plums

Costco, Trader Joe's, Kroger and Walmart recall recalls peaches, nectarines, plums and pluots.

Poll: Obamacare approval rating at 40%

John King analyzes a new CNN/ORC poll on how Americans feel about the healthcare law.

Insider vs. outsider in GOP primary

John King discusses the Republican primary in Georgia and how an outsider beat an insider with powerful supporters.

TV host defends Russia's MH17 response

CNN's Chris Cuomo discusses the Russian response to the MH17 crash with Russia Today host Peter Lavelle.

Passenger has premonition before crash

A young passenger who was killed on MH17 worried that the plane was going to crash before he boarded.

Russian TV host blames Ukraine for MH17

CNN's Chris Cuomo discusses the Russian response to the MH17 crash with Russia Today host Peter Lavelle.

Poll: Obama approval rating at 42%

A survey indicates that public opinion of Obama has barely budged in the wake of new challenges he's has faced this year.

Hamas spokesman responds to FAA ban

Wolf Blitzer asks Osama Hamdan if Hamas deliberately targeted Tel Aviv's Ben Gurion Airport with rockets.

Bloomberg flies to Israel to protest ban

Former New York City Mayor Michael Bloomberg flew to Israel for what he says will show people the area is safe.

Madeleine Albright weighs in on Ukraine

The Former U.S. Secretary of State discusses the need for international access to the MH17 crash site.

Albright: Israel's moral authority hurt

Former Secretary of State Madeleine Albright spoke to CNN about the conflict in Gaza and the need for a cease-fire.

'This is hurting Israel's moral authority'

Former Secretary of State Madeleine Albright weighs in on the conflict in Gaza.

McCain: Putin 'getting away with murder'

Sen. John McCain directly blames Russia and President Vladimir Putin for the Malaysia Airlines Flight 17 crash.

Ukraine official denies MH17 accusations

Vitaliy Nayda,Ukraine's head of informational security, denies accusations from Russia about MH17.

Ambassador points to Russia on MH17

Daniel Baer, U.S. ambassador to OSCE in Europe, points to Russia for the MH17 crash.

Casualties rise in Israel-Hamas conflict

Casualties in both Gaza and Israel are rising as the conflict continues to grow. CNN's Karl Penhaul reports.

Body identified as suspect ferry owner

The body of the fugitive billionaire whom some blame for the South Korea ferry crash has been found.

Bodies of MH17 victims arrive in Kharkiv

The bodies of MH17 victims are no longer in the hands of Pro-Russian rebels. CNN's Chris Cuomo has more.

Flying over a conflict zone: is it safe?

Is flying over a conflict zone safe? Plane panel Alastair Rosenschein and David Fuscus discuss.

Bajc: "I thought it was a bad joke"

Sarah Bajc's partner Philip Wood was aboard missing Malaysian Flight 370. She shares her thoughts on the MH17 disaster.

Fmr. ambassador: Put pressure on Putin

Former U.S. Ambassador to Ukraine William Taylor says that the MH17 crash should bring attention to Ukraine's problems.

Has the MH17 crash site been compromised?

Pro-Russian rebels in Ukraine grant nearly "unfettered access" to crash site of MH17, an official tells CNN.

Rep.: Time to put more pressure on Putin

Ed Royce, chairman of the House Committee on Foreign Affairs, says now is the time to put more pressure on Putin.

Man dies after NYPD chokehold

A man has died after being placed in a chokehold by a New York City police officer.

MH17: Where are U.S. investigators?

Rep. Mike Rogers (R-Michigan) talks about the MH17 crash site and who's handling it in eastern Ukraine.

Deadliest day in Israel-Hamas conflict

Residents leave their neighborhoods as the death toll in the Israel-Hamas conflict rises. CNN's Karl Penhaul reports.

Bill Clinton on Hillary and Asia tour

Former President Bill Clinton talks about Hillary's pre-campaign campaign, and personal efforts across Asia.

Clinton to Hamas: Give up violence

Former President Bill Clinton talks with CNN in Banda Aceh, Indonesia, ten years after the tsunami which swept the region.

Bill Clinton: Running is Hillary's choice

Former President Bill Clinton talks about Hillary's pre-campaign campaign, and reflects on his personal efforts.

Rebel leader: I invite international help

CNN's Chris Cuomo sits down with Donetsk People's Republic Prime Minister Alexander Borodai to discuss the MH17 crash.

Kerry claims rebels shot down MH17

Secretary of State John Kerry says pro-Russian rebels are tampering with evidence at MH17 crash site.

MH17 body fell through family's roof

A Ukrainian family says a victim's body from MH17 fell through their roof 10 minutes away from the crash site.

Netanyahu: Hamas targets civilians

PM Benjamin Netanyahu talks about the fighting between Israel and Gaza and explains what it will take for it to stop.

Video appears to show black box from MH17

Reuters released video of what appears to be a searcher picking up the black box from Malaysia Airlines Flight 17.

Mother of MH17 victim calls out Putin

Erin McLaughlin speaks to the loved ones of an MH17 victim and describes the scene at the airport in Amsterdam.

MH17 bodies allegedly loaded onto trains

International observers say they've been told that bodies from MH17 have been put onto refrigerated trains in Ukraine.

Meet the victims of Malaysia Flight 17

CNN's Alexandria Field takes a closer look at some of the 298 victims who lost their lives when MH17 was shot down.

Officials doubt MH17 site integrity

Malaysian officials voice their concern over the improper treatment of the MH17 crash site.

Gaza resident: Where can I flee?

A Palestinian man gives his perspective about the situation as Israeli forces enter into Gaza.

Rep. King: 'Putin is largely responsible'

Rep. Peter King, (R) New York, shares his thoughts about President Putin in relation to Flight MH17.

Man loses four family members on flight

Matt Jones talks about his four family members who were on flight MH17 and how his family is looking for answers.

U.S.: Missile likely from separatists

A preliminary U.S. analysis says that pro-Russian separatists in Ukraine likely shot the missile that hit flight MH17.

Klimkin: 'No way' equipment from Ukraine

Ukrainian FM Pavlo Klimkin says there's "no way" separatists took anti-aircraft equipment from Ukraine's military.

Israeli tanks roll into Gaza

Israel began a ground operation in Gaza, saying it aims to halt Hamas rockets fired at the country.

Ukraine P.M.: Bring 'bastards' to justice

Accusations are brewing as the investigation begins into the crash of Malaysia Airlines MH17.

Christie; Biden; Pelosi on Immigration

Your political headlines in 90 seconds: Christie in Iowa; Biden on gay marriage; Pelosi changes mind on 2008 border law.

Flight turbulence on the rise

Flight turbulence is becoming more common. Studies suggest that this may be the result of climate change.

Political funny: Biden's speaking fees

John King highlights a joke by Conan O'Brien about Joe Biden's "speaking fees."

Clinton subbed in for Bush at speech

John King, Julie Pace and Ron Fournier on Hillary subbing in for a speech that George W. Bush was supposed to deliver.

Pelosi changes mind on border law

John King, Julie Pace and Ron Fournier discuss why Pelosi reneged on her pledge not to block a change to the 2008 law.

Biden: '08 change failed

John King, Julie Pace and Ron Fournier on comments by the Vice President on political change and gay marriage.