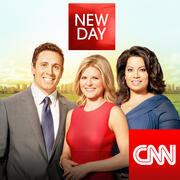 Madeleine Albright weighs in on Ukraine

The Former U.S. Secretary of State discusses the need for international access to the MH17 crash site.

Albright: Israel's moral authority hurt

Former Secretary of State Madeleine Albright spoke to CNN about the conflict in Gaza and the need for a cease-fire.

'This is hurting Israel's moral authority'

Former Secretary of State Madeleine Albright weighs in on the conflict in Gaza.

McCain: Putin 'getting away with murder'

Sen. John McCain directly blames Russia and President Vladimir Putin for the Malaysia Airlines Flight 17 crash.

Ukraine official denies MH17 accusations

Vitaliy Nayda,Ukraine's head of informational security, denies accusations from Russia about MH17.

Ambassador points to Russia on MH17

Daniel Baer, U.S. ambassador to OSCE in Europe, points to Russia for the MH17 crash.

Casualties rise in Israel-Hamas conflict

Casualties in both Gaza and Israel are rising as the conflict continues to grow. CNN's Karl Penhaul reports.

Body identified as suspect ferry owner

The body of the fugitive billionaire whom some blame for the South Korea ferry crash has been found.

Bodies of MH17 victims arrive in Kharkiv

The bodies of MH17 victims are no longer in the hands of Pro-Russian rebels. CNN's Chris Cuomo has more.

Flying over a conflict zone: is it safe?

Is flying over a conflict zone safe? Plane panel Alastair Rosenschein and David Fuscus discuss.

Bajc: "I thought it was a bad joke"

Sarah Bajc's partner Philip Wood was aboard missing Malaysian Flight 370. She shares her thoughts on the MH17 disaster.

Fmr. ambassador: Put pressure on Putin

Former U.S. Ambassador to Ukraine William Taylor says that the MH17 crash should bring attention to Ukraine's problems.

Has the MH17 crash site been compromised?

Pro-Russian rebels in Ukraine grant nearly "unfettered access" to crash site of MH17, an official tells CNN.

Rep.: Time to put more pressure on Putin

Ed Royce, chairman of the House Committee on Foreign Affairs, says now is the time to put more pressure on Putin.

Man dies after NYPD chokehold

A man has died after being placed in a chokehold by a New York City police officer.

MH17: Where are U.S. investigators?

Rep. Mike Rogers (R-Michigan) talks about the MH17 crash site and who's handling it in eastern Ukraine.

Deadliest day in Israel-Hamas conflict

Residents leave their neighborhoods as the death toll in the Israel-Hamas conflict rises. CNN's Karl Penhaul reports.

Bill Clinton on Hillary and Asia tour

Former President Bill Clinton talks about Hillary's pre-campaign campaign, and personal efforts across Asia.

Clinton to Hamas: Give up violence

Former President Bill Clinton talks with CNN in Banda Aceh, Indonesia, ten years after the tsunami which swept the region.

Bill Clinton: Running is Hillary's choice

Former President Bill Clinton talks about Hillary's pre-campaign campaign, and reflects on his personal efforts.

Rebel leader: I invite international help

CNN's Chris Cuomo sits down with Donetsk People's Republic Prime Minister Alexander Borodai to discuss the MH17 crash.

Kerry claims rebels shot down MH17

Secretary of State John Kerry says pro-Russian rebels are tampering with evidence at MH17 crash site.

MH17 body fell through family's roof

A Ukrainian family says a victim's body from MH17 fell through their roof 10 minutes away from the crash site.

Netanyahu: Hamas targets civilians

PM Benjamin Netanyahu talks about the fighting between Israel and Gaza and explains what it will take for it to stop.

Video appears to show black box from MH17

Reuters released video of what appears to be a searcher picking up the black box from Malaysia Airlines Flight 17.

Mother of MH17 victim calls out Putin

Erin McLaughlin speaks to the loved ones of an MH17 victim and describes the scene at the airport in Amsterdam.

MH17 bodies allegedly loaded onto trains

International observers say they've been told that bodies from MH17 have been put onto refrigerated trains in Ukraine.

Meet the victims of Malaysia Flight 17

CNN's Alexandria Field takes a closer look at some of the 298 victims who lost their lives when MH17 was shot down.

Officials doubt MH17 site integrity

Malaysian officials voice their concern over the improper treatment of the MH17 crash site.

Gaza resident: Where can I flee?

A Palestinian man gives his perspective about the situation as Israeli forces enter into Gaza.

Rep. King: 'Putin is largely responsible'

Rep. Peter King, (R) New York, shares his thoughts about President Putin in relation to Flight MH17.

Man loses four family members on flight

Matt Jones talks about his four family members who were on flight MH17 and how his family is looking for answers.

U.S.: Missile likely from separatists

A preliminary U.S. analysis says that pro-Russian separatists in Ukraine likely shot the missile that hit flight MH17.

Klimkin: 'No way' equipment from Ukraine

Ukrainian FM Pavlo Klimkin says there's "no way" separatists took anti-aircraft equipment from Ukraine's military.

Israeli tanks roll into Gaza

Israel began a ground operation in Gaza, saying it aims to halt Hamas rockets fired at the country.

Ukraine P.M.: Bring 'bastards' to justice

Accusations are brewing as the investigation begins into the crash of Malaysia Airlines MH17.

Christie; Biden; Pelosi on Immigration

Your political headlines in 90 seconds: Christie in Iowa; Biden on gay marriage; Pelosi changes mind on 2008 border law.

Flight turbulence on the rise

Flight turbulence is becoming more common. Studies suggest that this may be the result of climate change.

Political funny: Biden's speaking fees

John King highlights a joke by Conan O'Brien about Joe Biden's "speaking fees."

Clinton subbed in for Bush at speech

John King, Julie Pace and Ron Fournier on Hillary subbing in for a speech that George W. Bush was supposed to deliver.

Pelosi changes mind on border law

John King, Julie Pace and Ron Fournier discuss why Pelosi reneged on her pledge not to block a change to the 2008 law.

Biden: '08 change failed

John King, Julie Pace and Ron Fournier on comments by the Vice President on political change and gay marriage.

Christie: Beware of 2016 candidates

John King, Julie Pace and Ron Fournier on Christie's visit to Iowa and the possibility of a 2016 run for president.

See how these Lowe's workers helped vet

Three Lowe's employees go above and beyond to help an amputee veteran with his wheelchair.

Battle brews in House Oversight panel

CNN's Kate Bolduan talks to ranking member Elijah Cummings about his tense relationship with Chairman Darrell Issa.

'They had chemistry you can't buy'

Chaz Ebert, the widow of Roger Ebert, talks about the relationship between her husband and Gene Siskel.

Microsoft to cut 18,000 jobs

The cuts represent 14% of the company's 125,000 employees and are the largest round of layoffs in the company's history.

Three dead after bank robbery pursuit

Two bank robbery suspects and one hostage were killed when the suspects led police on an hour-long chase in California.

Humanitarian cease-fire lasts 2 hours

The temporary humanitarian cease-fire ends as Gaza fires mortars at Israel. CNN's Ben Wedeman reports.

More move against Obama on border crisis

Politicians respond to the border crisis as more lawmakers move against Obama. CNN's Michelle Kosinski reports.

Is there life beyond Earth?

Astronaut Michael Massimino discusses the likelihood of NASA finding forms of life on other planets.

Obama imposes new sanctions on Russia

The United States is rolling out new sanctions against Russia for failing to take steps to end the Ukraine conflict.

He captured deadly Gaza beach scene

New York Times Photojournalist Tyler Hicks describes the scene he captured as four boys are killed on Gaza City beach.

Russia reacts to U.S. sanctions

Russia is warning that their response to new sanctions will be painful for the U.S. CNN's Michelle Kosinski reports.

Munayyer: Hamas was not consulted

The Palestine Center's Yousef Munayyer says cease-fire attempt was not serious since parties in Gaza were not consulted.

Journalist explains how he was detained

Journalist, and creator of the CNN film "Documented," Jose Antonio Vargas explains how he got detained at a Texas airport.

O'Malley; Cheney; Hillary Clinton

Your political headlines in 90 seconds: Border hypocrisy; Cheney's honesty; Hillary Clinton vs. Elizabeth Warren?

Immigration fight; Christie; Warren

Your political headlines in 90 seconds: Governors on immigration; conservatives criticize Christie; Sen. Warren's appeal

Wolf Blitzer ducks for cover from rocket

While reporting from Israel, CNN's Wolf Blitzer and his crew stop to duck for cover after a rocket is fired by Hamas.

Gaza residents told to flee

Israel is warning people to leave northern Gaza ahead of more air strikes against Hamas rocket launchers.

Cheney's crusade: Keep U.S. alert

John King, Manu Raju and Molly Ball discuss former Vice President Dick Cheney's political candor.

Border hypocrisy?

John King, Manu Raju and Molly Ball discuss the Maryland governor's mixed message on housing undocumented migrants.

Concerned about Elizabeth Warren?

John King, Manu Raju and Molly Ball on whether Hillary Clinton should be worried about a Warren 2016 campaign.

The worst customer service call ever?

Listen to a Comcast customer service agent fight to keep a customer. The call was posted online and has gone viral.

Sheriff: 'I'm not the villain here'

Sheriff Paul Babeu shares his views on undocumented immigrants in his Arizona community.

Undocumented leader: 'We're tired'

Tania Chavez, an undocumented youth leader who accompanied Jose Vargas near the border, shares her views on immigration.

White House slammed for defying subpoena

The House Oversight Committee Chairman, Darrell Issa, is criticizing the White House for defying a House subpoena.

Israel warns Gaza residents to leave

Airstrikes in Israel and Gaza continued overnight, with the death toll rising. CNN's Karl Penhaul has more.

Clinton hints at 2016 run on 'Daily Show'

Former Secretary of State Hillary Clinton may have hinted at a 2016 run during her appearance on "The Daily Show."

Divide deepens on immigration crisis

Emotions run high in protests across the U.S. as dozens of detained migrant children are expected to be transferred.

Cheney: Don't impeach Obama

Former Vice President Dick Cheney says impeaching Obama is a distraction.

Stormy and cold weather ahead?

Jennifer Gray looks at severe storms expected in the Northeast as well as a blast of cold air behind them.

Israeli airstrikes resume

Michael Oren, former Israeli ambassador to the U.S., shares new details as cease-fire attempt falters after six hours.

Deadly brain-eating amoeba warning

A brain-eating amoeba has prompted warnings from officials after a young girl was killed. CNN's Elizabeth Cohen reports.

Tracy Morgan speaks out after crash

Tracy Morgan returns home and speaks out after a deadly limo bus crash in New Jersey left him critically injured.

NFL investigated over drug abuse claims

The NFL is being investigated by the DEA because of claims that the league abused the use of prescription drugs.

Governors don't want border kids

John King, Peter Hamby and Jonathan Martin discuss immigration politics and how Governors are taking on the issue.

Elizabeth Warren storms West Virginia

John King, Peter Hamby and Jonathan Martin on Sen. Elizabeth Warren's time campaigning in West Virginia.

Gov. Chris Christie heads to Iowa

John King, Peter Hamby and Jonathan Martin discuss Gov. Chris Christie's status in conservative politics.

Deadline looms on immigration compromise

Congress is quickly approaching the deadline to agree on immigration. CNN's Michelle Kosinski reports.

Israel: If Hamas keeps firing, we'll act

A spokesman for Israeli Prime Minister Benjamin Netanyahu speaks to CNN after the country accepted a cease-fire plan.

Florida shooting is 'beyond explanation'

Lawyer for widow of Florida movie shooting victim speaks to Chris Cuomo after suspect is released on bail.

Smart way out of the Gaza confrontation?

Michael Oren, former Israeli ambassador to the United States, weighs in on the current situation between Israel and Hamas.

Warren; Impeachment; Paul vs. Perry

Your political headlines in 90 seconds: Sen. Warren campaigns in West Va.; Impeachment blowback; Paul hits back on Perry

Clooney rejects Daily Mail apology

The Daily Mail apologized to George Clooney for an erroneous article about his engagement, but he isn't satisfied.

Riot police, fans clash after World Cup

Police in Argentina arrested dozens after a World Cup celebration in downtown Buenos Aires got out of hand.

Wife 'devastated' after suspect gets bail

T.J. Grimaldi, the lawyer for the victim's wife in a Florida movie theater shooting, speaks out as the suspect gets bail.

4-year-old uses app to help save mom

An Indiana mom is alive today thanks to her son and a little assist from technology.

Could smell test detect Alzheimer's?

Is it possible to detect Alzheimer's disease early by using a smell test or an eye exam? CNN's Elizabeth Cohen explains.

Theater shooting suspect freed on bond

Curtis Reeves Jr., charged with second-degree murder for shooting a man in a Florida movie theater, was released on bond.

Wolf Blitzer takes cover near border

CNN's Wolf Blitzer takes cover at a checkpoint near the Israel and Gaza border.

Rand Paul: Perry 'dead wrong'

John King, Margaret Talev and Todd Zwillich talk about the latest in the showdown between Gov. Perry and Sen. Paul.

Holder, GOP dismiss impeachment

John King, Margaret Talev and Todd Zwillich discuss the blowback to calls for Pres. Obama's impeachment.

Elizabeth Warren in West Va.

John King, Margaret Talev and Todd Zwillich on Sen. Warren's campaign trip to West Virginia.

Goofy wedding pic goes viral

A man accidentally rips his pants and kicks a bridesmaid in the head during a wedding picture.

Floods, lightning catch people off guard

Stormy weather brings rain and floods to parts of the country, even disrupting a monorail at Disney World.

Bergdahl returning to active duty

Ex-captive Sgt. Bowe Bergdahl has finished undergoing therapy and counseling and may return to active duty soon.

What's that smell?

An FAA official says an electrical odor on board caused a United Airlines flight to land on remote Midway Island.

Wrecked cruise ship floating again

The wrecked Costa Concordia cruise ship is now afloat once again, the CEO of the Costa Group said Monday.

Guests evacuated from Disney monorail

Passengers were evacuated off a monorail after a power failure at Disney World's Epcot theme park in Florida.

Complicated trial ahead for Ross Harris

Should evidence that Harris was sexting during work be included in his homicide trial? Mo Ivory and Jose Baez discuss.

Gay teacher files claim against school

Flint Dollar was fired from his job at a Catholic school for being gay. Can he sue under gender discrimination?

Israel raids missile site in Gaza

CNN's Wolf Blitzer speaks with Israel Defense Forces Spokesman Lt. Col. Peter Lerner.

Cavs Super Fan: Our hometown kid is back

Cavaliers Super Fan Jason Herron discusses what LeBron James' return means for the city of Cleveland.

World Cup: How to Play Under Pressure

Former Manchester United Goal Keeper Gary Bailey tells CNN how pro players to keep cool under World Cup pressure.

A glimpse at Prince George's year

Prince George may be the most powerful soon-to-be one-year-old on earth. The Little Prince airs July 11 at 10 pm.

Is social media killing marriage?

A new study found that people who use social media are 32 percent more likely to think about leaving their spouse.

Mystery man pays for groceries

A generous - and anonymous - benefactor in California pays for hundreds of dollars of strangers' groceries.

Obama facing lawsuit from Republicans

President Obama is facing a lawsuit from House Republicans who say he broke the law when he made changes to Obamacare.

Boehner & Obama; Immigration; Lawsuit

Your political headlines in 90 seconds: John Boehner vs. Obama; NYT Immigration Op-Ed; Boehner's presidential lawsuit.

Unauthorized bio unseats autobiography

John King, Jackie Kucinich and Olivier Knox on an unauthorized bio that unseated Clinton's on the NYT's bestseller list.

Majority happy with Obamacare

John King, Jackie Kucinich and Olivier Knox on a poll that says the majority of newly insured GOPers are happy with it.

Finding immigration common ground

John King, Jackie Kucinich and Olivier Knox on a NYT Op-Ed penned by Sheldon Adelson, Warren Buffett and Bill Gates.

GOP narrows lawsuit to Obamacare

John King, Jackie Kucinich and Olivier Knox on John Boehner's lawsuit against Obama and the likely outcome from it.

Boehner unloads, Obama responds

John King, Jackie Kucinich and Olivier Knox on the heated battle between Rep. John Boehner and President Obama.

Missing boy: I was forced to exercise

New documents say Charlie Bothuell V -- the 12-year-old found in his father's basement -- was forced to exercise.

CNN anchor flees for safety in Israel

CNN's Wolf Blitzer hurries to a safety bunker after hearing the warning sirens in Israel.

GOP leaders gear up to sue Obama

John Boehner says he'll sue the President for "rewriting law to make it fit his own needs." CNN's Jim Acosta reports.

Internet posts emerge in hot car case

Internet posts, which police believe were written by Justin Ross Harris, are now being revealed in the investigation.

Republicans plan to sue the President

Republicans outline strategy to sue the President over his healthcare law. They charge he violated the constitution.