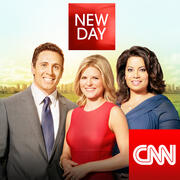 'Crystal clear something was wrong'

Peter Lanza, the father of Newtown shooter Adam Lanza, speaks out about his son.

Students perform on stage, then ...

More than two dozen students are recovering after a scary stage collapse at a high school in California.

Plane collides with skydiver midair

A small plane clipped a skydiver midair and both people survive. CNN's Nick Valencia reports.

A deeper look at Boeing 777's

The Boeing 777 is one of the most high tech planes in the sky and that adds to the mystery behind a vanished flight.

Do stolen passports indicate terrorism?

Interpol is trying to help identify the two passengers who used stolen passports on Malaysia Airlines Flight 370.

New Day's Morning Minute

CNN's Michaela Pereira takes a look at the top news stories that you need to know.

FBI offers help in plane investigation

New Day speaks with HLN Law Enforcement Analyst Mike Brooks about the investigations underway to help locate Flight 307.

U.S. weighs involvement in Ukraine

Is Obama's response to the crisis in Ukraine strong enough? Congress members Marcy Kaptur and Randy Forbes discuss.

Pentagon studied Putin's body language

Body language expert Janine Driver explains what Vladimir Putin's most recent non-verbal behaviors could mean.

South Africa vs. US legal system

CNN's Editorial Producer, Nadia Bilchik explains how the judicial system in South Africa differs from the United States.

Official: Lost jet 'may have turned back'

There was no distress call from Malaysia Airline flight 370. Aviation expert Mary Schiavo discusses possible reasons why.

Doctor: Weed is not a 'gateway drug'

Dr. Andrew Kolodny discusses why he thinks science should be a big part of the conversation about marijuana legalization.

SNL gives Obama 'toughness' makeover

Watch how "Saturday Night Live" skit gives President Obama a "toughness" makeover.

Quest: I flew with missing first officer

CNN's Richard Quest describes his firsthand experience flying with the first officer of the now missing Malaysian jet.

Somber scene as families await news

Families anxiously await news of a Malaysia Airlines plane that disappeared Saturday with 239 people on board.

Mom says she wasn't trying to harm kids

A woman who drove her kids into the ocean was charged with attempted first-degree murder and aggravated child abuse.

Tensions mount between U.S. and Russia

Pres Obama speaks to GC Angela Merkel about Ukraine, as tensions between the U.S. and Russia intensifies.

We may soon be able to upload memories

Futurist and theoretical physicist Michio Kaku talks about the future of memory and dreams.

Man suing casino over $500K bill

CNN's Chris Cuomo talks to a man who filed a lawsuit against a Las Vegas casino after he lost $500,000 gambling.

Is this the founder of Bitcoin?

Kate Bolduan sits down with Newsweek's Leah McGrath to discuss her investigation into a man she says founded Bitcoin.

'Best case Ukraine can hope for is ... '

Steven Pifer, former U.S. Ambassador to Ukraine, weighs in about Crimea and the situation in Ukraine.

February jobs report beats expectations

The economy added 175,000 jobs in February while the unemployment rate rises to 6.7 percent.

Groping allegation against Army officer

The U.S. Army is investigating an allegation that an officer groped a female lawyer in 2011. CNN's Pamela Brown reports.

Is this the founder of Bitcoin?

Kate Bolduan sits down with Newsweek's Leah McGrath to discuss her investigation into a man she says founded Bitcoin.

Obama flubs spelling of 'respect'

President Obama misspells "Respect" during Women Of Soul concert.

Pistorius' ex: He would scream at me

Oscar Pistorius' ex-girlfriend testified in his trial. He is charged with murdering Reeva Steenkamp.

Family charged with stealing millions

Three Illinois family members are accused in a decade-long shoplifting ring.

Maryland girl missing, mother found dead

Authorities are looking for an 11-year-old girl who is missing after her mother was found dead.

New Day's Morning Minute

CNN's John Berman takes a look at the top news stories that you need to know.

'It was a big, proud mommy moment'

Will Hart, 14, leaves an inspirational message in the snow for his sick mom.

Is she the toughest principal in America?

Fenger High School Principal Liz Dozier confronts gang violence and shootings to save her school and her students.

No more essays on SAT entrance exam

Major changes are coming to 2016 SAT test.

Obama orders sanctions over Ukraine

White House says Russia made "actions that constitute a threat to peace and security and a breach of international law."

Dr. Gupta doubles down on medical pot

Dr. Sanjay Gupta addresses his recent Op-Ed saying he is doubling down on the benefits of medical marijuana.

No hoodies allowed at Indiana mall

Signs at an Anderson, Indiana, mall warn visitors "for the safety and well-being of everyone, please lower your hoodie."

Witness: Kids were screaming for help

New details emerge about a mom who drove her van with three children into the ocean. CNN's Alina Machado reports.

Per Se gets C grade, serves $310 meal

One of New York City's most exclusive restaurants is served a "C" grade by the New York City Department of Health.

New Day's Morning Minute

CNN's John Berman takes a look at the top news stories that you need to know.

First to see Steenkamp's body testifies

A doctor and neighbor of Oscar Pistorius' says he saw Reeva Steenkamp's body and Pistorius trying to clear her airway.

Pistorius trial: How is it different

Here's a look at how the Oscar Pistorius case differs from a trial in the United States.

Were mystery coins from 1901 heist?

Newly found gold rush-era coins, worth $10 million, may have been part of a U.S. Mint theft more than a century ago.

Ryan: Budget is 'campaign brochure'

Rep. Paul Ryan, (R) Wisconsin, gives his response to Barack Obama's 2015 budget proposal.

No money for lunch? He can help

A Minnesota man starts a fund that helps school kids who can't afford it get hot lunch.

Supreme Court to decide police chase suit

SCOTUS hears case on the use of deadly force in police chases. CNN's Pamela Brown reports.

Day 3 wraps in Pistorius murder trial

Oscar Pistorius's defense team poked holes Wednesday in the testimony of yet another witness who said he heard shooting.

Georgia House approves medical marijuana

CNN's Sanjay Gupta discusses the need for more research on medical marijuana in the U.S. to break skewed perception.

Witness: Mom drove van, kids into waves

A minivan with a pregnant woman and her three children ended up in the ocean, leading to a dramatic rescue.

New Day's Morning Minute

CNN's John Berman takes a look at the top news stories that you need to know.

Defense pokes holes in witness credibility

Oscar Pistorius lawyer pokes hole in defense testimony.

Asteroid to pass close to Earth

An asteroid is on the way and it's going to pass closer to the earth than the moon around 4 pm ET.

Teen suing parents for college tuition

CNN legal analyst Sunny Hostin discusses a teen who is suing her parents so they'll pay her college tuition.

Teen gives kidney, gets help in return

A Minneapolis police officer gives back to the man who saved his life.

'Chicago is quintessential American city'

Filmmaker Marc Levin discusses the motivation behind the CNN Original Series "Chicagoland."

Kerry: Memorials 'distressing and inspiring'

Secretary of State John Kerry arrives in the Ukraine where he plans to unveil economic aid.

Cooper: Ukrainians offering to fight

CNN's Anderson Cooper reports from Kiev on the unrest on Ukraine.

Russian TV personality supports Putin

Russian Television Personality Vladimir Pozner says he supports the actions of President Putin in Crimea.

Albright: Putin is delusional

Former Secretary of State Madeleine Albright discusses Russian President Putin's motives in Ukraine.

Madeleine Albright: Putin is delusional

Former Secretary of State Madeleine Albright discusses Russian President Vladimir Putin's motives in Ukraine.

Lawyer casts doubt on witness' testimony

The first witness claimed she heard "bloodcurdling screams" coming from Pistorius' house.

See Pharrell's inspiring message to boy

A boy fighting cancer gets an amazing personal message from Pharrell Williams.

Lawmaker:

Rep. Ed Royce, (R) California, weighs in on potential solutions to the crisis in Ukraine.

Remembering Lateef Mungin

"New Day" honors the passing of a beloved member of our CNN family as we say goodbye to writer Lateef Mungin.

Lawmaker speaks of blood-soaked soil

Rep. Marcy Kaptur, (D) Ohio, and Nicholas Burns,Fmr. Ambassador to NATO, weigh in on the situation in Ukraine.

Witness: I heard bloodcurdling screams

Oscar Pistorius pleads not guilty to premeditated murder in the death of his girlfriend Reeva Steenkamp.

Ukraine: Everything you need to know

CNN's Jim Sciutto explains the background behind the current conflict in Ukraine.

Will diplomacy work in Ukraine?

Secretary Kerry travels to Ukraine tonight to pledge US support to the new government there.

Winter storm moves east

Yet another big storm is barreling down on the Mid-Atlantic states. CNN's Indra Petersons reports.

Crisis escalating in Ukraine

Russia's G8 partners condemned its military build-up in Ukraine as Moscow tightened its grip on the Crimea region.

New Day's Morning Minute

CNN's Kate Bolduan takes a look at the top news stories that you need to know.

'SNL' spoofs Shaq and Charles Barkley

"SNL" takes a stab at Charles Barkley and Shaq as they return from New Orleans where they attended the All-Star Game.

Delta changing frequent-flyer program

Delta will now reward miles based on price of ticket rather than distance traveled. Author Mark Murphy explains.

How will the West respond to Ukraine?

Sir Tony Brenton, Former British Ambassador to Russia and Lt. Col. Bob Maginnis discuss strategies for response.

Putin's actions 'a thumb in the eye'

CNN Senior Political Analyst David Gergen says Putin's military actions directly defy Obama and other western powers.

Obama looks to help young men of color

Pastor Mike McBride & Marc Morial, of the National Urban League discuss new White House initiative, My Brother's Keeper.

Russia OKs military force in Ukraine

Russian parliament unanimously approves the use of military force in Ukraine. CNN's Fred Pleitgen reports.

Teens' selfies leading to more head lice

Nurses report "selfie" posts are causing an increase in teenagers spreading lice.

Ambassador: 'Dire' tensions in Ukraine

Michael McFaul, the outgoing U.S. Ambassador to Russia, is very concerned about the political tension in Ukraine.

Not all laughed at roast jokes to Arpaio

An Arizona state representative is under fire for jokes he made about race and religion during a roast of Sheriff Arpaio.

Oscars: How to look like a million bucks

CNN's Michaela Pereira brings you a look at the money studios and designers spend on Oscar nominees.

Garbage man saves American flag

In today's edition of the "Good Stuff," a trash collector finds and honors a lost American flag.

And the Oscar (might) go to...

Experts Joseph Kapsch and Pete Hammond give their Oscar predictions before Sunday's award show.

Ousted Ukraine leader speaks out

Ousted Ukrainian President Viktor Yanukovych says he was not overthrown, but fled under threat to his life.

Bridgegate 911 calls to be released today

New 911 calls from George Washington bridge lane closures are expected to be released today.

Rob Ford dares police chief to arrest him

Toronto Mayor Rob Ford dares the police chief to arrest him. Ford says the chief wasted money keeping an eye on him.

Matthew McConaughey golden moment

CNN's Nischelle Turner goes one-on-one with actor Matthew McConaughey.

'Gravity' could net Bullock $70 million

Sandra Bullock doesn't need to win the best actress Oscar to call her work on "Gravity" a success.

Reporter: Collect data now, worry later

New reports say British intelligence worked with the NSA to snag still images from webcams of over a million Yahoo users.

Ukraine: Russian soldiers invaded airport

Ukrainian Interior Minister Arsen Avakov says the gunmen surrounding an airport in the Crimea region are Russian forces.

Will rain ruin the Oscars?

Storms pummeling the West Coast are hitting hard, but all the rain may do more harm than good.

New Day's Morning Minute

CNN's Kate Bolduan takes a look at the top news stories that you need to know.

'12 Years a Slave' used as learning tool

TV personality Montel Williams advocates for the film "12 Years a Slave" to be distributed in schools.

Catholic: 'We're being besieged'

Bill Donohue, president of Catholic League, says Arizona's decision on its anti-gay bill is bad for religious freedom.

Analyst: Mole wouldn't have stopped 9/11

CNN's Fran Townsend says even if reports about a FBI mole inside al Qaeda were true, it wouldn't have prevented 9/11.

Donohue: Marriage is not about love

Catholic League President Bill Donohue debates the merits of gay marriage with CNN's Chris Cuomo.

Arizona Gov. vetoes gay-rights bill

Arizona's governor vetoes a controversial bill.

War vet continues fight for recovery

The determination that drove Sgt. 1st Class Cory Remsburg to serve his country still drives him during his recovery.

Worst. Winter. Ever.

If you think this winter has been the most miserable in years, you're not alone.

Hillary Clinton hinting at her 2016 run?

New speculation emerges as Hillary Clinton fleshes out themes for a possible stump speech at the University of Miami.

FDA to change nutritional labels

The Food and Drug Administration is proposing changes to nutrition labels for the first time in more than two decades.

Gunmen seize Ukraine parliament building

Armed men seized parliament in Ukraine's southern Crimea region and raised the Russian flag, officials say.

New Day's Morning Minute

CNN's Michaela Pereira takes a look at the top news stories that you need to know.

Mom: 'Be biggest advocate for your child'

Doctors in California say they've been flooded with calls about a polio-like sickness that's affected some 20 children.

'This unfortunately was just one relapse'

David Bar Katz, friend of Philip Seymour Hoffman, talks about the actor's life and legacy.

No more photos of famous kids?

People Magazine joins Entertainment Tonight and announces it will no longer show unauthorized photos of celebrity kids.

Pope finds his Mini-Me

Pope Francis greets his tiny doppelganger during his audience in St. Peter's square.

FDA considers three parent DNA procedure

The FDA is considering a technique that uses the DNA of three parents to eliminate genetic diseases in newborns.

GM recalls 1.37 million vehicles

General Motors has expanded its recall for faulty ignition switches to include nearly 1.4 million cars.

FBI investigated first Ali-Liston fight

New documents suggest the FBI suspected the legendary boxing match between Muhammad Ali and Sonny Liston was fixed.

Hoffman's friend: Enquirer spoke to fraud

Friend of the late Philip Seymour Hoffman, David Katz, speaks out about rumors surrounding the actor's death.

Former CNN anchor has arm amputated

Former CNN anchor Miles O'Brien has lost part of his left arm in an accident while he was on a reporting trip.

Paul Rudd wins epic lip-sync battle

On "The Tonight Show Starring Jimmy Fallon," Paul Rudd wins an epic lip-sync battle by performing a few classic hits.

Budget cuts lead to less air marshals

The Department of Homeland Security has pared the number of Federal Air Marshals during the past three years.

Child's obesity risk established by 5

A new study shows a sharp decrease in obesity rates of kids ages 2-5.

New Day's Morning Minute

CNN's Michaela Pereira takes a look at the top news stories that you need to know.

Kevin O'Leary from Shark Tank

Judge from ABC's 'Shark Tank' stops by 'New Day' to discuss the market.

Check out the oldest piece of Earth

Scientists have dated an ancient crystal called a zircon to about 4.4 billion years, making it the oldest piece of Earth.

Sarah Brady: We must act on gun violence

Sarah Brady hopes to extend a law honoring her husband, who was shot during an assassination attempt on President Reagan.

Could you spell THIS word?

After two young adults go 66 rounds and tie at a Missouri spelling bee, they put "New Day" anchors to the test.

McCain: Military cuts are a 'mistake'

Senator John McCain says the Secretary of Defense's proposed military cuts are a "serious mistake."

See Indiana deck collapse

One family gathers for a group photo and the deck they're on crashes to the ground.