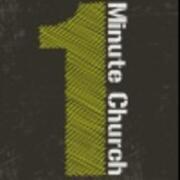 Excuses:Obstacles to the Gates of Heaven

Do you let excuses get in your way?

Grace Greater than Our Sin

This song speaks to me every time I hear it. . Marvelous grace of our loving Lord, grace that exceeds our sin and our guilt! Yonder on Calvary's mount outpoured, there where the blood of the Lamb was spilt. Refrain: Grace, grace, God's grace, grace that will pardon and cleanse within; grace, grace, God's grace, grace that is greater than all our sin! 2. Sin and despair, like the sea waves cold, threaten the soul with infinite loss; grace that is greater, yes, grace untold, points to the refuge, the mighty cross. (Refrain) 3. Dark is the stain that we cannot hide. What can avail to wash it away? Look! There is flowing a crimson tide, brighter than snow you may be today. (Refrain) 4. Marvelous...

Remembering Kyle Lake - 8 Years Later

Remembering my dear friend Kyle Lake.

Oh How He Loves Us!

Heard this song again this morning by my old friend David Crowder and wanted to read the lyrics to you. You can listen and watch the video here: http://www.youtube.com/watch?v=TCunuL58odQ And He is jealous from me, loves like a hurricane, I am a tree Bending beneath the weight of His wind and mercy When all of a sudden I am unaware of these afflictions Eclipsed by glory and I realize just how beautiful You are And how great Your affections are for me And oh, how He loves us, oh Oh, how He loves us, how He loves us all And He is jealous from me, loves like a hurricane, I am a tree Bending beneath the weight of His wind and mercy When all of a sudden I am unaware of these afflictions Eclipsed ...

Jesus hates Church Hypocrites Too!

Matthew 6:6 "But when you pray, go into your room and shut the door and pray to your Father who is in secret. And your Father who sees in secret will reward you." Jesus and Church Hypocrites One of the main objections to Christianity and the church is all the hypocrisy and, no doubt, there's a ton of it. Most people outside the church don't realize how much Jesus hates hypocrisy, as well. In His most famous sermon He blasted showy giving and praying that was designed to impress others rather than to please God and help our fellow man. He says the best way to give to others, is to do it anonymously. The best way to pray is to seek out a place to be alone with God and privately pour out your h...

Shocked into a Relationship with Christ!

I met a man today that told me a powerful story about how he came into a relationship with God.. and not in a "religious" way.

A Prayer for Graduates!

Philippians 3:13-14 Brothers, I do not consider myself yet to have taken hold of it. But one thing I do: Forgetting what is behind and straining toward what is ahead, I press on toward the goal to win the prize for which God has called me heavenward in Christ Jesus. Dear Lord, As I look toward the future Bright hope conducts this prayer, For I know the plans You have for me Were wrought with divine care. Holy Spirit, lead me. Let me run at Your command, Yet be still and know that You are God When trouble is close at hand. Your Word will be a lamp for me, A guide to light my way, A solid place to set my feet, A compass when I stray. May I live my life to praise You, Not for fortune, nor for f...

Being Postitive During Trials

James 1:12 "Blessed is the man who remains steadfast under trial, for when he has stood the test he will receive the crown of life, which God has promised to those who love him." There's an Arab proverb that goes like this: "All sunshine makes for a desert." Have you ever thought of life that way? All of us want things to go our way all the time, but we have to admit that life doesn't work like that. Hard times come. Relationships are damaged. Financial worries plague us. There are even times of war. Yes, the clouds and the storms really do come. Jesus said, "In this world, you will have trouble." But the good news is, He didn't stop there. He also said, "Take heart. I have overcome the worl...

Why Church Covenants are Important

Matthew 18: 18-20 "Truly, I say to you, whatever you bind on earth shall be bound in heaven, and whatever you loose on earth shall be loosed in heaven. Again I say to you, if two of you agree on earth about anything they ask, it will be done for them by my Father in heaven. For where two or three are gathered in my name, there am I among them." Are Covenants important at a church? Are they required? Should you enter into one? Link to Grace Bible Church Covenant http://www.gracebibletx.com/about/gbc-covenant/

We are Made to Encourage One Another

Romans 1:8-12 " First, I thank my God through Jesus Christ for all of you, because your faith is proclaimed in all the world. For God is my witness, whom I serve with my spirit in the gospel of his Son, that without ceasing I mention you always in my prayers, asking that somehow by God's will I may now at last succeed in coming to you. For I long to see you, that I may impart to you some spiritual gift to strengthen you— that is, that we may be mutually encouraged by each other's faith, both yours and mine."

Ever tried to talk to a dead person?!

Romans 6:1-14 "What shall we say then? Are we to continue in sin that grace may abound? By no means! How can we who died to sin still live in it? Do you not know that all of us who have been baptized into Christ Jesus were baptized into his death? We were buried therefore with him by baptism into death, in order that, just as Christ was raised from the dead by the glory of the Father, we too might walk in newness of life. For if we have been united with him in a death like his, we shall certainly be united with him in a resurrection like his. We know that our old selfa was crucified with him in order that the body of sin might be brought to nothing, so that we would no longer be enslaved to ...

#42: A Dad's Greatest Priorities

Genesis 33:5 "And when Esau lifted up his eyes and saw the women and children, he said, "Who are these with you?" Jacob said, "The children whom God has graciously given your servant." Let's take a moment to remember the Bible's three greatest priorities for Dads: 1. Husbands, love your wives. (Ephesians 5:25). The best way to be a good father is to be a loving husband. Our children need that more than anything. Remember, the Biblical word for love means more than a feeling, it means a commitment. 2. Fathers, do not provoke your children to anger. (Ephesians 6:4). Every child's psyche is fragile. We dads can expect too much at times and come down too hard on them. Worst of all, we can shut o...

#42: Do You Really Know Yourself?

Philippians 3:10 "that I may know him and the power of his resurrection, and may share his sufferings, becoming like him in his death" Know Thyself The person we spend the most time with is our self, so we tend to be pretty interested in ourselves. I ask you: Do you really like yourself? Would you rather be somebody else? Are you realistic about your strengths and weaknesses? Socrates gets credit for saying, "Know thyself," even though what he really said, was, "the unexamined life is not worth living." Either way, the message is clear. Knowing ourselves is a key to a meaningful life. Let me go a step further. Since God is your Creator and He knows you better than anyone, why don't you get t...

#41 - The Consequences of our Sins

We all make bad decisions sometimes. But even if those decisions were a one time occurrence there is still a price to pay for them. Everything you do has a consequence, whether you agree with it or not.

#40:Dealing With a Loved One's Death

John 14:1-4 "Let not your hearts be troubled. Believe in God;believe also in me. In my Father's house are many rooms. If it were not so, would I have told you that I go to prepare a place for you? And if I go and prepare a place for you, I will come again and will take you to myself, that where I am you may be also. And you know the way to where I am going."

#39: Do NOT Disturb Me!

Philippians 2:4 "Let each of you look not only to his own interests, but also to the interests of others." When it comes to serving our fellow man, most of us tend to live with a mindset that posts a "Do Not Disturb" sign over our heart. We think: "I'm too busy." "Leave me alone." "I don't want to get involved." "I've got my own agenda." Our culture is overrun with the attitude, "It's all about me." But as Rick Warren writes in his best seller, The Purpose Driven Life, "A meaningful life begins when we realize it's not all about us. It's all about God." When we get to know our Creator through Jesus Christ, and begin to worship God and serve Him, we realize the way we serve God is to serve ou...

#38 Parenting Isn't Easy - AMEN!!

Luke 2:52 "And Jesus increased in wisdom and in stature and in favor with God and man." Mark Twain said, "When a child turns thirteen, put them in a barrel and feed them through a hole. When they get to be sixteen, plug up the hole." That's not a very positive view of parenting teens, but one that everyone can relate to. Parenting teens isn't easy. David Gelman writes, "Today's teenagers face more adult-type stresses than their predecessors did, at a time when adults are much less available to help them." So here are a few suggestions: * Education is not the goal, wisdom is. Education helps, but teaching kids to sort out information is the key. * Teach them how to take care of their bodies w...

#37: Religion Causes More Wars

James 1:27 "Religion that is pure and undefiled before God, the Father, is this: to visit orphans and widows in their affliction, and to keep oneself unstained from the world." Another major objection to Christianity is, "Religion is the cause of more problems and wars than anything else." The response: You're right, religion is the cause of many wars and conflicts. * Look at the Middle East today. * Consider the abuses in church history. * The Crusades were the so-called Christian holy wars with Moslems seeking to capture the Holy Land for the "true faith." .* There was the horror of the Inquisition, with so-called heretics burned at the stake and Jews expelled from Spain. * Remember the te...

#36: We Serve God By Serving Others

"You, my brothers, were called to be free. But do not use your freedom to indulge the sinful nature; rather, serve one another in love." (Galatians 5:13) Many people have the misconception that being "called" by God is something only missionaries, pastors, nuns, and other church leaders experience. But the Bible says everyone is called to serve God by serving others. We are not saved by serving, but we are saved for serving. The Apostle Paul gives three insights related to this: First, the basis for serving others is salvation. Paul says, "You were called to be free." You cannot serve God until you've been set free by Jesus. It's the prerequisite for serving. Until you experience the transfo...

#35: Doubts About God

From Luke 8:25 He said to them, "Where is your faith?" And they were afraid, and they marveled, saying to one another, "Who then is this, that he commands even winds and water, and they obey him?" Doubts About God Do you ever have doubts about God? Most people do. Let me share with you what has caused me the most doubt through the years--the first four words of the Bible: "In the beginning God." For, I wonder, how could God always exist? Where did He come from? What did He do before creation? But "In the beginning God" also enriches my faith. For the Bible also says, "In the beginning was the Word and the Word was God and the Word became flesh." The Word is Jesus Christ and because of Jesus'...

#34 - A Smorgasbord Religion!

1 John 4:1 It is so trendy to practice smorgasbord religion - a little dose of Jesus, a little pinch of Buddha, a little Mohammed here and a little New Age thought there. It makes you sound so "with it"...so spiritual. But it is fundamentally dishonest. It is an insult to each religion, for it is like spiritual looting. It is a classic refashioning of God into your own chic image. And it is a reminder of the many intellectual airheads today. Make a decision for crying out loud! But don't be a phony for every faith. They don't say the same thing. They don't believe the same things. Jesus said, "I am the Way, the Truth, the Life. No one comes to the Father but through me." Either He lied or wa...

#33 How to be a Good Follower

From Luke 9:23 "If anyone would come after me, let him deny himself and take up his cross daily and follow me." Following Jesus takes commitment, but so does following other leaders in your life.

#32 - Rising to Conquer

In times of trouble or tribulation do you stand strong? or cower down? Philippians 4:13

Episode 31: Is Church Really Necessary?

Do you really need to go to church? Can't I just do it on my own? Hebrews 10:19-25 has something to say about it.

#30: Dealing with Tragedy

The events in Boston and in West, Tx could lead to great depression...

What if the Mayans were right?!

Would it be so bad if the Mayans were correct and the world ended on December 21, 2012?