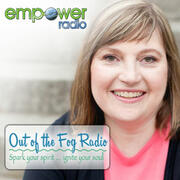 Love Your Body, Lose the Weight with Shannon Lagasse

Join Health and Happiness Coach Shannon Lagasse to learn to ditch the diet, let go of limiting beliefs, and create a life you love. Do you feel out of control around food? Sick of defining yourself with numbers on a scale or tape measure? Craving freedom from calorie counting and deprivation? If you're an emotional eater, yo-yo dieter, or just want to lose weight in a way that's healthy and sustainable, you'll want to tune in! Learn the 3 keys for sustainable weight loss. Shannon will also be sharing her favorite tips and techniques for living an awesome life, totally at ease in your body.

Cats, Commitment and Coming Home with Raven Mardirosian

Author and tarot expert, Raven Mardirosian joins us to discuss her new book, Just Another Crazy Cat Lady Story. Raven will share her journey to find herself after being rejected by the church, her sort-of girlfriend and the wild ride of what it means to be a lesbian. In her cross-country quest for a little peace, love and a good home, she finds two feline friends who keep her tethered to the earth for 20 years, carrying her through numerous breakups, the death of her mother and helping her finally answer the question, "When are you ever going to settle down?" Her furry companions are part of the great evolution and healing of her soul, offering love and understanding in their unique and unco...

Fostering Change with Jodi Orton

"Each and every day we have the chance to make a difference in the life of another person. I believe it; my husband believes it; my children believe it." Jodi Orton shares her journey into wealth and personal gain, through a difficult period of conflict, to find at the end of it the things that really matter. Through Jodi's story we can all reflect on how finding one's own purpose in life can lead to a deeper sense of happiness. Jodi will also share how animal therapy can make a difference in the lives of others, and the innovative way in which the fiber from those animals is used to help disadvantaged women.

Dream Interpretation with Melissa Virtue

Dreams are gateways to other worlds, places, and times. They are sacred portals in which we receive messages from Source, and they hold these powerful messages in the form of symbols brought to us by our dream guide and the angels. Melissa Virtue, coauthor with Doreen Virtue of the new book, Angel Dreams, is here to discuss where dreams come from, whom to call upon for dream guidance, the angels associated with dreams, and basic symbols and color meanings. You'll discover techniques and tools to enhance your dream time, including ways to remember content upon awakening. In addition, you'll learn to identify various types of dreams by reading personal dreams and their general interpretations.

A Synchromystic Journey with Niki Norlock

Does it take a miracle to save a woman who has lost everything? Does the Divine really step in and carry those who cannot or will not for the moment carry themselves? Niki Norlock shares her remarkable journey from despair to faith. Truth: My Synchromystic Journey is the story of a phoenix taking flight. Niki experienced abundant synchronicity and was astounded by the insights of those she met on her journey. She offers us a glimpse into the heart and mind of a tormented lost soul seeking the Divine in everyday life.

Find Happiness Now with Jonathan Robinson

Put away the Prozac and zap the Zoloft! Jonathan Robinson has 50 sure-fire shortcuts to get you out of the doldrums and back to bliss in five minutes or less. Jonathan is the author of Find Happiness Now, and he'll be sharing how you can cultivate the happiness habit. And it won't take long. His fast-acting techniques will having you feeling great about yourself, improve your relationships, and inspire you to live your dreams.

Lead With Your Heart with Regina Cates

Author and positivity junkie, Regina Cates, joins Karen to talk about creating a life of love, compassion and purpose. If you've been wondering what it really means to love ourselves and others, tune in to find out. Regina shares practical real-world solutions to challenges we face everyday, and she does it with humor and hard-won wisdom.

A Unique Life Fully Lived with Karen Kain

Karen Kain is a parent advocate for children of disability, and travels around the county inspiring families with her personal story of raising her medically fragile, vaccine-injured daughter Lorrin as a single mom. She is the author of A Unique Life Fully Lived: A Personal Journey of Love, Hope and Courage. Karen joins us to share the unique and extraordinary life experiences that she created for Lorrin, and the strong bond and soul connection between mother and daughter that continues to this day.

Your Divine Human Blueprint with Julie Renee Doering

Julie Renee Doering goes way beyond DNA in her research on altering DNA, accessing quantum energy, and regenerating stem cells. In her book, Your Divine Human Blueprint, she shows you how to transform your life with her easy-to-follow processes for healing. You'll hear how Julie Renee restored her own health, and how you can discover your own human blueprint. You are wired to HEAL and Julie Renee can help you learn how!

The Map of Enough: One Woman's Search for Place with Molly Caro May

Have you ever wondered what it would be like to trade in the modern world of globalization and technology and live off the grid? When Molly Caro May neared 30, she found herself yearning for a more settled life than her global upbringing had offered. She and her fiance, Chris impulsively moved to 107 acres of land in Montana, and begin the challenging process of building a traditional Mongolian yurt from scratch. This is Molly's first real home, and she finds herself wondering what "home" really means in our technology-saturated, mobile generation. In her book, The Map of Enough, she explores how we establish roots, experience a sense of place, and decide what kind of life we want to lead. I...

Contemporary Soul Care: Living Your Divine Nature with Dr. Julie Krull

We are living in a time of expanded consciousness and amazing global shifts, and stepping into the fullness of who we are. As we take responsibility for our health and quality of life, we discover the resources we have within to connect with Creation, Nature and our own divine essence as our Essential Self. Dr. Julie Krull will discuss how you can join the journey, align with Spirit, transform limiting beliefs, release negative cellular memory, clear emotional blocks, and shift your energy to support your highest divine potential.

Abundance, Wisdom and Wellness in the Workplace with Matthew Engel

In this era of rapidly changing technology and strong competition in the business world, it's become more important than ever for companies to utilize cutting-edge practices to support expansion and sustainability. Intuitive channel, therapist, and business success coach Matthew Engel will discuss the roles of wisdom and wellness in the workplace as the gateway to abundance. He will provide practical tools that your company can use to become a profitable and desirable place to work

Energy Medicine for Whole Health with Dr. Mark Mincolla

Mark Mincolla, Ph.D., shares a customized healing approach that integrates elements of classical Chinese Medicine, personalized nutrition, and extrasensory energy medicine. Author of the book Whole Health: A Holistic Approach to Healing for the 21st Century, Dr. Mincolla will discuss how you can balance your vital energies with the proper corresponding food energies, which can prevent the onset of many inflammatory symptoms associated with common ailments. By using time-tested diagnostic tools and techniques, you can attain balance in body, mind and spirit.

Protect Yourself from Energy Vampires with Iqbal Ishani

What are modern energy vampires? Learn about the common elements of our busy lives that sap our energy, making regenerative sleep difficult. Iqbal Ishani, creator of the IQ Balance system "Sleep like a baby," discusses how you can let go, reduce anxiety, and relax. Lack of sleep has become a common difficulty for many people, and it makes it difficult to clear negative energy. When you can rid yourself of your "energy vampires" you can put yourself on a more positive path to a happier future.

The Butterfly Experience with Karen Whitelaw-Smith

Want to realize your dreams? Karen Whitelaw-Smith, intuitive coach and transformational change expert, joins me to discuss her unique take on how you can achieve your full potential and emerge as the person you are truly meant to be. We'll also talk about Karen's personal story of connecting with the Spirit, and the way it's changed her life and influenced her work.

Embracing the Love Mindset with Veronika Tugaleva

If you're longing to discover that you're not broken, people are wonderful after all, and life is beautiful, you'll want to meet Vironika Tugaleva. Her spiritual awakening transformed her into one of today's most passionate, inspiring, and down-to-earth spiritual teachers. Listen to hear Vironika's perspective on ending suffering and manifesting lifelong love, peace of mind, and enduring happiness. (HINT: It has to do with knowing what love is, how to get it, and how to make it last.)

Awakening Intuition, Your Silent Super Power with Michelle Mullady

Michelle Mullady gently guides you on the path to tuning into your intuition and acting upon it. Learning to trust your inner voice, that quiet guide deep inside, will lead you along your journey, help you create your destiny and keep you in harmony with all of life. It is a process that takes practice, the peaceful practice of listening to your heart and soul, until you comprehend how to hear your Self, then interpret what you hear. Your best moments of pure love and divine bliss happen when you're centered, listening to and trusting yourself, allowing the creativity that flows through the universe, thesource of intuition, to lead you.

The Power of Sound Healing with Aleya Dao

A centuries old practice, sound healing is a transformative healing tool. Hindus chant Om; monks intone beautiful prayers, and Aleya Dao sings the songs of the Angelic Realm. Every chakra and every organ in your body responds to a unique sound. When your body experiences powerful, high-vibrational sounds, it shifts the consciousness of your body and Soul. We'll hear samples of Aleya's music and talk about how understanding and working with your energy fields can transform your life.

You Are a Medium with Sherrie Dillard

Discover how you often unknowingly communicate with and help those on the other side. Sherrie Dillard has been a professional medium for over twenty-five years. She will be discussing her new book, You Are a Medium, and helping you to understand the unique way that you interact with the spirit realm and how to further develop this inherent ability that we all have.

Reconnect to Nature's Gifts with Linda Murray

Linda Murray recognizes and receives messages from plants and animals in her farm work and gives people the confidence to reconnect to do the same. Everyone is born with this connection, but we've forgotten how to use it. Use this connection in all areas of your life, with your pets and your plants for happy healthy outcomes.

Be a Genie! Creating Love, Success and Happiness with Maureen St. Germain

Author and intuitive, Maureen St. Germain discusses how you can meet (and even surpass) your life goals using the laws of physics and sacred geometry. Maureen will share practical, easy-to-learn tools from her latest book, Be a Genie, to help us clarify our heart's desire and learn the keys to conscious creation.

Teachings of the Sacred Wheel with Lynn Andrews

For the past 30 years, New York Times and internationally best-selling author and shaman teacher, Lynn Andrews has been teaching women and men all over the world how to heal their lives and take personal power through the teachings of the sacred wheel. A crossroads is a place of great power because it is a place where decisions must be made and acted upon. Action generates energy, which becomes power. Using the ancient teachings of the sacred wheel of life, Lynn will show you how to harness that power and use it to choose your direction wisely and propel yourself through any crossroads in a conscious and intended way.

The Art of Purring with David Michie

"What makes you purr? Of all the questions in the world, this is the most important. No matter who you are or whatever your circumstances, you just want to be happy. Not the kind of happy that comes and goes like a can of flaked tuna, but an enduring happiness. The deep down happiness that makes you purr from the heart." Author and meditation coach David Michie's message for you: find your deepest, personal happiness and awaken to a dimension of yourself that has been there all the time.

Journeys of Healing and Forgiveness

Life coach Joanne Price joins Karen in the first half hour to discuss her life-changing journey to Brazil to connect with John of God. She'll share her personal experiences of healing through this connection, and how it shifted her perception around darkness and dark presences. Then meet Lisa Osina, author of "A Wolf Song". Lisa will share tools and insight about using gratitude to enhance our journey to forgiveness.

Return to the Mystic with Dr. Alexander Riegel

Dr. Alexander Riegel studies and teaches on mysticism and the contemplative traditions. Primarily, grounded in Hinduism, Buddhism, Christianity, and Sufism, Dr. Riegel's message is that the essential spiritual truths discovered by mystical figures long ago, e.g. the Hindu and Buddhist yogis, Jesus, and various Sufi figures, remain valid and unchanged. He tells us that by returning to the mystic, we come to understand that the Hindu yogis' realization of our essential nature; the Buddha's insight into the nature of the mind; Jesus' teaching of the sacred dimension of all creation - here and now; and the Sufi emphasis on the heart as the primary means of spiritual experience (not to mention th...

The Genesis Code with Glynda-Lee Hoffmann

If you think the story of Adam and Eve in the Garden of Eden is about sex and a fall from grace, then Glynda-Lee Hoffmann's new book The Genesis Code: Your Key to Unlocking Hidden Genius will be a revelation! She believes that the primary story of Genesis is really a coded key to the workings of the human brain. Her research illuminates the give-and-take, balance and wholeness of nature and how that is played out physically in the brain. It's the mechanism behind our mental capacity and a clue to the realization that we can indeed access our greater abilities by recognizing and tapping our "hidden genius."

K and Dr. Michael on Out of the Fog

What if this was the year you really did it? Got clear on your goals, deepened your connection with Spirit, moved into better alignment in every aspect of your life? K and Dr. Michael believe that when you're connected with Spirit, you live a more rewarding and abundant life. Tune in to hear how you can harness the power of your intuition to quickly make improvements in your life.

Radical Forgiveness with Colin Tipping

What is Radical Forgiveness? It is not just warmed-over traditional forgiveness. Radical Forgiveness is nothing less than a really fast way of healing your mind, body and soul - and giving you mastery over your life. Radical Forgiveness operates on a completely different level of awareness than ordinary forgiveness. It's not so much a mental process as a spiritual one ... a very practical one with easy to use tools that makes it work virtually instantaneously. Find out how Radical Forgiveness works, and how it can work in your life.

Happy Torture-Free Holidays with Sue Elliott

Whether we like it or not, the holidays are here! Does this time of year fill you with eagerness and excitement? Or dread and anxiety? For many of us, the holidays bring up all kinds of old patterns, sore spots and discomforts. Why do we feel so depressed, anxious, fearful, and irritated? It's not annoying relatives and pressures to meet end-of-year deadlines at work that create our upset, more often our unhappiness comes from inside ourselves. Keeping score with gift-giving, beating ourselves up over gaining weight at the holidays, and even getting irritated with waiting and crowds...stop making yourself crazy! Learn how you can avoid the five ways we torture ourselves at the holidays with ...

Cultured Food for Life with Donna Schwenk

Donna Schwenk healed herself from diabetes and high blood pressure by eating cultured foods. Not only that, her premature newborn was able to gain 4 pounds after not being able to eat and her daughter was healed from IBS (irritable bowel syndrome and food allergies). Through research, Donna found that pro-biotic foods can repair the gut, heal food allergies, eliminate many digestive issues, and help with weight loss and management. Making these foods can seem daunting, not because it is hard but because it is new and unfamiliar. After witnessing the power of cultured foods, Donna is determined to share these recipes and stories so others may feel better and live a healthier and more joyful l...

The Daily Dance with Sandi Athey

With the Universe as your dance partner, Sandi Athey talks about how to live in balance with the music of creation and awaken our own connection to the great mystery of life. Take a path of self-discovery around seven areas that fill our lives with joy: connection, gratitude, intuition, relationships, health, nature and finding the sacred in life's symbols. Sandi teaches from her own personal experience and shows how you can take the important steps to awakening your own inner psychic and strengthening your intuitive connection to Spirit and Mother Earth.

Near Death Experiences with PMH Atwater

PMH Atwater has personal experience with near death phenomena, having died three times in 1977. Her physiological and spiritual changes spurred her to dedicate her life to studying NDEs (near death experiences). She will share her amazing findings from her book, Near Death Experiences: The Rest of the Story, based on more than 40 years of research and sessions with more than 4,000 adults and children. PMH has examined every aspect of NDEs, from first-hand accounts of survivors experiencing flash forwards, waking up in morgues, developing psychic abilities, to stunning cases of groups experiencing NDEs together. Near Death Experiences provides a glimpse of not only what lies beyond the veil o...

Earnestine Robinson - 'Driven by Faith'

Classical music composer Earnestine Rodgers Robinson will discuss her memoir, Driven by Faith and her career as a classical music composer. With no formal training whatsoever in music, Earnestine persevered through countless obstacles including racism and poverty in the segregated South to become a successful classical music composer who has traveled and presented her music all over the world, including a world premiere at Carnegie Hall. Earnestine's inspirational journey shows that with perseverance and faith, it is possible for those who are struggling to find their way.

Michael Brill - 'Cosmic Numerology and Quantum Numbers'

Guest Michael Brill does Cosmic Numerology readings for callers! Cosmic Numerology is the study of patterns associated with the numbers and letters that make up our potential realities. Using the letters of your name and numbers of your birthday, Cosmic Numerology interprets the emotional and psychological characteristics you chose to experience in this lifetime and identifies your life's challenges AND solutions. Michael will tell us how it all works, and will demonstrate its effectiveness with live readings!

Dan Teck - 'Manifest Anything in Three Easy Steps'

Do you wish there was a magic formula that would propel you into your dream life? Bestselling author and Law of Attraction Master Practitioner Dan Teck is here to reveal "The Magic Formula"-a simple yet powerful 3-step process that has helped thousands of people reach their dreams-while loving the life they already have! Whether you want to achieve specific goals (such as writing a book, making more money, or improving your physical health) or just want to experience deeper joy and contentment in your entire life, The Magic Formula can help you get where you want to go-and enjoy the journey! If you're ready to feel joy now, reach your goals, and start living your dream-life, please join Dan ...

Healing Energy

Author and healing artist Barbara Evans' body of work has led to a new energy healing modality for raising frequency - The Eden Method. Learn the benefits of raising frequency, and how this can be applied to children (especially those who have special needs) to keep them connected and safe in a world that is full of so many negative pressures. We'll talk about Barbara's new book, Coloring for Joy, which is a unique concept to immerse children in the positive emotions of Love, Joy, Harmony and Friendship.

Finding Your Way Home

As Shelley Sanders looked at the world, she realized something was out of balance - her own life. She also realized that mental efforts led to little relief or progress. After finally surrendering by saying a simple prayer asking for help and a better life, her journey of going within to find her personal truth began. Along the way, she released old childhood beliefs which led to her discovery of the concept of "finding your way home." Now, Shelley shares the process with you, so you can begin your own journey.

Karen Hager guest Willam Gladstone

Remember the doomsday scenario that the world would end, per the Mayan calendar, on December 21, 2012? Author, literary agent, and cultural anthropologist Bill Gladstone has a different perspective. Bill sees that date as the dawning of a new cycle, one in which feminine energy will dominate, affording the world as we know it an opportunity to evolve dramatically. What will it take for this to happen, how will it manifest, and what will it mean for society?

The Power of Twelve with William Gladstone

Remember the doomsday scenario that the world would end, per the Mayan calendar, on December 21, 2012? Author, literary agent, and cultural anthropologist Bill Gladstone has a different perspective. Bill sees that date as the dawning of a new cycle, one in which feminine energy will dominate, affording the world as we know it an opportunity to evolve dramatically. What will it take for this to happen, how will it manifest, and what will it mean for society?

Medicine for the 21st Century

n the search for health, we turn to our doctors, to diets, to medication. But with the diet and pharmaceutical industries now each multi-billion dollar businesses, with 60 percent of us overweight, and with type 2 diabetes- called an epidemic by the CDC, we have to wonder if we are perhaps missing something. Uwe Albrecht, MD, suggests that it is in creating balance in our emotional, spiritual, physical, and day-to-day lives that we will be able to get past simply treating symptoms and on to real health – and that doing so may mean letting go of some of our old notions and accepting some new modalities.

What Murderers Can Teach Peacemakers

California Attorney of the Year and Lawyer to Peacemaker Douglas E. Noll talks about Prison of Peace, a project in which women serving life sentences in the largest most violent women's prison in the world are taught how to be peacemakers and mediators.

Your Undying Soul, a Reconciliation of Spirit and Science

The modern medical community prides itself on its pursuit of answers; but they typically run from big questions like: Is there a God? Do we have a soul? Is there life after death? While oncologist Dr. Stephen Iacoboni does not pretend to have the answers, he steadfastly stands by the questions…providing a spiritual component to the scientific unknown. Some call this unethical or at least inappropriate for a man seeped in scientific medicine. His patients call it helpful and comforting … that there is a bridge between science and spirituality.

The Magic of Metaphysics with Steven Frampton

We are far more powerful, resourceful and magical than we ever imagined. Have you experimented with the great power of your consciousness and spiritual energy? Can you raise your awareness to magnetize just what you need right now in order to move forward in life? You have magical abilities within that can be engaged at any moment, and Steven Frampton will talk about how you can tap into your own magic with metaphysics.

Soul Health for Radiant Living

Dr. Katherine T. Kelly, author of Soul Health: Aligning with Spirit for Radiant Living, believes the soul is our most valued ally in optimal living. Using the Soul Health Model, Dr. Kelly paves the way to ultimate life balance and your soul's evolution. She'll discuss the soul's influence on all aspects of our health, and why conventional healing methods can't bring us to our most complete and radiant vitality.

Your Guide to Practical Intuition

Suzanna Axisa will demystify your understanding of intuition to help you recognize, trust and use it with confidence. Until you can claim your intuition, there will be a gap between who you believe you are and who you really are: the highest, best version of you, the you that's capable of extraordinary things. Embrace your intuition to create your own life, in your own way, using your own standards and guidance. Stop living someone else's life and start living your own!

The Healing Soul with Dr. Ed Lamadrid

Dr. Ed Lamadrid discusses the benefits of alternative medicine for body and soul. How can we activate our body's natural inclination for healing? How does stress inhibit our health? What types of food and drink can give you a boost and decrease stress? Can meditation really help your health? Dr. Ed's unique ability to blend the scientific and practical into a usable and easy-to-understand formula will have you feeling great in no time!

Sacred Medicine: Insect Archetypes of the Medicine Wheel

Anna Cariad-Barret & Linda Star Wolf reveal the sacred wisdom inherent in Honeybee's pollinating, Butterfly's transformation, Spider's weaving, and Earthworm's recycling. Join us to learn how shamanic breathwork journeys can help you harness the consciousness-activating patterns of these insect teachers, live within the natural cycles of Planet Earth, and discover a higher octave of sacred purpose.

Radical Living with Shari Claire

Ready to be relieved of your emotional pain, give more meaning to your life, and create the future you want? Shari Claire discusses the key strategies of Radical Living: Radical Forgiveness, Radical Manifestation, Radical Self-Empowerment, and Radical Transformation. As a Certified Radical Forgiveness/Radical Manifestation Practitioner, Shari supports her clients by helping them release old victim stories and self-destructive patterns, guiding them to receive the joy and abundance that are theirs to claim.

PMH Atwater on Out of the Fog

P.M.H. Atwater believes that today's children are different, and that the basic genetic pattern of the human race is changing. It's time to toss out labels like indigo, star seed, rainbow, etc. when we talk about these kids. As we discuss her book, "Children of the Fifth World," you'll learn how technology is changing our biology, discover tips for parenting today's special children and uncover the true meaning of the Fifth World.

Out Your Ego with Staci B

Frustrated that all of your good intentions aren't bringing you the fruits of your labor? Tired of repeating affirmations, intentions and prayers because you still feel stuck? Author Staci B thinks maybe it's that rascal ego playing around behind the scenes that keeps you from moving toward what you want. She wants to help you Out Your Ego, and we'll be talking about ways you can do just that.

Out of the Fog: Balance Your Life With Author Robin Marvel

Author and motivational speaker Robin Marvel will share her how she overcame abuse, homelessness, teen pregnancy and alcoholism to choose an empowered life. She believes that no matter what challenges you've faced in the past or are facing now, you can step into a more balanced, more dynamic life. Her latest book is Life Check: Seven Steps to Balance Your Life.

Explore Dragon Energy with Devra Jacobs

Intuitive life coach Devra Jacobs has studied and worked with what she describes as Dragon Energy for the last 18 years. She says, "Dragons are a major part of the spiritual world that time has forgotten or have been ignored as simple folk lore. They are strong, powerful, and present in our lives if you just tap into their energy." The ancient Celtic and Druid traditions understood that the god/goddess spirit created dragons to do good works." Devra believes through this teaching that there are 72 pleats of time going on simultaneously, in what many call multi-dimensional living. A gift of using dragon energy is the ability to move with a person through those pleats as they shift in thought ...