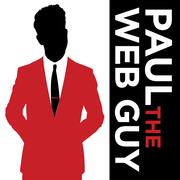 What is Paul the Web Guy Talk ?!

Paul the Web Guy talking...about Paul the Web Guy Talk!

Introducing John Newman

Meet Disclosure, the English duo taking over EDM

Behind the Scenes from iHeartRadio's 5 Things You Need to Know!

Genre Bending with DJ Vice

Ariana Grande Sings Yours Truly Fan Tweets

Singerview with Panic at The Disco

The Voice Interview Edition with Cee Lo

The Keenan Cahill Mimic Test

Travie McCoy Makes Everything Sound Cool

TLC

On The Street With Celeste Buckingham

Singerview with Panic at The Disco

The Wanted Diss Off

Lorde Sings The Beatles

Getting Pampered With Icona Pop

A lucky listener won a chance to get pampered and have her nails done with Icona Pop.

Feast of San Gennaro

EXCLUSIVE: Selena Gomez Reveals Future Rap Plans Beat Boxes for first time!

Plus her latest hot date?!?

EXCLUSIVE: Fifth Harmony Teaches Us to Twerk

Plus how to harmonize, new music and more!

Backstreet Boys Settle the Score on Boy Band Dance Moves

Plus they talk BRAND NEW single, tour the past 20 years and more!

Far East Movement Spreads 'Dirty Bass' All Over NYC

The hip-hop dance quartet bring the dirtiest dance moves to the streets!

Robin Thicke Sings Weird News Headlines

The only time you'll hear 'Chewbacca, moonwalking pony, light sabers' + more from the smoothest voice in music!

Oprah is 'So Excited' for Her Role in 'The Butler' Movie & more!

Paul the Web Guy sits down to chat her latest film

Jenna Rose

Robin Thicke at The iHeartRadio Back Door

The Darren Criss Acapella Challenge

Notorious BIG Runs into MJ with Jay Pharoah Who is Zedd with Paul the Web Guy

OCD Jay Z Orders a Pizza with Jay Pharoah

Jay Sean Interview

Selena Gomez on The Perfect Man and more!

Selena introduces a new genre of music, reveals her Perfect Man and more!

Boy Band Summit, New Kids on the Block

Icona Pop Stripped Down, I Love It

WATCH: Sammi Sweetheart's Dangerous

WATCH: Sammi Sweetheart Reveals Her Next Big Business Plan and Things Get Dangerous!

A Minute With a Mob Wife

If you think there's drama in the show, wait til you see this.

DJ Afrojack Eats Afrojacks

DJ Afrojack Eat Afrojacks And Explains His Name

Taryn Manning Spins

Guy Fieri Reviews an Animal Cracker

Celeb Chef Guy Fieri Reviews an Animal Cracker and Talks NY Food and More!

Usher Scream Sheep Remix

There has been a viral video buzzing of a sheep screaming as loud as he could. So naturally, I couldn't help but think of Usher... right? So here is our KTU.com Exclusive Mash Up Mix, Usher's Scream: The Sheep Remix!

A Few Quick Things With Ellie Goulding

Nelly

Nelly Reveals He Wants to Collaborate with Adele, Talks New Music, Michael Jackson and more!

Behind the Lyrics with will.i.am

It's time to find out what "steppin' on leprechauns' really means!

Behind the Lyrics with Flo Rida

Every wonder what Flo Rida's lyrics REALLY mean? Find out in this exclusive report!

A Fun. Day in the Office

What happens when the group Fun. visits the office?! THIS!

25 Dales in One Minute with Pitbull

How many Dale's can Mr. Worldwide fit in a one minute?! Watch ALL 25

How to Live Like Adam Lambert

After chatting with Adam on his pre-show rituals I applied them to everyday life and #LivedLikeAdam!

The Backstage Couch Photo Shoot

Adam Lambert, Enrique Iglesias, Pitbull and Others Mugging for the Camera Backstage!

Ne-Yo

Ne-Yo Comes Out Against 'Swag' And Bravely Reveals His Love For Barry Manilow and more!