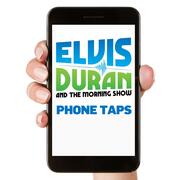 Taking My Car Back!

Mark Phone Taps his daughter by himself when he takes away her car for not paying a traffic ticket

The Lost Kitten

Danielle is a crazed neighbor who steals the kitten that ran away!

My Ex Boyfriend Is A Creeper

Skeery is the creeper of all creepers when he stays outside "his ex girlfriend's" window to peek on her! changing!

Double Booked Your Wedding

Brody royally pisses off a soon-to-be-groom when he double books his wedding date!

Your Mom Sold You Out!

Brody makes a young girl believe her mother sold her out for insurance fraud after a tree hit her car!

The Panty Theif

Brody is the creepy boss strip searching your daughter for stolen merch.

Turning Off Your Electric

Skeery sends a sports fanatic over the edge when he thinks he will get his electricity turned off today for a supposed overdue payment

Drill My Husbands Bowling Balls

Danielle walks the line when she asks a bowling ball handyman if he will do work on her husband's balls.

You Messed Up My Roof

Skeery calls the receptionist from a roofing company and yells at her for their bad job.

Japanese Hair Straightening

Skeery calls a listener's wife about her Japanese Hair Straightening treatment.

We're Shooting Hardcore Shots

Brody tells a listener's boyfriend about the hardcore nude pictures he's taking of her.

I'm Going to Starve Your Kids

Skeery shakes up a mother when he threatens to stop feeding her kids during school

Didn't Tamper With The Slot Machines!

Greg T and Skeery team up to piss off a slot player after they tell her she owes money for messing with the machine!

Shut Up, Car Insurance Will Cover It

Brody sets a father over the edge when he yells at his daughter for crashing into his new car!

The $3,500 Sea Horse Statue

Danielle tries Pete's patience when she calls about a $3500 sea horse statue his wife just purchased

No Limo For Your Prom

Skeery is a prom girl's worst nightmare when he says the limo she ordered is no longer available

Don't Call

Danielle makes a few assumptions which causes for a fun phone tap!

Give More Money To The Church

Danielle and Skeery tag team to pressure Michael into donating money to the church, or he cant renew his vows!

Nunzio and the Jealous Boyfriend

Skeery is on the phone as a listener's ex-boyfriend, Nunzio, while she's on the phone with her new boyfriend.

Wilson Is Going To kick You In the Head

Skeery brings back his classic creeper character Wilson to freak out Janette's boyfriend!

You Didn't Save Money On Your Car Insurance

Insurance rep Brody gets on Natalie's last nerve when he grills her for why she wanted to move!

I've Been Skipping School

Danielle breaks the news to a concerned parent that her daughter has not been attending class this semester!

Dad, I Got Pulled Over!

Brody pulls over Laura, who is on her way to the Yankee game. Too bad she wasn't allowed to go to the game in the first place!

The Cement Truck Spilled Over

Garrett ruins a guys lawn when he accidentally flipped the cement truck.

The Sexy Photo Shoot

Greg T lets Rob know he is still booked for a photo shoot with his wife.

Mr. Michael Oppenheimer 5

Skeery drives an actual telemarketer crazy as salesmen Mr. Michael Oppenheimer!

Skipped Out Of Jury Duty

Danielle tells Maryanne she was not accounted for during jury duty so now she has to pay a fine.

Take Your Boyfriend Back Now

Danielle is calling to inform Christina that Lisa is done with her boyfriend and she can have him back now!

Stealing Food from the Super Market

Danielle calls a listener's grandpa about the food he steals from the supermarket.

Marinara on Your Wedding Dress

Brody was making alterations on a weeding dress when he spilled marinara sauce on it.

Bob wants to sell you golf clubs!

Brody calls Kerrera's mom and brother as sales rep Bob Shandy with Handy Golf Clubs, and is not taking no for an answer!

Sex Toy Survey

Brody calls a sex toy addict and asks her to fill out a survey

Someone Stole The Vending Machine!

Danielle calls a vending machine business owner to tell him his machine has been stolen

Picked Your Girl Up At Hooters

Skeery pisses off the boyfriend of a Hooter's waitress after he gets her number.

Bad Catholic

Danielle calls Carol to inform her she can't be her niece's sponsor for Confirmation since she is not a good Catholic.

Towing Your Boats

Brody freaks Paul out when his prized boats are being removed from his yard!

Just Saved Money on My Car Insurance

Listen as Greg T harasses a women by reciting parts of famous jingles.

Mr. Michael Oppenheimer 7

Mr. Michael Oppenheimer tries to sell a family, Adopt A God.

Bulgarians Wife is Cheating

Brody calls a jealous husband as a sketchy guy who claims to have personal time with his wife.

You Rolled Back The Mileage

Skeery calls as a representative from the dealership and accuses Sheryl of rolling back the miles on her lease!

Skeery gets Phone Tapped

Listen to the time we actually played a phone tap on our very own Skeery Jones!

Your Furniture Is More Expensive

Brody tells Mike his furniture is on it's way, but is going to be more expensive than originally agreed upon.

Buy The Bona Mop

Skeery brings back Mr. Michael Oppenheimer to sell the Bona Mop.

Mom, I'm Skipping school!

Danielle informs a concerned mother that her daughter has not been attending school lately.

Elmo Family Vacation Is Cancelled

Brody tells Mrs. Elmo that her reservation is being bumped to accommodate a gay and lesbian convention.

Failed The Quiz

Failed The Myrtle and Burtle The Turtle Quiz

The Broken Elevator

Danielle calls a listener's friend about the elevator she allegedly broke.

The Wedding Proposal

With the help of David Brody, a listener Phone Taps his girlfriend, then proposes to her.

The Church Kids are Brats

Skeery poses as a member of the church, returning a call to a concerned neighbor.

Leave My Pizza Place Alone

Danielle calls Richie and accuses him of messing up business because of all his nonsense complaining!