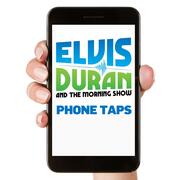 Your Son Is On Drugs

Skeery lets an excitable mother know her son can't work for them since his drug test came back positive.

Mom, We Crashed Your Car

Danielle informs a driving-conscious mother that her future daughter-in-law crashed her car and then ditched!

I Mooch Off Your Daughter

Skeery makes a dad think he's been the guy mooching off his daughter for so long!

Someone Stole The Vending Machine!

Danielle calls a vending machine business owner to tell him his machine has been stolen

Stop Throwing Your Trash By Us!

Danielle drives a woman crazy when she accuses her of throwing out trash in other locations.

Pork Is Ripping Us Off

Garrett (in his premiere Phone Tap) informs Freddy that his wife never gave the $400 deposit to get his catering done.

Found Your Daughter With A Boy

Brody calls an animated mother to let her know her daughter was found fooling around with a boy

Coast Guard Reject

Brody calls a Coast Guard reject and recruits him for the Army.

We Want To Move Back In

Skeery calls a landlord as someone who lived in her basement apartment but left without a word...and now wants to move back!

Your Wife Stole Lipstick

Danielle informs Kelly's husband that she is being arrested for stealing a lipstick

Greg T Has Diarrhea

Greg T calls his mother and grandmother to tell him he's sick with diarrhea.

You're Getting A Purple Couch

Garrett lets Nicole know that the couch she paid for isn't available, so she will be getting a purple one!

Gyno Posted Nude Pictures Of You

Detective Danielle informs a woman that her gyno posted nude photos of her online.

Your Daught Bought A $3000 Handbag

Garrett calls from the credit card company to inform mom that the card is maxed out after a $3,00 bag purchase

Pay The Electrician

Skeery's character really pisses off a young lady who needs help from an electrician.

Fix the Tiles on my Nephew's Condo

Skeery calls a listener's uncle as the construction worker renovating his nephew's condo.

No Mas Corta My Bushes

Skeery plays a landscaper and is on the phone while a listener tells her husband that the landscaper won't follow directions.

Caught Stealing Place Mats

Danielle informs a hotel guest she will be charged for the place mats she stole

Lil' Wayne Loves Your Daughter

Skeery tells a listener's mom that he really likes her daughter.

Thank You For The $1000 Donation

Skeery informs Karen's mom she will be donation $1000 to the police.

Brought Porn To Schhol

Brody pisses off biker parents when he accuses them of letting their son bring porn to school!

You Flush Your Toilet Too Much

Danielle makes a young renter believe he is getting evicted for bothering the old lady downstairs

You're Faking Disability

Brody denies social security for a disabled person

Dad, I'm Skipping SAT Class

Garrett calls a concerned father and informs him that his daughter is skipping her SAT classes.

DMV Says: "You have a FAKE LEG"

Danielle pretends to be a DMV employee who won't take no for an answer!

Your Sister is a Fat Personal Trainer

Garrett makes Louise believe her sister is getting fired as a personal trainer for gaining too much weight

Cruise Line is MESSED UP

Brody makes a hot headed dad believe he had to pay $13,000 for the suite of get kicked off the cruise!

A Fat Personal Trainer

Garrett makes Louise believe her sister is getting fired as a personal trainer for gaining too much weight

Grandma Getting Porn Pictures

Skeery talks to a listener's grandma about the porn texts he's been sending to her phone.

Bulgarian's Wife is Cheating

Brody calls a listener's husband and tells him she's been cheating on him.

Mr. Michael Oppenheimer sells a Swiffer

Skeery brings back Mr. Michael Oppenheimer to sell a cranky Italian a swiffer!

We Auctioned Off Your Car!

Brody tells Anthony his car was sold at auction after his wife got a DUI

You Have my Cat!

Danielle accuses someone of adopting a cat that was not his to adopt!

You Messed Up My Roof

Skeery calls the receptionist from a roofing company and yells at her for their bad job.

Greg T Calls a Phone Sex Line

Greg T has a little fun with a Phone Sex Operator.

Mr. Michael Oppenheimer 28

Skeery brings back Mr. Michael Oppenheimer to harass someone about canceling his credit card!

I Paid the Oil Bill for No Reason

Danielle calls a listener's husband about an oil bill they were overcharged for.

Misfit Going To Military School

Danielle calls a misfit and informs her that her mother signed her up for military school!

Mr. Michael Oppenheimer

Skeery calls as Mr. Michael Oppenheimer, trying to sell the Regina Steamer Carpet Cleaner to a sales office.

You Can't Be A Teacher!

Skeery calls a hopeful teacher and says she's failed the certification exam too many times to take it again!

Japanese Hair Straightening

Skeery calls a listener's wife about her Japanese Hair Straightening treatment.

Your Daughters In Debt

Froggy calls a father and inform him that his daughter is (again) in debt!

We're Shootin' Hardcore Shots

Brody tells a listener's boyfriend about the hardcore nude pictures he's taking of her.

Mrs. Nutzey Goes Nuts

Danielle calls a listener's mom about her car repairs.

The Ambulance Isn't Coming

Brody calls a listener's husband with some bad news about his scheduled ambulance.

Tree Fell Through the House

Garrett is on the phone while a listener calls her fiance with some bad news about the neighbor's tree.

Nunzio and the Jealous Boyfriend

Skeery is on the phone as a listener's ex-boyfriend, Nunzio, while she's on the phone with her new boyfriend.

Greg T calls a sex hotline

Greg T decides to call a sex hotline and make the phone op act like an animal!

Bob wants to sell you golf clubs!

Brody calls Kerrera's mom and brother as sales rep Bob Shandy with Handy Golf Clubs, and is not taking no for an answer!

Stealing Food from the Super Market

Danielle calls a listener's grandpa about the food he steals from the supermarket.