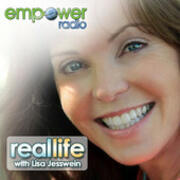 The Stars Don't Lie with Astrologer Kim Barno

Lisa Jesswein asks Astrologer Kim Barno about the stars, what they have in store for you, what we can expect in the new year and what exactly is a Mercury Retrograde anyway?

Re-Imagining the Holidays with Guest Sara Wiseman

Lisa Jesswein speaks with Sara Wiseman about how to avoid the six traps of overabundance and create some fresh new holiday traditions. Stop stressing this season and start enjoying the holidays for what they truly are; A time for thanks, joy, giving and gratitude.

Near Death Experiences with Dr. Cha~zay

Lisa Jesswein and Dr Cha~zay discuss their very similar near death experiences; What it felt like being pulled back through the tunnel away from the light. How it changed their lives for the better and helped shape who they are today.

Reduced to Joy with Mark Nepo

Join Lisa as she speaks with acclaimed poet Mark Nepo about the journey of life, how we feel about aging, what it's like to one of Oprah's favorites and what his favorite cereal was growing up. This is a fun, fresh and inspiring interview that is sure to brighten your day.

Your Own Personal Empowering Coach - Cyrstal Andrus

Lisa interviews the amazing, positive, empowering Crystal Andrus. Find out how the best-selling author and international speaker reached her full potential, how she helps people just like you every day, and about how asking yourself one simple question can transform your life.

The Haunted Collector: John Zaffis

HAPPY HALLOWEEN Empower listeners! I've got a treat for you...Haunted Collector's John Zaffis. What was it like growing up where pass the salt and did you see that ghost were both common? John has over thirty-six years of experience studying and investigating the paranormal. Do you think he ever gets scared? Join us and find out!

The Art of Healing with Dr. Bernard Siegel

Join Lisa Jesswein as she interviews Dr. Bernie Siegel, author of The Art of Healing: Uncovering Your Inner Wisdom and Potential for Self-Healing. Dr. Siegel dedicates himself to humanizing the medical establishment's approach to patients and empowering them to induce their own healing. A fun, fresh and informative chat you won't want to miss!

Pump Up your Life with E-Squared Power

Lisa Jesswein speaks with author and hopeless romantic Pam Grout. Her book E-Squared is a world-wide phenomenon and has changed the way people look at the law of attraction. An insightful, energetic and very amusing interview.

Living a Life of Gratitude: Your Journey to Grace, Joy & Healing with guest Sara Wiseman

Lisa Jesswein interviews spiritual teacher Sara Wiseman about her new book, Living a Life of Gratitude: Your Journey to Grace, Joy & Healing. Lisa reads excerpts from the book and asks Sara to share some of her personal memories from these fascinating 88 vignettes.

Magical Fashionista with Tess Whitehurst

What are you wearing right now? Does it reflect the message you are trying to send or the job or man you are trying to attract?

Leap of Perception

Wouldn't it be great if you could apply your intuition in practical ways? Penney Peirce can help with that! She's a well-respected international expert on intuition and perception. She is a gifted clairvoyant empath and visionary, and a pioneer in the intuition development movement. Penney has worked around the world as a coach and trainer to business and government leaders, psychologists, scientists and those on a spiritual path—since 1977.

"The LIfe of a Celebrity Psychic Medium"

What major events will happen in 2014? Manhattan's celebrity psychic Thomas John joins me for a revealing upbeat interview. What's it like to be psychic? Do we all have "it"? How do you harness psychic energy to benefit yourself and others? Find out! You are not going to want to miss this rare opportunity to grab a dose of psychic power.

Where Do You Search For God? with guest Brad Warner

Brad Warner: Where do you search for God? Zen monk and bestselling author Brad Warner offers straight talk about why the "Godless religion" of Zen Buddhism has a lot to say about God.

Do It Yourself Akashic Records with Jacki Smith and Patty Shaw

Do you know what the Akashic records are? Why are they important to us? How can we use this knowledge to guide us? Answers incoming on this week's show with authors Jacki Smith and Patty Shaw. Oh these ladies are a trip...in a good "oh my gosh awesome energy" way!

Happily Even After...A Widow's Journey with Carole Brody Fleet

We continue our discussion with Carole Fleet about getting though and beyond the grief of widowhood. This interview is meant for anyone dealing with grief or feeling stuck in sorrow. With the holidays right around the corner how will you make it? There is a way!

Anodea Judith on Real Life

Are you feeling a profound change in your life right now? What does it mean and how does it relate to where we have come as a species and where we are going? Anodea Judith has been called a prophet for our time and continues to speak on personal and planetary transformation.

Catching Optimism with David Mezzapelle

David's book Contagious Optimism is flooded with uplifting stories and motivational advice to rattle your cage, pull you out of that hole and move you in a positive forward direction. Sometimes the right book or interview at the right time and change your mood, perspective or life. This is that interview. This is that book. It's time to catch optimism!

Gwilda Wiyaka: So We're Still Here, Now What?

Since the world did not blow up in December of last year what are we to make of prophesies? How do we continue to live our lives in this post non-apocalyptic world without always looking over our shoulder? Gwilda Wiyaka has much to say about spiritual evolution and personal empowerment in this new era.

"Journey from Banking to Ice Cream" with Guest Scott Moloney

What would possess a successful banking professional to suddenly trade in his suit for an apron? To go from cold cash to cold ice cream? Find out from Scott Moloney creator and owner of Treat Dreams in Ferndale, MI. Find out what it takes to change course, follow a dream and stay true to that dream no matter what! This is going to be a delightfully delicious interview.

Marriage. Divorce. Finding love. Keeping love. With Terri Orbuch: The Love Doctor

We all want to know the secrets when it comes to our relationships. Dr. Terri Obuch has been studying relationships and healing hearts for over 25 years. Well ok the healing hearts part is up to us, but she sure does put our make-ups, break-ups and relationships into perspective. Whether you're looking for love, working on a current relationship or starting over this is the interview for you!

Paula Perelman: Waking up to your Inner Truth

How do you connect with that voice or space inside you that holds your true calling? Where are the answers as to why things happen the way they do? What methods will help unblock that which is stuck and heal what is hurting? Educator, Intuitive Guide, Consultant and Meditation Coach Paula Perelman could very well be the connection that will guide and inspire you to move forward and live a life filled with purpose.

Tony Burroughs: Manifest What You Want...Really!

If you are stuck in the "I don't know what I want" or the "I don't know how to get what I want" rut, then this is the interview for you! Tony Burroughs leads us with compassion and humor to identifying and manifesting your intentions. In not so fancy terms...make your dreams reality. It's about time you started believing that what you want can really come to fruition.

Tony Sherock: Fit for Life

If you are one of those people who wants to get healthy and fit but hates the gym, or doesn't know where to start, or constantly sabotages your progress, then you're going to want to hear this interview! Certified personal fitness trainer and former "bad food junkie" Tony Sherock sets a solid foundation for emotional and physical success.