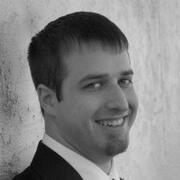 Jeremy Pierson Interview

Jeremy Pierson is one of the owners and the Chief Information Officer at Happy Bear Surgery Center in Tulare, California. Jeremy graduated from Pacific Union College with a Bachelor of Science in public relations, a Bachelor's of Arts in international communication and a Bachelor of Arts in Spanish.

Richard Ziehmer Interview

Today we get to hear from a very successful orthodontist who is going to share with us the differences of working in a corporate environment to a private practice. Dr. Richard Ziehmer is an orthodontist in Tucson Arizona. He completed his undergraduate studies at the University of Arizona. He then proceeded to earn his Doctorate of Dental Surgery from Indiana University and Masters in orthodontics from St Louis University in 2005.

Richard Ziehmer Interview

In today's show, we get to hear the differences of working in a corporate orthodontic environment and a private practice. Dr. Richard Ziehmer is an orthodontist in Tucson Arizona. He completed his undergraduate studies at the University of Arizona. He then proceeded to earn his Doctorate of Dental Surgery from Indiana University and Masters in orthodontics from St Louis University in 2005.

Dr. Marshall Hanson Interview

Dr. Marshall Hanson strives to provide an outstanding dental care experience to each and every patient. He graduated from Brigham Young University and then received his DDS from the University of the Pacific Arthur A. Dugoni School of Dentistry.

Josh Cadwell Interview

Joshua Cadwell who is an expert in reconstructive and cosmetic dentistry. Dr. Cadwell has a Bachelor's Degree in Materials Science and Engineering from Washington State University as well as a Doctor of Dental Surgery from the University of Washington School of Dentistry.

Tim Verharen

Dr. Timothy Verharen. He has practiced dentistry for 14 years and runs Current Dental with Dr. David Kidd. In this interview, we'll talk about the changes in the dentistry industry and how it is leaning towards group practices like physicians and less towards sole dentist practices.

Justin Pagan Interview

Today we get to hear from a well established and successful orthodontist in Edmonds, Washington, Dr. Justin Pagan. Dr. Pagan completed his undergraduate degree at Santa Clara University while studying at Santa Clara University. He then decided to pursue a career in dentistry and graduated from Creighton University with a dental degree with honors. He then served his orthodontic residency at Case Western Reserve University in Cleveland.

Jeff Albright Interview

Dr. Jeff Albright is a chiropractor at Acupuncture & Chiropractic of Denver. He earned his Doctor of Chiropractic Degree from Logan College of Chirpractic. He is also a firm believer in contuining education. Not only does Dr. Albright run his own successful chiropractic and acupuncture practice, he also does coaching and consulting for new chiropractors.

Jeff Anzalone Interview

Today we get to here from a very successful periodondist, Dr. Jeffrey Anzalone. Dr. Anzalone graduated from Louisiana State University Dental School and continued his education with a one year general practice residency at a VA hospital in Biloxi, Mississippi. He then attended a three year residency in periodontics from Louisiana State University and then began private practice in 2005.

Matt Adams Interview

Today we have an extremely special guest who is a family and cosmetic dentist from Columbus, Georgia. Dr. Matthew Adams attended Georgia Southern University in Statesboro and then continued his dental training at the Medical College of Georgia School of Dentistry. He currently runs a private practice with his father, Gerald.

Michelle Stafford Interview

Dr. Michelle Stafford founded World of Smiles, Pediatric Dentistry in 2008. Dr. Stafford chose to specialize in pediatric dentistry and completed two additional years of training after dental school. She also is very involved in her community and is the chairperson of the Access to Care Committee, speaker for Portland Area Parenting Groups, and is involved in quite a few other organizations as well.

Waleed Afify

Today we have a special guest who provides real estate and insurance services to physicians and dentists. Waleed Afify graduated with a Bachelor's Degree in Accounting and then his life insurance and real estate broker license. Waleed also holds a designation of Certified Doctor's Residential Specialist, which is held by less than 600 people nationwide.

Terry Dischinger Interview

Dr. Terry Dischinger graduated from Purdue University with a BS in chemical engineering and attended the University of Tennessee College of Dentistry in Nashville. He then earned his DDS and was valedictorian of his class. Terry has ran his established orthodontic practice for nearly 40 years and has had his son, Bill who is also an orthodontist, working with him for over a decade. I do also have to mention, being an avid sports fan, that Terry was the NBA Rookie of the Year, three time NBA all star, and Olympic gold medalist in basketball among many other distinctions from high school to college in many different sports.

Page Hudson Interview

Dr. Page Hudson is the Invisalign Pioneer. He starred in Invisalign's first nationwide television campaign for five years and is well-known for providing the best service. Dr. Hudson is a constant learner who feels that continuous improvement is always needed. Otherwise, someone will come in and take your spot.

Brent Parrott Interview

Brent Parrott is a successful dentist who runs not only one, but two successful dental practices in Paradise, California and Oroville, California. Dr. Parrott is the genius behind the Second Opinion where he offers patients a second opinion for no charge and sees a staggering 98% retention rate for these patients.

Cole Johnson - Orthodontist Superstar

Cole Johnson is a young, well-respected, and very successful orthodontist in Salem, OR. He gives great insight into the entire schooling process as well as starting your first orthodontist practice. He received the most prestigious award from Brigham Young University, the "Man Of The Year" award, and also graduates Summa Cum Laude.

Preeti Interview

Preeti (yes it's her real name!) is an extremely successful marketer, brand expert, coach, and mentor. I've witnessed her massive success in the past year and know that she has only up to go. She will explain to you how to take life by the horns and get rid of all excuses that may get in your way.

Jon Wedel Interview

Jon Wedel is an extremely successful teenager who earns more than 99% of people twice his age. He gives great insight about how you can be successful - not by emulating his strategy, but by finding your own.