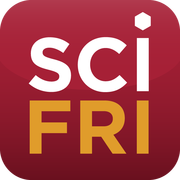 New Online Tracking Tool Evades Privacy Settings

A new online tracker is snooping on visitors to over 5,600 popular sites—and it's nearly impossible to block.

The SciFri Book Club Introduces Dune

Sci-fi author Kim Stanley Robinson and astrobiologist Sara Imari Walker introduce the SciFri Book Club's summer selection: Dune.

A Newly Discovered Virus That Lives in Our Gut

Researchers discovered a virus that lives in the gut of half of the world's population.

'Moth-ers' Celebrate Less-Loved Lepidopterans

Elena Tartaglia, a co-founder of National Moth Week, gives tips on spotting butterflies' neglected cousins.

What's the Real Cost of Your Steak?

Cattle require 28 times more land and 11 times more irrigation water than eggs or poultry.

Mosquito-Borne Viruses Raise Public Health Concern

This summer, two different and currently untreatable mosquito-borne viruses were identified on the East Coast.

Oarfish: The Ultimate Fish Tale

Little is known about the monstrously long oarfish, its life cycle, and how it navigates its deep sea environment.

HIV/AIDS Update

A round-up of the latest HIV/AIDS research news and an update from the International AIDS Conference in Melbourne, Australia.

App Chat: Plugging In to the Outdoors

Reporter Bob Parks guides us through his favorite outdoor and camping apps.

Scientists Call Whales the 'Engineers' of the Ocean Ecosystem

Whales stabilize the ocean ecosystem through a mechanism scientists call the "whale pump," or fecal plumes.

Frozen in Time, a Giant Virus

A virus large enough to be seen through a light microscope was recovered from the Siberian permafrost.

As California Dries Up, Locals Hope for El Niño

A third of California is now clenched by exceptional drought, and this week the state announced $500 fines for water-wasters. But many residents continue to hope for rain.

Smarty Pants: Testing the Quality of Textiles

Confidence in how well our garments suit us shouldn't be taken for granted—we owe much to textile quality assurance.

Pacemaker Researchers Swap Batteries for Biology

With gene therapy, scientists reprogram pig heart cells to improve heartbeat.

Fashioning the Future

A scientist and a designer imagine fashion's high-tech future.

Keeping an Eye on Wayward Studies

Ivan Oransky, co-founder of the Retraction Watch blog, discusses what happens when scientific studies go bad.

Concerns Rise Over Pesticide Use, Birds, and Bees

Neonicotinoid pesticides have been banned in the E.U. but are still approved for use in the U.S. while the EPA reviews them.

Could Inducing Hypothermia Help Revive Trauma Patients?

In a procedure called "Emergency Preservation and Resuscitation," doctors would replace the blood of patients with cold saline to help buy valuable operating time.

The Surprisingly Predictable Patterns of Random Choice

In his new book, Rock Breaks Scissors, author William Poundstone decodes the patterns in big data, sports, and human behaviors.

The ABCs of 3D

Makerbot's Bre Pettis explains what you need to know to try your own 3D printing.

What's So Bad About Being Alone With Your Thoughts?

A study finds that many people would rather shock themselves than be alone with their thoughts.

Ben Franklin: Sonic Explorer

Ben Franklin's sonic experiments included inventing a new musical instrument and testing the limits of the human voice.

A Web of Doubt

Author Charles Seife spots the falsehoods and fakes that make their way onto the information super highway.

Do Your Patriotic Duty: Learn Math

Mathematician Edward Frenkel says a well-educated public is essential to democracy—and that includes being knowledgeable about math.

Celebrating Nature's Summer Light Show, Fireflies

The flashing of lightning bugs is a favorite part of a lazy summer evening, but there's a lot of hidden nighttime drama.

Meet the Mohawk Behind NASA's Curiosity Mission

NASA's "Mohawk Man," Bobak Ferdowsi, talks public and private space exploration, plans for Europa, and whether or not we'll be putting a human on Mars.

How New Rules and Smart Tech Are Reinventing the Grid

After Superstorm Sandy, there was a lot of talk of a more distributed smart grid—a more resilient system. But how far have we come?

SciFri: Making Art From the DNA You Leave Behind

Artist Heather Dewey-Hagborg calls attention to genetic surveillance with artworks made from strangers' DNA.

SciFri: Food Failures: Avoiding Grilling and Barbecue Pitfalls

Marinade myths, charcoal chemistry, and the elusive "smoke ring"—the science behind barbecue and grilling.

SciFri: Shedding Light on the Science of Sunscreen

How does sunscreen protect our skin from harmful radiation, and what is the meaning behind SPFs?

SciFri: 3-D Mammography Detects More Cancers, But Will It Save Lives?

A new study suggests that 3-D mammography detects more cancers than traditional digital mammography. But the technology is expensive, and there's no indication yet that it catches more dangerous cancers, or is saving more lives.

SciFri: Dr. Arnold Relman, Health System Critic, Dead at 91

Relman called the American health care system a "new medical-industrial complex." We remember him here with two archival clips.

SciFri: Getting a Grasp on the Clever Cephalopod

The nautilus, the "living fossil" of cephalopods, can uncover the origins of the complex brain of modern cephalopods.

SciFri: At Reed College, Nuclear Education That's Really 'Hands-On'

At Reed College, undergraduates keep a nuclear reactor running.

SciFri: What Happens After the Robot Apocalypse?

In Robogenesis, sci-fi author Daniel H. Wilson imagines the world post-robot uprising.

SciFri: Reinventing How City Dwellers Get Around

Portland, Oregon, is a hotbed for transit innovation. Will other cities catch on?

SciFri: Untangling the Web of Spider Science

Arachnologist Greta Binford traces the evolution of spiders by examining their venom.

SciFri: Beer Science: Crafting the Perfect Pint

Two of Oregon's craft brew experts pore over hops, yeast, malt, and the microbiology of beer.

SciFri: 'Do Fathers Matter?' Explores Dad's Influence

In his new book, Paul Raeburn writes of the surprising biological and genetic connections fathers have with their children.

SciFri: Pre-Surgery Routine Needs an Update, Says Doc

Robert Cima of the Mayo Clinic says science doesn't back up pre-surgical practices like fasting and colon cleanses.

SciFri: Rep. Rush Holt: Science and Congress

Representative Rush Holt talks about how "thinking like a scientist" can help the political process.

SciFri: Is NASA Ready to Make the Leap to a Manned Mission to Mars?

What technologies, budget, and partners would NASA needed for a successful manned mission to Mars?

SciFri: Your Summer Science Book List

Lee Billings and Maria Popova compile your perfect summer science book list.

SciFri: The Science of the 'Brazuca'

How will the "Brazuca" fly? Scientists put the World Cup soccer ball through its paces.

SciFri: The EPA's New Proposal to Curb Carbon Emissions

The EPA's proposal sets a 30 percent decrease in power plant carbon emissions by 2030.

SciFri: Making Summer Travel Plans With Climate Change in Mind

With projections of warmer temperatures and rising sea levels, which tourist destinations should you plan to visit sooner rather than later?

SciFri: It's a Material World

In his book Stuff Matters, Mark Miodownik explains why the everyday materials around us are truly extraordinary.

SciFri: Documenting the Oldest Living Things in the World

In her new book of photography, The Oldest Living Things in the World, artist Rachel Sussman documents the oldest continuously living organisms on the planet.

SciFri: The Goat Brigade

A herd of "elite" brush-clearing goats demonstrate why they are a versatile tool to shield against wildfires in Southern California.

SciFri: How Can Airline Tracking Improve?

How can a commercial airliner go missing, and what can we do to improve tracking technology?

SciFri: The Lineup of Cancer Threats Is Changing

A recent study projects that by 2030, pancreatic cancer will become the second most deadly type of cancer in the U.S. after only to lung cancer.

SciFri: What's 'I,' and Why?

In Me, Myself, and Why, science writer Jennifer Ouellette probes the science of self.

SciFri: Why Do Some Songs Stick in Our Heads?

"Earworms" are song fragments that get stuck in our mind.

SciFri: How Touch Helps Us Emotionally Experience the World

Researchers describe a type of nerve that helps us understand social interactions.

SciFri: Laser Blast Can Regrow Teeth, in Rats

Zapping dental stem cells with lasers appears to switch on production of new dentin, the hard stuff under tooth enamel.

SciFri: A Decade After the Genome, Scientists Map the 'Proteome'

Nearly all the body's cells contain identical DNA. So why does a neuron grow up so differently than a liver cell? Proteins, says Akhilesh Pandey, a professor at the Johns Hopkins University.

SciFri: Why Science and the Humanities Are Better Together

Biographer Walter Isaacson explains why the future belongs to those who can merge the arts and the sciences.

SciFri: New Meteor Shower May Offer Skygazers a Treat...Or Not

Late Friday night, Earth will sail through debris left by the comet 209P/LINEAR. Scientists are calling the shower the Camelopardalids.

SciFri: Customizing Your Cryptocurrency With Altcoins

ZeroCash, Litecoin, and SolarCoin are digital currency alternatives to Bitcoin.

SciFri: Is It Possible to Make Matter From Light?

Scientists mapped out the plan for a potential "photon-photon collider" that could convert light into matter.

SciFri: The Debate Over Net Neutrality

What does the Federal Communications Commission's net neutrality plan mean for consumers?

SciFri: Are Microbes Winning the Antibiotic Arms Race?

We're running out of antibiotics, and drug companies have little incentive to develop new ones. Can we save the ones we already have?

SciFri: Listening In on Seizures

A "brain stethoscope" turns seizure patients' brainwaves into music.

SciFri: Antarctic Ice Sheet Slipping Into the Sea

Scientists confirmed a West Antarctic ice sheet the size of the Dakotas is melting.

SciFri: Can't Read This Headline? It's Written in Invisible Ink

Prisoners, Lovers, & Spies tells the story of invisible writing, from lemon juice to microdots.

SciFri: Is Graphene the New 'Wonder' Material?

Graphene is stronger than steel and more conductive than copper—a look at the applications and limitations of this 'wonder' material.

SciFri: Remembering Nereus, Explorer of Ocean Depths

The robotic deep-sea submersible Nereus was destroyed while diving over six miles beneath the surface in the Kermadec Trench.

SciFri: Should the Last Samples of Smallpox Virus Be Saved?

World health experts will meet to discuss whether or not to destroy the last live samples of smallpox virus.

SciFri: Science Goes to the Movies: 'Transcendence'

SciFri's scientist-film critics weigh in on the science behind the Hollywood techno-thriller Transcendence.

SciFri: The Serious Science of Humor

Author Scott Weems lets us in on the jokes and uncovers the science of humor.

SciFri: What's Shaking Up Oklahoma?

Earthquakes have increased by 50 percent in Oklahoma since 2013 and may be linked to drilling disposal wells.

SciFri: Young Blood Sharpens Memory in Old Mice

The blood of young mice seems to rejuvenate older mice, both strengthening their muscles and improving their ability to learn and remember.

SciFri: Another Climate Report, But Who's Listening?

The White House released its latest climate report this week, with much the same message as recent IPCC findings—climate change is real, and it's happening fast.

SciFri: Food Failures: Foraging Dos and Don'ts

Professional forager Tama Matsuoka Wong gives tips for picking wild plants safely and sustainably.

SciFri: App Chat: Apps to Mind Your Money

Forget balancing a checkbook. Today there are better ways for the budget-minded to keep track of bank balances.

SciFri: Forty Years of Mindbending Success with the Rubik's Cube

The Rubik's Cube has over 43 quintillion different starting combinations.

SciFri: Elephants Use Different 'Words' to Signal Danger

African elephants use different types of rumbles to signal danger from bees or humans.

SciFri: Squarepusher Rocks with Bots

Electronic musician Squarepusher talks about writing Music for Robots.

SciFri: Male Researchers May Increase Stress in Lab Mice

The gender of a researcher might influence the stress levels of laboratory mice.

SciFri: Nothing to Sneeze At

Sneezes and coughs generate gas clouds that can spread germs farther than previously imagined.

SciFri: Thoreau, Climate Scientist

Scientists use Henry David Thoreau's notes to study climate change at Walden Pond.

SciFri: The Science Club Talks Art Machines

The Science Club meets to recap the month's 'Build an Art Machine' project.

SciFri: Can We Game Our Way to Better Health?

Gamers and scientists join forces to develop "serious games" to improve health.

SciFri: Recording the Global Soundscape

Ecologist Bryan Pijanowski hopes to create a soundscape of every ecosystem on the planet.

SciFri: Serving Up the Origins of the Chicken and Chili Pepper

Scientists are combining genetics and linguistics to trace the origins of these staples of the modern-day menu.

SciFri: Is Aereo the Latest TV Technology Disruptor?

Is Aereo a high-tech TV game changer or a clever way to get around broadcast copyright law?

SciFri: Amir Aczel: 'Why Science Does Not Disprove God'

Aczel's latest book chronicles the New Atheist movement, taking aim at scientists like Richard Dawkins.

SciFri: How a Warming Planet Will Change What's on Your Plate

Climate change has already cut yields of wheat and corn, taking a bite out of gains achieved by better farming technology.

SciFri: Spotting Earth's Cousin in the Cosmos

Astronomers have found a planet about the size of Earth, far enough from its star to host liquid water.

SciFri: The Sticky Science Behind Maple Syrup

Plant physiologist Abby van den Berg traces how maple sap flows through trees and onto your plate.

SciFri: Discovering Your Inner Fish

Evolutionary biologist Neil Shubin takes us through the evolutionary story of how the human body evolved from our fish and reptilian ancestors.

SciFri: E.O. Wilson: 'A Window on Eternity'

E.O. Wilson discusses the recovery and biodiversity of Mozambique's Gorongosa National Park.

SciFri: Scientists Study Vole Romance Under the Influence

To learn how alcohol affects relationships, scientists mix prairie voles a drink.

SciFri: Busting Bad Bacteria With Their Viral Enemies

Phages added to packaged beef or spinach could cut down on E. coli bacteria outbreaks.

SciFri: Up Close With the Lunar Eclipse

The lunar eclipse on Tuesday, April 15, will be visible from all over North and South America.

SciFri: With Her Kids' Help, Jean Craighead George's 'Ice Whale' Sees Print

The final novel from My Side of the Mountain author Jean Craighead George takes children underneath the Arctic Ocean.

SciFri: Bill Nye Stops By

Bill Nye stops by to chat about teaching science, launching solar sails into space, and more.

SciFri: Reawakening Limbs After Years of Paralysis

Paraplegics were able to stand and move their legs again with the help of a spinal implant.

SciFri: The Origins of Violence

An anthropologist, a psychologist, and a crime writer ask: Are humans hard-wired for violence?

SciFri: How Will Russian-U.S. Politics Affect Our Relationship in Space?

NASA suspended a majority of its communications with Russia in response to the conflict in Crimea.

SciFri: Inside Insight: Clearing and Staining Fish

Clearing and staining gobies, stingrays, and sharks has revealed to scientist Adam Summers critical data, as well as the beauty of each fish's unique form.

SciFri: Diving Into the Underground Ocean of One of Saturn's Moons

Enceladus, one of Saturn's moons, may have an underground ocean the size of Lake Superior.

SciFri: Sir Roger Penrose: Cosmic Inflation Is 'Fantasy'

What's wrong with modern physics—and could alternative theories explain our observations of the universe?

SciFri: Racing Towards Hydrogen Fuel Cell Cars

Toyota plans to release a hydrogen fuel cell car in California by 2015.

SciFri: Engineering Life Through Synthetic Biology

SciFri: Movie Night for Scientists

Movie theaters and scientists pair up to present a National Evening of Science on Screen.

SciFri: The Wind Comes Sweeping Down the Plains—of Iowa

Texas and California dominate the U.S. in wind power generation—but Iowa isn't far behind.

SciFri: Robot Builders with Bugs for Brains

The bugs meet the bots in the world of swarm robotics.

SciFri: Dwarf Planet Found at the Edge of the Solar System

Dwarf planet 2012 VP-113 takes approximately 4,000 years to orbit the sun once.

SciFri: Join the Science Club: Build an Art Machine

Your mission, should you choose to accept it: Build a machine that can make art.

SciFri: A Bird-Like 'Chicken From Hell' Dino Discovery

Anzu wyliei was a toothless, bird-like dinosaur that weighed 500 pounds.

SciFri: Detecting the 'Bang' from the Big Bang

Researchers detected waves coming just after the Big Bang 13.8 billion years ago.

SciFri: Scientists Test What the Nose Knows

A new study claims the human nose can distinguish one trillion unique smells.

SciFri: Food Failures: Knead-to-Know Science Behind Bread

America's Test Kitchen editorial director Jack Bishop talks about the science behind a perfect loaf.

SciFri: Sculpting Science

Paleo-artist John Gurche and paleoanthropologist Rick Potts discuss the intersection between art and science.

SciFri: Digital Gets Physical

Students in MIT's Tangible Media Group break down the barriers of graphic interfaces and allow users to touch and manipulate pixels in real life.

SciFri: Could a Blood Test Help Diagnose Alzheimer's?

In a preliminary study, researchers identified 10 lipids in the blood that correlated with an increased risk for Alzheimer's.

SciFri: Celebrating Irrational, Transcendental Pi

As we celebrate Pi Day, mathematician Steven Strogatz talks about how the ancients calculated pi—and how you can do it at home.

SciFri: EncROACHment: New York's Invasive Cockroaches

Rutgers University entomologists unravel clues to identify a new invasive roach species in New York City.

SciFri: As the Web Turns 25, Where Is It Going Next?

We celebrate the web's 25th birthday with an archival clip of Tim Berners-Lee, the web's inventor, and take a look ahead with Lee Rainie of the Pew Research Center.