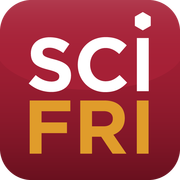 SciFri: How a Warming Planet Will Change What's on Your Plate

Climate change has already cut yields of wheat and corn, taking a bite out of gains achieved by better farming technology.

SciFri: Amir Aczel: 'Why Science Does Not Disprove God'

Aczel's latest book chronicles the New Atheist movement, taking aim at scientists like Richard Dawkins.

SciFri: The Sticky Science Behind Maple Syrup

Plant physiologist Abby van den Berg traces how maple sap flows through trees and onto your plate.

SciFri: Discovering Your Inner Fish

Evolutionary biologist Neil Shubin takes us through the evolutionary story of how the human body evolved from our fish and reptilian ancestors.

SciFri: E.O. Wilson: 'A Window on Eternity'

E.O. Wilson discusses the recovery and biodiversity of Mozambique's Gorongosa National Park.

SciFri: Spotting Earth's Cousin in the Cosmos

Astronomers have found a planet about the size of Earth, far enough from its star to host liquid water.

SciFri: Scientists Study Vole Romance Under the Influence

To learn how alcohol affects relationships, scientists mix prairie voles a drink.

SciFri: Reawakening Limbs After Years of Paralysis

Paraplegics were able to stand and move their legs again with the help of a spinal implant.

SciFri: With Her Kids' Help, Jean Craighead George's 'Ice Whale' Sees Print

The final novel from My Side of the Mountain author Jean Craighead George takes children underneath the Arctic Ocean.

SciFri: Bill Nye Stops By

Bill Nye stops by to chat about teaching science, launching solar sails into space, and more.

SciFri: Busting Bad Bacteria With Their Viral Enemies

Phages added to packaged beef or spinach could cut down on E. coli bacteria outbreaks.

SciFri: Up Close With the Lunar Eclipse

The lunar eclipse on Tuesday, April 15, will be visible from all over North and South America.

SciFri: The Origins of Violence

An anthropologist, a psychologist, and a crime writer ask: Are humans hard-wired for violence?

SciFri: Inside Insight: Clearing and Staining Fish

Clearing and staining gobies, stingrays, and sharks has revealed to scientist Adam Summers critical data, as well as the beauty of each fish's unique form.

SciFri: How Will Russian-U.S. Politics Affect Our Relationship in Space?

NASA suspended a majority of its communications with Russia in response to the conflict in Crimea.

SciFri: Diving Into the Underground Ocean of One of Saturn's Moons

Enceladus, one of Saturn's moons, may have an underground ocean the size of Lake Superior.

SciFri: Sir Roger Penrose: Cosmic Inflation Is 'Fantasy'

What's wrong with modern physics—and could alternative theories explain our observations of the universe?

SciFri: Racing Towards Hydrogen Fuel Cell Cars

Toyota plans to release a hydrogen fuel cell car in California by 2015.

SciFri: Engineering Life Through Synthetic Biology

SciFri: Movie Night for Scientists

Movie theaters and scientists pair up to present a National Evening of Science on Screen.

SciFri: The Wind Comes Sweeping Down the Plains—of Iowa

Texas and California dominate the U.S. in wind power generation—but Iowa isn't far behind.

SciFri: Robot Builders with Bugs for Brains

The bugs meet the bots in the world of swarm robotics.

SciFri: Dwarf Planet Found at the Edge of the Solar System

Dwarf planet 2012 VP-113 takes approximately 4,000 years to orbit the sun once.

SciFri: Join the Science Club: Build an Art Machine

Your mission, should you choose to accept it: Build a machine that can make art.

SciFri: A Bird-Like 'Chicken From Hell' Dino Discovery

Anzu wyliei was a toothless, bird-like dinosaur that weighed 500 pounds.

SciFri: Detecting the 'Bang' from the Big Bang

Researchers detected waves coming just after the Big Bang 13.8 billion years ago.

SciFri: Scientists Test What the Nose Knows

A new study claims the human nose can distinguish one trillion unique smells.

SciFri: Food Failures: Knead-to-Know Science Behind Bread

America's Test Kitchen editorial director Jack Bishop talks about the science behind a perfect loaf.

SciFri: Sculpting Science

Paleo-artist John Gurche and paleoanthropologist Rick Potts discuss the intersection between art and science.

SciFri: Digital Gets Physical

Students in MIT's Tangible Media Group break down the barriers of graphic interfaces and allow users to touch and manipulate pixels in real life.

SciFri: SciFri's Winter Nature Photo Contest Winner...Revealed!

Winter Nature Photo Contest judge John Weller discusses your top shots.

SciFri: Three Years After the Fukushima Nuclear Meltdown

Three out of the six reactors at the Fukushima Daichii nuclear power plant suffered a meltdown.

SciFri: Could a Blood Test Help Diagnose Alzheimer's?

In a preliminary study, researchers identified 10 lipids in the blood that correlated with an increased risk for Alzheimer's.

SciFri: Celebrating Irrational, Transcendental Pi

As we celebrate Pi Day, mathematician Steven Strogatz talks about how the ancients calculated pi—and how you can do it at home.

SciFri: EncROACHment: New York's Invasive Cockroaches

Rutgers University entomologists unravel clues to identify a new invasive roach species in New York City.

SciFri: As the Web Turns 25, Where Is It Going Next?

We celebrate the web's 25th birthday with an archival clip of Tim Berners-Lee, the web's inventor, and take a look ahead with Lee Rainie of the Pew Research Center.

SciFri: 'Particle Fever' Captures the Excitement of the Higgs Discovery

Particle Fever takes filmgoers behind the scenes of physics' big breakthrough: the discovery of the Higgs Boson.

SciFri: Delving Into the Security of an Internet of Things

As more devices come online, is enough attention being given to security and privacy?

SciFri: Battling HIV, Using a Body's Own Immune Cells

Researchers are exploring a new approach to fighting HIV infection by genetically modifying a person's own immune cells to be resistant to the virus.

SciFri: Where Do Sea Turtles Go During Their 'Lost Years'?

Biologists crack the case of sea turtles' "lost years" with a little help from a nail salon technician.

SciFri: Michio Kaku Imagines 'The Future of the Mind'

In "The Future of the Mind," physicist Michio Kaku predicts big advances for our brains.

SciFri: Pulsar Pulverizes Incoming Asteroids

A pulsar 37,000 light-years from Earth collided with a billion-ton asteroid.

SciFri: A Diverse Energy Diet, to Face a Changing Climate

U.S. Energy Secretary Ernest Moniz talks about progress on President Obama's "all-of-the-above" energy strategy.

SciFri: This Fish Sucks

Adam Summers of the University of Washington's Friday Harbor Labs details how the northern clingfish takes the art of suction to new heights.

SciFri: Your Brain on Jazz

Researcher and musician Charles Limb created an fMRI-safe keyboard to study the effects of jazz on the brain.

SciFri: On Social Media, the Kids Are All Right

In It's Complicated, Internet scholar danah boyd debunks myths about teens' online lives.

SciFri: Making Sense Out of Bitcoin

Bitcoin is a digital currency that was created by an anonymous developer in 2009.

SciFri: A 10,000-Year Stopover En Route to the New World

The ancestors of Native Americans may have lived for millennia on the Bering land bridge before fanning out across the Americas.

SciFri: Can Technology Build a Better Athlete?

Will the next big Olympics competition be a race for more technology?

SciFri: Olympians Look to Science for a Competitive Edge

Physiologist and aerospace engineer Troy Flanagan shares the science behind Olympic training.

SciFri: Artificial Muscles Flex Using Fishing Line and Thread

Researchers create superhuman strength from sewing thread and fishing line.

SciFri: The Science Behind the World's Strangest Sounds

Acoustic engineer Trevor Cox recorded the world's longest reverberation.

SciFri: App Chat: Social Media Gets Newsy

Ellis Hamburger, a reporter at The Verge, talks about why social media giants are betting on news.

SciFri: Building an Open 'Internet of Things'

Will the 'Internet of Things' be open to developers—or hindered by proprietary smart boxes?

SciFri: Beneath a Sleeping Volcano, Magma Mush Lies in Wait

Despite what Hollywood might show you, there's no big tank of liquid rock under a volcano. Stored magma spends most of its time as a crystalline mush.

SciFri: In Wind Tunnels, Ski Jumpers Become Flying Machines

Wind tunnels help Olympic ski jumpers balance between lift and drag.

SciFri: Stem Cell Research Update

Researchers in a recent study report creating stem cells in 30 minutes through an acid bath.

SciFri: For Some Olympians, Winning Medals Is All About Flow

Understanding fluid dynamics helps Olympians shave minutes off race times.

SciFri: Andy Weir: 'The Martian'

Andy Weir's novel of Mars survival mixes science fact and fiction.

SciFri: Out of the Bottle: Wine Psychology

How do our expectations, environment, and social cues trick us into believing our wine tastes better or worse?

SciFri: Scientists Hunt for Morning Dew on Mars

Could mysterious dark streaks on Martian slopes be evidence of liquid water flows?

SciFri: Solving Life's Everyday Problems, With Data

Data geeks say our "digital breadcrumbs" can reveal where to eat, who to date, or which bus to take.

SciFri: Meet Vermeer, the Engineer

A new documentary, Tim's Vermeer, shows that the Dutch master painter was a tinkerer, too.

SciFri: Greenland's Fast-Moving Glacier Speeds Up

The Jakobshavn glacier reached speeds of more than 150 feet per day during the summer of 2012.

SciFri: What Pulled the Plug on the Bioluminescent Bay?

The glowing bioluminescent bay near Fajardo, Puerto Rico went dark for more than a week in November.

SciFri: Can Gaming Make Us More Social?

NYU's Katherine Isbister imagines a future where technology connects us to other people, not avatars.

SciFri: Ice Science a Slippery Quandary for Physicists

Friction researcher and avid curler Robert Carpick discusses the tricky physics of ice.

SciFri: Crafting the 'Fastest Ice on Earth'

Marc Norman obsessively monitors the ice at the Utah Olympic Oval to create the perfect skating surface.

SciFri: Could There Be a Crisis in Physics?

Physicist Lawrence Krauss and Nobel Laureates Frank Wilczek and Brian Schmidt discuss current cosmic challenges.

SciFri: At Sundance, Scientists and Screenwriters Are Judges

What makes science work on-screen? This year's Sundance judges weigh in.

SciFri: Hotter Weather, Heavier Rains Threaten Penguins

Move over polar bears—could penguins be the new poster children for climate change?

SciFri: Alan Alda's Challenge to Scientists: Define Color

Alda's 'Flame Challenge' asks scientists to explain color—with children as the judges.

SciFri: James Dyson: 'Failures Are Interesting'

Inventor James Dyson built 5,127 prototypes before completing his first bagless vacuum.

SciFri: Is Coding the Language of the Digital Age?

The Bureau of Labor Statistics estimates that programming jobs will grow by 12 percent from 2010 to 2020.

SciFri: Sara Paretsky: 'Critical Mass'

In Critical Mass, a crime writer draws inspiration from an overlooked physics pioneer.

SciFri: Star-Crossed Galaxies

What happens when two spiral galaxies collide?

SciFri: A 'Personal' Computer Turns 30

On January 24, 1984, Steve Jobs unveiled the Macintosh computer to the world.

SciFri: Is the Universe Built on Math?

In The Mathematical Universe, physicist Max Tegmark argues that the universe is completely mathematical.

SciFri: How Fins Gave Way to Feet

Tiktaalik roseae was a fish that had scales, gills, and limb-like front fins.

SciFri: Scott Stossel: My Age of Anxiety

An estimated one out of seven Americans suffers from anxiety.

SciFri: Medicine's Gender Gap

Heart disease is the leading cause of death for American women. Yet women make up only a third of subjects in cardiovascular clinical trials.

SciFri: Science Goes to the Movies: 'Her'

SciFri: Cold Snap Knocks Out Some Invasive Insects

Asian long-horned beetle, emerald ash borer: Will they survive the colder weather?

SciFri: Out of the Bottle: Tricks of the Trade

Popular wine jargon such as "breathing," "corked," and "wine tears" gets translated into chemistry you can understand.

SciFri: Migraine Study Reveals the Power of Placebo

Patients' expectations can play a role in the effectiveness of medications and placebos.

SciFri: 2014 Consumer Electronics Show Round-Up

Chris Ziegler of The Verge discusses technology trends from this year's Consumer Electronics Show.

SciFri: Wine Science: Deconstructing 'Terroir' in the Lab

Chemist Gavin Sacks says talk of terroir may often be simply a clever marketing ploy.

SciFri: Food Failures: How to Spoil Your Food (and Eat It, Too)

Fermentation guru Sandor Katz solves your pickling problems.

SciFri: An Antarctic Expedition, Frozen in Time

Century-old Antarctic photos offer a peek into Shackleton's ill-fated Ross Sea Party Expedition.

SciFri: Forty Years of the Endangered Species Act

Currently, there are 2,142 U.S. and foreign species protected under the Endangered Species Act.

SciFri: Why Do Insects Bug Us?

Author Jeffrey Lockwood dissects our complicated relationship with insects.

SciFri: Can Plants Think?

Plants can hear, taste and feel, as Michael Pollan writes in his latest piece for The New Yorker. But is any of that evidence of intelligence?

SciFri: App Chat: Cutting Clutter From Your Inbox

Ellis Hamburger, a reporter for The Verge, talks about a few of his favorite mail-managing apps.

SciFri: Extracting Data From Photos of Our Eyes

Researchers used photographs to recover reflected images 30,000 times smaller than the actual subject.

SciFri: Oliver Sacks and the Search for the Giant Squid

In this 1997 conversation, neurologist Oliver Sacks describes the island of the colorblind, then chats with a researcher searching for giant squid.

SciFri: Carl Sagan: 'Science Is a Way of Thinking'

In this 1996 interview, Carl Sagan talks about pseudoscience, UFOs, and the origins of the universe.

SciFri: Temple Grandin: 'My Mind Works Like Google Images'

In this 2006 interview, Temple Grandin explains how her autism helps her understand animal behavior.

SciFri: Out of the Bottle: Wine Flavor

A researcher from Cornell details the chemical composition of wine's diverse flavor profiles.

SciFri: Unpacking DARPA's and Google's Robotics Interests

Google has purchased eight robotics companies in the last half-year.

SciFri: A Year of Ups and Downs for Science

Ira Flatow and a panel of editors and bloggers discuss the year's biggest science stories.

SciFri: Christmas Bird Count 2013

An update from the annual birding holiday tradition: the Audubon Christmas Bird Count.

SciFri: In a New Play, Trusty Sidekick Is a Supercomputer

Madeleine George's new play explores our dependency on technology—and each other.

SciFri: Fixing 'Misfolded' Proteins for New Drug Treatments

Researchers were able to restore the function of incorrectly folded proteins in mice.

SciFri: Reggie Watts Builds a Synthesizer, Bit by Bit

How do synths work? Reggie Watts shows off a synthesizer you can build yourself.

SciFri: This Doc's Miracle Drug? Exercise

Doctor Jordan Metzl says specific cardio and strength training regimens can treat a variety of ills.

SciFri: Science Book Picks for 2013

Journalist Deborah Blum and Maria Popova of Brainpickings.org share their top science books of 2013.

SciFri: Dissecting America's $3 Trillion Medical Bill

Steven Brill discusses "Bitter Pill," his investigation of skyrocketing healthcare costs.

SciFri: China Shoots 'Jade Rabbit' Rover to the Moon

BBC science editor David Shukman talks about the motivations behind China's moonshot.

SciFri: Speech Science: Tongue Twisters and Valley Girls

Unraveling the speech patterns behind tongue twisters and Valley girls. . .and boys.

SciFri: Would More Technology Mean Safer Trains?

Seventy thousand miles of track will need to be outfitted with "positive train control" technology by 2015.

SciFri: The Simpsons' Secret? It's Written by Math Geeks

The secret behind The Simpsons math jokes? A writers' room full of ex-mathematicians.

SciFri: Annual Prizes Honor the Stranger Side of Science

The IgNobel Prizes salute unusual research, such as an investigation of dung beetle navigation.

SciFri: Eating 'Wilder' Foods for a Healthier Diet

Author Jo Robinson digs up tips on how to get the most nutrition out of our fruits and vegetables.

SciFri: At STREB Action Lab, Dance and Physics Collide

Choreographer and gravity-junkie Elizabeth Streb pushes the boundaries of physics—with dance.

SciFri: Stores May Be Snooping Into Your Smartphone

Stores can tap into your smartphone's Wifi signal to track your in-store movements.

SciFri: Budget Cuts Leave Curiosity and Cassini in Limbo

Under NASA's proposed 2013 budget, planetary science would receive $1.217 billion.

SciFri: ISON: The Comet of the Century . . . or Is It?

As Comet ISON skirts the sun, it could be destroyed—or emerge, even more spectacular than before.

SciFri: Using Modern Ballistics to Crack 'Cold Case JFK'

Fifty years later, forensic scientists apply modern tech to the JFK assassination.

SciFri: A Handful of Nuts, a Lifetime of Benefits?

Researchers linked daily nut consumption to a lower risk of dying from major chronic diseases.

SciFri: When Water Flows Uphill

Researchers test ridged surfaces in order to control the movements of hot water.