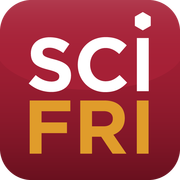 SciFri: Where Do Sea Turtles Go During Their 'Lost Years'?

Biologists crack the case of sea turtles' "lost years" with a little help from a nail salon technician.

SciFri: 'Particle Fever' Captures the Excitement of the Higgs Discovery

Particle Fever takes filmgoers behind the scenes of physics' big breakthrough: the discovery of the Higgs Boson.

SciFri: Delving Into the Security of an Internet of Things

As more devices come online, is enough attention being given to security and privacy?

SciFri: Battling HIV, Using a Body's Own Immune Cells

Researchers are exploring a new approach to fighting HIV infection by genetically modifying a person's own immune cells to be resistant to the virus.

SciFri: Michio Kaku Imagines 'The Future of the Mind'

In "The Future of the Mind," physicist Michio Kaku predicts big advances for our brains.

SciFri: Pulsar Pulverizes Incoming Asteroids

A pulsar 37,000 light-years from Earth collided with a billion-ton asteroid.

SciFri: A Diverse Energy Diet, to Face a Changing Climate

U.S. Energy Secretary Ernest Moniz talks about progress on President Obama's "all-of-the-above" energy strategy.

SciFri: Making Sense Out of Bitcoin

Bitcoin is a digital currency that was created by an anonymous developer in 2009.

SciFri: On Social Media, the Kids Are All Right

In It's Complicated, Internet scholar danah boyd debunks myths about teens' online lives.

SciFri: A 10,000-Year Stopover En Route to the New World

The ancestors of Native Americans may have lived for millennia on the Bering land bridge before fanning out across the Americas.

SciFri: This Fish Sucks

Adam Summers of the University of Washington's Friday Harbor Labs details how the northern clingfish takes the art of suction to new heights.

SciFri: Your Brain on Jazz

Researcher and musician Charles Limb created an fMRI-safe keyboard to study the effects of jazz on the brain.

SciFri: Beneath a Sleeping Volcano, Magma Mush Lies in Wait

Despite what Hollywood might show you, there's no big tank of liquid rock under a volcano. Stored magma spends most of its time as a crystalline mush.

SciFri: Building an Open 'Internet of Things'

Will the 'Internet of Things' be open to developers—or hindered by proprietary smart boxes?

SciFri: The Science Behind the World's Strangest Sounds

Acoustic engineer Trevor Cox recorded the world's longest reverberation.

SciFri: Olympians Look to Science for a Competitive Edge

Physiologist and aerospace engineer Troy Flanagan shares the science behind Olympic training.

SciFri: App Chat: Social Media Gets Newsy

Ellis Hamburger, a reporter at The Verge, talks about why social media giants are betting on news.

SciFri: Artificial Muscles Flex Using Fishing Line and Thread

Researchers create superhuman strength from sewing thread and fishing line.

SciFri: Can Technology Build a Better Athlete?

Will the next big Olympics competition be a race for more technology?

SciFri: Stem Cell Research Update

Researchers in a recent study report creating stem cells in 30 minutes through an acid bath.

SciFri: In Wind Tunnels, Ski Jumpers Become Flying Machines

Wind tunnels help Olympic ski jumpers balance between lift and drag.

SciFri: For Some Olympians, Winning Medals Is All About Flow

Understanding fluid dynamics helps Olympians shave minutes off race times.

SciFri: Andy Weir: 'The Martian'

Andy Weir's novel of Mars survival mixes science fact and fiction.

SciFri: Solving Life's Everyday Problems, With Data

Data geeks say our "digital breadcrumbs" can reveal where to eat, who to date, or which bus to take.

SciFri: Scientists Hunt for Morning Dew on Mars

Could mysterious dark streaks on Martian slopes be evidence of liquid water flows?

SciFri: Out of the Bottle: Wine Psychology

How do our expectations, environment, and social cues trick us into believing our wine tastes better or worse?

SciFri: Meet Vermeer, the Engineer

A new documentary, Tim's Vermeer, shows that the Dutch master painter was a tinkerer, too.

SciFri: Greenland's Fast-Moving Glacier Speeds Up

The Jakobshavn glacier reached speeds of more than 150 feet per day during the summer of 2012.

SciFri: Crafting the 'Fastest Ice on Earth'

Marc Norman obsessively monitors the ice at the Utah Olympic Oval to create the perfect skating surface.

SciFri: Ice Science a Slippery Quandary for Physicists

Friction researcher and avid curler Robert Carpick discusses the tricky physics of ice.

SciFri: Can Gaming Make Us More Social?

NYU's Katherine Isbister imagines a future where technology connects us to other people, not avatars.

SciFri: What Pulled the Plug on the Bioluminescent Bay?

The glowing bioluminescent bay near Fajardo, Puerto Rico went dark for more than a week in November.

SciFri: Could There Be a Crisis in Physics?

Physicist Lawrence Krauss and Nobel Laureates Frank Wilczek and Brian Schmidt discuss current cosmic challenges.

SciFri: Alan Alda's Challenge to Scientists: Define Color

Alda's 'Flame Challenge' asks scientists to explain color—with children as the judges.

SciFri: Hotter Weather, Heavier Rains Threaten Penguins

Move over polar bears—could penguins be the new poster children for climate change?

SciFri: At Sundance, Scientists and Screenwriters Are Judges

What makes science work on-screen? This year's Sundance judges weigh in.

SciFri: James Dyson: 'Failures Are Interesting'

Inventor James Dyson built 5,127 prototypes before completing his first bagless vacuum.

SciFri: A 'Personal' Computer Turns 30

On January 24, 1984, Steve Jobs unveiled the Macintosh computer to the world.

SciFri: Sara Paretsky: 'Critical Mass'

In Critical Mass, a crime writer draws inspiration from an overlooked physics pioneer.

SciFri: Star-Crossed Galaxies

What happens when two spiral galaxies collide?

SciFri: Is Coding the Language of the Digital Age?

The Bureau of Labor Statistics estimates that programming jobs will grow by 12 percent from 2010 to 2020.

SciFri: Scott Stossel: My Age of Anxiety

An estimated one out of seven Americans suffers from anxiety.

SciFri: How Fins Gave Way to Feet

Tiktaalik roseae was a fish that had scales, gills, and limb-like front fins.

SciFri: Is the Universe Built on Math?

In The Mathematical Universe, physicist Max Tegmark argues that the universe is completely mathematical.

SciFri: Science Goes to the Movies: 'Her'

SciFri: Medicine's Gender Gap

Heart disease is the leading cause of death for American women. Yet women make up only a third of subjects in cardiovascular clinical trials.

SciFri: 2014 Consumer Electronics Show Round-Up

Chris Ziegler of The Verge discusses technology trends from this year's Consumer Electronics Show.

SciFri: Wine Science: Deconstructing 'Terroir' in the Lab

Chemist Gavin Sacks says talk of terroir may often be simply a clever marketing ploy.

SciFri: Food Failures: How to Spoil Your Food (and Eat It, Too)

Fermentation guru Sandor Katz solves your pickling problems.

SciFri: Migraine Study Reveals the Power of Placebo

Patients' expectations can play a role in the effectiveness of medications and placebos.

SciFri: Out of the Bottle: Tricks of the Trade

Popular wine jargon such as "breathing," "corked," and "wine tears" gets translated into chemistry you can understand.

SciFri: Cold Snap Knocks Out Some Invasive Insects

Asian long-horned beetle, emerald ash borer: Will they survive the colder weather?

SciFri: An Antarctic Expedition, Frozen in Time

Century-old Antarctic photos offer a peek into Shackleton's ill-fated Ross Sea Party Expedition.

SciFri: Why Do Insects Bug Us?

Author Jeffrey Lockwood dissects our complicated relationship with insects.

SciFri: Forty Years of the Endangered Species Act

Currently, there are 2,142 U.S. and foreign species protected under the Endangered Species Act.

SciFri: Can Plants Think?

Plants can hear, taste and feel, as Michael Pollan writes in his latest piece for The New Yorker. But is any of that evidence of intelligence?

SciFri: Extracting Data From Photos of Our Eyes

Researchers used photographs to recover reflected images 30,000 times smaller than the actual subject.

SciFri: App Chat: Cutting Clutter From Your Inbox

Ellis Hamburger, a reporter for The Verge, talks about a few of his favorite mail-managing apps.

SciFri: Carl Sagan: 'Science Is a Way of Thinking'

In this 1996 interview, Carl Sagan talks about pseudoscience, UFOs, and the origins of the universe.

SciFri: Oliver Sacks and the Search for the Giant Squid

In this 1997 conversation, neurologist Oliver Sacks describes the island of the colorblind, then chats with a researcher searching for giant squid.

SciFri: Temple Grandin: 'My Mind Works Like Google Images'

In this 2006 interview, Temple Grandin explains how her autism helps her understand animal behavior.

SciFri: Out of the Bottle: Wine Flavor

A researcher from Cornell details the chemical composition of wine's diverse flavor profiles.

SciFri: Christmas Bird Count 2013

An update from the annual birding holiday tradition: the Audubon Christmas Bird Count.

SciFri: A Year of Ups and Downs for Science

Ira Flatow and a panel of editors and bloggers discuss the year's biggest science stories.

SciFri: Unpacking DARPA's and Google's Robotics Interests

Google has purchased eight robotics companies in the last half-year.

SciFri: Fixing 'Misfolded' Proteins for New Drug Treatments

Researchers were able to restore the function of incorrectly folded proteins in mice.

SciFri: Reggie Watts Builds a Synthesizer, Bit by Bit

How do synths work? Reggie Watts shows off a synthesizer you can build yourself.

SciFri: This Doc's Miracle Drug? Exercise

Doctor Jordan Metzl says specific cardio and strength training regimens can treat a variety of ills.

SciFri: In a New Play, Trusty Sidekick Is a Supercomputer

Madeleine George's new play explores our dependency on technology—and each other.

SciFri: Science Book Picks for 2013

Journalist Deborah Blum and Maria Popova of Brainpickings.org share their top science books of 2013.

SciFri: Dissecting America's $3 Trillion Medical Bill

Steven Brill discusses "Bitter Pill," his investigation of skyrocketing healthcare costs.

SciFri: China Shoots 'Jade Rabbit' Rover to the Moon

BBC science editor David Shukman talks about the motivations behind China's moonshot.

SciFri: Speech Science: Tongue Twisters and Valley Girls

Unraveling the speech patterns behind tongue twisters and Valley girls. . .and boys.

SciFri: Would More Technology Mean Safer Trains?

Seventy thousand miles of track will need to be outfitted with "positive train control" technology by 2015.

SciFri: The Simpsons' Secret? It's Written by Math Geeks

The secret behind The Simpsons math jokes? A writers' room full of ex-mathematicians.

SciFri: Annual Prizes Honor the Stranger Side of Science

The IgNobel Prizes salute unusual research, such as an investigation of dung beetle navigation.

SciFri: Eating 'Wilder' Foods for a Healthier Diet

Author Jo Robinson digs up tips on how to get the most nutrition out of our fruits and vegetables.

SciFri: At STREB Action Lab, Dance and Physics Collide

Choreographer and gravity-junkie Elizabeth Streb pushes the boundaries of physics—with dance.

SciFri: How to Avoid 'Food Failures' This Thanksgiving

Jeff Potter, author of Cooking for Geeks, dishes up a few cooking hacks for Turkey Day.

SciFri: Stores May Be Snooping Into Your Smartphone

Stores can tap into your smartphone's Wifi signal to track your in-store movements.

SciFri: Budget Cuts Leave Curiosity and Cassini in Limbo

Under NASA's proposed 2013 budget, planetary science would receive $1.217 billion.

SciFri: ISON: The Comet of the Century . . . or Is It?

As Comet ISON skirts the sun, it could be destroyed—or emerge, even more spectacular than before.

SciFri: Using Modern Ballistics to Crack 'Cold Case JFK'

Fifty years later, forensic scientists apply modern tech to the JFK assassination.

SciFri: A Handful of Nuts, a Lifetime of Benefits?

Researchers linked daily nut consumption to a lower risk of dying from major chronic diseases.

SciFri: When Water Flows Uphill

Researchers test ridged surfaces in order to control the movements of hot water.

SciFri: Gauging the Impact of Climate Change on Hurricanes

Is there a link between climate change and stronger hurricanes?

SciFri: Searching for Earth 2.0

New data suggest one in every five stars like the sun may have an Earth-like planet circling it.

SciFri: Should Sending Cash Be As Easy As Sending E-mail?

In this episode of App Chat, Ellis Hamburger debates the pros and cons of Square Cash.

SciFri: Early Balloonists Took Science 'Up, Up and Away'

Falling Upwards chronicles the balloonists who took science into the stratosphere.

SciFri: 'Hatching Twitter': A Tale of Booze and Backstabbing

New York Times columnist Nick Bilton's new book reveals the social network's dark side.

SciFri: The Other Golden Rule

Why most mammals—even elephants—take only 20-30 seconds to urinate.

SciFri: The Myth of the Woolly Bear

Can woolly bear caterpillars predict winter weather?

SciFri: Biosecurity for the Age of Redesigned Life

Bioethicists--and the FBI--are rethinking biosecurity for the synthetic biology revolution.

SciFri: Navigating Dietary Supplement Regulations

Dietary supplements don't fall under the conventional food or drug FDA regulations.

SciFri: So Far, No Silver Bullet to Stop Lethal Bat Fungus

Scientists say antifungal bacteria could help fight the fungus causing white-nose syndrome.

SciFri: India and NASA Home In on Mars

The Mangalyaan orbiter would make India the fourth space program to reach the Red Planet.

SciFri: To Learn How Your Camera Works, Try Building One

The Bigshot Do-It-Yourself Digital Camera kit gives tinkerers a view of a camera's anatomy.

SciFri: Einstein's Real Breakthrough? Quantum Theory

Einstein is best known for relativity, but was his quantum theory more revolutionary?

SciFri: Chris Hadfield's Lessons From Life in Orbit

Retired astronaut Chris Hadfield explores life floating through space and back on Earth.

SciFri: Hurricane Sandy Recovery, One Year Later

A year after Hurricane Sandy, differing visions for the coastline of tomorrow.

SciFri: Uncovering the Brain of a Psychopath

Neuroscientist James Fallon's brain scan matched the patterns in the scan of a psychopath.

SciFri: Craig Venter: Life at the Speed of Light

In his latest book, Venter imagines printing out flu vaccines and teleporting Martian DNA.

SciFri: Science Goes to the Movies: 'Gravity'

Astronauts separate fact from fiction in Alfonso Cuarón's 3-D space epic, Gravity.

SciFri: The Real-Life Walking Dead

People suffering from Cotard's syndrome believe they are dead or no longer exist.

SciFri: Climate Change Aids Toxic Slime's Advance

Toxic blooms of cyanobacteria are choking lakes and rivers worldwide, due in part to warmer waters.

SciFri: Discover the Inner Beauty of the Naked Mole Rat

How do naked mole rats live to 30 years without getting cancer?

SciFri: Promising New Treatment for the Deadly Ebola Virus

Outbreaks of the Ebola virus have a 90 percent fatality rate in humans.

SciFri: Making Sense of Science Infographics

How you can decode modern infographics and spot those that mislead.

SciFri: Vines Choking Out Trees in the Tropics

Increased forest fragmentation and a boost in carbon dioxide may contribute to the vines' success.

SciFri: New Fossil May Trim Branches of Human Evolution

Could Homo erectus, Homo habilis, and the rest of the Homo genus be one species?

SciFri: With Shutdown Over, Scientists Assess the Damage

Government labs are turning on their lights—but many Antarctic scientists are still in limbo.

SciFri: Logging In to the Brain's Social Network

Neuroscientist Matthew Lieberman explores how our brains connect to the social world.

SciFri: Health Reform and Healthier Outcomes?

Wider insurance coverage and coordinated care—will these add up to healthier patients?

SciFri: Baseball Postseason Predictions

Math professor Bruce Bukiet uses "simple addition, subtraction, and multiplication" to predict the World Series bracket.

SciFri: A Trade-off Between Skin Protection and Testicular Cancer Risk?

Studying the link between genetic variations implicated in cancer may lead to more personalized treatments.

SciFri: 'Brave Genius': A Tale of Two Nobelists

"Brave Genius" profiles two extraordinary men: biologist Jacques Monod and philosopher Albert Camus.

SciFri: Nobel Prize Roundup: 'God Particle' Strikes Gold

Guest host John Dankosky reviews the discoveries behind this year's Nobel Prizes.

SciFri: Radio Rewind: Leon Lederman

Physicist Leon Lederman discusses the Standard Model versus a Unified Theory of particle physics.

SciFri: With Government Shut Down, Science Idles

As the budgetary stalemate in Washington continues, many federally funded science projects are now on hold.

SciFri: Cracking Open Encryption Standards

How secure are the encryption systems that protect our communications?