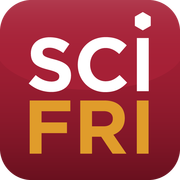 SciFri: Dissecting America's $3 Trillion Medical Bill

Steven Brill discusses "Bitter Pill," his investigation of skyrocketing healthcare costs.

SciFri: Would More Technology Mean Safer Trains?

Seventy thousand miles of track will need to be outfitted with "positive train control" technology by 2015.

SciFri: China Shoots 'Jade Rabbit' Rover to the Moon

BBC science editor David Shukman talks about the motivations behind China's moonshot.

SciFri: Speech Science: Tongue Twisters and Valley Girls

Unraveling the speech patterns behind tongue twisters and Valley girls. . .and boys.

SciFri: The Simpsons' Secret? It's Written by Math Geeks

The secret behind The Simpsons math jokes? A writers' room full of ex-mathematicians.

SciFri: Annual Prizes Honor the Stranger Side of Science

The IgNobel Prizes salute unusual research, such as an investigation of dung beetle navigation.

SciFri: Eating 'Wilder' Foods for a Healthier Diet

Author Jo Robinson digs up tips on how to get the most nutrition out of our fruits and vegetables.

SciFri: At STREB Action Lab, Dance and Physics Collide

Choreographer and gravity-junkie Elizabeth Streb pushes the boundaries of physics—with dance.

SciFri: How to Avoid 'Food Failures' This Thanksgiving

Jeff Potter, author of Cooking for Geeks, dishes up a few cooking hacks for Turkey Day.

SciFri: Using Modern Ballistics to Crack 'Cold Case JFK'

Fifty years later, forensic scientists apply modern tech to the JFK assassination.

SciFri: Budget Cuts Leave Curiosity and Cassini in Limbo

Under NASA's proposed 2013 budget, planetary science would receive $1.217 billion.

SciFri: ISON: The Comet of the Century . . . or Is It?

As Comet ISON skirts the sun, it could be destroyed—or emerge, even more spectacular than before.

SciFri: Stores May Be Snooping Into Your Smartphone

Stores can tap into your smartphone's Wifi signal to track your in-store movements.

SciFri: When Water Flows Uphill

Researchers test ridged surfaces in order to control the movements of hot water.

SciFri: A Handful of Nuts, a Lifetime of Benefits?

Researchers linked daily nut consumption to a lower risk of dying from major chronic diseases.

SciFri: Should Sending Cash Be As Easy As Sending E-mail?

In this episode of App Chat, Ellis Hamburger debates the pros and cons of Square Cash.

SciFri: Gauging the Impact of Climate Change on Hurricanes

Is there a link between climate change and stronger hurricanes?

SciFri: Searching for Earth 2.0

New data suggest one in every five stars like the sun may have an Earth-like planet circling it.

SciFri: The Other Golden Rule

Why most mammals—even elephants—take only 20-30 seconds to urinate.

SciFri: 'Hatching Twitter': A Tale of Booze and Backstabbing

New York Times columnist Nick Bilton's new book reveals the social network's dark side.

SciFri: Early Balloonists Took Science 'Up, Up and Away'

Falling Upwards chronicles the balloonists who took science into the stratosphere.

SciFri: India and NASA Home In on Mars

The Mangalyaan orbiter would make India the fourth space program to reach the Red Planet.

SciFri: The Myth of the Woolly Bear

Can woolly bear caterpillars predict winter weather?

SciFri: Navigating Dietary Supplement Regulations

Dietary supplements don't fall under the conventional food or drug FDA regulations.

SciFri: So Far, No Silver Bullet to Stop Lethal Bat Fungus

Scientists say antifungal bacteria could help fight the fungus causing white-nose syndrome.

SciFri: Biosecurity for the Age of Redesigned Life

Bioethicists--and the FBI--are rethinking biosecurity for the synthetic biology revolution.

SciFri: To Learn How Your Camera Works, Try Building One

The Bigshot Do-It-Yourself Digital Camera kit gives tinkerers a view of a camera's anatomy.

SciFri: Hurricane Sandy Recovery, One Year Later

A year after Hurricane Sandy, differing visions for the coastline of tomorrow.

SciFri: Einstein's Real Breakthrough? Quantum Theory

Einstein is best known for relativity, but was his quantum theory more revolutionary?

SciFri: Chris Hadfield's Lessons From Life in Orbit

Retired astronaut Chris Hadfield explores life floating through space and back on Earth.

SciFri: Climate Change Aids Toxic Slime's Advance

Toxic blooms of cyanobacteria are choking lakes and rivers worldwide, due in part to warmer waters.

SciFri: Craig Venter: Life at the Speed of Light

In his latest book, Venter imagines printing out flu vaccines and teleporting Martian DNA.

SciFri: Science Goes to the Movies: 'Gravity'

Astronauts separate fact from fiction in Alfonso Cuarón's 3-D space epic, Gravity.

SciFri: Discover the Inner Beauty of the Naked Mole Rat

How do naked mole rats live to 30 years without getting cancer?

SciFri: The Real-Life Walking Dead

People suffering from Cotard's syndrome believe they are dead or no longer exist.

SciFri: Uncovering the Brain of a Psychopath

Neuroscientist James Fallon's brain scan matched the patterns in the scan of a psychopath.

SciFri: Making Sense of Science Infographics

How you can decode modern infographics and spot those that mislead.

SciFri: Promising New Treatment for the Deadly Ebola Virus

Outbreaks of the Ebola virus have a 90 percent fatality rate in humans.

SciFri: New Fossil May Trim Branches of Human Evolution

Could Homo erectus, Homo habilis, and the rest of the Homo genus be one species?

SciFri: With Shutdown Over, Scientists Assess the Damage

Government labs are turning on their lights—but many Antarctic scientists are still in limbo.

SciFri: Logging In to the Brain's Social Network

Neuroscientist Matthew Lieberman explores how our brains connect to the social world.

SciFri: Vines Choking Out Trees in the Tropics

Increased forest fragmentation and a boost in carbon dioxide may contribute to the vines' success.

SciFri: Baseball Postseason Predictions

Math professor Bruce Bukiet uses "simple addition, subtraction, and multiplication" to predict the World Series bracket.

SciFri: A Trade-off Between Skin Protection and Testicular Cancer Risk?

Studying the link between genetic variations implicated in cancer may lead to more personalized treatments.

SciFri: 'Brave Genius': A Tale of Two Nobelists

"Brave Genius" profiles two extraordinary men: biologist Jacques Monod and philosopher Albert Camus.

SciFri: Nobel Prize Roundup: 'God Particle' Strikes Gold

Guest host John Dankosky reviews the discoveries behind this year's Nobel Prizes.

SciFri: Health Reform and Healthier Outcomes?

Wider insurance coverage and coordinated care—will these add up to healthier patients?

SciFri: Radio Rewind: Leon Lederman

Physicist Leon Lederman discusses the Standard Model versus a Unified Theory of particle physics.

SciFri: With Government Shut Down, Science Idles

As the budgetary stalemate in Washington continues, many federally funded science projects are now on hold.

SciFri: DIY Halloween Hacks

Halloween hacks for a "tricked out" trick-or-treating.

SciFri: 'Countdown' Explores the Effects of Our Overpopulated Planet

How can we sustain and balance the exploding global population?

SciFri: Sifting Martian Soil and Dreaming of Future Expeditions

Recent analyses of Martian soil have found significant amounts of water.

SciFri: Cracking Open Encryption Standards

How secure are the encryption systems that protect our communications?

SciFri: Les Paul: Inventor and Innovator

Paul was a lifelong tinkerer, building a railroad rail guitar as a teen and hearing aids in his 90s.

SciFri: Saving Wild Places in the 'Anthropocene'

Do we need to rethink how we protect nature in the age of climate change?

SciFri: World's Largest Neutrino Telescope Buried in Antarctic Ice

The IceCube telescope detects over 100,000 neutrinos every year.

SciFri: Food Fermentation: The Science of Sausage and Cheese

The chemistry behind sausage and cheese.

SciFri: Modern Humans Still Evolving, and Faster Than Ever

Recent evolution has given humans the ability to break down starch and digest cheese. Bon appetit!

SciFri: Science Fairs 2.0

A report card on the state of science fairs today, and a look into the future.

SciFri: Can Mass Transit Solve City Sprawl?

L.A. commuters spend 60 hours a year stuck in traffic. But is mass transit a viable alternative?

SciFri: Birding the Fall Migration

Birding tips on how to get the most out of the fall bird migration.

SciFri: A Chronicle of a Whale's Life, Captured in Earwax

Researchers say earwax can provide data about pesticide exposures, hormone levels, and even stress levels of the endangered blue whale.

SciFri: Why Climate Change Ups the Odds of Fires, Floods

Climatologist Jennifer Francis talks about how climate change and severe weather may be linked.

SciFri: These Smartphone Apps Track Every Step of Your Day

"Quantified self" apps count your steps, measure your sleep, and collect a bevy of other details.

SciFri: Food Failures: When Home Canning Goes Wrong

Jars broke? Lids buckled? Home canning expert Jessica Piper explains common preserving pitfalls.

SciFri: US Cities Quench Growing Thirst with Saltwater

Desalination is growing in popularity, but is it sustainable enough to solve our water problems?

SciFri: Stephen Hawking Looks Back

Stephen Hawking says that, were he to start from scratch, he wouldn't focus on physics.

SciFri: Are We There Yet? Voyager 1 Finally Answers 'Yes'

Scientists announced this week that Voyager has finally reached interstellar space.

SciFri: World's Largest Volcano Discovered on Pacific Seafloor

A 145-million-year-old volcano covers an area the size of New Mexico.

SciFri: Chemistry Research Roundup

A look at highlights from this week's American Chemical Society conference.

SciFri: This Doc's Prescription? Use This App, Twice Daily

Cardiologist Eric Topol says smartphone apps give him a better day-to-day view of patients' health.

SciFri: NASA Craft to Sniff Moondust, Test Laser Broadband

The Lunar Atmosphere and Dust Environment Explorer will suck up dust and gas above the Moon.

SciFri: Worldwide Researchers Flock to Penguin Meeting

The Eighth International Penguin Conference is being held this week.

SciFri: SciFri Snapshot: Monty Hall

The Monty Hall Problem: using probability to win a car...or a goat.

SciFri: Alzheimer's Potential Missing Link

An existing drug has been shown to block a key protein implicated in Alzheimer's disease and restore memory in mice.

SciFri: Wildfires Consume Funds Flagged for Prevention

Fire historian Steve Pyne says our fire system resembles our health care system—it's focused on emergencies and not prevention.

SciFri: Life From Mars

Could Mars have been a better starting point for the origins of life on Earth?

SciFri: Do Your Gut Bacteria Influence Your Metabolism?

The microbes in your gut may help determine if you are thin or obese.

SciFri: Food Failures: Beer Home Brew

How to brew the perfect ale and lager from your stove top.

SciFri: New Clues to Memory Glitch Behind 'Senior Moments'

One memory-related gene may retire later in life, leaving you wondering, "Where'd I put my keys?"

SciFri: Diagnosing Self-Destruction

Scientists still have little idea what spurs people to take their own lives.

SciFri: Ancient Beads with an Otherworldly Origin

Iron beads made from meteoric metals predate the Iron Age.

SciFri: Space Telescope Reawakened for an Asteroid Hunt

NASA will give the dormant WISE space telescope a new task, enlisting it in the hunt for near-Earth asteroids.

SciFri: A Robot Lab to Survey the Sea Floor

Researchers are developing a DNA-sampling robot for undersea exploration.

SciFri: A Telescope Fails, but the Hunt for Exoplanets Continues

Although the Kepler planet-hunting telescope is no longer operating, discoveries remain to be made in its data.

SciFri: Rebooting Science Museums for the 21st Century

Science museums aren't just dioramas and dusty skeletons anymore.

SciFri: Judging Music With Visual Cues

How important are our eyes when we take in a musical performance?

SciFri: Study Correlates Copper Intake and Alzheimer's in Mice

Could copper in drinking water contribute to Alzheimer's disease in mice?

SciFri: Marina Abramovic: Experimenting on Consciousness, Through Art

Performance artist Marina Abramovic wants to build a laboratory devoted to arts and science.

SciFri: The STEM Gender Gap

Why hasn't an increases in the number of female students studying the sciences led to proportional number of women in the STEM workforce?

SciFri: For a Greener Yard, Lose the Lawn

Swapping turf for less thirsty plants can reduce your yard's water footprint and look just as lush.

SciFri: Hyperloop: Hype or Future Transportation?

Elon Musk described his Hyperloop design as a cross between a "Concorde, a railgun, and an air hockey table."

SciFri: Strengthening the Grid, Ten Years Later

How has the electrical grid changed since the massive blackout of 2003?

SciFri: New Vaccine Beats Malaria in Early Trials

The vaccine offered complete protection against malaria in a small trial, but only after five doses.

SciFri: Biting Into the First In Vitro Burger

A laboratory lunch over the first in vitro burger.

SciFri: Desktop Diaries: Tim White

This office is not short on artifacts.

SciFri: Comet Dust Brings a Spectacular Sky Show

The annual Perseid meteor shower, produced by remnants of the Swift-Tuttle comet, is back.

SciFri: Flexible Insect Protein Inspires Super Rubber

Flexible insect protein surpasses the best synthetic rubbers.

SciFri: Climate Update: Warming Temperatures

A look at the social and environmental impacts of global warming worldwide.

SciFri: Reading, Writing, 'Rithmetic . . . and Respect?

Some experts say teaching emotional literacy in school is key to better behavior—and better grades.

SciFri: Some Ground-Dwelling Dinos Had the Brains to Fly

Even Archaeopteryx's non-flying cousins had the motor and visual skills needed for flight.

SciFri: Smartening Your TV With Google Chromecast

How does Google Chromecast fit into the media streaming market?

SciFri: For Asteroid Ideas, NASA Looks to the Crowd

When NASA asked the public for ideas on tracking and exploring asteroids, the agency received more than 400 ideas.

SciFri: Hacking Under the Hood and Into Your Car

More computerized features in your car mean more hacking vulnerabilities.

SciFri: Reexamining the Definition of Cancer

Will redefining cancer help prevent overdiagnosis and overtreatment?

SciFri: Teaching Newton's Laws Through Rhyme

Science teacher Christopher Emdin knows how to get his students interested in science: Rap about it.

SciFri: Meet Nasutoceratops: Big-Nose Horned Face

Researchers dug up a new relative of Triceratops in the Utah desert. Its distinction? A huge nose.

SciFri: Engineering in Service of a Dark Art

A biologist takes shadow puppetry to the next level.

SciFri: The 'Uncool' Passion of Jonathan Franzen

The best-selling novelist has a soft spot for birds.

SciFri: 'Moth-ers' Shine a Light on Nighttime Beauties

Much-maligned moths are more than the butterfly's drab cousin.

SciFri: Uncovering the Mystery of J.K. Rowling's Latest Novel

Determining an author's linguistic fingerprint using forensic stylometry.

SciFri: Melding Two Memories Into One

Researchers linked a mouse's innocuous memory to a fearful one—essentially creating a false memory.

SciFri: Phil Mickelson Takes a Swing at Science

Mickelson, an advocate for math and science education, says science sharpens his golf game, too.

SciFri: MERS Virus Update

An update on a SARS-like virus centered in the Middle East.

SciFri: DIY Summer Hacks, From the Pool to the Grill

Try your hand at homemade sunscreen, water bottle rockets, and "cooler corn."

SciFri: Astronomers Spot Another Moon Around Neptune

The newly discovered moon, currently named S/2004 N 1, is just 12 miles across.

SciFri: Fish Oil: Too Much of a Good Thing?

Researchers linked higher blood levels of omega-3 fatty acids to a higher risk of prostate cancer.

SciFri: Volcano 'Screams' Before Eruption

Some volcanoes experience a large number of pre-eruption earthquakes.

SciFri: Capturing the Sounds of Biodiversity

Researchers created a monitoring system to automatically record and analyze soundscapes of an area.

SciFri: Protecting Your Online Privacy

Worried about your online privacy? There are services that can help secure your information.