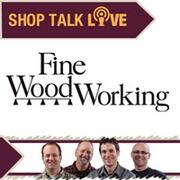 STL 46: Ed Cuts the Cord—Literally

With the holidays here, it's time to reflect on past "service woodworking" projects and answer reader questions on everything from handplanes and finishes—to the ancient Golden Ratio. Plus, Ed cops to his most boneheaded shop move, EVER!

STL 45: Taking the Fun Out of FWW

We welcome our new editor onto the show and tackle questions including tips on working with furniture-grade plywood, bandsaw wisdom, and how dumpster diving can get you into trouble. Plus, is Shop Talk Live is too heavy on chit-chat and too light on woodworking. We debut a brand new segment that just might take the "fun" out of Fine Woodworking!

STL 44: Big Changes for Fine Woodworking

This week we announce some big changes at Fine Woodworking magazine before diving into questions concerning specialty handplanes, steambending wood, and more. Plus, the Audio Shop Stumper returns with a very special Shop Talk Live challenge!

STL 43: Richard Raffan Comes Stateside

This week we welcome celebrated Australian woodturner Richard Raffan to Shop Talk Live and offer readers a chance to get their hands on a lathe christened by the master himself. Plus, we answer a whole host of questions on router tables, handplanes, dust collection, and just how much shop is enough.

STL 42: Top Secret Woodworking Topics

This week on Shop Talk Live, Ed Pirnik reports on some government big-wigs at a foreign U.S. consulate who read Fine Woodworking magazine and gives the low-down on a brand-new video set under construction at FWW's editorial office. Plus, your questions on toxic paste wax, resawing basics, raised panel doors, and a whole lot more.

STL 41: Ask a Rocket Scientist

Tablesaw safety comes center-stage as we bring a certified, honest-to-goodness rocket scientist to Shop Talk Live. Plus, we answer a variety of questions including how to deal with "gummy" bandsaw blades, stubborn handplane tearout in figured maple, and hand tools for intricate inlay work.

STL 40: The Deal with Compass Planes

On this week's edition of Shop Talk Live, we answer the "how" and "why" of compass planes and dive into the history of corrugated handplane soles. Plus, Fine Woodworking art director Mike Pekovich fesses up to one of the biggest Smooth Moves in the history of Shop Talk Live! All this, plus your woodworking questions answered on Fine Woodworking's very own podcast.

STL 39: Handplane Hassles and Hardships

On this week's edition of Shop Talk Live, we break down the reasons for taking the plunge into the world of handplanes and offer a whole host of tips for tuning up a vintage spokeshave (essentially a handplane). Our Audio Shop Stumper is back again this week with a chance to bring home not one prize, but two! Plus, your woodworking questions answered!

STL 38: Brian Boggs' Brainy Machinery

On this week's edition of Shop Talk Live, we report live from Fine Woodworking Live 2013-the magazine's second annual live event. During the three-day event which included a "build-off," plenty of elective classes and symposiums, and a lot of good natured fun-we were able to grab Asheville, NC chairmaker Brian Boggs. Brian sat down with us to explain his origins as a chairmaker, a Frankensteinian "de-barking" machine he cobbled together himself, and even took some time to answer questions from listenrs. Modern Woodworkers' Association Pops In Later on in the show, we welcomed Chris Adkins and Ian Mackay of the Modern Woodworkers' Association for a third-party critique of the show and some go...

STL 37: SawStop Portable in the Works

On this week's edition of Shop Talk Live, we report live from AWFS 2013, one of the largest woodworking machinery and supplies shows in the nation, if not the world. While working the floor to report on a whole host of new tools and machines, Asa and Ed were able to convince some of the representatives behind your favorite tools onto the show. Look for interviews with folks from Teknatool, Rikon, Lee Valley Veritas, and even SawStop. A SawStop Portable in the Works SawStop director of marketing Matt Howard was kind enought to become a bullseye for a range of questions concerning the company's goals, electronic improvements, and the long-anticipated SawStop portable benchtop saw.

STL 36: Definitely a Dovetail Disaster

On this week's edition of Shop Talk Live, it's a mano-a-mano battle to the end as Mike Pekovich and Ed Pirnik face off while regular STL contributors Asa Christiana and Matt Kenney sip on champagne coolies during yet another vacation! The guys fess up to some recent woodworking blunders, offer a few cool woodworking technique tips, and answer a variety of your woodworking questions. Humidity Wreaks Havoc! Also on this week's show, Mike and Ed discuss a variety of wood movement nightmares, including busted joinery on a dovetailed cabinet, ever-expanding cabinet doors, and more. Learn why it happens, how to prevent it, and how to fix it!