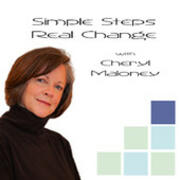 Why Staying Positive Beats Adversity with Lisa Jesswein

Does it feel like everything that happens to you buries you? Are you wondering how or even why to get up again when you know you're just going to be knocked down again? Join Cheryl as she welcomes guest & Empower Host of "Real Life" Lisa Jesswein. Overcoming life challenging illnesses & adversity, Lisa believes that it's all about the choice you make to sink or swim. Come for a frank discussion about choices and leave inspired to power forward in your life.

Living Vibrantly Healthy with Dave Fresilli

Are you tired of the fads and fanatics of diet and exercise? Do you want to live a healthy life so you can enjoy every minute? Join Cheryl as she welcomes Dave Fresilli a C.H.E.K Institute Holistic Health Practitioner & CHEK Exercise Practitioner, to talk about the truths of achieving vibrant health at any age. Learn a few simple steps that you can take right now to improve your overall health and move at your pace to achieve optimum health and wellness. Discover why caring holistically for your body will empower you move closer to all of your other dreams.

Loving Yourself in Midlife With Suzy Manning

Did you make it to this point in your life and aren't happy with you? Do you think there should be more or you should have been living a different life by now? Join Cheryl & The Magic of Midlife Expert Suzy Manning as they share with you all the reasons you should love yourself, as you are, right now. If you're ready to shed the expectations of the media, your younger self or your family & friends, discover how you can transform your life into a magical experience... one you're excited to be in!

Courageous Relationships with Victoria Allen

When was the last time you decided to be an active participant in your relationship? Do you allow yourself to be vulnerable because you trust your partner? Can you deal with the messiness of it? Do you take responsibility for your own emotions? Cheryl welcomes Victoria Allen, LFMT, and regular Simple Steps Real Change Expert to share her advice for how to be a courageous lover. Hear about how getting mad is a good thing and asking questions deepens the intimacy. We're talking about being bold, respectful and true to each other.

Go Soul-Cial with Teri Williams

Did you know that listening to the voice from within takes you on an incredible high in life? What? You haven't been listening? It's time to turn to yourself to honor yourself. Tune in as Cheryl and Soul-cial Living Creator and Bliss Lady, Teri Griffin Williams have an enlightening discussion about how to practice impeccable soul care. Learn how being fearlessly positive and loving yourself no matter what- are simple techniques that allow you to honor your soul.

Make Every Day Valentine's Day

Is Valentine's Day a big day for your and your spouse or partner? Do you give the red roses, chocolates or other gifts as a symbol of your love? What happens on the next day or week? Do you fall back into your routine. On today's show, Marilyn Hough, LMFT and Chuck Schmitt, The Relationship Specialists join Cheryl to talk about the simple ways to weave loving gestures into your daily life. We often hear that it is the simple things that make people happy... and when we make it a priority to do something every day, our love stays alive and healthy.

It's in the Cards with Robbie Adkins

Have you ever wondered how you can tap into your own soul? Do you have a feeling there is more to life but you just don't know how to see beyond you immediate circumstances. Guest and Simple Steps Real Change Magazine columnist Robbie Adkins says that, "The real key to learning to "hear" your higher-self voice is to be in the right state when you draw your card." Listen in and learn how to use divination cards to tune into your soul. By doing so you help raise your vibration and the planet's vibration.

The Gifts of Trust with Jon Satin and Chris Pattay

Do you trust yourself? What about your family, friends, your boss? Do you trust in god or a higher power? Jon Satin & Chris Pattay join Cheryl for an enlightening discussion about moving from fear to love by learning to trust or trust again. Often at a young age were taught not to trust. Tune in and discover how you an finally move past the fear that's holding you back and discover the gifts of trust.

Celebrating the Process of Change with Jordan Gray

We are who we are because of the journey we're on in life. We didn't wake up one day and discover ourselves. Like the butterfly emerging from the cocoon we had to be where we were to get where we are. If you're struggling against the changes going on in your life tune in as Cheryl talks with author & inspirational speaker Jordan Gray. Discover how you can leverage the process of change to make you stronger and more excited about your life. Whether you're facing a total upheaval or a new chapter you're going to want to hear how to drop the resistance and embrace to beauty of your transformation.

Feed the Meter with Liz Kearns

Do you just keep going until you're running on empty? In today's hectic pace we forget that we need to renew ourselves if we are to reach for our goals, help another or make it through the next challenge that lands on our plate. Join Cheryl and Life Coach Liz Kearns and discover the three steps to feeding your meter. If you want to improve your energy, discover your power and align yourself with your true purpose tune and and learn from Liz what it takes to become the person you dream about being.

Clouds in the Sky

Do you feel like you've received the short straw in life? Are you wondering why everyone else seems to do or have more than you? If you're looking for something outside yourself to validate your worth tune in for this enlightening discussion about taking all those challenges and using them to your advantage. Discover how what you've been dealt is your opportunity to get to know your strengths and your potential.

New Year... New You on Simple Steps Real Change

Are you ready to start this new year out with a positive step? Join Cheryl & 6 of her favorite friends and inspirational people as they talk about a fresh approach to everything from money to your relationship. - Linda P. Jones, "America's Wealth Mentor" shares 5 tips on how to shift your money frequency. - Kathy Stover, Social Media Strategist, takes on the subject of engagement. Learn about the power in the power in your connections on FB, Twitter, Google + and Pinterest. - Paul Boynton, "Begin With Yes" creator & author, talks about how to marry the Law of Attraction with the Law of Action and move forward in your own power. - Marilyn Hough, LMFT & Chuck Schmitt, LMFT, "The Relationship S...

The Meaning of Giving

This holiday season is about giving but what would happen if the definition of giving changed? Have you considered what would happen if instead of shopping until you dropped you gave yourself and others the gift of love & kindness. Join Cheryl as she welcome 4 amazingly inspiring women who have redefined giving. Learn from Janet D. Thomas how the gift of gentleness soothes your soul. Teri Griffin Williams shares the blissfulness of being soul-cial when we engage our friendship and community. Regina Cates teaches us how leading with love helps us through even the stressful times. Suzy Manning encourages us to celebrate the magic of midlife and give ourselves the gift of freedom.

You Have the Answers Within You

Suzy Manning joins Cheryl to talk about Suzy's new column "The Magic of Midlife," a bimonthly feature in Simple Steps Real Change Magazine. This show is all about understanding what midlife is and how to embrace the freedom of this time in your life. Be prepared to be excited about midlife and what your future holds!

The Reason for the Season with Regina Cates

Every day is a holiday; a celebration of the life we're here to live. If you're caught up in the gift giving frenzy, tune in and listen as Cheryl and guest Regina Cates of Romancing Your Soul talk about how to shift your focus from commercialism to love. Learn why giving the gift of yourself and your time is an eternal gift. If you're ready to make the transition to putting joy back into the holidays you won't want to miss this show!

Holiday Merriment or Mayhem with Marilyn Hough and Chuck Schmitt

Are you ready for the chaos of the holidays or would you prefer to have a merrier time? What if making one simple change would make all the difference? Tune in and listen as Cheryl speaks with Marilyn Hough, LMFT and Chuck Schmitt, LMFT, The Relationship Specialists. Learn how a little preplanning with your partner can make all the difference in family gatherings. Whether creating a signal to give each other a little support or planning ahead to have the chores done ahead of time, you can reduce your stress simply. If you want to make your holidays fun and successful, you won't want to miss this show.

Gratitude in Everything

Are you feeling blessed or beaten? Can you find the gift in adversity? In every day life? In this special one-hour holiday edition of Simple Steps Real Change, Cheryl welcomes guests Amanda Owen author of "The Art of Receiving," Brent Carey CEO & Creator of Empower Radio, Life & Business Coach Josh Ubaldi, Don Shapiro Creator of Life is a Fork in the Road, and husband & Simple Steps Real Change Creative Director Jack Maloney. This show is all about finding the blessings in the good times and the not so good times. Hear from these inspirational thought leaders how their lives have been affected but their journeys and how they can help you discover how gratitude is the game changer that change...

Good Enough from the Inside Out with Thelma Putzel

Do you feel unfulfilled and uninspired by your day-to-day life? Is your work a drag but you know you have a good job? What would it take for you to be excited to get up and start your day of with enthusiasm and curiosity? Join Cheryl and Life Coach Thelma Putzel as they discuss living from the inside out and discovering your higher self. Appreciate that everything happens at the right time and place and step off the gerbil wheel of running without purpose. Learn how to let go and what you don't need to control and raise up your own self worth.

Life's Choices - The Fork in Your Road with Don Shapiro

What choice do you have to make at this moment? Do you know what you want to do? Are you frozen in fear and worry and are stuck staring at your choices? Join Cheryl and guest Don Shapiro, author and creator of "Life is a Fork in the Road." They discuss what it means to shift a step in any direction to give yourself a new perspective. Realize that while every choice may not be simple or easy they have purposed and meaning in your life. Discover how both listening to the voice of your soul and stepping outside your self to help another are game changers. When you embrace your journey of choices, your life opens up in front of you.

Paul Boynton - 'Doing Anything Helps You'

Can you remember the last time you said "Yes" to you? If you're stuck and wondering when it will be your time listen in as Cheryl and "Begin With Yes" author Paul Boynton discuss how taking one small step in any direction propels you further than that single step. Using the Law of Action in conjunction with the Law of Attraction evokes your power...the power you have within you to realize your dreams...even if you aren't sure what they are yet. Learn about how setbacks are a step forward and how helping others helps you too.

Fuzzy Manning - 'Out of Control? See What's Possible'

If life seems to be spinning and you can't find solid ground you listen to the voice of your soul...it's trying to get your attention. Don't know how? Listen in as Cheryl and Heart Centered Intuitive Fuzzy Manning discuss tuning into you and honoring yourself first. It is at times of great stress when doing nothing gives you the opportunity to help yourself and see the possibilities rather than taking action for the sake of "doing something." Learn how to pause and hear what will serve your higher good and then proceed.

The Journey of Midlife with Suzy Manning

Did you think when you made it to midlife your journey would look very different than it does right now? Are you finding yourself unsure of what's next when you thought what's next would be easy street? Or perhaps you are yearning for your younger days and don't know if or what you want to do now. Join Cheryl and the Sizzzlicious Suzy Manning and they share the truth and beauty of midlife.

Put Fear Into Perspective

Are you paralyzed by fear? Has happiness escaped you because you worry about the future, your kids, your health…even if your life is going just fine? Join Cheryl & international parenting expert Sandi Schwartz as they talk about how to your concerns but diffuse their power. Learn how to tune into your inner guidance system and gain perspective on the experience you or others may be having. By starting now to overcome smaller fears you build them confidence to address the bigger issues when they do arise. Realize that by gently stopping your judgment of the situation and being kind to yourself you take a Simple Step towards eliminating the worries that stop you in your tracks.

Bitter to Sweet by Choice

Do you feel like everything in your life up until this point has dragged you down so far that you'll never get back up? When you look around you do you wonder why others seem to have it all and ask why isn't it you? Have there been events in your life that have you feeling like less of a person. Less deserving, less capable, less worthy? Join Cheryl & guest Janet D. Thomas and learn how to turn life's lemons into lemonade. Janet has overcome childhood sexual abuse, financial devastation, eviction, depression, obesity and divorce. Listen in as Janet reveals how neutralizing any situation and wrapping it in love changes everything. Learn how being kind to yourself and others brings forth heali...

Embracing Life's Transitions

Have you figured out what you want to do or be when you grow up? Have you tried one thing after another and haven't found you passion, let alone your "calling?" Do you just want to be settled into a life that brings you peace and happiness? Cheryl welcomes Life & Business Coach Josh Ubaldi to this show which is all about the transitions in our lives. Whether you know where you want to go, or still figuring it out. Tune in to this discussion about embracing change. Learn how disappointment can be a powerful motivator and discover that "what's next" for you can be by design.

Shifting into Positive Mode with Linda P. Jones

Do you spend more time obsessing about money than making it? Are you wondering when your ship will come in and you can enjoy the good life? Or do you believe that money is for other people and you're destined to live paycheck to paycheck? Join Cheryl and guest Linda P. Jones, America's Wealth Mentor and learn how to take the beliefs created through family, religion and the media and shift them to your advantage. Discover how grounding the new belief you want in facts enables you to overcome any negative thoughts you may have about money or your future. Take a Simple Step forward in gratitude and come into the positive place you want to be.

Power Up Your Life by Accepting What Is

Are you living in denial? When we lie to ourselves we give up our power and feel bad. Is that what you want for your life? When we decide to come face to face with the reality we've created we can begin to change. Guest & show regular Regina Cates is here to help you to decide to "Accept What is." Whether you're denying your addiction or your role in your circumstances, listen in and discover how taking responsibility for your life, as it is, enables you to begin to change and become the person you want to be.

Embracing Change in Your Relationship

It's one thing to be going through change all by yourself but when you have a spouse or partner who is experience it too there is a new other dimension that we have to deal with. Are you traveling the same path? Are there areas of your life that seem to be diverging? Today's guests and show regulars Marilyn Hough, LMFT & Chuck Schmitt, LMFT are The Relationship Specialists. Listen in has they help us understand a few dynamics that perhaps we haven't even considered. Learn how to embrace change in your relationship and do it in a way that honors and respects both of you.

Sizzzling in Midlife

Is this all there is? Is half of our life over? Is the best half over? If you've hit midlife and wonder what this is all tune in to explore this part of your journey with the Sizzlicious Suzy Manning. Suzy is on a mission to help women find their passion and realize that with age comes freedom to life life by delicious choice!

Pilot Your Time with Nancy Matthews

Do you get to the end of your day and wonder what you did? Is there something important for you to accomplish yet you have no idea how to get it done let alone of you have the energy to even try? Join Cheryl & guest Nancy Matthews an extraordinary woman who makes the energizer bunny look lazy. Learn how to pause before you start your day, do the worst first and reclaim your time by block scheduling your time. Take advantage of a Special Gift from Nancy here: www.nancymatthews.com/timemastery.

Forgive and Heal Yourself with Shann Vander Leek

Are you creating your life on your terms or are you taking what you're given? Is there something in your past that you believe keeps you from living the life you want. Do you feel unworthy, unloved, unable to succeed? Join Cheryl and guest Shann Vander Leek, creator of Sacred Heart Teachings, as they discuss how you can forgive yourself and heal what hurts. Learn how to listen to the voice that comes from within and discover the joy and unconditional love that is waiting for you.

Find Your Voice and Your Calling

Are you living a life that doesn't nurture your soul? Are you going down a path because you "should?" Join Cheryl and guest Joel Boggess, Creator of "Finding Your Voice" and find out how discovering what is good for your spirit helps others around you live a happier life too. With all the demands in life today Joel shares why with everything coming our way we need to get control of our priorities and be ok with everything that doesn't get done. Learn why helping others understand our growth process reduces their stress and may encourage them to grow their own way too. Tune in if you're ready to move beyond where you are and find you voice.

What's Really Going On with Sandi Schwartz

What do you do when your kids won't listen? Or when they get it one minute but the next it's like they had a total lapse of memory? Have you reached the end of your rope and feel like the noose is around your neck? Join Cheryl and parenting expert Sandi Schwartz to learn the role fear plays in your child's behavior and how to work with them instead of fighting against them... even when they seem to be totally out of control and irrational.

Geraldine Teggelove on Simple Steps Real Change

Are you going through one now? Do you feel like there is no light at the end of a very dark tunnel? At age 57 today's guest, Geraldine Teggelove, experienced her own financial disaster. Listen in as Geraldine and Cheryl discuss how life-changing events open us up and send us on a magic journey to finding our happiness. It starts with a decision to put our happiness first. From taking care of basic needs to learning to listen to our spirit Geraldine shares how a simple daily walk became the communion with nature that restored her soul. If you're ready to take the path to healing tune in and discover how to take your own Simple Step.

Embrace the Process with J.D. Roth

Is your life out of control? Are you in debt, over your head or upside down financially? Do you believe it will never get any better so why try? Guest JD Roth has been there. The creator of Get Rich Slowly, author of Your Money, The Missing Manual and regular contributor to Entrepreneur Magazine Your Money column was once an over extended. He realized he didn't want to live that way and set out to learn about money and how to deal with it. Learn how a combination of increasing your income and reducing debt is the fastest way to regain your security while taking it one step at a time and enjoying life, too.

Tell a Better Feeling Story and Activate the Law of Attraction

You know the Law of Attraction must work but yet you haven't seen the results. Perhaps it seems too simple to be real…or just doesn't work for you. Join Cheryl and "The Law of Attraction Science Guy" Greg Kuhn and discover just how simple it is. Learn the difference between positive affirmations and telling a better feeling story. Discover how quantum physics, the scientific explanation for the Law, gives you the tools you need to experience the Law of Attraction in action for you!

Finding the Balance - One Size Does Not Fit All with Dave Fresilli

Have you been on the couch for years and know that your health is taking a hit? What if your first step to health and fitness was a simple as drinking more water or getting a good night's sleep? Dave Fresilli, Holistic Health Practitioner, shares the way to best optimizing our health is through considering not just our physical body, but also our spiritual and mental bodies. Tune in and hear why diets don't work in the long term and why the first step to achieving our goal is to dream big!

Come From A Loving Place with Marilyn Hough and Chuck Schmitt

What can you do when your perfect day with your partner starts to spiral out of control? A word, a dirty dish in the sink or a look takes you somewhere you don't want to go. Join Cheryl & show regulars Marilyn Hough and Chuck Schmitt, the Relationship Specialists, and learn how to stop the runaway train and maintain your loving relationship. Sometimes it doesn't take much to get off track. Having a need to be right and in control can be replaced by making a choice to come from a loving place. Hear about how to take a "Time Out" enables you to see the situation more clearly and proceed with love.