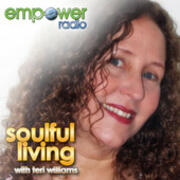 Jump Into the Akashic and Heal Your Own Life with Patty Shaw

We are like the garden - sometimes we grow weeds and sometimes we grow flowers. Tend to the weeds and pests, giving the desirable plants what they need to grow and thrive and you will be rewarded with a richly abundant life! This is the philosophy of my guest today, Patty Shaw, Reiki Master/Teacher, Author and Spiritual Gardener! Ready to pull some weeds? Tune in at noon EST...

The Ayurveda Experience With Lissa Coffey

Learn how you can use the principles and practices of ancient wisdom to uncover hidden causes of pain, illness and discomfort through the teachings of Ayurveda. Lissa Coffey is an International speaker, teacher and author who shares her story and secrets to living a healthier, happier life! Tune in today!

Spiritual Development with Lilian Eden

Where ever you are in your life, you have the capability of changing and embracing a new way of living. Through taping into your intuition and raising your level of inner consciousness you can heal and grow. Join Teri and Lilian Eden as they talk about how you can do that!

The Love Mindset with Veronika Tugaleva

We all have a story, sometimes it's a painful one, sometimes it's a purposeful one. Every story counts, as every person counts. Vironika Tugaleva is recreating a new story for her life and you can too with "The Love Mindset."

Be a Champion For the Future with George and Sedena Cappannelli

Are you one of the Over 150 million Americans who will be 50 years or older this decade? Or maybe you are younger and simply want to know more about the road ahead! Then don't miss today's show, Soulful Living on Empower Radio with AgeNation founders Sedena and George Cappannelli. We're also going to talk about their work as "Wisdom Keepers" with the Navigating Your Future Conferences and their latest work, "Do Not Go Quietly" a guide to living consciously and aging wisely!

Shamanic Healing for the Soul with Sandra Ingerman

Are you feeling disconnected, isolated, or depressed? Have you recently experienced a traumatic event? In many cultures, these experiences would call for the help of a shaman for healing. Shamans and Shamanic practitioners have been a part of most cultures probably since the dawn of time. My guest, Sandra Ingerman, is one of the worlds top authorities and teachers of the Shamanic practice. Join us as we talk about what the shaman is, how they work and how you can connect with one to work on healing your own life!

Earthkeepers: Undeveloping the Future with Adam C. Hall

Many believe humanity is shifting to a more awakened state of consciousness and in doing so are coming to honor mother earth like never before. One of those people is Adam C. Hall, Steward and Managing partner of The Earth Keeper Alliance and author of . Adam "had it all" then suddenly had nothing. Both his inner journey and outer journey are an inspiration for us all! Tune in to Soulful Living with Teri Williams as Adam shares his story and his work...

Create Deeper Relationships with the Earth, Spirit and with Yourself, Earth Magic with Dr. Steven Farmer!

We are made of the same stuff from which the stars are made and we can learn to appreciate everything on Earth and more. Today on Soulful Living Dr. Steven Farmer, world-renowned author, Soul Healer, shamanic practitioner, and spiritual teacher joins Teri to chat about how we can all create deeper relationships with the earth, with spirit and ourselves! Mark you calendar for noon EST - tune in to Soulful Living at Empoweradio.com!

Creative Geniuses and Procrastinators with Sam Bennett

Calling all artists, creative geniuses and procrastinators...are you ready to get rid of all that's holding you back to really share your gifts? Tune in today as I connect with writer, performer and coach Sam Bennett! Stop making excuses and start making progress with small, doable steps to freedom.

Forgive and Forget with Colin Tipping

Forgive and forget...that's what my mom always told me! How do you do that? You can start with "25 Practical Uses for Radical Forgiveness"! Colin Tipping is the leading expert on Radical Forgiveness. Today he shares how each and everyone of us can lead more satisfying and fulfilling lives by practicing Radical Forgiveness.

Why Dogs Hump and Bees get depressed- science of animal intelligence with Mark Bekoff

Have you ever wondered how animals feel, emotionally and physically? Mark Bekoff did and he set out to find the answers. We're going to find out what he learned today on Soulful Living as we talk about his work studying animal intelligence.

Teri's Show March 17th

The Big Deal about Yoga with Meagan McCrary

Yoga - what's the big deal? There's so many styles and types, how do you know which one is best for you? Find out today on Soulful Living when I chat with Certified Yoga Teacher and writer, Meagan McCrary. Meagan encourages her students to lighten up, shake it off and laugh a little. Yoga doesn't have to be so serious!

Creator of the TACELS Movement Ken Aubuchon

Who does not experience moments of stress or anxiety? We all do, especially this time of year when the days are longer, the temperatures are colder and snow keeps getting deeper and deeper. Today we'll chat with Ken Aubuchon, founder of the TACELS Movement, a drug free plan designed to keep YOU in control of your life!

The After-Life Experience, with Echo Bodine

Our time here on earth isn't infinite. This can be a sensitive topic to many people and yet we are all going to die eventually. Have you always wondered "What happens when we die?" My guest today, Echo Bodine, is a spiritual healer, psychic medium and teacher who shares her experiences and teachings on both life and death, with a genuine love and compassion for every being on the planet.

Love is an Art, with Judy Ford

Like painting a portrait. It takes practice and patience. "It's the delicate pinch of difference that keeps lovers fascinating and fascinated," says world renown psychotherapist, Judy Ford. Ford has been studying love and relationships for over 30 years. Today we are going to chat about Everyday Love and the delicate art of caring for each other.

Motor City Soul!

Here in the Motor City we "got soul" - including Music for the soul! Joining me in studio is one of my favorite international singer and song writers, Jill Jack. Jill and I are going to chat about life and for the first time on live radio, hear Jill Jack's new song, "Heaven Sense".

Jeff Brown on Soulful Living

We've all heard the saying, "Pay it Forward". How about "Love it Forward?" Yes, that's right, "Love it Forward - benevolent intentionality and unity consciousness!" Jeff Brown of Soulshaping, and founder of the Love in Action movement, joins me for this edition of Soulful Living on Empower Radio.

Do Your Heart Good!

How many times have you heard the saying, "An apple a day keeps the doctor away." An ounce of prevention is worth an ounce of cure. Today reknowned cardiologist Dr. Joel Kahn is going to share the facts behind those quotes and more.

Lori Lipton on Soulful Living

Being Grateful with Brenda Knight

At a time when life seems to be so harried and crazy, what better way to slow down than to focus on gratitude? Sounds simple, right? It is – Brenda Knight, Publisher of Viva Editions and author of The Grateful Table makes it even easier with over 365 thoughts to celebrate with a grateful heart. Listen as Brenda shares her inspiration and joy, as well as how gratitude can help manifest miracles.

Sex is Good for the Soul with Dr. John Beiter

Sex - it's good for the soul. How do you create a great relationship that includes an amazing sex life? Dr. John Beiter, "Sex Health Doc", calls it "Relationship Fitness" and it includes every area of your life. Find out how to grow your good relationship into a stronger, more resilient and joyful one on this edition of Soulful Living with Teri Williams.

What are YOU Waiting For?

"Don't wait for an emergency to wake you up, to remind you to stop waiting for your dreams, your hopes, your life to begin..."In "What Are You Waiting For?" Author/Speaker/Radio Host, Kristen Moeller, M.S. shares her journey and inspires you to "Learn how to rise to the occasion of your life" Teri and Kristen chat about how to clarify what matters to you and how you can stop wasting time "WAITING", living with what no longer serves YOU. What are you waiting for? Listen to Souful Living on Empower Radio today at noon EST.

An Intuitive and Soulful Interview with Heatherleigh Navarre

Hear the fabulous Heatherleigh Navarre chat about all things "Boston Tea Room"...well, maybe not all things, but she will give us insight on connecting with spirit guides and her upcoming workshop, "Sugar in Your Panties and Spice in Your Britches"...Heatherleigh is one of the most gifted, intuitive and "soulful" women I know...this is a show you won't want to miss! Tune in to Soulful Living at empoweradio.com.

Holistic Pain Relief

Millions of people all over the world suffer from chronic pain, in varying degrees, from severe to moderate. For many of them, nothing helps to alleviate or cure that pain and suffering. Dr. Heather Tick offers new solutions to manage and eliminate pain in her new book "Holistic Pain Relief". If you or someone you love is experiencing chronic pain and discomfort tune in to Soulful Living on Empower Radio at NOON EST or grab the download!

GET WHAT YOU WANT!! The Art of Making and Manifesting Your Intentions

"That which you are reaching toward is also reaching out toward you!" Really? My guest, Tony Burroughs, thinks so - in fact he teaches others how to use this simple statement to manifest their hopes and dreams - learn how today on Soulful Living at Empower Radio with Teri Williams!

Heal the Bully Save the Victim - Amy Webber

It can happen to anyone, anywhere, any time. We all know someone who has been "the bully", "the bystander", or "the victim" – maybe it's even you. It's time to change the story! Today, Filmmaker Amy Weber, Director and Producer of The Bully Chronicles and I will talk about her latest work and how we might all begin to create a new story to what some think is an epidemic!

Grace Under Pressure with Sophie Walker

Being a parent is one of the most challenging jobs there is. When you have a child that doesn't fit with society's' expectations, and maybe your own, what do you do? Maybe it seems like a marathon undertaking! Tune in today as Sophie Walker, author of Grace Under Pressure: A girl with Aspergers and her Marathon Mom shares the story of how she incorporated running a 26.2 k marathon in to helping her understand her own daughters journey!

It's Never Too Late to be What You Might Have Been with BJ Gallagher

You only go around once in this life, so why not live a life you love? Start now. Live now. Love now. Laugh now. Give full expression to who you really are. Go for that deferred dream - whether it's a new career, a new love, a new sport, or making yourself wealthy. You were put on this earth to be the best YOU that you can be. If you don't do it, nobody else can. Author BJ Gallagher joins me to talk about picking up that dream again.

Do It Yourself Akashic Records - Part Two

Are you looking for answers to questions like: Why is this happening to ME? What am I here for? How do I let go of all this baggage? Look no more! Listen to this edition of Soulful Living on Empower Radio as I visit with two of my favorite sisters, Jacki Smith and Patty Shaw of Coventry Creations, and Co-authors of the soon to be released "DIY Akashic Records." We're talking about finding those answers within your own soul connection – your Akashic Record. First we'll explain what the Akashic Records are and then Jacki and Patty will share a few secrets on how you can find answers and heal in the Akashic Records.

The Art of Healing with Dr. Bernard Siegel

We all have the capacity to heal, sometimes it takes a little creativity. Tune in to Soulful Living with Teri Williams and "get ready to uncover your inner wisdom and potential for self healing" with Dr. Bernie Siegel!

Happy, Centered and Peaceful - No matter what! with Ragini Michaels

Happiness isn't about the right choice, the right job, the right partner. It's about embracing the fact that life isn't and either/or thing! Ragini Michaels has developed a way for each and everyone of us to "move through" this paradoxical life to be Happy, centered and peaceful - No matter what! Listen now as Teri and Ragini on how you can become "Unflappable" :)

Fulfilling Your Goals with Pat Wasterval

Are you fulfilling your goals? Are you on track (or the sidelines)? Does your life have purpose? Goal Coach Pat Wasterval of Go Getter NYC has been helping people answer those questions for over 10 years. Tune in to Soulful Living to learn how you can live your souls purpose and move into a more fulfilling life.

Do It Yourself Akashic Records with Jacki Smith and Patty Shaw

Are you looking for answers to questions like: Why is this happening to ME? What am I here for? How do I let go of all this baggage? Look no more! Listen to this edition of Soulful Living on Empower Radio as I visit with two of my favorite sisters, Jacki Smith and Patty Shaw of Coventry Creations, and Co-authors of the soon to be released "DIY Akashic Records." We're talking about finding those answers within your own soul connection – your Akashic Record. First we'll explain what the Akashic Records are and then Jacki and Patty will share a few secrets on how you can find answers and heal in the Akashic Records.

Heart to Heart with Dr. Rose

Dr. Batanjski or "Dr. Rose" as so many lovingly call her was living a normal, balanced life when she was hit with a life threatening diagnosis - a condition that only 1000 people world wide are diagnosed with. Today, she shares her journey - how her life and the lives of everyone she knows shifted and how YOU can begin to change your own thinking and live a soulful life. "Dr. Batanjski believes that nothing is more valuable in this world than your health & your family."

Lissa Coffey on Soulful Living

Staying on the path to soulful living is about balance - of body, mind and spirit. Lissa Coffey, author of The Perfect Balance Diet share her process for moving through life with grace and ease.

Live your Dream with Integrity with guest Paul Zelizer

Whether you are in business for yourself or work as an employee, how you show up will affect every aspect of your life. Join me on Soulful Living at Empower Radio in a conversation with Paul Zelizer as we chat about staying the course of living your dream with integrity andcompassion, in alignment with your soul's purpose.

Interview with Marta Maria

What's holding you back from living your magnificence? Could you be holding on to limiting, self defeating beliefs? Tune in to Soulful Living at Empower Radio today at noon – Teri interviews Marta Maria of Quantumbelief.com. Marta shares her journey to Sou-cial Consciousness and how we can release those limiting beliefs and step into our greatness!

Imperfect Spirituality: Extraordinary Enlightenment for Ordinary People with Polly Campbell

Busy, busy, busy. That's how we live, right? Work, clean, cook, parent, chauffeur - where do you fit time for love, light and spirituality? Sometimes it shows up in the most inopportune moments: the present! Author Polly Campbell of Imperfect Spirituality shares her experiences of integrating spirituality into everyday moments.

Crafting Calm with Maggie Oman Shannon

In this crazy busy world sometimes it's difficult to relax and find a little peace. Maggie Oman Shannon offers a different approach – Crafting Calm – a DIY guide to peace of mind by living a handmade life! She delivers ideas on how you can bring peace of mind to your life through your hobbies and more.

Recognizing Stress with Susan Banitt

You don't have to suffer from Post Traumatic Stress Disorder to experience the unrecognized symptoms of stress. We all experience stress in some way shape or form everyday. How we move through it, especially the big stressors, is key.

What's Your Dharma with Lissa Coffey

We all want to find meaning in our lives; to recognize our connectedness. According to ancient Vedic ways, we all have a mix of four sprititual principals called Yogas that make up who we are and help us live our purpose. My guest today, Lissa Coffey, is a modern day Aurvedic Goddess who asks the question: What's your Dharma? She asked me that, too … and today she's going to share the answer, as well as how we can all move through life easier when we ask ourselves that question!