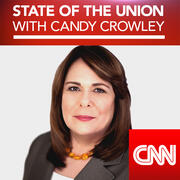 sotu 8-31 Podcast

Britain raises its terror threat level in response to ISIS's growing influence in Iraq and Syria. Should the U.S. do the same? Does President Obama have a strategy? Congressman Dutch Ruppersberger - #2 on the House Intelligence Committee -- and Congressman Adam Kinzinger - Iraq war veteran and member of the House Foreign Affairs Committee -- join us live in studio. Russia crosses the border into Ukraine, but Obama rules out U.S. military intervention to stop them. Senator Robert Menendez -- Chairman of the Senate Foreign Relations Committee -- joins us live from the Ukrainian capital of Kiev. Texas Governor Rick Perry beefs up his legal team to fight a felony indictment. Former House Majorit...

SOTU 8-17 Podcast

After a week of unrest and outrage in Ferguson, Missouri we talk to Governor Jay Nixon about what went wrong, and how he plans to ease tensions going forward. The pressure is on local police to explain their tactics -- both in the shooting of Michael Brown and in the response that followed. Rep. William Lacy Clay represents Ferguson, and pushed the White House and Justice Department to conduct a federal investigation. He'll join former NYPD Police Commissioner Bernard Kerik to discuss law enforcement and the traditionally tense relationship with the African American community. And does it feel like we've been here before? The answer is yes. Race relations are always simmering on the surface ...

SOTU 8-10 Podcast

U.S. airstrikes target ISIS Militants in Iraq. Senator John McCain joins Candy to explain why he feels President Obama should go further. Analysis on past, present, and future operations in Iraq from General Jim Jones, President Obama's first National Security Adviser, and Zalmay Khalilzad, U.S. Ambassador to Iraq under President George W. Bush. But while the world is on fire, we can't ignore what's shaping up to be an historic midterm election season. Ken Cuccinelli, Ted Strickland, Stephanie Cutter, and Kevin Madden make up this week's roundtable. And a tribute to former White House Press Secretary James Brady who died Monday at the age of 73 with Joe Lockhart, Ann Compton and Al Hunt.

8-3 SOTU Podcast

Exclusive -- Texas Governor Rick Perry on why he's urging support of Israel, and slamming Congress on the border crisis. Plus -- CIA Director John Brennan admits the agency spied on the Senate Intelligence Committee. Truth and consequences exclusives with Senate Intelligence Committee member Angus King and House Intelligence Chairman Mike Rogers. And one step forward, but two steps back. House Republicans struggle to get on the same page both legislatively and politically, and Barack Obama finally gets his recovering economy... too bad the world is on fire. We host Newt Gingrich, Ana Navarro, Marc Lamont Hill, and Erikka Knuti in our political roundtable. Plus- Veteran Reporters Carl Bernste...

SOTU 7-27 Podcast

Israeli Prime Minister Benjamin Netanyahu and Palestinian Minister Mohammad Shtayyeh on what it will take to end the bloody conflict in Gaza. Then, Ukraine's Foreign Minister Pavlo Klimkin on securing the crash site of Flight 17 and his country's fight against pro-Russian rebels. Plus, an exclusive interview with Deputy National Security Adviser Ben Rhodes on the world crises facing the White House. And, exclusives with House Minority Leader Nancy Pelosi and Sen. Lindsey Graham on President Obama's handling of escalating chaos from Gaza to Ukraine. Is it strong leadership, or a muddled message?

SOTU Podcast 7-20

Malaysia Airlines Flight 17 was "likely downed by a surface-to-air missile ... operated from a separatist-held location in eastern Ukraine." Candy talks to Secretary of State John Kerry. And CNN's Wolf Blitzer interviews the Israeli Prime MInister Benjamin Netanyahu about the conflict in Gaza. Then, if pro-Russian separatists are responsible for shooting down the plane, how should the U.S. respond? We'll talk to Senate Intelligence Committee Chair Dianne Feinstein and the House Homeland Security Committee Chair Michael McCaul. Plus, Robert Turner, Director of the United Nations Relief and Works Agency in Gaza City on the relief efforts in Gaza.

SOTU 7-13 Podcast

Crisis at the border runs into gridlock in Washington. Obama administration officials warn the flood of Central American children entering the U.S. is only going to get worse unless Congress gives them more money. But Sen. John McCain has his own plan to help thousands of children in limbo, and joins us from the border state of Arizona. Plus, four powerful members of the House of Representatives on why the House won't take up comprehensive immigration reform this year, and why Speaker John Boehner is suing the President. Republican Reps. Marsha Blackburn and Aaron Schock join Democratic Reps. Donna Edwards and Beto O'Rourke.

SOTU 6-22 Podcast

Sen. Rand Paul, one of the most prominent members of the Republican Party and a potential 2016 presidential contender sounds off about the crisis in Iraq. Plus, he has a new issue here at home -- an effort to restore voting rights to non-violent felons. And the most powerful Senator in the intelligence committee, Sen. Dianne Feinstein (D-CA), on why she thinks Iraq's Prime Minister should step down. Then, 42 years after the break-in at the Watergate office complex, we'll talk with the two journalists whose reporting brought down a presidency. Bob Woodward and Carl Bernstein join us live to discuss the current crisis in Iraq, and why Dick Cheney can't seem to stay out of the conversation. And...

SOTU 6-15 Podcast

The world of politics was thrown for a loop with the shocking primary defeat of House Majority Leader Eric Cantor by a tea party challenger. He tells why he thinks he lost and what it means for the direction of the Republican Party. And, Sen. Lindsey Graham talks about beating back a primary challenge from his right and the deteriorating situation in Iraq. Then, Iraqi troops are giving up without a fight. We'll talk to the U.S. Army commander who was in charge of training them, retired Maj. Gen. Paul Eaton. Iraq war veterans Rep. Tulsi Gabbard and Rep. Adam Kinzinger offer very different views on what the U.S. should do about the crisis in Iraq, plus their take on Hillary Clinton, Chris Chri...

SOTU 6-8 Podcast

An exclusive interview with Secretary of State John Kerry about the deal that freed Bowe Bergdahl and whether he thinks the U.S. Army sergeant is being "swiftboated" by conservatives. Has the prisoner swap put more Americans in danger? Sen. John McCain joins us. The fine line between leave no man behind and never negotiate with terrorists with retired Gen. James "Mad Dog" Mattis, who has kept in touch with the Bergdahl family, retired Lt. Gen. William Boykin, and retired Maj. Gen. Paul Eaton. Our political panel of Donna Brazile, Jackie Calmes and Ana Navarro on the backlash from the Bergdahl deal, and how the Democrats' claims of a "War on Women" may be backfiring on one of their own. And a...

SOTU 6-1 Podcast

National Security Adviser Susan Rice returns to State of the Union for a wide ranging interview about Obama's foreign policy blueprint and of course, Benghazi. Plus, the last American soldier held captive in Afghanistan, Sgt. Bowe Bergdahl, held for nearly five years, is released in exchange for five Guantanamo detainees. House Intelligence Chairman Mike Rogers, General Jim Jones, and diplomat Nick Burns are live in our studio with their reaction. Also joining us, former Senator Jim Webb, combat veteran and author of "I Heard My Country Calling." What is his country saying to him following Eric Shinseki's high-profile exit from the Department of Veterans Affairs?

SOTU 5-25 Podcast

In light of the shooting rampage in California, Candy talks to Santa Barbara County Sheriff Bill Brown about the investigation and the victims. Former senior FBI Criminal Profiler Mary Ellen O'Toole, who worked the Columbine shooting case in 1999, discusses the psyche of mass murderers and warning signs that could raise red flags. Rep. Jeff Miller says the allegations of delayed care and cooked books at Veterans Affairs health care facilities are "just the tip of the iceberg." But Senator Bernie Sanders urges his colleagues not to "politicize the wellbeing of America's heroes" while they figure out what created the deadly mess. They are the chairmen of the Senate and House Veteran Affairs Co...

SOTU 5-18 Podcast

Sixty years after the historic Brown vs. Board of Education Supreme Court decision and the end of the separate but equal doctrine in schools, how desegregated are our school and how does America's educational system compare to the rest of the world? A conversation with Massachusetts Governor Deval Patrick about race and equality in America's schools, and Democratic politics. New revelations about the NSA leaks from a new book by Glenn Greenwald, the journalist who helped Edward Snowden. An exclusive interview with Senate Intelligence Committee chair Dianne Feinstein (D-CA) about spying and America's secrets. Then, our political panel with former White House Communications Director Anita Dunn...

SOTU 5-11 Podcast

Candy talks to CNN's Senior International Correspondent Nick Paton-Walsh, who is reporting from Ukraine, on the elections in which Pro-Russian separatists are fighting for autonomy from Kiev. The Republicans launch a special committee to investigate Benghazi; but will it have any credibility if the Democrats boycott it? Plus, surprising new CNN/ORC polls on President Obama's signature Health Care law reveal Obamacare may be here to stay. Congresswoman Debbie Wasserman-Schultz and Congresswoman Michele Bachmann are working moms at the highest levels of government and they join us live. What is Rick Santorum's role in a 2016 Republican presidential field? The former Senator and 2012 Iowa Caucu...

SOTU 5-4 Podcast

Dozens are dead are many more are wounded in the crisis that has pitted those who support the new government in Kiev and those who want to break away from Ukraine. An exclusive interview with the United States Ambassador to Ukraine Geoffrey Pyatt, live from Kiev. Plus, Candy talks to Senator Ron Johnson and Congressman Eliot Engel both have recent trips to Ukraine under their belts. April is the strongest month for job growth in two years, but fewer Americans are joining the labor force and fewer people report they're employed. Seizing on a theme for the midterm elections, Stephen Moore, Mark Zandi, and Annie Lowrey talk to Candy about how this impacts democrats this election cycle. And fina...

SOTU 4-27 Podcast

It's been a challenging week for President Obama with foreign policy setbacks in Japan, Vladimir Putin holding firm at the Ukraine border, and Mideast peace talks on hold. White House deputy national secuirty adviser Tony Blinken joins us live. Then, Israel's Prime Minister Benjamin Netanyahu on the sticking points with the Palestinians, plus Senators John Barrasso (R-WY) and Ben Cardin (D-MD) from the Senate Foreign Relations Committee on the other wrinkles in the President's foreign policy agenda. Our political panel of Matt Bai, S.E. Cupp, and L.Z. Granderson on Boehner's 'OOOOO's' of immigration reform, Democrats running toward ObamaCare, and some conservatives backing away from the anti...

Around the Globe: Iraq, Ukraine, Australia

Candy Crowley talks to the U.S. Ambassador to Ukraine Geoffrey Pyatt about the conflict with Russia and gets and update from the Australian Ambassador to the U.S. Kim Beazley about the latest in the search for MH370. And the Iraqi Ambassador to the U.S. Lukman Faily on his hopes for Iraq and his plan to run the Boston Marathon as a tribute to the victims of the Boston Bombing.

Elections 2014: They're Fired Up!

On State of the Union today is the latest about search for flight MH370. Also, they're determined to get members of their party elected to the House in the upcoming midterm elections. Chairman of the Democratic Congressional Campaign Committee Rep. Steve Israel and Chairman of the National Republican Congressional Committee Congressman Greg Walden -- discuss firing up voters when Congress is as popular as a skunk at a picnic, how race factors into opposition to the Obama administration and whether it would be easier to pass immigration reform if today's immigrants had freckles, red hair and names like O'Toole. Our political panel this week includes Cornell Belcher, Ron Brownstein and Liz Mai...

The State of the Union Podcast for April 6, 2014

Her party faces an uphill battle in the 2014 midterms. House Democratic leader Nancy Pelosi talks about the Democrats' fight for control of Congress, big money in politics and the double standards women in power face in a Sunday exclusive. The House Intelligence Committee Republican Chairman Mike Rogers and the committee's top Democrat Dutch Ruppersberger give their take on a Senate committee's scathing report about the CIA's post-9/11 practices. The Fort Hood shooting is bringing mental health back into the national conversation. Rep. Tulsi Gabbard (D-HI) and Rep. Tim Murphy (R-PA) join us. Plus, as time runs out for Flight 370's black box pingers, we get the latest on the search for the mi...

SOTU 3-23 Podcast

The daunting search for flight MH 370 continues and Candy talks to Rep. Patrick Meehan (R-Pennsylvania) who sits on the House aviation subcommittee, aviation journalist with Flight Global Stephen Trimble and Vice President of the Air Line Pilot's Association Captain Sean Cassidy about aviation technology and how tracking missing planes can improve. Hydrographer Maxim van Norden and former U.S. Navy diver Bobbie Scholley discuss the challenges of searching in deep waters, shifting currents and high waves. Candy turns to Obama national security adviser Tony Blinken who says that the White House is chasing all possible theories on the whereabouts of the plane. He also talked to Candy about U.S....

Day 9 in Missing Malaysia Flight 370 & Crimea Votes on Joining Russia

Malaysia Airlines flight 370 has been missing for nine days and the attention has now turned to the pilots, as the Malaysian government reports that the flight was allegedly diverted intentionally. Candy Crowley talks to former U.S. Director of National Intelligence John Negroponte about the possibility of terror and analyzes what we know so far with Director of Accident Investigation at the FAA Steven Wallace and former Operations Research analyst for the U.S. Navy Colleen Keller, who helped find the missing Air France flight in 2009. Meanwhile, Senator John McCain returns from Ukraine and reports back about the vote in Crimea on joining Russia and discusses the U.S.'s role in the conflict.

Turmoil in Eastern Eurpoe and Political Divide at Home

Candy Crowley talks to President Obama's deputy nationals security adviser Tony Blinken, who says that diplomacy with Russia is still possible; the Estonian, Latvian and Lithuanina Ambassadors to the U.S. voice their concerns and wonder if they're next and Candy sits down for an exclusive interview with the former Governor of Florida, Charlie Crist, who is running for his old seat. He talks about becoming a Democrat, leaving the Republican Party and whether he will embrace President Obama on the campaign trail. Our political panel dissects the CPAC straw poll and talk about the potential future leaders of the Republican Party.

Cold War II? Russia Sends Troops to Ukraine and Obama Promises Consequences

In this Special Edition of State of the Union Candy Crowley talks to Ukranian Ambassador to the UN Yuriy Sergeyev and former Obama adviser Tom Donilon about the latest developments. Sen. Dick Durbin (D-Illinois) and Sen. Lindsey Graham (R-SC) discuss President Obama's foreign policy and how to handle Russian threats. And the political panel talks 2014 and Joe Biden's possible 2016 run.

The State of the States and Scandal's Joe Morton

Candy interviews Governors Dan Malloy (D-Connecticut), Jay Nixon (D-Missouri), Mike Pence (R-Indiana) and Rick Perry (R-Texas) talk to Candy about the legalization and decriminalization of marijuana, gun control, whether they would run in 2016 and the state of the economy. Then actor Joe Morton from ABC's Scandal takes on Washington and Hollywood.

America & the World Stage: Syria, the Economy and Partisan Politics

Senator John McCain (R-Arizona) says U.S. foreign policy on Syria is a failure and weighs in on GOP politics. CEO of Forbes Media Steve Forbes and former Obama economic adviser Austan Goolsbee debate latest explosive comments made by CEO's on class warfare and talk economy and recovery. And the political panel explores 2016 politics with a focus on GOP infighting and Hillary Clinton.

Janet Napolitano, head of the U.S. delegation to Russia and former Secretary of Homeland Security

Janet Napolitano, head of the U.S. delegation to Russia and former Secretary of Homeland Security, joins us from Sochi to discuss ongoing Olympic security concerns. Then, a trio of Russian and political experts on Putin, Obama, and if Russian Security forces are prepared for the challenges facing them.

EXCLUSIVE: President Obama Talks to CNN & Christie Controversy Continues

President Obama talks to CNN's Jake Tapper in an exclusive interview about jobs, immigration, the security of the Sochi Olympics and taking executive orders. And Louisiana Governor Bobby Jindal weighs in on the Christie scandal and whether he will run for president in 2016.

Previewing President Obama's 2014 Agenda

White House Senior Advisor Dan Pfeiffer will preview the President's State of the Union address, and whether the White House will offer Congress a workable agenda, or a 2014 election primer. Speaking of the Congressional agenda, they left a lot of unfinished business on the table, including immigration reform, extending unemployment benefits, and now will tackle a new request to raise the debt ceiling. Is any of it possible in an election year? We'll talk to leaders on both sides of the aisle --House Minority Whip Steny Hoyer (D-MD) and Deputy Majority Whip Tom Cole (R-OK). And, the man The Atlantic has called the 2016 GOP Frontrunner. Sen. Rand Paul (R-KY) joins us on why he's suing the Oba...

NSA Reforms, Hillary Clinton and Chris Christie: A Debate Over Politics, Privacy and Security

House Intelligence Chair Mike Rogers (R-MI) joins Candy to talk about the future of the NSA and its controversial metadata program. We'll get his reaction to the President's recommendations for reforms. The Senate Intelligence Committee concluded this week that the deadly attack on the U.S. diplomatic compound in Benghazi, Libya, was "likely preventable." Senator Angus King- a member of that committee -- joins us live to discuss that, and whether or not the President's NSA reforms adequately protect the privacy of American citizens. And new developments in the Chris Christie controversy as Mayor of Hoboken, New Jersey, Dawn Zimmer, accuses Governor Chris Christie of withholding Sandy relief ...

Who Will it Be? 2016 Hopefuls and Sandals

Maryland Governor Martin O'Malley -- a 2016 hopeful -- on minimum wage, health care, jobs, and bridges. After several months of quietly pushing his progressive message in states like New Hampshire, Virginia, and Ohio, the Governor makes his 2014 debut with State of the Union. And Is Chris Christie the heir apparent to the Straight Talk Express? Sen. John McCain knows a thing or two about political resurrection, and he'll join us with perspective on the popular Republican Governor's woes. McCain will also discuss Iraq at a tipping point, the congressional roadblock to the Obama administration's interim nuclear deal with Iran, and his reservations about extending long-term unemployment benefit...

2014: Ready, set, go!

New Year, but old troubles for the Obama Administration. Director of the National Economic Council Gene Sperling on the White House push to restore unemployment insurance for 1.3 million Americans who lost it on Dec 28th. 2014 is an election year and Republican governors want Americans to look at the states, not the hyper-partisan gridlocked Congress -- for the definition of a Republican. An exclusive interview with Governor Scott Walker on rebranding the GOP and whether he's considering a run in 2016. And an update on the frigid conditions for the NFL playoff game in Green Bay and what they're doing to keep the fans safe. Plus, what's going on with all the legal challenges to ObamaCare and ...

The Top 10 Political Moments of 2013

State of the Union with Candy Crowley crams in the 10 top political talking points from 2013 with a Girl Power panel of SE Cupp, Donna Brazile, Ana Navarro, and Neera Tanden. From the Holy Father hashtagging his way to the cover of "Time" to a Wiener's highs and lows and other men behaving badly, Candy and the panel also reflect on Barack Obama's own annus horribilis. They'll also delve into John Boehner's public breakup with the Tea Party and whether Harry Reid's nuclear explosion produce fall out if the Republicans take back the Senate.

Upheaval around the world

Upheaval around the world. In North Korea, Kim Jong Un orders his uncle executed as a traitor. In Iran, claims that an American captive, Bob Levinson, was really working for the CIA. And in the Ukraine, protestors brave freezing temperatures and take to the streets against their President. We'll look at all the global hot spots with Arizona Senator John McCain. The old adage holds that a successful compromise is an agreement that no party is happy with. Congressman Paul Ryan and Senator Patty Murray crafted a deal that made it through the House, but will the Senate follow suit? We'll talk to two former directors of the Congressional Budget Office -- Peter Orszag and Doug Holtz-Eakin -- about...

Is the U.S. less safe?

The Obama administration and its European allies are praising an interim nuclear deal reached with Iran, but tougher sanctions being proposed in Congress could complicate matters. We talk to House Homeland Security Committee Chairman Rep. Michael McCaul and House Intelligence Committee member Rep. Adam Schiff about whether the deal represents progress or a threat to the United States and the Middle East region.

Obamacare website deadline

The Obama Administration promised that HealthCare.gov will begin to work by this weekend, but could the website be the least of the Affordable Care Act's problems? Fmr. Vermont Gov. Howard Dean and Fmr. Penn. Sen. Rick Santorum weigh in. Congress' top two intelligence chairmen tell us you're not as safe as you think you are: Senator Dianne Feinstein and Congressman Mike Rogers on terror threats -- domestic and abroad.

Competency, credibility, and confusion

President Barack Obama apologized for the disastrous rollout of his health care exchanges, urging the public to blame him, not Democrats at the polls. Tactics, alliances, and the President's legacy with two Congressional leaders: Republican Senator John Barrasso and Democratic Congressman James Clyburn. Also, an exclusive interview with Israeli Prime Minister Benjamin Netanyahu.

Exclusive: Sen. Lindsey Graham

Senator Lindsey Graham joins us exclusively with his take on talks with Tehran and the latest twist in the tangle that is Benghazi. Reading the results of 2013 thru the prism of 2014, with the party chairs: Democrat Debbie Wasserman Schultz and Republican Reince Priebus. Former Senate Republican leader and presidential candidate Bob Dole also joins us exclusively on the two things he knows best, veteran's and politics.

LAX shooting exposes security flaws

Congressman Michael McCaul, Chairman of House Homeland Committee, is our exclusive guest to discuss the latest on the LAX shooting investigation. Senator Kelly Ayotte is threatening to block all Obama administration nominees until survivors of the Benghazi attack testify before Congress. She joins us exclusively. Then our Panel gives us a first read on a new book revealing backstage intrigue in the 2012 campaign.

SOTU Podcast: NSA Snooping Puts Allies on Edge

Documents show we're listening to our friends' phone calls, including cozy allies like Germany and France- and healthcare.gov is getting a reboot.

Cruz shakes up the GOP

Senator John McCain says the American people are fed up, and urges Congress "stop this childishness." The original maverick joins us on the cost of the government shutdown. Senator Ted Cruz: Conservative hero, or the "laughing stock" of the Senate? The architect of the recent showdown in Washington joins us exclusively to discuss the next battle in the fight to eliminate Obamacare. And will Democrats and Republicans suffer long-term wounds from these short term fights? Our political panel with discuss.

Standstill or Standoff?

Will senate republicans sell out their house counterparts? Our exclusive with Senator Rand Paul. And democrats have rejected her compromise plan, but Maine Republican Susan Collins labors on. She joins us along with her senate colleague- Minnesota Democrat Amy Klobuchar. Plus, our political panel on the republican brand, the president's legacy and faith in government...how the shutdown and the debt ceiling debates-may be rocking all three...

Standstill or Standoff

Will senate republicans sell out their house counterparts? Our exclusive with Senator Rand Paul. And democrats have rejected her compromise plan, but Maine Republican Susan Collins labors on. She joins us along with her senate colleague- Minnesota Democrat Amy Klobuchar. Plus, our political panel on the republican brand, the president's legacy and faith in government...how the shutdown and the debt ceiling debates-may be rocking all three...

Exclusive: Sen. Ted Cruz

A marquee name in the Tea Party takes incoming from both parties, our exclusive with Texas Republican Senator Ted Cruz. Then, Treasury Secretary Jack Lew joins us on Washington's double trouble: showdowns over the shutdown and the debt ceiling. Plus, is anybody winning or is everybody losing, our political panel considers it all and weighs in on a way out.

Debate division & deadlines

A very real crisis is brewing as House Speaker John Boehner wrestles with his conference over how to handle short term spending and the prospect of a government shutdown. Rep. Cathy McMorris Rogers, one of Boehner's top deputies, joins us on the shutdown showdown and GOP infighting. Then, two of Washington's best-known doctors: Senator John Barrasso and Governor Howard Dean on the politics and practicality of ObamaCare. Finally, our political panel on GOP infighting, sagging poll numbers and if Obama is getting duped by Iran?

Exclusive: Nancy Pelosi

Proclaiming the House of Representatives is a "mess," Nancy Pelosi accuses Republicans of wanting to purposefully shut down the government. We have an exclusive interview with the House Minority Leader. Clinton-mania sweeps the political world this week as President Bill Clinton's Global Initiative holds its annual meeting and New York Magazine publishes the first interview with Hillary Clinton since leaving her job at the State Department. Joe Hagan, the author of that article, joins us live. GOP Intra-party tension, Clintons, and olive branches from Iran. We'll talk about all that with our political panel.

Syria: Done deal?

Deep divisions over setting a timetable for diplomacy to play out in Syria. Can Assad be trusted to give up his chemical weapons or will he hide them? We'll ask the Chairman of the House Intelligence Committee Mike Rogers (R-MI), and our panel of lawmakers. Then, the president puts it all on the line with Syria but what does it mean for upcoming battles with Congress over the budget and Obamacare? We'll talk to our political panel.

Tough sell on Syria

President Obama makes the case on Syria to a skeptical congress and country. We'll talk to the man leading the push, White House Chief of Staff Denis McDonough. Then, we'll hear from three likely "No" votes in the House from both parties: Rep. Marsha Blackburn (R-TN), Rep. Buck McKeon (R-CA) and Rep. Jim McGovern (D-MA). Plus, the political costs of a military strike with our panel.

Crisis In Syria

Secretary of State John Kerry on Syria. Anthony Zinni, Robin Wright and Jeremy Bash weigh in on consequences of a U.S. military airstrikes in Syria. Plus, Republican Chairman of the House Intelligence Committee Mike Rogers on Obama's decision to seek congressional approval. And finally our panel weighs in on Obama's big gamble.

Prescription for ObamaCare

In an exclusive interview, Senator Ted Cruz (R-TX) talks to Candy about the buzz surrounding his potential presidential bid in 2016 and the "grassroots tsunami" he says will bolster support to throw out Obamacare. Then, the president hops on a bus in an effort to shore up the base. He tells CNN the GOP just doesn't get it. Former Democratic Presidential Candidate Howard Dean and Former Republican Senator Jim DeMint tell us why it all points to 2014 politics. Civil Rights icon Rep. John Lewis (D-GA) reflects on race relations 50 years after he gave a keynote address at the March on Washington. Then, our panel debates the president's plan, or lack thereof, in Syria and why some republicans kee...

Chaos in Egypt

Days of rage in Egypt, as hundreds are killed in clashes between the country's military forces and supporters of ousted president Mohammed Morsy. Should the U.S. cut its military aid? Senator John McCain weighs in. Plus, an explosive new report that the NSA repeatedly broke privacy rules has surfaced. Conversations with Rep. Justin Amash and Rep. Chris Van Hollen. Plus, is the Republican Party expanding its tent or doubling down on conservative stances?

Cyber Warfare on the Rise

Today, the administration sounds the alarm on the next battlefield, cyberspace. We have an exclusive interview with the Leaders of the House Intelligence Committee: Republican Mike Rogers of Michigan and Democrat Dutch Ruppersberger of Maryland. From the battlefields in Iraq to the battles on Capitol Hill, Rep. Tulsi Gabbard (D-HI) and Rep. Tom Cotton (R-AR) join us to discuss how their experiences in combat shape their policy positions today, ten years after Shock and Awe. Plus, Rand Paul wins the conservative straw poll. Can he help resuscitate the Grand ol' Party? Our political panel sounds off - Al Cardenas of the American Conservative Union, Democratic Strategist KiKi McLean, Rep. Raul ...

Spring Thaw on Capitol Hill?

Today, the President breaks bread with Republicans: the White House calls it a "change of approach". Republicans call it a "good foundation" for future talks. What do Democrats say? Our conversation with the top Democrat in The House, Minority Leader Nancy Pelosi. Plus, as the President reaches out to rank and file Republicans, where does that leave their leadership? Our Sunday exclusive with House Majority Whip Kevin McCarthy. Then, he re-emerges, pushing a new book on immigration wars and raising eyebrows for not saying no to a presidential run. 2016 and the state of the Republican Party, with Former Florida Governor Jeb Bush. Plus, the long road to the next election, Rand Paul's long talk...

Bitter Politics, Broken Government

Today, after months of dire predictions and remarkable consensus that it should never happen. It happened, mandatory budget cuts. Moving beyond who did this to what's next? And then, the President's Top Economic Adviser Gene Sperling on plan-b and his side of the Woodward-White House fracas. Plus are politics suffocating lawmaking? Posing the question to the two lawmakers leading their parties 2014 election efforts in the house, Congressmen Steve Israel and Greg Walden. And, the stock market soars to new highs, while incomes plummet to one of the deepest one month declines in 20 years. Our panel weighs in on the two economies.

U.S. on the Brink...Again

Today, if you can't beat 'em, scare 'em. Delayed planes and cancelled flights. The world of automatic budget cuts according to Transportation Secretary Ray Lahood. Then, despite some republican calls to pull the plug on Chuck Hagel's nomination for Defense Chief, and a slow walk of the nomination of John Brennan as CIA Director the President stands by his men. Weighing the odds with Senator John McCain. Guns and immigration: before bills governing either become law they first go through the Judiciary Committee. A conversation with Senate Judiciary Chairman Patrick Leahy about the art of the doable on two of the most contentious issues of our time. Plus, five days from the next fiscal cliffha...