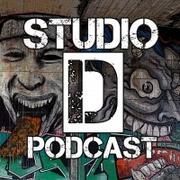 Relief is on the Way

Rian and Van talk about the latest in pop culture news, including the current status with Russia's impending invasion of the Ukraine, Miley topless on a horse, and their upcoming video release. #BetterThanOtherPodcasts Find us @StudioPodcast

Disney Cruise Special

Take a trip with us on an in-depth look at my experience on the Disney Dream as we sail off to the Bahamas and take part in everything Disney had to offer on this memorable vacation with the family.

Living on the Air in Cincinnati

A Bowl That Was Not So Super

After sitting through a three hour ass kicking, we focus on the most important thing of the Big Game... The commercials! A lot of them were not nearly as good as previous years, but some were still able to be considered "memorable" by us at Studio D.

Baby it's Cold Outside

@StudioPodcast takes a look at the news starting out 2014--along with discussing how we spent our Christmas and New Years. Make sure to write us studiopodcast@live.com and enjoye the show--while everyone in Colorado is stoned out of their minds and the midwest is frozen in their homes with negative fifteen degree windchills.

West Aries Radio

Live from Studio D is West Aries Radio--the home for Independent Unsigned Bands on iHeart Radio. Here is the line-up for this first of the year very special episode of Studio D Podcast; Nosecone Prophets, Carl Michael, Nikol, Apex, Chox-Mak featuring DJ YRS Jerzy, Day One, Whoa, Jamal Plummer, CrisisKent, and Keez MC. Make sure to follow the show on Twitter @StudioPodcast and find us... and like us... on Facebook! Send your listerner mail to studiopodcast@live.com to get your letter read on the air.

The Best of Studio D

2013 has been a great year for us here at the Studio D Podcast; the show has grown exponentially over the past few months and we would like to thank you for your support and listenership. Please send us your fanmail to studiopodcast@live.com or send us Tweet @StudioPodcast and don't forget to LIKE the show on Facebook.

December Destruction

With all the things happening in the world, the Studio D Duo take some time away from the studio to visit the ladies of Freshfite Female Fighting in Franklin Ohio. You can check out more details on the event we spectated at by visiting their website freshfite.com where you can put a name to the faces of the fights we witnessed. We had a good time with the Freshfite Team and want to thank everyone there for their hospitality. Send us your fanmail and fan photos to be talked about on the air by sending us an email at studiopodcast@live.com along with any comments about the show. We also feature a single by JAB Musiq 'Girls Kissing Girls' make sure to get your free download by visiting them at ...

Thanksgiving Special

A Time for Giving Thanks... And to go shopping before the turkey is even done. The @StudioPodcast takes a look at this years ridiculous Black Friday shopping calendar along with what we are thankful for this Holiday Season. Happy Thanksgiving!

@Crowdtilt Campaign

Share this info and help us out! We only have a few days left to drum up support for our @Crowdtilt Campaign to Open our Own Food/Podcast Truck http://tilt.tc/ojc4 Click the link and support our future as business owners and podcasters. This will add a new dimension to the show and give us something to sustain and grow as a company. We are only asking for $1 to make our dreams a reality, a simple click http://tilt.tc/ojc4 and donation is all that is needed. With very little time left we offer you this un-scheduled show with two music acts and the latest in news and pop culture. Music this episode brought to you by Yung Foolish and the amazing voice of Lydia Ludwig. Enjoy the show and #suppor...

Welcome to Studio D!

This is the Studio D Podcast; entertaining listerners for over a year keeping them 'TuneDin' to the latest in entertainment news. Join Raveniss Rian and Van Fantom as they take a look back on the history of the podcast and what plans they have next with the continuing 'Success of Studio D' as we continue their podcasting careers. Make sure to check out their videos on YouTube featuring the newest addition of 'SMOKE' the single by one of your hosts and created by the other. Follow us on Twitter @StudioPodcast and find us on Facebook under Studio D Podcast. Special thanks to those that listen to the show via the Podcast Awards, hope you like the show and subscribe to us on either iTunes, Stitc...

A Night With Freshfite Female Fighting

The hosts of the @StudioPodcast take a trip to Franklin Ohio to take part in the Freshfite Female Fighting September Smackdown! Van Fantom and Raveniss Rian give you their thoughts on the talented ladies of Freshfite; Sammie, Andi, Rose, Blade, Red Bull, Wikkid, Anne, Kayley, and of course Tia Takedown. Make sure to like them on Facebook and Studio D Podcast as well, videos are already up on their Facebook site; look for your hosts in the background!

What's the Deal With Batfleck?

The news of the Affleck casting as Batman in the 2015 Batman/Superman Man of Steel sequel is official and horrible all at the same time; meanwhile Miley Cyrus is causing twitter to crash as everyone talks about her mediocre yet controversial performance at the VMA's. We take a look at the worst comic book castings of all time and play a game of That Ain't It'on iOS. Share us on Facebook and while your their, go ahead and like Studio D Podcast too.

Growing Up: Birthday Memories

@StudioPodcast take a look back at some childhood memories just as you asked on Facebook! For starters we chose to look back at our birthdays, we discuss the best gifts we ever received as kids and how they compare to the toys of today. @VanFantom and @Raveniss discuss everything that went into a good childhood in the 1980's and 1990's; can you guess what the number one item on the list is going to be? The ultimate fad... Get #TuneDin and check us out on the web at http://waip.tripod.com Produced by @WestAries

What Were They Thinking?

Here @StudioPodcast we welcome the return of @VanFantom as @Raveniss goes on location to record a brand new episode. We talk about the already famous Royal Baby George and discuss all the dumb baby names that have been chosen by Celeb Parents. Along with current goings on with Miley Cyrus, Johnny Depp, Snoop Lion, and DJ Khaled. Not to mention updates on our Summer Movie Reviews and what we think is the best and worst of Summer Television. Get #TuneDin and check us out on the web at http://waip.tripod.com @WestAries

Crazy People Consist of the Majority

We take a look at the top destinations for travelers this summer; would you be willing to visit the top destination? Well we don't blame you with all the crazy people living in this world--we talk about them too! Everything from criminals, plane crashes, animal cruelty, Lady Gaga, Justin Bieber, and we try to keep a somewhat light. Make sure to follow us on Twitter @StudioPodcast and find us easily on Facebook; leave a comment and we will be there to send you one back!

Society is Falling Apart

We discuss everything from racist Food Network Stars, to lame names of children, stupid criminals, the twerkability of Hannah Montana, and the reason for only one member of @StudioPodcast being present in the recording room. We will end the shows from here on out with independent mucisians from artists on the web--to be part of this new segment make sure to send us your music and permission to use it to musickminds@gmail.com with a subject line of Studio D Podcast.

Google, Apple, or Microsoft?

Follow @StudioPodcast on Twitter. Three technological powerhouses collide in this very special episode of the Studio D Podcast--if you are a Google Head or Apple Fanatic or just love Windows 8; be part of the debate--find us on Facebook and Let the battle BEGIN!