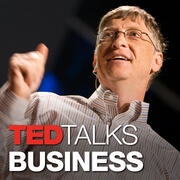 Renata Salecl: Our unhealthy obsession with choice

We face an endless string of choices, which leads us to feel anxiety, guilt and pangs of inadequacy that we are perhaps making the wrong ones. But philosopher Renata Salecl asks: Could individual choices be distracting us from something bigger—our power as social thinkers? A bold call for us to stop taking personal choice so seriously and focus on the choices we're making collectively.

Joi Ito: Want to innovate? Become a "now-ist"

"Remember before the internet?" asks Joi Ito. "Remember when people used to try to predict the future?" In this engaging talk, the head of the MIT Media Lab skips the future predictions and instead shares a new approach to creating in the moment: building quickly and improving constantly, without waiting for permission or for proof that you have the right idea. This kind of bottom-up innovation is seen in the most fascinating, futuristic projects emerging today, and it starts, he says, with being open and alert to what's going on around you right now. Don't be a futurist, he suggests: be a now-ist.

Julian Treasure: How to speak so that people want to listen

Have you ever felt like you're talking, but nobody is listening? Here's Julian Treasure to help. In this useful talk, the sound expert demonstrates the how-to's of powerful speaking — from some handy vocal exercises to tips on how to speak with empathy. A talk that might help the world sound more beautiful.

Ruth Chang: How to make hard choices

Here's a talk that could literally change your life. Which career should I pursue? Should I break up -- or get married?! Where should I live? Big decisions like these can be agonizingly difficult. But that's because we think about them the wrong way, says philosopher Ruth Chang. She offers a powerful new framework for shaping who we truly are.

Simon Sinek: Why good leaders make you feel safe

What makes a great leader? Management theorist Simon Sinek suggests, it's someone who makes their employees feel secure, who draws staffers into a circle of trust. But creating trust and safety — especially in an uneven economy — means taking on big responsibility.

William Black: How to rob a bank (from the inside, that is)

William Black is a former bank regulator who's seen firsthand how banking systems can be used to commit fraud — and how "liar's loans" and other tricky tactics led to the 2008 US banking crisis that threatened the international economy. In this engaging talk, Black, now an academic, reveals the best way to rob a bank — from the inside.

Mellody Hobson: Color blind or color brave?

The subject of race can be very touchy. As finance executive Mellody Hobson says, it's a "conversational third rail." But, she says, that's exactly why we need to start talking about it. In this engaging, persuasive talk, Hobson makes the case that speaking openly about race — and particularly about diversity in hiring -- makes for better businesses and a better society.

David Brooks: Should you live for your résumé ... or your eulogy?

Within each of us are two selves, suggests David Brooks in this meditative short talk: the self who craves success, who builds a résumé, and the self who seeks connection, community, love -- the values that make for a great eulogy. (Joseph Soloveitchik has called these selves "Adam I" and "Adam II.") Brooks asks: Can we balance these two selves?

Philip Evans: How data will transform business

What does the future of business look like? In an informative talk, Philip Evans gives a quick primer on two long-standing theories in strategy -- and explains why he thinks they are essentially invalid.

Roselinde Torres: What it takes to be a great leader

There are many leadership programs available today, from 1-day workshops to corporate training programs. But chances are, these won't really help. In this clear, candid talk, Roselinde Torres describes 25 years observing truly great leaders at work, and shares the three simple but crucial questions would-be company chiefs need to ask to thrive in the future.

Chris McKnett: The investment logic for sustainability

Sustainability is pretty clearly one of the world's most important goals; but what groups can really make environmental progress in leaps and bounds? Chris McKnett makes the case that it's large institutional investors. He shows how strong financial data isn't enough, and reveals why investors need to look at a company's environmental, social and governance structures, too.

Yves Morieux: As work gets more complex, 6 rules to simplify

Why do people feel so miserable and disengaged at work? Because today's businesses are increasingly and dizzyingly complex -- and traditional pillars of management are obsolete, says Yves Morieux. So, he says, it falls to individual employees to navigate the rabbit's warren of interdependencies. In this energetic talk, Morieux offers six rules for "smart simplicity." (Rule One: Understand what your colleagues actually do.)

Sheryl Sandberg: So we leaned in ... now what?

Sheryl Sandberg admits she was terrified to step onto the TED stage in 2010 -- because she was going to talk, for the first time, about the lonely experience of being a woman in the top tiers of business. Millions of views (and a best-selling book) later, the Facebook COO talks with the woman who pushed her to give that first talk, Pat Mitchell. Sandberg opens up about the reaction to her idea, and explores the ways that women still struggle with success.

Harish Manwani: Profit's not always the point

You might not expect the chief operating officer of a major global corporation to look too far beyond either the balance sheet or the bottom line. But Harish Manwani, COO of Unilever, makes a passionate argument that doing so to include value, purpose and sustainability in top-level decision-making is not just savvy, it's the only way to run a 21st century business responsibly.

Toni Griffin: A new vision for rebuilding Detroit

Once the powerhouse of America's industrial might, Detroit is more recently known in the popular imagination as a fabulous ruin, crumbling and bankrupt. But city planner Toni Griffin asks us to look again -- and to imagine an entrepreneurial future for the city's 700,000 residents.

Rose George: Inside the secret shipping industry

Almost everything we own and use, at some point, travels to us by container ship, through a vast network of ocean routes and ports that most of us know almost nothing about. Journalist Rose George tours us through the world of shipping, the underpinning of consumer civilization.

Toby Eccles: Invest in social change

Here's a stat worth knowing: In the UK, 63% of men who finish short-term prison sentences are back inside within a year for another crime. Helping them stay outside involves job training, classes, therapy. And it would pay off handsomely -- but the government can't find the funds. Toby Eccles shares an imaginative idea for how to change that: the Social Impact Bond. It's an unusual bond that helps fund initiatives with a social goal through private money -- with the government paying back the investors (with interest) if the initiatives work.

Mohamed Ali: The link between unemployment and terrorism

For the young and unemployed in the world's big cities, dreams of opportunity and wealth do come true -- but too often because they're heavily recruited by terrorist groups and other violent organizations. Human rights advocate Mohamed Ali draws on stories from his native Mogadishu to make a powerful case for innovation incubators for our cities' young and ambitious.

Dambisa Moyo: Is China the new idol for emerging economies?

The developed world holds up the ideals of capitalism, democracy and political rights for all. Those in emerging markets often don't have that luxury. In this powerful talk, economist Dambisa Moyo makes the case that the west can't afford to rest on its laurels and imagine others will blindly follow. Instead, a different model, embodied by China, is increasingly appealing. A call for open-minded political and economic cooperation in the name of transforming the world.

Charles Robertson: Africa's next boom

The past decade has seen slow and steady economic growth across the continent of Africa. But economist Charles Robertson has a bold thesis: Africa's about to boom. He talks through a few of the indicators -- from rising education levels to expanded global investment (and not just from China) -- that lead him to predict rapid growth for a billion people, sooner than you may think.

Steve Howard: Let's go all-in on selling sustainability

The big blue buildings of Ikea have sprouted solar panels and wind turbines; inside, shelves are stocked with LED lighting and recycled cotton. Why? Because as Steve Howard puts it: "Sustainability has gone from a nice-to-do to a must-do." Howard, the chief sustainability officer at the furniture megastore, talks about his quest to sell eco-friendly materials and practices -- both internally and to worldwide customers -- and lays a challenge for other global giants.

Michael Sandel: Why we shouldn't trust markets with our civic life

In the past three decades, says Michael Sandel, the US has drifted from a market economy to a market society; it's fair to say that an American's experience of shared civic life depends on how much money they have. (Three key examples: access to education, access to justice, political influence.) In a talk and audience discussion, Sandel asks us to think honestly on this question: In our current democracy, is too much for sale?

Michael Porter: Why business can be good at solving social problems

Why do we turn to nonprofits, NGOs and governments to solve society's biggest problems? Michael Porter admits he's biased, as a business school professor, but he wants you to hear his case for letting business try to solve massive problems like climate change and access to water. Why? Because when business solves a problem, it makes a profit -- which lets that solution grow.

Chrystia Freeland: The rise of the new global super-rich

Technology is advancing in leaps and bounds -- and so is economic inequality, says writer Chrystia Freeland. In an impassioned talk, she charts the rise of a new class of plutocrats (those who are extremely powerful because they are extremely wealthy), and suggests that globalization and new technology are actually fueling, rather than closing, the global income gap. Freeland lays out three problems with plutocracy … and one glimmer of hope.

Howard Rheingold: The new power of collaboration

Howard Rheingold talks about the coming world of collaboration, participatory media and collective action -- and how Wikipedia is really an outgrowth of our natural human instinct to work as a group.

Wolfgang Kessling: How to air-condition outdoor spaces

During the hot summer months, watching an outdoor sports match or concert can be tantamount to baking uncomfortably in the sun -- but it doesn't have to be. At the TEDxSummit in Doha, physicist Wolfgang Kessling reveals sustainable design innovations that cool us from above and below, and even collects solar energy for later use.

Elon Musk: The mind behind Tesla, SpaceX, SolarCity ...

Entrepreneur Elon Musk is a man with many plans. The founder of PayPal, Tesla Motors and SpaceX sits down with TED curator Chris Anderson to share details about his visionary projects, which include a mass-marketed electric car, a solar energy leasing company and a fully reusable rocket.

Paul Pholeros: How to reduce poverty? Fix homes

In 1985, architect Paul Pholeros was challenged by the director of an Aboriginal-controlled health service to "stop people getting sick" in a small indigenous community in south Australia. The key insights: think beyond medicine and fix the local environment. In this sparky, interactive talk, Pholeros describes projects undertaken by Healthabitat, the organization he now runs to help reduce poverty--through practical design fixes--in Australia and beyond. (Filmed at TEDxSydney.)

Erik Brynjolfsson: The key to growth? Race with the machines

As machines take on more jobs, many find themselves out of work or with raises indefinitely postponed. Is this the end of growth? No, says Erik Brynjolfsson -- it's simply the growing pains of a radically reorganized economy. A riveting case for why big innovations are ahead of us … if we think of computers as our teammates. Be sure to watch the opposing viewpoint from Robert Gordon.

Tristram Stuart: The global food waste scandal

Western countries throw out nearly half of their food, not because it's inedible -- but because it doesn't look appealing. Tristram Stuart delves into the shocking data of wasted food, calling for a more responsible use of global resources.

Tim Leberecht: 3 ways to (usefully) lose control of your brand

The days are past (if they ever existed) when a person, company or brand could tightly control their reputation -- online chatter and spin mean that if you're relevant, there's a constant, free-form conversation happening about you that you have no control over. Tim Leberecht offers three big ideas about accepting that loss of control, even designing for it -- and using it as an impetus to recommit to your values.

John Maeda: How art, technology and design inform creative leaders

John Maeda, President of the Rhode Island School of Design, delivers a funny and charming talk that spans a lifetime of work in art, design and technology, concluding with a picture of creative leadership in the future. Watch for demos of Maeda's earliest work -- and even a computer made of people.

Bandi Mbubi: Demand a fair trade cell phone

Your mobile phone, computer and game console have a bloody past — tied to tantalum mining, which funds the war in the Democratic Republic of the Congo. Drawing on his personal story, activist and refugee Bandi Mbubi gives a stirring call to action. (Filmed at TEDxExeter.)

Dan Ariely: What makes us feel good about our work?

What motivates us to work? Contrary to conventional wisdom, it isn't just money. But it's not exactly joy either. It seems that most of us thrive by making constant progress and feeling a sense of purpose. Behavioral economist Dan Ariely presents two eye-opening experiments that reveal our unexpected and nuanced attitudes toward meaning in our work. (Filmed at TEDxRiodelaPlata.)

Jeff Smith: Lessons in business … from prison

Jeff Smith spent a year in prison. But what he discovered inside wasn't what he expected -- he saw in his fellow inmates boundless ingenuity and business savvy. He asks: Why don't we tap this entrepreneurial potential to help ex-prisoners contribute to society once they're back outside? (From the TED Talent Search event TED@NewYork.)

Robert Gordon: The death of innovation, the end of growth

The US economy has been expanding wildly for two centuries. Are we witnessing the end of growth? Economist Robert Gordon lays out 4 reasons US growth may be slowing, detailing factors like epidemic debt and growing inequality, which could move the US into a period of stasis we can't innovate our way out of. Be sure to watch the opposing viewpoint from Erik Brynjolfsson.

Robin Chase: Excuse me, may I rent your car?

A decade ago, Robin Chase founded Zipcar in the US, now the largest car-sharing company in the world. Now she's exploring the next level of car-sharing: Buzzcar, a French startup that lets people rent their own cars to others. The details are fascinating (how does insurance work, exactly?), and the larger vision (she calls it Peers, Inc.) points to a new definition of ownership and entrepreneurship.

Dan Pallotta: The way we think about charity is dead wrong

Activist and fundraiser Dan Pallotta calls out the double standard that drives our broken relationship to charities. Too many nonprofits, he says, are rewarded for how little they spend -- not for what they get done. Instead of equating frugality with morality, he asks us to start rewarding charities for their big goals and big accomplishments (even if that comes with big expenses). In this bold talk, he says: Let's change the way we think about changing the world.

Eleni Gabre-Madhin on Ethiopian economics

Economist Eleni Gabre-Madhin outlines her ambitious vision to found the first commodities market in Ethiopia. Her plan would create wealth, minimize risk for farmers and turn the world's largest recipient of food aid into a regional food basket.

Ernesto Sirolli: Want to help someone? Shut up and listen!

When most well-intentioned aid workers hear of a problem they think they can fix, they go to work. This, Ernesto Sirolli suggests, is naïve. In this funny and impassioned talk, he proposes that the first step is to listen to the people you're trying to help, and tap into their own entrepreneurial spirit. His advice on what works will help any entrepreneur.

Amy Cuddy: Your body language shapes who you are

Body language affects how others see us, but it may also change how we see ourselves. Social psychologist Amy Cuddy shows how "power posing" -- standing in a posture of confidence, even when we don't feel confident -- can affect testosterone and cortisol levels in the brain, and might even have an impact on our chances for success.

Pavan Sukhdev: Put a value on nature!

Every day, we use materials from the earth without thinking, for free. But what if we had to pay for their true value: would it make us more careful about what we use and what we waste? Think of Pavan Sukhdev as nature's banker -- assessing the value of the Earth's assets. Eye-opening charts will make you think differently about the cost of air, water, trees ...

Michael Norton: How to buy happiness

At TEDxCambridge, Michael Norton shares fascinating research on how money can, indeed buy happiness -- when you don't spend it on yourself. Listen for surprising data on the many ways pro-social spending can benefit you, your work, and (of course) other people. (Filmed at TEDxCambridge.)

Britta Riley: A garden in my apartment

Britta Riley wanted to grow her own food (in her tiny apartment). So she and her friends developed a system for growing plants in discarded plastic bottles -- researching, testing and tweaking the system using social media, trying many variations at once and quickly arriving at the optimal system. Call it distributed DIY. And the results? Delicious. (Filmed at TEDxManhattan .)

David Kelley: How to build your creative confidence

Is your school or workplace divided into "creatives" versus practical people? Yet surely, David Kelley suggests, creativity is not the domain of only a chosen few. Telling stories from his legendary design career and his own life, he offers ways to build the confidence to create... (From The Design Studio session at TED2012, guest-curated by Chee Pearlman and David Rockwell.)

Eddie Obeng: Smart failure for a fast-changing world

The world is changing much more rapidly than most people realize, says business educator Eddie Obeng -- and creative output cannot keep up. In this spirited talk, he highlights three important changes we should understand for better productivity, and calls for a stronger culture of "smart failure."

Drew Curtis: How I beat a patent troll

Drew Curtis, the founder of fark.com, tells the story of how he fought a lawsuit from a company that had a patent, "...for the creation and distribution of news releases via email." Along the way he shares some nutty statistics about the growing legal problem of frivolous patents.

Damian Palin: Mining minerals from seawater

The world needs clean water, and more and more, we're pulling it from the oceans, desalinating it, and drinking it. But what to do with the salty brine left behind? In this intriguing short talk, TED Fellow Damian Palin proposes an idea: Mine it for other minerals we need, with the help of some collaborative metal-munching bacteria.

Renny Gleeson: 404, the story of a page not found

Oops! Nobody wants to see the 404: Page Not Found. But as Renny Gleeson shows us, while he runs through a slideshow of creative and funny 404 pages, every error is really a chance to build a better relationship.

Rachel Botsman: The currency of the new economy is trust

There's been an explosion of collaborative consumption -- web-powered sharing of cars, apartments, skills. Rachel Botsman explores the currency that makes systems like Airbnb and Taskrabbit work: trust, influence, and what she calls "reputation capital."

Robert Neuwirth: The power of the informal economy

Robert Neuwirth spent four years among the chaotic stalls of street markets, talking to pushcart hawkers and gray marketers, to study the remarkable "System D," the world's unlicensed economic network. Responsible for some 1.8 billion jobs, it's an economy of underappreciated power and scope.

Becci Manson: (Re)touching lives through photos

In the wake of the 2011 Japanese earthquake and tsunami, mixed into the wreckage were lost and damaged photos of families and loved ones. Photo retoucher Becci Manson, together with local volunteers and a global group of colleagues she recruited online, helped clean and fix them, restoring those memories to their owners.

Vicki Arroyo: Let's prepare for our new climate

As Vicki Arroyo says, it's time to prepare our homes and cities for our changing climate, with its increased risk of flooding, drought and uncertainty. She illustrates this inspiring talk with bold projects from cities all over the world -- local examples of thinking ahead. Read our Q&A with Vicki Arroyo.

Margaret Heffernan: Dare to disagree

Most people instinctively avoid conflict, but as Margaret Heffernan shows us, good disagreement is central to progress. She illustrates (sometimes counterintuitively) how the best partners aren't echo chambers -- and how great research teams, relationships and businesses allow people to deeply disagree.

Homaro Cantu + Ben Roche: Cooking as alchemy

Homaro Cantu and Ben Roche come from Moto, a Chicago restaurant that plays with new ways to cook and eat food. But beyond the fun and flavor-tripping, there's a serious intent: Can we use new food technology for good?

Shawn Achor: The happy secret to better work

We believe that we should work to be happy, but could that be backwards? In this fast-moving and entertaining talk, psychologist Shawn Achor argues that actually happiness inspires productivity. (Filmed at TEDxBloomington.)

Rob Reid: The $8 billion iPod

Comic author Rob Reid unveils Copyright Math (TM), a remarkable new field of study based on actual numbers from entertainment industry lawyers and lobbyists.

Eduardo Paes: The 4 commandments of cities

Eduardo Paes is the mayor of Rio de Janeiro, a sprawling, complicated, beautiful city of 6.5 million. He shares four big ideas about leading Rio -- and all cities -- into the future, including bold (and do-able) infrastructure upgrades and how to make a city "smarter."

Christien Meindertsma: How pig parts make the world turn

Christien Meindertsma, author of "Pig 05049" looks at the astonishing afterlife of the ordinary pig, parts of which make their way into at least 185 non-pork products, from bullets to artificial hearts.

Derek Sivers: Keep your goals to yourself

After hitting on a brilliant new life plan, our first instinct is to tell someone, but Derek Sivers says it's better to keep goals secret. He presents research stretching as far back as the 1920s to show why people who talk about their ambitions may be less likely to achieve them.

Tony Robbins: Why we do what we do

Tony Robbins discusses the "invisible forces" that motivate everyone's actions -- and high-fives Al Gore in the front row.

Steven Levitt: The freakonomics of McDonalds vs. drugs

Freakonomics author Steven Levitt presents new data on the finances of drug dealing. Contrary to popular myth, he says, being a street-corner crack dealer isn't lucrative: It pays below minimum wage. And your boss can kill you.

Melinda French Gates: What nonprofits can learn from Coca-Cola

In her talk, Melinda Gates makes a provocative case for nonprofits taking a cue from corporations such as Coca-Cola, whose plugged-in, global network of marketers and distributors ensures that every remote village wants -- and can get -- a Coke. Why shouldn't this work for condoms, sanitation, vaccinations too? (Filmed at TEDxChange.)

Malcolm Gladwell: Choice, happiness and spaghetti sauce

"Tipping Point" author Malcolm Gladwell gets inside the food industry's pursuit of the perfect spaghetti sauce -- and makes a larger argument about the nature of choice and happiness.

Richard St. John's 8 secrets of success

Why do people succeed? Is it because they're smart? Or are they just lucky? Neither. Analyst Richard St. John condenses years of interviews into an unmissable 3-minute slideshow on the real secrets of success.

Rachel Botsman: The case for collaborative consumption

In her talk, Rachel Botsman says we're "wired to share" -- and shows how websites like Zipcar and Swaptree are changing the rules of human behavior. (Filmed at TEDxSydney.)

Noreena Hertz: How to use experts -- and when not to

We make important decisions every day -- and we often rely on experts to help us decide. But, says economist Noreena Hertz, relying too much on experts can be limiting and even dangerous. She calls for us to start democratizing expertise -- to listen not only to "surgeons and CEOs, but also to shop staff."

Rob Harmon: How the market can keep streams flowing

With streams and rivers drying up because of over-usage, Rob Harmon has implemented an ingenious market mechanism to bring back the water. Farmers and beer companies find their fates intertwined in the intriguing century-old tale of Prickly Pear Creek. (Filmed at TEDxRainier.)

Geoffrey West: The surprising math of cities and corporations

Physicist Geoffrey West has found that simple, mathematical laws govern the properties of cities -- that wealth, crime rate, walking speed and many other aspects of a city can be deduced from a single number: the city's population. In this mind-bending talk from TEDGlobal he shows how it works and how similar laws hold for organisms and corporations.

Tim Harford: Trial, error and the God complex

Economics writer Tim Harford studies complex systems -- and finds a surprising link among the successful ones: they were built through trial and error. In this sparkling talk from TEDGlobal 2011, he asks us to embrace our randomness and start making better mistakes.

Arthur Potts Dawson: A vision for sustainable restaurants

If you've been in a restaurant kitchen, you've seen how much food, water and energy can be wasted there. Chef Arthur Potts-Dawson shares his very personal vision for drastically reducing restaurant, and supermarket, waste -- creating recycling, composting, sustainable engines for good (and good food).

Chip Conley: Measuring what makes life worthwhile

When the dotcom bubble burst, hotelier Chip Conley went in search of a business model based on happiness. In an old friendship with an employee and in the wisdom of a Buddhist king, he learned that success comes from what you count.

Jessica Jackley: Poverty, money -- and love

What do you think of people in poverty? Maybe what Jessica Jackley once did: "they" need "our" help, in the form of a few coins in a jar. The co-founder of Kiva.org talks about how her attitude changed -- and how her work with microloans has brought new power to people who live on a few dollars a day.

Chade-Meng Tan: Everyday compassion at Google

Google's "Jolly Good Fellow," Chade-Meng Tan, talks about how the company practices compassion in its everyday business -- and its bold side projects.

Alain de Botton: A kinder, gentler philosophy of success

Alain de Botton examines our ideas of success and failure -- and questions the assumptions underlying these two judgments. Is success always earned? Is failure? He makes an eloquent, witty case to move beyond snobbery to find true pleasure in our work.

William Ury: The walk from "no" to "yes"

William Ury, author of "Getting to Yes," offers an elegant, simple (but not easy) way to create agreement in even the most difficult situations -- from family conflict to, perhaps, the Middle East. (Filmed at TEDxMidWest.)

Niall Ferguson: The 6 killer apps of prosperity

Over the past few centuries, Western cultures have been very good at creating general prosperity for themselves. Historian Niall Ferguson asks: Why the West, and less so the rest? He suggests half a dozen big ideas from Western culture -- call them the 6 killer apps -- that promote wealth, stability and innovation. And in this new century, he says, these apps are all shareable.

Yasheng Huang: Does democracy stifle economic growth?

Economist Yasheng Huang compares China to India, and asks how China's authoritarian rule contributed to its astonishing economic growth -- leading to a big question: Is democracy actually holding India back? Huang's answer may surprise you.

Margaret Gould Stewart: How YouTube thinks about copyright

Margaret Gould Stewart, YouTube's head of user experience, talks about how the ubiquitous video site works with copyright holders and creators to foster (at the best of times) a creative ecosystem where everybody wins.

Richard St. John: "Success is a continuous journey"

In his typically candid style, Richard St. John reminds us that success is not a one-way street, but a constant journey. He uses the story of his business' rise and fall to illustrate a valuable lesson -- when we stop trying, we fail.

Nigel Marsh: How to make work-life balance work

Work-life balance, says Nigel Marsh, is too important to be left in the hands of your employer. Marsh lays out an ideal day balanced between family time, personal time and productivity -- and offers some stirring encouragement to make it happen. (Filmed at TEDxSydney.)

Seth Godin: How to get your ideas to spread

In a world of too many options and too little time, our obvious choice is to just ignore the ordinary stuff. Marketing guru Seth Godin spells out why, when it comes to getting our attention, bad or bizarre ideas are more successful than boring ones.

Jason Fried: Why work doesn't happen at work

Jason Fried has a radical theory of working: that the office isn't a good place to do it. In his talk, he lays out the main problems (call them the M&Ms) and offers three suggestions to make work work. (Filmed at TEDxMidWest.)

David Pogue: Simplicity sells

New York Times columnist David Pogue takes aim at technology's worst interface-design offenders, and provides encouraging examples of products that get it right. To funny things up, he bursts into song.

Ian Ritchie: The day I turned down Tim Berners-Lee

Imagine it's late 1990, and you've just met a nice young man named Tim Berners-Lee, who starts telling you about his proposed system called the World Wide Web. Ian Ritchie was there. And ... he didn't buy it. A short story about information, connectivity and learning from mistakes.

Simon Sinek: How great leaders inspire action

Simon Sinek has a simple but powerful model for inspirational leadership all starting with a golden circle and the question "Why?" His examples include Apple, Martin Luther King, and the Wright brothers ... (Filmed at TEDxPugetSound.)

Barry Schwartz: The paradox of choice

Psychologist Barry Schwartz takes aim at a central tenet of western societies: freedom of choice. In Schwartz's estimation, choice has made us not freer but more paralyzed, not happier but more dissatisfied.

Alan Siegel: Let's simplify legal jargon!

Tax forms, credit agreements, healthcare legislation: They're crammed with gobbledygook, says Alan Siegel, and incomprehensibly long. He calls for a simple, sensible redesign -- and plain English -- to make legal paperwork intelligible to the rest of us.

Tom Wujec: Build a tower, build a team

Tom Wujec presents some surprisingly deep research into the "marshmallow problem" -- a simple team-building exercise that involves dry spaghetti, one yard of tape and a marshmallow. Who can build the tallest tower with these ingredients? And why does a surprising group always beat the average?

Lisa Gansky: The future of business is the "mesh"

Lisa Gansky, author of "The Mesh," talks about a future of business that's about sharing all kinds of stuff, either via smart and tech-enabled rental or, more boldly, peer-to-peer. Examples across industries -- from music to cars -- show how close we are to this meshy future.

Majora Carter: Greening the ghetto

In an emotionally charged talk, MacArthur-winning activist Majora Carter details her fight for environmental justice in the South Bronx -- and shows how minority neighborhoods suffer most from flawed urban policy.

Arianna Huffington: How to succeed? Get more sleep

In this short talk, Arianna Huffington shares a small idea that can awaken much bigger ones: the power of a good night's sleep. Instead of bragging about our sleep deficits, she urges us to shut our eyes and see the big picture: We can sleep our way to increased productivity and happiness -- and smarter decision-making.

Dan Pink: The puzzle of motivation

Career analyst Dan Pink examines the puzzle of motivation, starting with a fact that social scientists know but most managers don't: Traditional rewards aren't always as effective as we think. Listen for illuminating stories -- and maybe, a way forward.

Sunni Brown: Doodlers, unite!

Studies show that sketching and doodling improve our comprehension -- and our creative thinking. So why do we still feel embarrassed when we're caught doodling in a meeting? Sunni Brown says: Doodlers, unite! She makes the case for unlocking your brain via pad and pen.

Clay Shirky: Institutions vs. collaboration

In this prescient 2005 talk, Clay Shirky shows how closed groups and companies will give way to looser networks where small contributors have big roles and fluid cooperation replaces rigid planning.