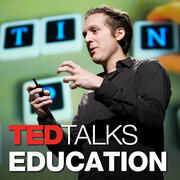 Shai Reshef: An ultra-low-cost college degree

At the online University of the People, anyone with a high school diploma can take classes toward a degree in business administration or computer science — without standard tuition fees (though exams cost money). Founder Shai Reshef hopes that higher education is changing "from being a privilege for the few to a basic right, affordable and accessible for all."

Anne Curzan: What makes a word "real"?

One could argue that slang words like 'hangry,' 'defriend' and 'adorkable' fill crucial meaning gaps in the English language, even if they don't appear in the dictionary. After all, who actually decides which words make it into those pages? Language historian Anne Curzan gives a charming look at the humans behind dictionaries, and the choices they make.

Deborah Gordon: What ants teach us about the brain, cancer and the Internet

Ecologist Deborah Gordon studies ants wherever she can find them -- in the desert, in the tropics, in her kitchen ... In this fascinating talk, she explains her obsession with insects most of us would happily swat away without a second thought. She argues that ant life provides a useful model for learning about many other topics, including disease, technology and the human brain.

Randall Munroe: Comics that ask "what if?"

Web cartoonist Randall Munroe answers simple what-if questions ("what if you hit a baseball moving at the speed of light?") using math, physics, logic and deadpan humor. In this charming talk, a reader's question about Google's data warehouse leads Munroe down a circuitous path to a hilariously over-detailed answer — in which, shhh, you might actually learn something.

Hamish Jolly: A shark-deterrent wetsuit (and it's not what you think)

Hamish Jolly, an ocean swimmer in Australia, wanted a wetsuit that would deter a curious shark from mistaking him for a potential source of nourishment. (Which, statistically, is rare, but certainly a fate worth avoiding.) Working with a team of scientists, he and his friends came up with a fresh approach — not a shark cage, not a suit of chain-mail, but a sleek suit that taps our growing understanding of shark vision.

Christopher Emdin: Teach teachers how to create magic

What do rap shows, barbershop banter and Sunday services have in common? As Christopher Emdin says, they all hold the secret magic to enthrall and teach at the same time — and it's a skill we often don't teach to educators. The science advocate (and cofounder of Science Genius B.A.T.T.L.E.S. with the GZA of the Wu-Tang Clan) offers a vision to make the classroom come alive.

Alex Wissner-Gross: A new equation for intelligence

Is there an equation for intelligence? Yes. It's F = T ∇ Sτ. In a fascinating and informative talk, physicist and computer scientist Alex Wissner-Gross explains what in the world that means. (Filmed at TEDxBeaconStreet.)

Arthur Benjamin: The magic of Fibonacci numbers

Math is logical, functional and just ... awesome. Mathemagician Arthur Benjamin explores hidden properties of that weird and wonderful set of numbers, the Fibonacci series. (And reminds you that mathematics can be inspiring, too!)

Stuart Firestein: The pursuit of ignorance

What does real scientific work look like? As neuroscientist Stuart Firestein jokes: It looks a lot less like the scientific method and a lot more like "farting around … in the dark." In this witty talk, Firestein gets to the heart of science as it is really practiced and suggests that we should value what we don't know -- or "high-quality ignorance" -- just as much as what we know.

Adam Spencer: Why I fell in love with monster prime numbers

They're millions of digits long, and it takes an army of mathematicians and machines to hunt them down -- what's not to love about monster primes? Adam Spencer, comedian and lifelong math geek, shares his passion for these odd numbers, and for the mysterious magic of math.

Nicholas Negroponte: One Laptop per Child

Nicholas Negroponte, founder of the MIT Media Laboratory, describes how the One Laptop Per Child project will build and distribute the "$100 laptop."

Ramsey Musallam: 3 rules to spark learning

It took a life-threatening condition to jolt chemistry teacher Ramsey Musallam out of ten years of "pseudo-teaching" to understand the true role of the educator: to cultivate curiosity. In a fun and personal talk, Musallam gives 3 rules to spark imagination and learning, and get students excited about how the world works.

Geoffrey Canada: Our failing schools. Enough is enough!

Why, why, why does our education system look so similar to the way it did 50 years ago? Millions of students were failing then, as they are now -- and it's because we're clinging to a business model that clearly doesn't work. Education advocate Geoffrey Canada dares the system to look at the data, think about the customers and make systematic shifts in order to help greater numbers of kids excel.

Angela Lee Duckworth: The key to success? Grit

Leaving a high-flying job in consulting, Angela Lee Duckworth took a job teaching math to seventh graders in a New York public school. She quickly realized that IQ wasn't the only thing separating the successful students from those who struggled. Here, she explains her theory of "grit" as a predictor of success.

ShaoLan: Learn to read Chinese ... with ease!

For foreigners, learning to speak Chinese is a hard task. But learning to read the beautiful, often complex characters of the Chinese written language may be less difficult. ShaoLan walks through a simple lesson in recognizing the ideas behind the characters and their meaning -- building from a few simple forms to more complex concepts. Call it Chineasy.

Rita Pierson: Every kid needs a champion

Rita Pierson, a teacher for 40 years, once heard a colleague say, "They don't pay me to like the kids." Her response: "Kids don't learn from people they don't like.'" A rousing call to educators to believe in their students and actually connect with them on a real, human, personal level.

Barbara Block: Tagging tuna in the deep ocean

Tuna are ocean athletes -- fast, far-ranging predators whose habits we're just beginning to understand. Marine biologist Barbara Block fits tuna with tracking tags (complete with transponders) that record unprecedented amounts of data about these gorgeous, threatened fish and the ocean habitats they move through.

Ray Kurzweil: The accelerating power of technology

Inventor, entrepreneur and visionary Ray Kurzweil explains in abundant, grounded detail why, by the 2020s, we will have reverse-engineered the human brain and nanobots will be operating your consciousness.

Ken Robinson: How to escape education's death valley

Sir Ken Robinson outlines 3 principles crucial for the human mind to flourish -- and how current education culture works against them. In a funny, stirring talk he tells us how to get out of the educational "death valley" we now face, and how to nurture our youngest generations with a climate of possibility.

Pearl Arredondo: My story, from gangland daughter to star teacher

Pearl Arredondo grew up in East Los Angeles, the daughter of a high-ranking gang member who was in and out of jail. Many teachers wrote her off as having a problem with authority. Now a teacher herself, she's creating a different kind of school and telling students her story so that they know it's okay if sometimes homework isn't the first thing on their minds.

Bill Gates: Teachers need real feedback

Until recently, many teachers only got one word of feedback a year: "satisfactory." And with no feedback, no coaching, there's just no way to improve. Bill Gates suggests that even great teachers can get better with smart feedback -- and lays out a program from his foundation to bring it to every classroom.

Kakenya Ntaiya: A girl who demanded school

Kakenya Ntaiya made a deal with her father: She would undergo the traditional Maasai rite of passage of female circumcision if he would let her go to high school. Ntaiya tells the fearless story of continuing on to college, and of working with her village elders to build a school for girls in her community. It's the educational journey of one that altered the destiny of 125 young women. (Filmed at TEDxMidAtlantic.)

Colin Powell: Kids need structure

How can you help kids get a good start? In this heartfelt and personal talk, Colin Powell, the former U.S. Secretary of State, asks parents, friends and relatives to support children from before they even get to primary school, through community and a strong sense of responsibility. (Filmed at TEDxMidAtlantic.)

Freeman Hrabowski: 4 pillars of college success in science

At age 12, Freeman Hrabowski marched with Martin Luther King. Now he's president of the University of Maryland, Baltimore County (UMBC), where he works to create an environment that helps under-represented students -- specifically African-American, Latino and low-income learners -- get degrees in math and science. He shares the four pillars of UMBC's approach.

Faith Jegede: What I've learned from my autistic brothers

Faith Jegede tells the moving and funny story of growing up with her two brothers, both autistic -- and both extraordinary. In this talk from the TED Talent Search, she reminds us to pursue a life beyond what is normal.

Pam Warhurst: How we can eat our landscapes

What should a community do with its unused land? Plant food, of course. With energy and humor, Pam Warhurst tells at the TEDSalon the story of how she and a growing team of volunteers came together to turn plots of unused land into communal vegetable gardens, and to change the narrative of food in their community.

Marco Tempest: The electric rise and fall of Nikola Tesla

Combining projection mapping and a pop-up book, Marco Tempest tells the visually arresting story of Nikola Tesla -- called "the greatest geek who ever lived" -- from his triumphant invention of alternating current to his penniless last days.

Martin Seligman: The new era of positive psychology

Martin Seligman talks about psychology -- as a field of study and as it works one-on-one with each patient and each practitioner. As it moves beyond a focus on disease, what can modern psychology help us to become?

Ayah Bdeir: Building blocks that blink, beep and teach

Imagine a set of electronics as easy to play with as Legos. TED Fellow Ayah Bdeir introduces littleBits, a set of simple, interchangeable blocks that make programming as simple and important a part of creativity as snapping blocks together.

Georgette Mulheir: The tragedy of orphanages

Orphanages are costly and can cause irreparable damage both mentally and physically for its charges -- so why are they still so ubiquitous? Georgette Mulheir gravely describes the tragedy of orphanages and urges us to end our reliance on them, by finding alternate ways of supporting children in need.

Damon Horowitz: Philosophy in prison

Damon Horowitz teaches philosophy through the Prison University Project, bringing college-level classes to inmates of San Quentin State Prison. In this powerful short talk, he tells the story of an encounter with right and wrong that quickly gets personal.

Rebecca Saxe: How we read each other's minds

Sensing the motives and feelings of others is a natural talent for humans. But how do we do it? Here, Rebecca Saxe shares fascinating lab work that uncovers how the brain thinks about other peoples' thoughts -- and judges their actions.

Joshua Foer: Feats of memory anyone can do

There are people who can quickly memorize lists of thousands of numbers, the order of all the cards in a deck (or ten!), and much more. Science writer Joshua Foer describes the technique -- called the memory palace -- and shows off its most remarkable feature: anyone can learn how to use it, including him.

Larry Lessig: Laws that choke creativity

Larry Lessig, the Net's most celebrated lawyer, cites John Philip Sousa, celestial copyrights and the "ASCAP cartel" in his argument for reviving our creative culture.

Salman Khan: Let's use video to reinvent education

Salman Khan talks about how and why he created the remarkable Khan Academy, a carefully structured series of educational videos offering complete curricula in math and, now, other subjects. He shows the power of interactive exercises, and calls for teachers to consider flipping the traditional classroom script -- give students video lectures to watch at home, and do "homework" in the classroom with the teacher available to help.

Shimon Schocken's rides of hope

Computer science professor Shimon Schocken is also an avid mountain biker. To share the life lessons he learned while riding, he began an outdoor program with Israel's juvenile inmates and was touched by both their intense difficulties and profound successes. Photographs by Raphael Rabinovitz. (Filmed at TEDxTelAviv.)

Thomas Thwaites: How I built a toaster -- from scratch

It takes an entire civilization to build a toaster. Designer Thomas Thwaites found out the hard way, by attempting to build one from scratch: mining ore for steel, deriving plastic from oil ... it's frankly amazing he got as far as he got. A parable of our interconnected society, for designers and consumers alike.

Julia Sweeney has "The Talk"

Despite her best efforts, comedian Julia Sweeney is forced to tell a little white lie when her 8-year-old begins learning about frog reproduction -- and starts to ask some very smart questions.

Joe Sabia: The technology of storytelling

iPad storyteller Joe Sabia introduces us to Lothar Meggendorfer, who created a bold technology for storytelling: the pop-up book. Sabia shows how new technology has always helped us tell our own stories, from the walls of caves to his own onstage iPad.

David Christian: The history of our world in 18 minutes

Backed by stunning illustrations, David Christian narrates a complete history of the universe, from the Big Bang to the Internet, in a riveting 18 minutes. This is "Big History": an enlightening, wide-angle look at complexity, life and humanity, set against our slim share of the cosmic timeline.

Diana Laufenberg: How to learn? From mistakes

Diana Laufenberg shares 3 surprising things she has learned about teaching -- including a key insight about learning from mistakes. (Filmed at TEDxMidAtlantic.)

Patrick Awuah on educating leaders

Patrick Awuah makes the case that a liberal arts education is critical to forming true leaders.

Daphne Bavelier: Your brain on video games

How do fast-paced video games affect the brain? Step into the lab with cognitive researcher Daphne Bavelier to hear surprising news about how video games, even action-packed shooter games, can help us learn, focus and, fascinatingly, multitask. (Filmed at TEDxCHUV.)

Nathan Wolfe: What's left to explore?

We've been to the moon, we've mapped the continents, we've even been to the deepest point in the ocean -- twice. What's left for the next generation to explore? Biologist and explorer Nathan Wolfe suggests this answer: Almost everything. And we can start, he says, with the world of the unseeably small.

Peter Norvig: The 100,000-student classroom

In the fall of 2011 Peter Norvig taught a class with Sebastian Thrun on artificial intelligence at Stanford attended by 175 students in situ -- and over 100,000 via an interactive webcast. He shares what he learned about teaching to a global classroom.

Liz Coleman's call to reinvent liberal arts education

Bennington president Liz Coleman delivers a call-to-arms for radical reform in higher education. Bucking the trend to push students toward increasingly narrow areas of study, she proposes a truly cross-disciplinary education -- one that dynamically combines all areas of study to address the great problems of our day.

Rajesh Rao: A Rosetta Stone for the Indus script

Rajesh Rao is fascinated by "the mother of all crossword puzzles": How to decipher the 4000 year old Indus script. At TED 2011 he tells how he is enlisting modern computational techniques to read the Indus language, the key piece to understanding this ancient civilization.

Michael Pollan: A plant's-eye view

What if human consciousness isn't the end-all and be-all of Darwinism? What if we are all just pawns in corn's clever strategy game to rule the Earth? Author Michael Pollan asks us to see the world from a plant's-eye view.

Sarah Kay: If I should have a daughter ...

"If I should have a daughter, instead of Mom, she's gonna call me Point B ... " began spoken word poet Sarah Kay, in a talk that inspired two standing ovations at TED2011. She tells the story of her metamorphosis -- from a wide-eyed teenager soaking in verse at New York's Bowery Poetry Club to a teacher connecting kids with the power of self-expression through Project V.O.I.C.E. -- and gives two breathtaking performances of "B" and "Hiroshima."

Noah Wilson-Rich: Every city needs healthy honey bees

Bees have been rapidly and mysteriously disappearing from rural areas, with grave implications for agriculture. But bees seem to flourish in urban environments -- and cities need their help, too. Noah Wilson-Rich suggests that urban beekeeping might play a role in revitalizing both a city and a species. (Filmed at TEDxBoston.)

Temple Grandin: The world needs all kinds of minds

Temple Grandin, diagnosed with autism as a child, talks about how her mind works -- sharing her ability to "think in pictures," which helps her solve problems that neurotypical brains might miss. She makes the case that the world needs people on the autism spectrum: visual thinkers, pattern thinkers, verbal thinkers, and all kinds of smart geeky kids.

Terry Moore: Why is 'x' the unknown?

Why is 'x' the symbol for an unknown? In this short and funny talk, Terry Moore gives the surprising answer.

Dan Meyer: Math class needs a makeover

Today's math curriculum is teaching students to expect -- and excel at -- paint-by-numbers classwork, robbing kids of a skill more important than solving problems: formulating them. In his talk, Dan Meyer shows classroom-tested math exercises that prompt students to stop and think. (Filmed at TEDxNYED.)

Ken Robinson says schools kill creativity

Sir Ken Robinson makes an entertaining and profoundly moving case for creating an education system that nurtures (rather than undermines) creativity.

Mae Jemison on teaching arts and sciences together

Mae Jemison is an astronaut, a doctor, an art collector, a dancer ... Telling stories from her own education and from her time in space, she calls on educators to teach both the arts and sciences, both intuition and logic, as one -- to create bold thinkers.

Gever Tulley: Life lessons through tinkering

Gever Tulley uses engaging photos and footage to demonstrate the valuable lessons kids learn at his Tinkering School. When given tools, materials and guidance, these young imaginations run wild and creative problem-solving takes over to build unique boats, bridges and even a roller coaster!

Ben Dunlap: The life-long learner

Wofford College president Ben Dunlap tells the story of Sandor Teszler, a Hungarian Holocaust survivor who taught him about passionate living and lifelong learning.

Rives: Reinventing the encyclopedia game

Prompted by the Encyclopaedia Britannica ending its print publication, performance poet Rives resurrects a game from his childhood. Speaking at the TEDxSummit in Doha, Rives takes us on a charming tour through random (and less random) bits of human knowledge: from Chimborazo, the farthest point from the center of the Earth, to Ham the Astrochimp, the first chimpanzee in outer space.

Stephen Ritz: A teacher growing green in the South Bronx

A whirlwind of energy and ideas, Stephen Ritz is a teacher in New York's tough South Bronx, where he and his kids grow lush gardens for food, greenery -- and jobs. Just try to keep up with this New York treasure as he spins through the many, many ways there are to grow hope in a neighborhood many have written off, or in your own. (Filmed at TEDxManhattan.)

Patricia Burchat: Shedding light on dark matter

Physicist Patricia Burchat sheds light on two basic ingredients of our universe: dark matter and dark energy. Comprising 96% of the universe between them, they can't be directly measured, but their influence is immense.

Richard Baraniuk on open-source learning

Rice University professor Richard Baraniuk explains the vision behind Connexions, his open-source, online education system. It cuts out the textbook, allowing teachers to share and modify course materials freely, anywhere in the world.

Annie Murphy Paul: What we learn before we're born

Pop quiz: When does learning begin? Answer: Before we are born. Science writer Annie Murphy Paul talks through new research that shows how much we learn in the womb -- from the lilt of our native language to our soon-to-be-favorite foods.

Daphne Koller: What we're learning from online education

Daphne Koller is enticing top universities to put their most intriguing courses online for free -- not just as a service, but as a way to research how people learn. With Coursera (cofounded by Andrew Ng), each keystroke, quiz, peer-to-peer discussion and self-graded assignment builds an unprecedented pool of data on how knowledge is processed.

Frans de Waal: Moral behavior in animals

Empathy, cooperation, fairness and reciprocity -- caring about the well-being of others seems like a very human trait. But Frans de Waal shares some surprising videos of behavioral tests, on primates and other mammals, that show how many of these moral traits all of us share. (Filmed at TEDxPeachtree.)

Sarah Parcak: Archeology from space

In this short talk, TED Fellow Sarah Parcak introduces the field of "space archeology" -- using satellite images to search for clues to the lost sites of past civilizations.

Deb Roy: The birth of a word

MIT researcher Deb Roy wanted to understand how his infant son learned language -- so he wired up his house with videocameras to catch every moment (with exceptions) of his son's life, then parsed 90,000 hours of home video to watch "gaaaa" slowly turn into "water." Astonishing, data-rich research with deep implications for how we learn.

Melissa Marshall: Talk nerdy to me

Melissa Marshall brings a message to all scientists (from non-scientists): We're fascinated by what you're doing. So tell us about it -- in a way we can understand. In just 4 minutes, she shares powerful tips on presenting complex scientific ideas to a general audience.

Erin McKean: The joy of lexicography

Is the beloved paper dictionary doomed to extinction? In this infectiously exuberant talk, leading lexicographer Erin McKean looks at the many ways today's print dictionary is poised for transformation.

Nancy Lublin: Texting that saves lives

When Nancy Lublin started texting teenagers to help with her social advocacy organization, what she found was shocking -- they started texting back about their own problems, from bullying to depression to abuse. So she's setting up a text-only crisis line, and the results might be even more important than she expected.

Amy Tan: Where does creativity hide?

Novelist Amy Tan digs deep into the creative process, looking for hints of how hers evolved.

AnnMarie Thomas: Hands-on science with squishy circuits

In a zippy demo at TED U, AnnMarie Thomas shows how two different kinds of homemade play dough can be used to demonstrate electrical properties -- by lighting up LEDs, spinning motors, and turning little kids into circuit designers.

Dan Dennett: Responding to Pastor Rick Warren

Philosopher Dan Dennett calls for religion -- all religion -- to be taught in schools, so we can understand its nature as a natural phenomenon. Then he takes on The Purpose-Driven Life, disputing its claim that, to be moral, one must deny evolution.

Chris Anderson: How web video powers global innovation

TED's Chris Anderson says the rise of web video is driving a worldwide phenomenon he calls Crowd Accelerated Innovation -- a self-fueling cycle of learning that could be as significant as the invention of print. But to tap into its power, organizations will need to embrace radical openness. And for TED, it means the dawn of a whole new chapter ...