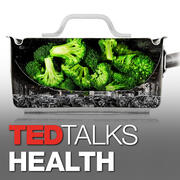 Paula Johnson: His and hers … healthcare

Every cell in the human body has a sex, which means that men and women are different right down to the cellular level. Yet too often, research and medicine ignore this insight -- and the often startlingly different ways in which the two sexes respond to disease or treatment. As pioneering doctor Paula Johnson describes in this thought-provoking talk, lumping everyone in together means we essentially leave women's health to chance. It's time to rethink.

Mark Kendall: Demo: A needle-free vaccine patch that's safer and way cheaper

One hundred sixty years after the invention of the needle and syringe, we're still using them to deliver vaccines; it's time to evolve. Biomedical engineer Mark Kendall demos the Nanopatch, a one-centimeter-by-one-centimeter square vaccine that can be applied painlessly to the skin. He shows how this tiny piece of silicon can overcome four major shortcomings of the modern needle and syringe, at a fraction of the cost.

Sandra Aamodt: Why dieting doesn't usually work

In the US, 80% of girls have been on a diet by the time they're 10 years old. In this honest, raw talk, neuroscientist Sandra Aamodt uses her personal story to frame an important lesson about how our brains manage our bodies, as she explores the science behind why dieting not only doesn't work, but is likely to do more harm than good. She suggests ideas for how to live a less diet-obsessed life, intuitively.

Mick Cornett: How an obese town lost a million pounds

Oklahoma City is a midsized town that had a big problem: It was among the most obese towns in America. Mayor Mick Cornett realized that, to make his city a great place to work and live, it had to become healthier too. In this charming talk, he walks us through the interlocking changes that helped OKC drop a collective million pounds (450,000 kilos).

Andrew Solomon: Depression, the secret we share

"The opposite of depression is not happiness, but vitality, and it was vitality that seemed to seep away from me in that moment." In a talk equal parts eloquent and devastating, writer Andrew Solomon takes you to the darkest corners of his mind during the years he battled depression. That led him to an eye-opening journey across the world to interview others with depression -- only to discover that, to his surprise, the more he talked, the more people wanted to tell their own stories. (Filmed at TEDxMet.)

Kelly McGonigal: How to make stress your friend

Stress. It makes your heart pound, your breathing quicken and your forehead sweat. But while stress has been made into a public health enemy, new research suggests that stress may only be bad for you if you believe that to be the case. Psychologist Kelly McGonigal urges us to see stress as a positive, and introduces us to an unsung mechanism for stress reduction: reaching out to others.

Russell Foster: Why do we sleep?

Russell Foster is a circadian neuroscientist: He studies the sleep cycles of the brain. And he asks: What do we know about sleep? Not a lot, it turns out, for something we do with one-third of our lives. In this talk, Foster shares three popular theories about why we sleep, busts some myths about how much sleep we need at different ages -- and hints at some bold new uses of sleep as a predictor of mental health.

Eleanor Longden: The voices in my head

To all appearances, Eleanor Longden was just like every other student, heading to college full of promise and without a care in the world. That was until the voices in her head started talking. Initially innocuous, these internal narrators became increasingly antagonistic and dictatorial, turning her life into a living nightmare. Diagnosed with schizophrenia, hospitalized, drugged, Longden was discarded by a system that didn't know how to help her. Longden tells the moving tale of her years-long journey back to mental health, and makes the case that it was through learning to listen to her voices that she was able to survive.

Eva Vertes: Meet the future of cancer research

Eva Vertes -- only 19 when she gave this talk -- discusses her journey toward studying medicine and her drive to understand the roots of cancer and Alzheimer's.

Peter van Manen: How can Formula 1 racing help ... babies?

During a Formula 1 race, a car sends hundreds of millions of data points to its garage for real-time analysis and feedback. So why not use this detailed and rigorous data system elsewhere, like ... at children's hospitals? Peter van Manen tells us more. (Filmed at TEDxNijmegen.)

Eli Beer: The fastest ambulance? A motorcycle

As a young EMT on a Jerusalem ambulance, Eli Beer realized that, stuck in brutal urban traffic, they often arrived too late to help. So he organized a group of volunteer EMTs -- many on foot -- ready to drop everything and dash to save lives in their neighborhood. Today, United Hatzlah uses a smartphone app and a fleet of "ambucycles" to help nearby patients until an ambulance arrives. With an average response time of 3 minutes, last year, they treated 207,000 people in Israel. And the idea is going global.

Annie Lennox: Why I am an HIV/AIDS activist

For the last eight years, pop singer Annie Lennox has devoted the majority of her time to her SING campaign, raising awareness and money to combat HIV/AIDS. She shares the experiences that have inspired her, from working with Nelson Mandela to meeting a little African girl in a desperate situation.

Eric Dishman: Health care should be a team sport

When Eric Dishman was in college, doctors told him he had 2 to 3 years to live. That was a long time ago. Now, Dishman puts his experience and his expertise as a medical tech specialist together to suggest a bold idea for reinventing health care -- by putting the patient at the center of a treatment team. (Filmed at TED@Intel)

Judy MacDonald Johnston: Prepare for a good end of life

Thinking about death is frightening, but planning ahead is practical and leaves more room for peace of mind in our final days. In a solemn, thoughtful talk, Judy MacDonald Johnston shares 5 practices for planning for a good end of life.

Kim Gorgens: Protecting the brain against concussion

In a lively talk, neuropsychologist Kim Gorgens makes the case for better protecting our brains against the risk of concussion -- with a compelling pitch for putting helmets on kids. (Filmed at TEDxDU.)

Jane Fonda: Life's third act

Within this generation, an extra 30 years have been added to our life expectancy -- and these years aren't just a footnote or a pathology. In this talk, Jane Fonda asks how we can think about this new phase of our lives. (Filmed at TEDxWomen.)

Seth Berkley: HIV and flu -- the vaccine strategy

Seth Berkley explains how smart advances in vaccine design, production and distribution are bringing us closer than ever to eliminating a host of global threats -- from AIDS to malaria to flu pandemics.

Nilofer Merchant: Got a meeting? Take a walk

Nilofer Merchant suggests a small idea that just might have a big impact on your life and health: Next time you have a one-on-one meeting, make it into a "walking meeting" -- and let ideas flow while you walk and talk.

Carl Honore: In praise of slowness

Journalist Carl Honore believes the Western world's emphasis on speed erodes health, productivity and quality of life. But there's a backlash brewing, as everyday people start putting the brakes on their all-too-modern lives.

Jessica Green: We're covered in germs. Let's design for that.

Our bodies and homes are covered in microbes -- some good for us, some bad for us. As we learn more about the germs and microbes who share our living spaces, TED Fellow Jessica Green asks: Can we design buildings that encourage happy, healthy microbial environments?

Mark Roth: Suspended animation is within our grasp

Mark Roth studies suspended animation: the art of shutting down life processes and then starting them up again. It's wild stuff, but it's not science fiction. Induced by careful use of an otherwise toxic gas, suspended animation can potentially help trauma and heart attack victims survive long enough to be treated.

Rose George: Let's talk crap. Seriously.

It's 2013, yet 2.5 billion people in the world have no access to a basic sanitary toilet. And when there's no loo, where do you poo? In the street, probably near your water and food sources -- causing untold death and disease from contamination. Get ready for a blunt, funny, powerful talk from journalist Rose George about a once-unmentionable problem.

Max Little: A test for Parkinson's with a phone call

Parkinson's disease affects 6.3 million people worldwide, causing weakness and tremors, but there's no objective way to detect it early on. Yet. Applied mathematician and TED Fellow Max Little is testing a simple, cheap tool that in trials is able to detect Parkinson's with 99 percent accuracy -- in a 30-second phone call.

Francis Collins: We need better drugs -- now

Today we know the molecular cause of 4,000 diseases, but treatments are available for only 250 of them. So what's taking so long? Geneticist and physician Francis Collins explains why systematic drug discovery is imperative, even for rare and complex diseases, and offers a few solutions -- like teaching old drugs new tricks.

Ron Finley: A guerilla gardener in South Central LA

Ron Finley plants vegetable gardens in South Central LA -- in abandoned lots, traffic medians, along the curbs. Why? For fun, for defiance, for beauty and to offer some alternative to fast food in a community where "the drive-thrus are killing more people than the drive-bys."

Emily Oster flips our thinking on AIDS in Africa

Emily Oster re-examines the stats on AIDS in Africa from an economic perspective and reaches a stunning conclusion: Everything we know about the spread of HIV on the continent is wrong.

Esther Perel: The secret to desire in a long-term relationship

In long-term relationships, we often expect our beloved to be both best friend and erotic partner. But as Esther Perel argues, good and committed sex draws on two conflicting needs: our need for security and our need for surprise. So how do you sustain desire? With wit and eloquence, Perel lets us in on the mystery of erotic intelligence.

Eric Dishman: Take health care off the mainframe

At TEDMED, Eric Dishman makes a bold argument: The US health care system is like computing circa 1959, tethered to big, unwieldy central systems: hospitals, doctors, nursing homes. As our aging population booms, it's imperative, he says, to create personal, networked, home-based health care for all.

Richard Weller: Could the sun be good for your heart?

Our bodies get Vitamin D from the sun, but as dermatologist Richard Weller suggests, sunlight may confer another surprising benefit too. New research by his team shows that nitric oxide, a chemical transmitter stored in huge reserves in the skin, can be released by UV light, to great benefit for blood pressure and the cardiovascular system. What does it mean? Well, it might begin to explain why Scots get sick more than Australians ...

Ruby Wax: What's so funny about mental illness?

Diseases of the body garner sympathy, says comedian Ruby Wax -- except those of the brain. Why is that? With dazzling energy and humor, Wax, diagnosed a decade ago with clinical depression, urges us to put an end to the stigma of mental illness.

Aubrey de Grey: A roadmap to end aging

Cambridge researcher Aubrey de Grey argues that aging is merely a disease -- and a curable one at that. Humans age in seven basic ways, he says, all of which can be averted.

Alan Russell: The potential of regenerative medicine

Alan Russell studies regenerative medicine -- a breakthrough way of thinking about disease and injury, using a process that can signal the body to rebuild itself.

Ernest Madu on world-class health care

Dr. Ernest Madu runs the Heart Institute of the Caribbean in Kingston, Jamaica, where he proves that -- with careful design, smart technical choices, and a true desire to serve -- it's possible to offer world-class healthcare in the developing world.

Caitria and Morgan O'Neill: How to step up in the face of disaster

After a natural disaster strikes, there's only a tiny window of opportunity to rally effective recovery efforts before the world turns their attention elsewhere. Who should be in charge? When a freak tornado hit their hometown, sisters Caitria and Morgan O'Neill -- just 20 and 24 at the time -- took the reins and are now teaching others how to do the same. (Filmed at TEDxBoston.)

VS Ramachandran: 3 clues to understanding your brain

Vilayanur Ramachandran tells us what brain damage can reveal about the connection between celebral tissue and the mind, using three startling delusions as examples.

Elliot Krane: The mystery of chronic pain

We think of pain as a symptom, but there are cases where the nervous system develops feedback loops and pain becomes a terrifying disease in itself. Starting with the story of a girl whose sprained wrist turned into a nightmare, Elliot Krane talks about the complex mystery of chronic pain, and reviews the facts we're just learning about how it works and how to treat it.

Laura Carstensen: Older people are happier

In the 20th century we added an unprecedented number of years to our lifespans, but is the quality of life as good? Surprisingly, yes! At TEDxWomen psychologist Laura Carstensen shows research that demonstrates that as people get older they become happier, more content, and have a more positive outlook on the world. (Filmed at TEDxWomen.)

Diane Kelly: What we didn't know about penis anatomy

We're not done with anatomy. We know a tremendous amount about genomics, proteomics and cell biology, but as Diane Kelly makes clear at TEDMED, there are basic facts about the human body we're still learning. Case in point: How does the mammalian erection work?

Joshua Walters: On being just crazy enough

At TED's Full Spectrum Auditions, comedian Joshua Walters, who's bipolar, walks the line between mental illness and mental "skillness." In this funny, thought-provoking talk, he asks: What's the right balance between medicating craziness away and riding the manic edge of creativity and drive?

Aimee Mullins: The opportunity of adversity

The thesaurus might equate "disabled" with synonyms like "useless" and "mutilated," but ground-breaking runner Aimee Mullins is out to redefine the word. Defying these associations, she shows how adversity -- in her case, being born without shinbones -- actually opens the door for human potential.

Matt Killingsworth: Want to be happier? Stay in the moment

When are humans most happy? To gather data on this question, Matt Killingsworth built an app, Track Your Happiness, that let people report their feelings in real time. Among the surprising results: We're often happiest when we're lost in the moment. And the flip side: The more our mind wanders, the less happy we can be. (Filmed at TEDxCambridge.)

Rebecca Onie: What if our healthcare system kept us healthy?

Rebecca Onie asks audacious questions: What if waiting rooms were a place to improve daily health care? What if doctors could prescribe food, housing and heat in the winter? At TEDMED she describes Health Leads, an organization that does just that -- and does it by building a volunteer base as elite and dedicated as a college sports team.

Gary Wolf: The quantified self

At TED@Cannes, Gary Wolf gives a 5-min intro to an intriguing new pastime: using mobile apps and always-on gadgets to track and analyze your body, mood, diet, spending -- just about everything in daily life you can measure -- in gloriously geeky detail.

Richard Resnick: Welcome to the genomic revolution

In this accessible talk from TEDxBoston, Richard Resnick shows how cheap and fast genome sequencing is about to turn health care (and insurance, and politics) upside down. (Filmed at TEDxBoston.)

Lucien Engelen: Crowdsource your health

You can use your smartphone to find a local ATM, but what if you need a defibrillator? Lucien Engelen shows us online innovations that are changing the way we save lives, including a crowdsourced map of local defibrillators. (Filmed at TEDxMaastricht.)

Ron Gutman: The hidden power of smiling

Ron Gutman reviews a raft of studies about smiling, and reveals some surprising results. Did you know your smile can be a predictor of how long you'll live -- and that a simple smile has a measurable effect on your overall well-being? Prepare to flex a few facial muscles as you learn more about this evolutionarily contagious behavior.

Michael Pritchard: How to make filthy water drinkable

Too much of the world lacks access to clean drinking water. Engineer Michael Pritchard did something about it -- inventing the portable Lifesaver filter, which can make the most revolting water drinkable in seconds. An amazing demo from TEDGlobal 2009.

Shereen El-Feki: HIV -- how to fight an epidemic of bad laws

There is an epidemic of HIV, and with it an epidemic of bad laws -- laws that effectively criminalize being HIV positive. At the TEDxSummit in Doha, TED Fellow Shereen El-Feki gives a forceful argument that these laws, based in stigma, are actually helping the disease spread.

Dan Buettner: How to live to be 100+

To find the path to long life and health, Dan Buettner and team study the world's "Blue Zones," communities whose elders live with vim and vigor to record-setting age. In his talk, he shares the 9 common diet and lifestyle habits that keep them spry past age 100. (Filmed at TEDxTC.)

Diana Nyad: Extreme swimming with the world's most dangerous jellyfish

In the 1970s, Diana Nyad set long-distance swim records that are still unbroken. Thirty years later, at 60, she attempted her longest swim yet, from Cuba to Florida. In this funny, powerful talk at TEDMED, she talks about how to prepare mentally to achieve an extreme dream, and asks: What will YOU do with your wild, precious life?

Stacey Kramer: The best gift I ever survived

Stacey Kramer offers a moving, personal, 3-minute parable that shows how an unwanted experience -- frightening, traumatic, costly -- can turn out to be a priceless gift.

Jessa Gamble: Our natural sleep cycle

In today's world, balancing school, work, kids and more, most of us can only hope for the recommended eight hours of sleep. Examining the science behind our body's internal clock, Jessa Gamble reveals the surprising and substantial program of rest we should be observing.

Paul Zak: Trust, morality -- and oxytocin?

What drives our desire to behave morally? Neuroeconomist Paul Zak shows why he believes oxytocin (he calls it "the moral molecule") is responsible for trust, empathy and other feelings that help build a stable society.

Elizabeth Pisani: Sex, drugs and HIV -- let's get rational

Armed with bracing logic, wit and her "public-health nerd" glasses, Elizabeth Pisani reveals the myriad of inconsistencies in today's political systems that prevent our dollars from effectively fighting the spread of HIV. Her research with at-risk populations -- from junkies in prison to sex workers on the street in Cambodia -- demonstrates the sometimes counter-intuitive measures that could stall the spread of this devastating disease.

Abraham Verghese: A doctor's touch

Modern medicine is in danger of losing a powerful, old-fashioned tool: human touch. Physician and writer Abraham Verghese describes our strange new world where patients are merely data points, and calls for a return to the traditional one-on-one physical exam.

Ivan Oransky: Are we over-medicalized?

Reuters health editor Ivan Oransky warns that we're suffering from an epidemic of preposterous preconditions -- pre-diabetes, pre-cancer, and many more. In this engaging talk from TEDMED he shows how health care can find a solution... by taking an important lesson from baseball.

Larry Brilliant wants to stop pandemics

Accepting the 2006 TED Prize, Dr. Larry Brilliant talks about how smallpox was eradicated from the planet, and calls for a new global system that can identify and contain pandemics before they spread.

Ed Gavagan: A story about knots and surgeons

One day, Ed Gavagan was sitting on the subway, watching two young med students practicing their knots. And a powerful memory washed over him -- of one shocking moment that changed his life forever. An unforgettable story of crime, skill and gratitude.

Dean Ornish: The world's killer diet

Stop wringing your hands over AIDS, cancer and the avian flu. Cardiovascular disease kills more people than everything else combined -- and it's mostly preventable. Dr. Dean Ornish explains how changing our eating habits will save lives.

Noel Bairey Merz: The single biggest health threat women face

Surprising, but true: More women now die of heart disease than men, yet cardiovascular research has long focused on men. Pioneering doctor C. Noel Bairey Merz shares what we know and don't know about women's heart health -- including the remarkably different symptoms women present during a heart attack (and why they're often missed). (Filmed at TEDxWomen.)

Marc Koska: 1.3m reasons to re-invent the syringe

Reuse of syringes, all too common in under-funded clinics, kills 1.3 million each year. Marc Koska clues us in to this devastating global problem with facts, photos and hidden-camera footage. He shares his solution: a low-cost syringe that can't be used twice.

Nathan Myhrvold: Cooking as never seen before

Cookbook author (and geek) Nathan Myhrvold talks about his magisterial work, "Modernist Cuisine" -- and shares the secret of its cool photographic illustrations, which show cross-sections of food in the very act of being cooked.

Dave deBronkart: Meet e-Patient Dave

When Dave deBronkart learned he had a rare and terminal cancer, he turned to a group of fellow patients online -- and found the medical treatment that saved his life. Now he calls on all patients to talk with one another, know their own health data, and make health care better one e-Patient at a time. (Filmed at TEDxMaastricht.)

Amy Lockwood: Selling condoms in the Congo

HIV is a serious problem in the DR Congo, and aid agencies have flooded the country with free and cheap condoms. But few people are using them. Why? "Reformed marketer" Amy Lockwood offers a surprising answer that upends a traditional model of philanthropy. (Some NSFW images.)

Ramona Pierson: An unexpected place of healing

When Ramona Pierson was 22, she was hit by a drunk driver and spent 18 months in a coma. In this talk, she tells the remarkable story of her recovery -- drawing on the collective skills and wisdom of a senior citizens' home. (Filmed at TEDxDU.)

Neil Pasricha: The 3 A's of awesome

Neil Pasricha's blog 1000 Awesome Things savors life's simple pleasures, from free refills to clean sheets. In this heartfelt talk, he reveals the 3 secrets (all starting with A) to leading a life that's truly awesome. (Filmed at TEDxToronto.)

Vikram Patel: Mental health for all by involving all

Nearly 450 million people are affected by mental illness worldwide. In wealthy nations, just half receive appropriate care, but in developing countries, close to 90 percent go untreated because psychiatrists are in such short supply. Vikram Patel outlines a highly promising approach -- training members of communities to give mental health interventions, empowering ordinary people to care for others.

Dean Ornish: Your genes are not your fate

Dean Ornish shares new research that shows how adopting healthy lifestyle habits can affect a person at a genetic level. For instance, he says, when you live healthier, eat better, exercise, and love more, your brain cells actually increase.

Nicholas Christakis: The hidden influence of social networks

We're all embedded in vast social networks of friends, family, co-workers and more. Nicholas Christakis tracks how a wide variety of traits -- from happiness to obesity -- can spread from person to person, showing how your location in the network might impact your life in ways you don't even know.

Atul Gawande: How do we heal medicine?

Our medical systems are broken. Doctors are capable of extraordinary (and expensive) treatments, but they are losing their core focus: actually treating people. Doctor and writer Atul Gawande suggests we take a step back and look at new ways to do medicine -- with fewer cowboys and more pit crews.

William Li: Can we eat to starve cancer?

William Li presents a new way to think about treating cancer and other diseases: anti-angiogenesis, preventing the growth of blood vessels that feed a tumor. The crucial first (and best) step: Eating cancer-fighting foods that cut off the supply lines and beat cancer at its own game.

Jane McGonigal: The game that can give you 10 extra years of life

When game designer Jane McGonigal found herself bedridden and suicidal following a severe concussion, she had a fascinating idea for how to get better. She dove into the scientific research and created the healing game, SuperBetter. In this moving talk, McGonigal explains how a game can boost resilience -- and promises to add 7.5 minutes to your life.

Marcel Dicke: Why not eat insects?

Marcel Dicke makes an appetizing case for adding insects to everyone's diet. His message to squeamish chefs and foodies: delicacies like locusts and caterpillars compete with meat in flavor, nutrition and eco-friendliness.

James Randi: Homeopathy, quackery and fraud

Legendary skeptic James Randi takes a fatal dose of homeopathic sleeping pills onstage, kicking off a searing 18-minute indictment of irrational beliefs. He throws out a challenge to the world's psychics: Prove what you do is real, and I'll give you a million dollars. (No takers yet.)

A.J. Jacobs: How healthy living nearly killed me

For a full year, A.J. Jacobs followed every piece of health advice he could -- from applying sunscreen by the shot glass to wearing a bicycle helmet while shopping. Onstage at TEDMED, he shares the surprising things he learned.

JD Schramm: Break the silence for suicide attempt survivors

Even when our lives appear fine from the outside, locked within can be a world of quiet suffering, leading some to the decision to end their life. At TEDYou, JD Schramm asks us to break the silence surrounding suicide and suicide attempts, and to create much-needed resources to help people who reclaim their life after escaping death. Resources: http://t.co/wsNrY9C

Michael Specter: The danger of science denial

Vaccine-autism claims, "Frankenfood" bans, the herbal cure craze: All point to the public's growing fear (and, often, outright denial) of science and reason, says Michael Specter. He warns the trend spells disaster for human progress.

Bruce Feiler: The council of dads

Diagnosed with cancer, Bruce Feiler worried first about his young family. So -- as he shares in this funny, rambling and ultimately thoughtful talk -- he asked his closest friends to become a "council of dads," bringing their own lifetimes of wisdom to advise his twin daughters as they grow.

Dan Barber: How I fell in love with a fish

Chef Dan Barber squares off with a dilemma facing many chefs today: how to keep fish on the menu. With impeccable research and deadpan humor, he chronicles his pursuit of a sustainable fish he could love, and the foodie's honeymoon he's enjoyed since discovering an outrageously delicious fish raised using a revolutionary farming method in Spain.