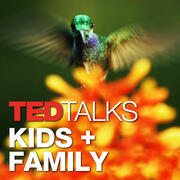 Jarrett Krosoczka: Why lunch ladies are heroes

Children's book author Jarrett Krosoczka shares the origins of the Lunch Lady graphic novel series, in which undercover school heroes serve lunch…and justice! His new project, School Lunch Hero Day, reveals how cafeteria lunch staff provide more than food, and illustrates how powerful a thank you can be.

David Kwong: Two nerdy obsessions meet -- and it's magic

David Kwong is a magician who makes crossword puzzles -- in other words, a pretty nerdy guy. And for his next trick ...

Billy Collins: Two poems about what dogs think (probably)

What must our dogs be thinking when they look at us? Poet Billy Collins imagines the inner lives of two very different companions. It's a charming short talk, perfect for taking a break and dreaming …

Marco Tempest: And for my next trick, a robot

Marco Tempest uses charming stagecraft to demo EDI, the multi-purpose robot designed to work very closely with humans. Less a magic trick than an intricately choreographed performance, Tempest shows off the robot's sensing technology, safety features and strength, and makes the case for a closer human-robot relationship. (Okay, there's a little magic, too.)

Jennifer Senior: For parents, happiness is a very high bar

The parenting section of the bookstore is overwhelming—it's "a giant, candy-colored monument to our collective panic," as writer Jennifer Senior puts it. Why is parenthood filled with so much anxiety? Because the goal of modern, middle-class parents—to raise happy children—is so elusive. In this honest talk, she offers some kinder and more achievable aims.

Louie Schwartzberg: Hidden miracles of the natural world

We live in a world of unseeable beauty, so subtle and delicate that it is imperceptible to the human eye. To bring this invisible world to light, filmmaker Louie Schwartzberg bends the boundaries of time and space with high-speed cameras, time lapses and microscopes. At TED2014, he shares highlights from his latest project, a 3D film titled "Mysteries of the Unseen World," which slows down, speeds up, and magnifies the astonishing wonders of nature.

Ziauddin Yousafzai: My daughter, Malala

Pakistani educator Ziauddin Yousafzai reminds the world of a simple truth that many don't want to hear: Women and men deserve equal opportunities for education, autonomy, an independent identity. He tells stories from his own life and the life of his daughter, Malala, who was shot by the Taliban in 2012 simply for daring to go to school. "Why is my daughter so strong?" Yousafzai asks. "Because I didn't clip her wings."

Chris Hadfield: What I learned from going blind in space

There's an astronaut saying: In space, "there is no problem so bad that you can't make it worse." So how do you deal with the complexity, the sheer pressure, of dealing with dangerous and scary situations? Retired colonel Chris Hadfield paints a vivid portrait of how to be prepared for the worst in space (and life) -- and it starts with walking into a spider's web. Watch for a special space-y performance.

Henry Lin: What we can learn from galaxies far, far away

In a fun, exciting talk, teenager Henry Lin looks at something unexpected in the sky: distant galaxy clusters. By studying the properties of the universe's largest pieces, says the Intel Science Fair award winner, we can learn quite a lot about scientific mysteries in our own world and galaxy.

Maya Penn: Meet a young entrepreneur, cartoonist, designer, activist …

Maya Penn started her first company when she was 8 years old, and thinks deeply about how to be responsible both to her customers and to the planet. She shares her story -- and some animations, and some designs, and some infectious energy -- in this charming talk.

Joe Kowan: How I beat stage fright

Humanity's fine-tuned sense of fear served us well as a young species, giving us laser focus to avoid being eaten by competing beasts. But it's less wonderful when that same visceral, body-hijacking sense of fear kicks in in front of 20 folk-music fans at a Tuesday night open-mic. Palms sweat, hands shake, vision blurs, and the brain says RUN: it's stage fright. In this charming, tuneful little talk, Joe Kowan talks about how he conquered it.

Eddy Cartaya: My glacier cave discoveries

Snow Dragon. Pure Imagination. Frozen Minotaur. These are the names Eddy Cartaya and his climbing partner Brent McGregor gave three glacier caves that they were the first to explore. As the Sandy Glacier slowly slides down Mount Hood in Oregon, the caves and tunnels inside it morph annually thanks to warm water from above and warm air from below. At TEDYouth, Cartaya takes us inside these magical spaces where the ice glows in bright blues and greens, and where artifacts rain from the ceiling.

Jane McGonigal: Massively multi-player… thumb-wrestling?

What happens when you get an entire audience to stand up and connect with one another? Chaos, that's what. At least, that's what happened when Jane McGonigal tried to teach TED to play her favorite game. Then again, when the game is "massively multiplayer thumb-wrestling," what else would you expect?

Apollo Robbins: The art of misdirection

Hailed as the greatest pickpocket in the world, Apollo Robbins studies the quirks of human behavior as he steals your watch. In a hilarious demonstration, Robbins samples the buffet of the TEDGlobal 2013 audience, showing how the flaws in our perception make it possible to swipe a wallet and leave it on its owner's shoulder while they remain clueless.

Tania Luna: How a penny made me feel like a millionaire

As a young child, Tania Luna left her home in post-Chernobyl Ukraine to take asylum in the US. And one day, on the floor of the New York homeless shelter where she and her family lived, she found a penny. She has never again felt so rich. A meditation on the bittersweet joys of childhood -- and how to hold them in mind.

Jack Andraka: A promising test for pancreatic cancer ... from a teenager

Over 85 percent of all pancreatic cancers are diagnosed late, when someone has less than two percent chance of survival. How could this be? Jack Andraka talks about how he developed a promising early detection test for pancreatic cancer that's super cheap, effective and non-invasive -- all before his 16th birthday.

Jay Silver: Hack a banana, make a keyboard!

Why can't two slices of pizza be used as a slide clicker? Why shouldn't you make music with ketchup? In this charming talk, inventor Jay Silver talks about the urge to play with the world around you. He shares some of his messiest inventions, and demos MaKey MaKey, a kit for hacking everyday objects.

Raghava KK: Shake up your story

Artist Raghava KK demos his new children's book for iPad with a fun feature: when you shake it, the story -- and your perspective -- changes. In this charming short talk, he invites all of us to shake up our perspective a little bit.

Taylor Wilson: My radical plan for small nuclear fission reactors

Taylor Wilson was 14 when he built a nuclear fusion reactor in his parents' garage. Now 19, he returns to the TED stage to present a new take on an old topic: fission. Wilson, who has won backing to create a company to realize his vision, explains why he's so excited about his innovative design for small modular fission reactors -- and why it could be the next big step in solving the global energy crisis.

Sanjay Dastoor: A skateboard, with a boost

Imagine an electric vehicle that can get you to work -- or anywhere in a six-mile radius -- quickly, without traffic frustrations or gasoline. Now imagine you can pick it up and carry it with you. Yes, this souped-up skateboard could change the face of morning commutes.

Rachel Sussman: The world's oldest living things

Rachel Sussman shows photographs of the world's oldest continuously living organisms -- from 2,000-year-old brain coral off Tobago's coast to an "underground forest" in South Africa that has lived since before the dawn of agriculture.

Jay Silver: Hack a banana, make a keyboard!

Why can't two slices of pizza be used as a slide clicker? Why shouldn't you make music with ketchup? In this charming talk, inventor Jay Silver talks about the urge to play with the world around you. He shares some of his messiest inventions, and demos MaKey MaKey, a kit for hacking everyday objects.

Keller Rinaudo: A mini robot -- powered by your phone

Your smartphone may feel like a friend -- but a true friend would give you a smile once in a while. At TED2013, Keller Rinaudo demos Romo, the smartphone-powered mini robot who can motor along with you on a walk, slide you a cup of coffee across the table, and react to you with programmable expressions.

Taylor Wilson: My radical plan for small nuclear fission reactors

Taylor Wilson was 14 when he built a nuclear fusion reactor in his parents' garage. Now 19, he returns to the TED stage to present a new take on an old topic: fission. Wilson, who has won backing to create a company to realize his vision, explains why he's so excited about his innovative design for small modular fission reactors -- and why it could be the next big step in solving the global energy crisis.

Richard Turere: My invention that made peace with lions

In the Masai community where 13-year-old Richard Turere lives, cattle are all-important. But lion attacks were growing more frequent. In this short, inspiring talk, the young inventor shares the solar-powered solution he designed to safely scare the lions away.

Shane Koyczan: "To This Day" ... for the bullied and beautiful

By turn hilarious and haunting, poet Shane Koyczan puts his finger on the pulse of what it's like to be young and … different. "To This Day," his spoken-word poem about bullying, captivated millions as a viral video (created, crowd-source style, by 80 animators). Here, he gives a glorious, live reprise with backstory and violin accompaniment by Hannah Epperson.

Thomas Suarez: A 12-year-old app developer

Most 12-year-olds love playing videogames -- Thomas Suarez taught himself how to create them. After developing iPhone apps like "Bustin Jeiber," a whack-a-mole game, he is now using his skills to help other kids become developers. (Filmed at TEDxManhattanBeach.)

Bruce Feiler: Agile programming -- for your family

Bruce Feiler has a radical idea: To deal with the stress of modern family life, go agile. Inspired by agile software programming, Feiler introduces family practices which encourage flexibility, bottom-up idea flow, constant feedback and accountability. One surprising feature: Kids pick their own punishments.

Marcus Byrne: The dance of the dung beetle

A dung beetle has a brain the size of a grain of rice, and yet shows a tremendous amount of intelligence when it comes to rolling its food source -- animal excrement -- home. How? It all comes down to a dance. (Filmed at TEDxWitsUniversity.)

Angela Patton: A father-daughter dance ... in prison

At Camp Diva, Angela Patton works to help girls and fathers stay connected and in each others' lives. But what about girls whose fathers can't be there -- because they're in jail? Patton tells the story of a very special father-daughter dance. (Filmed at TEDxWomen)

Tavi Gevinson: A teen just trying to figure it out

Fifteen-year-old Tavi Gevinson had a hard time finding strong female, teenage role models -- so she built a space where they could find each other. At TEDxTeen, she illustrates how the conversations on sites like Rookie, her wildly popular web magazine for and by teen girls, are putting a new, unapologetically uncertain and richly complex face on modern feminism. (Filmed at TEDxTeen.)

Steven Addis: A father-daughter bond, one photo at a time

A long time ago in New York City, Steve Addis stood on a corner holding his 1-year-old daughter in his arms; his wife snapped a photo. The image has inspired an annual father-daughter ritual, where Addis and his daughter pose for the same picture, on the same corner, each year. Addis shares 15 treasured photographs from the series, and explores why this small, repeated ritual means so much.

Lemn Sissay: A child of the state

Literature has long been fascinated with fostered, adopted and orphaned children, from Moses to Cinderella to Oliver Twist to Harry Potter. So why do many parentless children feel compelled to hide their pasts? Poet and playwright Lemn Sissay tells his own moving story. (Filmed at TEDxHousesofParliament.)

Jane Goodall: What separates us from chimpanzees?

Jane Goodall hasn't found the missing link, but she's come closer than nearly anyone else. The primatologist says the only real difference between humans and chimps is our sophisticated language. She urges us to start using it to change the world.

Arvind Gupta: Turning trash into toys for learning

At the INK Conference, Arvind Gupta shares simple yet stunning plans for turning trash into seriously entertaining, well-designed toys that kids can build themselves -- while learning basic principles of science and design.

Christopher McDougall: Are we born to run?

Christopher McDougall explores the mysteries of the human desire to run. How did running help early humans survive -- and what urges from our ancient ancestors spur us on today? McDougall tells the story of the marathoner with a heart of gold, the unlikely ultra-runner, and the hidden tribe in Mexico that runs to live. (Filmed at TEDxPennQuarter.)

Richard St. John's 8 secrets of success

Why do people succeed? Is it because they're smart? Or are they just lucky? Neither. Analyst Richard St. John condenses years of interviews into an unmissable 3-minute slideshow on the real secrets of success.

E.O. Wilson: Advice to young scientists

"The world needs you, badly," begins celebrated biologist E.O. Wilson in his letter to a young scientist. Previewing his upcoming book, he gives advice collected from a lifetime of experience -- reminding us that wonder and creativity are the center of the scientific life. (Filmed at TEDMED.)

Robert Ballard on exploring the oceans

Ocean explorer Robert Ballard takes us on a mindbending trip to hidden worlds underwater, where he and other researchers are finding unexpected life, resources, even new mountains. He makes a case for serious exploration and mapping. Google Ocean, anyone?

Ben Saunders skis to the North Pole

Arctic explorer Ben Saunders recounts his harrowing solo ski trek to the North Pole, complete with engaging anecdotes, gorgeous photos and never-before-seen video.

Liza Donnelly: Drawing on humor for change

New Yorker cartoonist Liza Donnelly shares a portfolio of her wise and funny cartoons about modern life -- and talks about how humor can empower women to change the rules.

Caroline Phillips: Hurdy-gurdy for beginners

Caroline Phillips cranks out tunes on a seldom-heard folk instrument: the hurdy-gurdy, a.k.a. the wheel fiddle. A searching, Basque melody follows her fun lesson on its unique anatomy and 1,000-year history.

Robert Full: Learning from the gecko's tail

Biologist Robert Full studies the amazing gecko, with its supersticky feet and tenacious climbing skill. But high-speed footage reveals that the gecko's tail harbors perhaps the most surprising talents of all.

Marco Tempest: Augmented reality, techno-magic

Using sleight-of-hand techniques and charming storytelling, illusionist Marco Tempest brings a jaunty stick figure to life onstage at TEDGlobal.

Munir Virani: Why I love vultures

As natural garbage collectors, vultures are vital to our ecosystem -- so why all the bad press? Why are so many in danger of extinction? Raptor biologist Munir Virani says we need to pay more attention to these unique and misunderstood creatures, to change our perception and save the vultures.

Birke Baehr: What's wrong with our food system

11-year-old Birke Baehr presents his take on a major source of our food -- far-away and less-than-picturesque industrial farms. Keeping farms out of sight promotes a rosy, unreal picture of big-box agriculture, he argues, as he outlines the case to green and localize food production. (Filmed at TEDxNextGenerationAshevillen.)

Ze Frank's nerdcore comedy

Performer and web toymaker Ze Frank delivers a hilarious nerdcore standup routine, then tells us what he's seriously passionate about: helping people create and interact using simple, addictive web tools.

Sarah-Jayne Blakemore: The mysterious workings of the adolescent brain

Why do teenagers seem so much more impulsive, so much less self-aware than grown-ups? Cognitive neuroscientist Sarah-Jayne Blakemore compares the prefrontal cortex in adolescents to that of adults, to show us how typically "teenage" behavior is caused by the growing and developing brain.

Scott Kim takes apart the art of puzzles

At the 2008 EG conference, famed puzzle designer Scott Kim takes us inside the puzzle-maker's frame of mind. Sampling his career's work, he introduces a few of the most popular types, and shares the fascinations that inspired some of his best.

Jim Toomey: Learning from Sherman the shark

Cartoonist Jim Toomey created the comic strip Sherman's Lagoon, a wry look at underwater life starring Sherman the talking shark. As he sketches some of his favorite sea creatures live onstage, Toomey shares his love of the ocean and the stories it can tell.

Terry Moore: How to tie your shoes

Terry Moore found out he'd been tying his shoes the wrong way his whole life. In the spirit of TED, he takes the stage to share a better way. (Historical note: This was the very first 3-minute audience talk given from the TED stage, in 2005.)

Edith Widder: Glowing life in an underwater world

Some 80 to 90 percent of undersea creatures make light -- and we know very little about how or why. Bioluminescence expert Edith Widder explores this glowing, sparkling, luminous world, sharing glorious images and insight into the unseen depths (and brights) of the ocean.

Adora Svitak: What adults can learn from kids

Child prodigy Adora Svitak says the world needs "childish" thinking: bold ideas, wild creativity and especially optimism. Kids' big dreams deserve high expectations, she says, starting with grownups' willingness to learn from children as much as to teach.

Steven Levitt on child carseats

Steven Levitt shares data that shows car seats are no more effective than seatbelts in protecting kids from dying in cars. However, during the question and answer session, he makes one crucial caveat.

Ben Saunders: Why bother leaving the house?

Explorer Ben Saunders wants you to go outside! Not because it's always pleasant and happy, but because that's where the meat of life is, "the juice that we can suck out of our hours and days." Saunders' next outdoor excursion? To try to be the first in the world to walk from the coast of Antarctica to the South Pole and back again.

Lewis Pugh's mind-shifting Everest swim

After he swam the North Pole, Lewis Pugh vowed never to take another cold-water dip. Then he heard of Lake Imja in the Himalayas, created by recent glacial melting, and Lake Pumori, a body of water at an altitude of 5300 m on Everest -- and so began a journey that would teach him a radical new way to approach swimming and think about climate change.

Beau Lotto + Amy O'Toole: Science is for everyone, kids included

What do science and play have in common? Neuroscientist Beau Lotto thinks all people (kids included) should participate in science and, through the process of discovery, change perceptions. He's seconded by 12-year-old Amy O'Toole, who, along with 25 of her classmates, published the first peer-reviewed article by schoolchildren, about the Blackawton bees project. It starts: "Once upon a time ... "

Carolyn Porco: This is Saturn

Planetary scientist Carolyn Porco shows images from the Cassini voyage to Saturn, focusing on its largest moon, Titan, and on frozen Enceladus, which seems to shoot jets of ice.

Jon Nguyen: Tour the solar system from home

Want to navigate the solar system without having to buy that expensive spacecraft? Jon Nguyen demos NASAJPL's "Eyes on the Solar System" -- free-to-use software for exploring the planets, moons, asteroids, and spacecraft that rotate around our sun in real-time. (Filmed at TEDxSanDiego.)

Tierney Thys swims with the giant sunfish

Marine biologist Tierney Thys asks us to step into the water to visit the world of the Mola mola, or giant ocean sunfish. Basking, eating jellyfish and getting massages, this behemoth offers clues to life in the open sea.

Louie Schwartzberg: The hidden beauty of pollination

Pollination: it's vital to life on Earth, but largely unseen by the human eye. Filmmaker Louie Schwartzberg shows us the intricate world of pollen and pollinators with gorgeous high-speed images from his film "Wings of Life," inspired by the vanishing of one of nature's primary pollinators, the honeybee.

Sheila Patek clocks the fastest animals

Biologist Sheila Patek talks about her work measuring the feeding strike of the mantis shrimp, one of the fastest movements in the animal world, using video cameras recording at 20,000 frames per second.

Taylor Wilson: Yup, I built a nuclear fusion reactor

Taylor Wilson believes nuclear fusion is a solution to our future energy needs, and that kids can change the world. And he knows something about both of those: When he was 14, he built a working fusion reactor in his parents' garage. Now 17, he takes the TED stage at short notice to tell (the short version of) his story.

Karen Bass: Unseen footage, untamed nature

At TED2012, filmmaker Karen Bass shares some of the astonishing nature footage she's shot for the BBC and National Geographic -- including brand-new, previously unseen footage of the tube-lipped nectar bat, who feeds in a rather unusual way …

Hannah Brencher: Love letters to strangers

Hannah Brencher's mother always wrote her letters. So when she felt herself bottom into depression after college, she did what felt natural -- she wrote love letters and left them for strangers to find. The act has become a global initiative, The World Needs More Love Letters, which rushes handwritten letters to those in need of a boost.

Deborah Gordon: The emergent genius of ant colonies

With a dusty backhoe, a handful of Japanese paint markers and a few students in tow, Deborah Gordon digs up ant colonies in the Arizona desert to understand their complex social system.