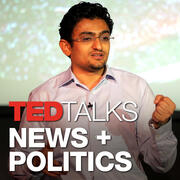 TED Talks - News and Politics
Meera Vijayann: Find your voice against gender violence

This talk begins with a personal story of sexual violence that may be difficult to listen to. But that's the point, says citizen journalist Meera Vijayann: Speaking out on tough, taboo topics is the spark for change. Vijayann uses digital media to speak honestly about her experience of gender violence in her home country of India -- and calls on others to speak out too.

Eric Liu: Why ordinary people need to understand power

Far too many Americans are illiterate in power — what it is, how it operates and why some people have it. As a result, those few who do understand power wield disproportionate influence over everyone else. "We need to make civics sexy again," says civics educator Eric Liu. "As sexy as it was during the American Revolution or the Civil Rights Movement."

Nick Hanauer: Beware, fellow plutocrats, the pitchforks are coming

Nick Hanauer is a rich guy, an unrepentant capitalist — and he has something to say to his fellow plutocrats: Wake up! Growing inequality is about to push our societies into conditions resembling pre-revolutionary France. Hear his argument about why a dramatic increase in minimum wage could grow the middle class, deliver economic prosperity ... and prevent a revolution.

Karima Bennoune: When people of Muslim heritage challenge fundamentalism

Karima Bennoune shares four powerful stories of real people fighting against fundamentalism in their own communities — refusing to allow the faith they love to become a tool for crime, attacks and murder. These personal stories humanize one of the most overlooked human-rights struggles in the world.

George Takei: Why I love a country that once betrayed me

When he was a child, George Takei and his family were forced into an internment camp for Japanese-Americans, as a "security" measure during World War II. 70 years later, Takei looks back at how the camp shaped his surprising, personal definition of patriotism and democracy.

Paul Bloom: Can prejudice ever be a good thing?

We often think of bias and prejudice as rooted in ignorance. But as psychologist Paul Bloom seeks to show, prejudice is often natural, rational ... even moral. The key, says Bloom, is to understand how our own biases work -- so we can take control when they go wrong.

Will Potter: The shocking move to criminalize nonviolent protest

In 2002, investigative journalist and TED Fellow Will Potter took a break from his regular beat, writing about shootings and murders for the Chicago Tribune. He went to help a local group campaigning against animal testing: "I thought it would be a safe way to do something positive," he says. Instead, he was arrested, and so began his ongoing journey into a world in which peaceful protest is branded as terrorism.

Yoruba Richen: What the gay rights movement learned from the civil rights movement

As a member of both the African American and LGBT communities, filmmaker Yoruba Richen is fascinated with the overlaps and tensions between the gay rights and the civil rights movements. She explores how the two struggles intertwine and propel each other forward — and, in an unmissable argument, she dispels a myth about their points of conflict. A powerful reminder that we all have a stake in equality.

Sebastian Junger: Why veterans miss war

Civilians don't miss war. But soldiers often do. Journalist Sebastian Junger shares his experience embedded with American soldiers at Restrepo, an outpost in Afghanistan's Korengal Valley that saw heavy combat. Giving a look at the "altered state of mind" that comes with war, he shows how combat gives soldiers an intense experience of connection. In the end, could it actually be "the opposite of war" that soldiers miss?

Wes Moore: How to talk to veterans about the war

Wes Moore joined the US Army to pay for college, but the experience became core to who he is. In this heartfelt talk, the paratrooper and captain—who went on to write "The Other Wes Moore"—explains the shock of returning home from Afghanistan. He shares the single phrase he heard from civilians on repeat, and shows why it's just not sufficient. It's a call for all of us to ask veterans to tell their stories — and listen.

Lawrence Lessig: The unstoppable walk to political reform

Seven years ago, Internet activist Aaron Swartz convinced Lawrence Lessig to take up the fight for political reform. A year after Swartz's tragic death, Lessig continues his campaign to free US politics from the stranglehold of corruption. In this fiery, deeply personal talk, he calls for all citizens to engage, and offers a heartfelt reminder to never give up hope.

Richard Ledgett: The NSA responds to Edward Snowden's TED Talk

After a surprise appearance by Edward Snowden at TED2014, Chris Anderson said: "If the NSA wants to respond, please do." And yes, they did. Appearing by video, NSA deputy director Richard Ledgett answers Anderson's questions about the balance between security and protecting privacy.

Christopher Soghoian: Government surveillance — this is just the beginning

Privacy researcher Christopher Soghoian sees the landscape of government surveillance shifting beneath our feet, as an industry grows to support monitoring programs. Through private companies, he says, governments are buying technology with the capacity to break into computers, steal documents and monitor activity — without detection. This TED Fellow gives an unsettling look at what's to come.

Michael Metcalfe: We need money for aid. So let's print it.

During the financial crisis, the central banks of the United States, United Kingdom and Japan created $3.7 trillion in order to buy assets and encourage investors to do the same. Michael Metcalfe offers a shocking idea: could these same central banks print money to ensure they stay on track with their goals for global aid? Without risking inflation?

Catherine Bracy: Why good hackers make good citizens

Hacking is about more than mischief-making or political subversion. As Catherine Bracy describes in this spirited talk, it can be just as much a force for good as it is for evil. She spins through some inspiring civically-minded projects in Honolulu, Oakland and Mexico City — and makes a compelling case that we all have what it takes to get involved.

David Puttnam: Does the media have a "duty of care"?

In this thoughtful talk, David Puttnam asks a big question about the media: Does it have a moral imperative to create informed citizens, to support democracy? His solution for ensuring media responsibility is bold, and you might not agree. But it's certainly a question worth asking ... (Filmed at TEDxHousesofParliament.)

Anne Milgram: Why smart statistics are the key to fighting crime

When she became the attorney general of New Jersey in 2007, Anne Milgram quickly discovered a few startling facts: not only did her team not really know who they were putting in jail, but they had no way of understanding if their decisions were actually making the public safer. And so began her ongoing, inspirational quest to bring data analytics and statistical analysis to the US criminal justice system.

Boyd Varty: What I learned from Nelson Mandela

"In the cathedral of the wild, we get to see the best parts of ourselves reflected back to us." Boyd Varty, a wildlife activist, shares stories of animals, humans and their interrelatedness, or "ubuntu" -- defined as, "I am, because of you." And he dedicates the talk to South African leader Nelson Mandela, the human embodiment of that same great-hearted, generous spirit.

Mikko Hypponen: How the NSA betrayed the world's trust -- time to act

Recent events have highlighted, underlined and bolded the fact that the United States is performing blanket surveillance on any foreigner whose data passes through an American entity -- whether they are suspected of wrongdoing or not. This means that, essentially, every international user of the internet is being watched, says Mikko Hypponen. An important rant, wrapped with a plea: to find alternative solutions to using American companies for the world's information needs.

Rodrigo Canales: The deadly genius of drug cartels

Up to 100,000 people died in drug-related violence in Mexico in the last 6 years. We might think this has nothing to do with us, but in fact we are all complicit, says Yale professor Rodrigo Canales in this unflinching talk that turns conventional wisdom about drug cartels on its head. The carnage is not about faceless, ignorant goons mindlessly killing each other but is rather the result of some seriously sophisticated brand management.

Mariana Mazzucato: Government -- investor, risk-taker, innovator

Why doesn't the government just get out of the way and let the private sector -- the "real revolutionaries" -- innovate? It's rhetoric you hear everywhere, and Mariana Mazzucato wants to dispel it. In an energetic talk, she shows how the state -- which many see as a slow, hunkering behemoth -- is really one of our most exciting risk-takers and market-shapers.

Trita Parsi: Iran and Israel: Peace is possible

Iran and Israel: two nations with tense relations that seem existentially at odds. But for all their antagonistic rhetoric, there is a recent hidden history of collaboration, even friendship. In an informative talk, Trita Parsi shows how an unlikely strategic alliance in the past could mean peace in the future for these two feuding countries.

Benjamin Barber: Why mayors should rule the world

It often seems like federal-level politicians care more about creating gridlock than solving the world's problems. So who's actually getting bold things done? City mayors. So, political theorist Benjamin Barber suggests: Let's give them more control over global policy. Barber shows how these "urban homeboys" are solving pressing problems on their own turf -- and maybe in the world.

Charmian Gooch: Meet global corruption's hidden players

When the son of the president of a desperately poor country starts buying mansions and sportscars on an official monthly salary of $7,000, Charmian Gooch suggests, corruption is probably somewhere in the picture. In a blistering, eye-opening talk (and through several specific examples), she details how global corruption trackers follow the money -- to some surprisingly familiar faces.

Ivan Krastev: Can democracy exist without trust?

Five great revolutions have shaped political culture over the past 50 years, says theorist Ivan Krastev. He shows how each step forward -- from the cultural revolution of the '60s to recent revelations in the field of neuroscience -- has also helped erode trust in the tools of democracy. As he says, "What went right is also what went wrong." Can democracy survive?

Anas Aremeyaw Anas: How I named, shamed and jailed

Journalist Anas Aremeyaw Anas has broken dozens of stories of corruption and organized crime all over Ghana -- without ever revealing his identity. In this talk (in which his face remains hidden) Anas shows grisly footage from some of his investigations and demonstrates the importance of facing injustice.

Joseph Kim: The family I lost in North Korea. And the family I gained.

A refugee now living in the US, Joseph Kim tells the story of his life in North Korea during the famine years. He's begun to create a new life -- but he still searches for the family he lost.

Lisa Kristine: Photos that bear witness to modern slavery

For the past two years, photographer Lisa Kristine has traveled the world, documenting the unbearably harsh realities of modern-day slavery. She shares hauntingly beautiful images -- miners in the Congo, brick layers in Nepal -- illuminating the plight of the 27 million souls enslaved worldwide. (Filmed at TEDxMaui)

James Stavridis: A Navy Admiral's thoughts on global security

Imagine global security driven by collaboration -- among agencies, government, the private sector and the public. That's not just the distant hope of open-source fans, it's the vision of James Stavridis, a highly accomplished Navy Admiral. Stavridis shares vivid moments from recent military history to explain why security of the future should be built with bridges rather than walls.

Jennifer Granholm: A clean energy proposal -- race to the top!

Kicking off the TED2013 conference, Jennifer Granholm asks a very American question with worldwide implications: How do we make more jobs? Her big idea: Invest in new alternative energy sources. And her big challenge: Can it be done with or without our broken Congress?

Hyeonseo Lee: My escape from North Korea

As a child growing up in North Korea, Hyeonseo Lee thought her country was "the best on the planet." It wasn't until the famine of the 90s that she began to wonder. She escaped the country at 14, to begin a life in hiding, as a refugee in China. Hers is a harrowing, personal tale of survival and hope -- and a powerful reminder of those who face constant danger, even when the border is far behind.

Clay Shirky: How the Internet will (one day) transform government

The open-source world has learned to deal with a flood of new, oftentimes divergent, ideas using hosting services like GitHub -- so why can't governments? In this rousing talk Clay Shirky shows how democracies can take a lesson from the Internet, to be not just transparent but also to draw on the knowledge of all their citizens.

Zainab Salbi: Women, wartime and the dream of peace

In war we often see only the frontline stories of soldiers and combat. AT TEDGlobal 2010, Zainab Salbi tells powerful "backline" stories of women who keep everyday life going during conflicts, and calls for women to have a place at the negotiating table once fighting is over.

Parag Khanna maps the future of countries

Many people think the lines on the map no longer matter, but Parag Khanna says they do. Using maps of the past and present, he explains the root causes of border conflicts worldwide and proposes simple yet cunning solutions for each.

Adam Davidson: What we learned from teetering on the fiscal cliff

At the end of 2012, the US political system was headed for the "fiscal cliff" -- a budget impasse that could only be solved with bipartisan agreement. Adam Davidson, cohost of "Planet Money," shares surprising data on how bipartisan we truly are -- and hints at the disconnect between representatives and the people they represent.

Zahra' Langhi: Why Libya's revolution didn't work -- and what might

In Libya, Zahra' Langhi was part of the "days of rage" movement that helped topple the dictator Qaddafi. But -- then what? In their first elections, Libyans tried an innovative slate of candidates, the "zipper ballot," that ensured equal representation from men and women of both sides. Yet the same gridlocked politics of dominance and exclusion won out. What Libya needs now, Langhi suggests, is collaboration, not competition; compassion, not rage.

Wael Ghonim: Inside the Egyptian revolution

Wael Ghonim is the Google executive who helped jumpstart Egypt's democratic revolution ... with a Facebook page memorializing a victim of the regime's violence. Speaking at TEDxCairo, he tells the inside story of the past two months, when everyday Egyptians showed that "the power of the people is stronger than the people in power."

Martin Jacques: Understanding the rise of China

Speaking at a TED Salon in London, economist Martin Jacques asks: How do we in the West make sense of China and its phenomenal rise? The author of "When China Rules the World," he examines why the West often puzzles over the growing power of the Chinese economy, and offers three building blocks for understanding what China is and will become.

Joseph Nye on global power shifts

Historian and diplomat Joseph Nye gives us the 30,000-foot view of the shifts in power between China and the US, and the global implications as economic, political and "soft" power shifts and moves around the globe.

9/11 healing: The mothers who found forgiveness, friendship

Phyllis Rodriguez and Aicha el-Wafi have a powerful friendship born of unthinkable loss. Rodriguez' son was killed in the World Trade Center attacks on September 11, 2001; el-Wafi's son Zacarias Moussaoui was convicted of a role in those attacks and is serving a life sentence. In hoping to find peace, these two moms have come to understand and respect one another.

Van Jones: The economic injustice of plastic

Van Jones lays out a case against plastic pollution from the perspective of social justice. Because plastic trash, he shows us, hits poor people and poor countries "first and worst," with consequences we all share no matter where we live and what we earn. In this powerful talk, he offers a few powerful ideas to help us reclaim our throwaway planet. (Filmed at TEDxGPGP.)

Yang Lan: The generation that's remaking China

Yang Lan, a journalist and entrepreneur who's been called "the Oprah of China," offers insight into the next generation of young Chinese citizens -- urban, connected (via microblogs) and alert to injustice.

Geoff Mulgan: Post-crash, investing in a better world

As we reboot the world's economy, Geoff Mulgan poses a question: Instead of sending bailout money to doomed old industries, why not use stimulus funds to bootstrap some new, socially responsible companies -- and make the world a little bit better?

Omar Ahmad: Political change with pen and paper

Politicians are strange creatures, says politician Omar Ahmad. And the best way to engage them on your pet issue is a monthly handwritten letter. Ahmad shows why old-fashioned correspondence is more effective than email, phone or even writing a check -- and shares the four simple steps to writing a letter that works.

Steve Keil: A manifesto for play, for Bulgaria and beyond

Steve Keil fights the "serious meme" that has infected his home of Bulgaria -- and calls for a return to play to revitalize the economy, education and society. A sparkling talk with a universal message for people everywhere who are reinventing their workplaces, schools, lives. (Filmed at TEDxBG.)

Jacqueline Novogratz: A third way to think about aid

The debate over foreign aid often pits those who mistrust "charity" against those who mistrust reliance on the markets. Jacqueline Novogratz proposes a middle way she calls patient capital, with promising examples of entrepreneurial innovation driving social change.

Naif Al-Mutawa: Superheroes inspired by Islam

In "THE 99," Naif Al-Mutawa's new generation of comic book heroes fight more than crime -- they smash stereotypes and battle extremism. Named after the 99 attributes of Allah, his characters reinforce positive messages of Islam and cross cultures to create a new moral framework for confronting evil, even teaming up with the Justice League of America.

Jennifer Pahlka: Coding a better government

Can government be run like the Internet, permissionless and open? Coder and activist Jennifer Pahlka believes it can -- and that apps, built quickly and cheaply, are a powerful new way to connect citizens to their governments -- and their neighbors.

Paul Gilding: The Earth is full

Have we used up all our resources? Have we filled up all the livable space on Earth? Paul Gilding suggests we have, and the possibility of devastating consequences, in a talk that's equal parts terrifying and, oddly, hopeful.

Leslie T. Chang: The voices of China's workers

In the ongoing debate about globalization, what's been missing is the voices of workers -- the millions of people who migrate to factories in China and other emerging countries to make goods sold all over the world. Reporter Leslie T. Chang sought out women who work in one of China's booming megacities, and tells their stories.

T. Boone Pickens: Let's transform energy -- with natural gas

The US consumes 25% of the world's oil -- but as energy tycoon T. Boone Pickens points out onstage, the country has no energy policy to prepare for the inevitable. Is alternative energy our bridge to an oil-free future? After losing $150 million investing in wind energy, Pickens suggests it isn't, not yet. What might get us there? Natural gas. After the talk, watch for a lively Q&A with TED Curator Chris Anderson.

Jamie Drummond: Let's crowdsource the world's goals

In 2000, the UN laid out 8 goals to make the world better by reducing poverty and disease -- with a deadline of 2015. As that deadline approaches, Jamie Drummond of ONE.org runs down the surprising successes of the 8 Millennium Development Goals, and suggests a crowdsourced reboot for the next 15 years.

Richard Wilkinson: How economic inequality harms societies

We feel instinctively that societies with huge income gaps are somehow going wrong. Richard Wilkinson charts the hard data on economic inequality, and shows what gets worse when rich and poor are too far apart: real effects on health, lifespan, even such basic values as trust.

Nadia Al-Sakkaf: See Yemen through my eyes

As political turmoil in Yemen continues, the editor of the Yemen Times, Nadia Al-Sakkaf, talks at TEDGlobal with host Pat Mitchell. Al-Sakkaf's independent, English-language paper is vital for sharing news -- and for sharing a new vision of Yemen and of that country's women as equal partners in work and change.

Beth Noveck: Demand a more open-source government

What can governments learn from the open-data revolution? In this stirring talk, Beth Noveck, the former deputy CTO at the White House, shares a vision of practical openness -- connecting bureaucracies to citizens, sharing data, creating a truly participatory democracy. Imagine the "writable society" ...

Israel and Iran: A love story?

When war between Israel and Iran seemed imminent, Israeli graphic designer Ronny Edry shared a poster on Facebook of himself and his daughter with a bold message: "Iranians ... we [heart] you." Other Israelis quickly created their own posters with the same message -- and Iranians responded in kind. The simple act of communication inspired surprising Facebook communities like "Israel loves Iran," "Iran loves Israel" and even "Palestine loves Israel."

Bahia Shehab: A thousand times no

Art historian Bahia Shehab has long been fascinated with the Arabic script for 'no.' When revolution swept through Egypt in 2011, she began spraying the image in the streets saying no to dictators, no to military rule and no to violence.

John Hunter: Teaching with the World Peace Game

John Hunter puts all the problems of the world on a 4'x5' plywood board -- and lets his 4th-graders solve them. At TED2011, he explains how his World Peace Game engages schoolkids, and why the complex lessons it teaches -- spontaneous, and always surprising -- go further than classroom lectures can.

Chimamanda Adichie: The danger of a single story

Our lives, our cultures, are composed of many overlapping stories. Novelist Chimamanda Adichie tells the story of how she found her authentic cultural voice -- and warns that if we hear only a single story about another person or country, we risk a critical misunderstanding.

Dave Meslin: The antidote to apathy

Local politics -- schools, zoning, council elections -- hit us where we live. So why don't more of us actually get involved? Is it apathy? Dave Meslin says no. He identifies 7 barriers that keep us from taking part in our communities, even when we truly care. (Filmed at TEDxToronto.)

Madeleine Albright: On being a woman and a diplomat

Former US Secretary of State Madeleine Albright talks bluntly about politics and diplomacy, making the case that women's issues deserve a place at the center of foreign policy. Far from being a "soft" issue, she says, women's issues are often the very hardest ones, dealing directly with life and death. A frank and funny Q&A with Pat Mitchell from the Paley Center.

Hans Rosling: Asia's rise -- how and when

Hans Rosling was a young guest student in India when he first realized that Asia had all the capacities to reclaim its place as the world's dominant economic force. At TEDIndia, he graphs global economic growth since 1858 and predicts the exact date that India and China will outstrip the US.

Ralph Langner: Cracking Stuxnet, a 21st-century cyber weapon

When first discovered in 2010, the Stuxnet computer worm posed a baffling puzzle. Beyond its sophistication loomed a more troubling mystery: its purpose. Ralph Langner and team helped crack the code that revealed this digital warhead's final target. In a fascinating look inside cyber-forensics, he explains how -- and makes a bold (and, it turns out, correct) guess at its shocking origins.

Shashi Tharoor: Why nations should pursue "soft" power

India is fast becoming a superpower, says Shashi Tharoor -- not just through trade and politics, but through "soft" power, its ability to share its culture with the world through food, music, technology, Bollywood. He argues that in the long run it's not the size of the army that matters as much as a country's ability to influence the world's hearts and minds.

Naomi Klein: Addicted to risk

Days before this talk, journalist Naomi Klein was on a boat in the Gulf of Mexico, looking at the catastrophic results of BP's risky pursuit of oil. Our societies have become addicted to extreme risk in finding new energy, new financial instruments and more ... and too often, we're left to clean up a mess afterward. Klein's question: What's the backup plan?

Doris Kearns Goodwin on learning from past presidents

Historian Doris Kearns Goodwin talks about what we can learn from American presidents, including Abraham Lincoln and Lyndon Johnson. Then she shares a moving memory of her own father, and of their shared love of baseball.

Dalia Mogahed: The attitudes that sparked Arab Spring

Pollster Dalia Mogahed shares surprising data on Egyptian people's attitudes and hopes before the Arab Spring -- with a special focus on the role of women in sparking change.

Stephen Coleman: The moral dangers of non-lethal weapons

Pepper spray and tasers are in increasing use by both police and military, and more exotic non-lethal weapons such as heat rays are in the works. In this talk, ethicist Stephen Coleman explores the unexpected consequences of their introduction and asks some challenging questions. (Filmed at TEDxCanberra.)

Bruce Schneier: The security mirage

The feeling of security and the reality of security don't always match, says computer-security expert Bruce Schneier. In his talk, he explains why we spend billions addressing news story risks, like the "security theater" now playing at your local airport, while neglecting more probable risks -- and how we can break this pattern. (Filmed at TEDxPSU.)

James Hansen: Why I must speak out about climate change

Top climate scientist James Hansen tells the story of his involvement in the science of and debate over global climate change. In doing so he outlines the overwhelming evidence that change is happening and why that makes him deeply worried about the future.

Karen Tse: How to stop torture

Political prisoners aren't the only ones being tortured -- the vast majority of judicial torture happens in ordinary cases, even in 'functioning' legal systems. Social activist Karen Tse shows how we can, and should, stand up and end the use of routine torture.

Josette Sheeran: Ending hunger now

Josette Sheeran, the head of the UN's World Food Program, talks about why, in a world with enough food for everyone, people still go hungry, still die of starvation, still use food as a weapon of war. Her vision: "Food is one issue that cannot be solved person by person. We have to stand together."

Michael Sandel: The lost art of democratic debate

Democracy thrives on civil debate, Michael Sandel says -- but we're shamefully out of practice. He leads a fun refresher, with TEDsters sparring over a recent Supreme Court case (PGA Tour, Inc. v. Martin) whose outcome reveals the critical ingredient in justice.

Rory Stewart: Time to end the war in Afghanistan

British MP Rory Stewart walked across Afghanistan after 9/11, talking with citizens and warlords alike. Now, a decade later, he asks: Why are Western and coalition forces still fighting there? He shares lessons from past military interventions that worked -- Bosnia, for instance -- and shows that humility and local expertise are the keys to success.

Maajid Nawaz: A global culture to fight extremism

Why do transnational extremist organizations succeed where democratic movements have a harder time taking hold? Maajid Nawaz, a former Islamist extremist, asks for new grassroots stories and global social activism to spread democracy in the face of nationalism and xenophobia. A powerful talk from TEDGlobal 2011.

Peter Diamandis: Abundance is our future

Onstage at TED2012, Peter Diamandis makes a case for optimism -- that we'll invent, innovate and create ways to solve the challenges that loom over us. "I'm not saying we don't have our set of problems; we surely do. But ultimately, we knock them down."

Ian Goldin: Navigating our global future

As globalization and technological advances bring us hurtling towards a new integrated future, Ian Goldin warns that not all people may benefit equally. But, he says, if we can recognize this danger, we might yet realize the possibility of improved life for everyone.

Wadah Khanfar: A historic moment in the Arab world

As a democratic revolution led by tech-empowered young people sweeps the Arab world, Wadah Khanfar, the head of Al Jazeera, shares a profoundly optimistic view of what's happening in Egypt, Tunisia, Libya and beyond -- at this powerful moment when people realized they could step out of their houses and ask for change.

Paul Collier on the "bottom billion"

Around the world right now, one billion people are trapped in poor or failing countries. How can we help them? Economist Paul Collier lays out a bold, compassionate plan for closing the gap between rich and poor.

Philip Zimbardo: The psychology of evil

Philip Zimbardo knows how easy it is for nice people to turn bad. In this talk, he shares insights and graphic unseen photos from the Abu Ghraib trials. Then he talks about the flip side: how easy it is to be a hero, and how we can rise to the challenge.

Steven Pinker: The surprising decline in violence

Steven Pinker charts the decline of violence from Biblical times to the present, and argues that, though it may seem illogical and even obscene, given Iraq and Darfur, we are living in the most peaceful time in our species' existence.

Bjorn Lomborg: Global priorities bigger than climate change

Given $50 billion to spend, which would you solve first, AIDS or global warming? Danish political scientist Bjorn Lomborg comes up with surprising answers.