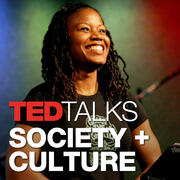 Jamila Lyiscott: 3 ways to speak English

Jamila Lyiscott is a "tri-tongued orator;" in her powerful spoken-word essay "Broken English," she celebrates — and challenges — the three distinct flavors of English she speaks with her friends, in the classroom and with her parents. As she explores the complicated history and present-day identity that each language represents, she unpacks what it means to be "articulate."

Kwame Anthony Appiah: Is religion good or bad? (This is a trick question)

Plenty of good things are done in the name of religion, and plenty of bad things too. But what is religion, exactly — is it good or bad, in and of itself? Philosopher Kwame Anthony Appiah offers a generous, surprising view.

AJ Jacobs: The world's largest family reunion … we're all invited!

You may not know it yet, but AJ Jacobs is probably your cousin (many, many times removed). Using genealogy websites, he's been following the unexpected links that make us all, however distantly, related. His goal: to throw the world's largest family reunion. See you there?

Kitra Cahana: A glimpse of life on the road

As a young girl, photojournalist and TED Fellow Kitra Cahana dreamed about running away from home to live freely on the road. Now as an adult and self-proclaimed vagabond, she follows modern nomads into their homes -- boxcars, bus stops, parking lots, rest stop bathrooms -- giving a glimpse into a culture on the margins.

Andrew Solomon: How the worst moments in our lives make us who we are

Writer Andrew Solomon has spent his career telling stories of the hardships of others. Now he turns inward, bringing us into a childhood of adversity, while also spinning tales of the courageous people he's met in the years since. In a moving, heartfelt and at times downright funny talk, Solomon gives a powerful call to action to forge meaning from our biggest struggles.

Jackie Savitz: Save the oceans, feed the world!

What's a marine biologist doing talking about world hunger? Well, says Jackie Savitz, fixing the world's oceans might just help to feed the planet's billion hungriest people. In an eye-opening talk, Savitz tells us what's really going on in our global fisheries right now — it's not good — and offers smart suggestions of how we can help them heal, while making more food for all.

Sarah Jones: What does the future hold? 11 characters offer quirky answers

Sarah Jones changes personas with the simplest of wardrobe swaps. In a laugh-out-loud improvisation, she invites 11 "friends" from the future on stage—from a fast-talking Latina to an outspoken police officer—to ask them questions supplied by the TED2014 audience.

Bill and Melinda Gates: Why giving away our wealth has been the most satisfying thing we've done

In 1993, Bill and Melinda Gates took a walk on the beach and made a big decision: to give their Microsoft wealth back to society. In conversation with Chris Anderson, the couple talks about their work at the Bill & Melinda Gates Foundation, as well as their marriage, their children, their failures and the satisfaction of giving most of their money away.

Geena Rocero: Why I must come out

When fashion model Geena Rocero first saw a photo of herself in a bikini, "I thought ... you have arrived!" As she reveals, that's because she was born with the gender assignment "boy." In this moving talk, Rocero tells the story of becoming who she always knew she was.

Ash Beckham: We're all hiding something. Let's find the courage to open up

In this touching talk, Ash Beckham offers a fresh approach to empathy and openness. It starts with understanding that everyone, at some point in their life, has experienced hardship. The only way out, says Beckham, is to open the door and step out of your closet.

Christopher Ryan: Are we designed to be sexual omnivores?

An idea permeates our modern view of relationships: that men and women have always paired off in sexually exclusive relationships. But before the dawn of agriculture, humans may actually have been quite promiscuous. Author Christopher Ryan walks us through the controversial evidence that human beings are sexual omnivores by nature, in hopes that a more nuanced understanding may put an end to discrimination, shame and the kind of unrealistic expectations that kill relationships.

Diana Nyad: Never, ever give up

In the pitch-black night, stung by jellyfish, choking on salt water, singing to herself, hallucinating … Diana Nyad just kept on swimming. And that's how she finally achieved her lifetime goal as an athlete: an extreme 100-mile swim from Cuba to Florida -- at age 64. Hear her story.

Paul Piff: Does money make you mean?

It's amazing what a rigged game of Monopoly can reveal. In this entertaining but sobering talk, social psychologist Paul Piff shares his research into how people behave when they feel wealthy. (Hint: badly.) But while the problem of inequality is a complex and daunting challenge, there's good news too. (Filmed at TEDxMarin.)

David Steindl-Rast: Want to be happy? Be grateful

The one thing all humans have in common is that each of us wants to be happy, says Brother David Steindl-Rast, a monk and interfaith scholar. And happiness, he suggests, is born from gratitude. An inspiring lesson in slowing down, looking where you're going, and above all, being grateful.

Robin Nagle: What I discovered in New York City trash

New York City residents produce 11,000 tons of garbage every day. Every day! This astonishing statistic is just one of the reasons Robin Nagle started a research project with the city's Department of Sanitation. She walked the routes, operated mechanical brooms, even drove a garbage truck herself--all so she could answer a simple-sounding but complicated question: who cleans up after us?

Holly Morris: Why stay in Chernobyl? Because it's home.

Chernobyl was the site of the world's worst nuclear accident and, for the past 27 years, the area around the plant has been known as the Exclusion Zone. And yet, a community of about 200 people live there -- almost all of them elderly women. These proud grandmas defied orders to relocate because their connection to their homeland and to their community are "forces that rival even radiation."

Parul Sehgal: An ode to envy

What is jealousy? What drives it, and why do we secretly love it? No study has ever been able to capture its "loneliness, longevity, grim thrill" -- that is, says Parul Sehgal, except for fiction. In an eloquent meditation she scours pages from literature to show how jealousy is not so different from a quest for knowledge.

Iwan Baan: Ingenious homes in unexpected places

In the center of Caracas, Venezuela, stands the 45-story "Tower of David," an unfinished, abandoned skyscraper. But about eight years ago, people started moving in. Photographer Iwan Baan shows how people build homes in unlikely places, touring us through the family apartments of Torre David, a city on the water in Nigeria, and an underground village in China. Glorious images celebrate humanity's ability to survive and make a home -- anywhere.

May El-Khalil: Making peace is a marathon

In Lebanon there is one gunshot a year that isn't part of a scene of routine violence: The opening sound of the Beirut International Marathon. In a moving talk, marathon founder May El-Khalil explains why she believed a 26.2-mile running event could bring together a country divided for decades by politics and religion, even if for one day a year.

Shigeru Ban: Emergency shelters made from paper

Long before sustainability became a buzzword, architect Shigeru Ban had begun his experiments with ecologically-sound building materials such as cardboard tubes and paper. His remarkable structures are often intended as temporary housing, designed to help the dispossessed in disaster-struck nations such as Haiti, Rwanda or Japan. Yet equally often the buildings remain a beloved part of the landscape long after they have served their intended purpose. (Filmed at TEDxTokyo.)

Karen Armstrong makes her TED Prize wish: the Charter for Compassion

People want to be religious, says scholar Karen Armstrong; we should help make religion a force for harmony. She asks the TED community to help build a Charter for Compassion -- to restore the Golden Rule as the central global religious doctrine.

Pico Iyer: Where is home?

More and more people worldwide are living in countries not considered their own. Writer Pico Iyer -- who himself has three or four "origins" -- meditates on the meaning of home, the joy of traveling and the serenity of standing still.

Maria Bezaitis: The surprising need for strangeness

In our digital world, social relations have become mediated by data. Without even realizing it, we're barricading ourselves against strangeness -- people and ideas that don't fit the patterns of who we already know, what we already like and where we've already been. A call for technology to deliver us to what and who we need, even if it's unfamiliar. (Filmed at TED@Intel.)

Lisa Bu: How books can open your mind

What happens when a dream you've held since childhood … doesn't come true? As Lisa Bu adjusted to a new life in the United States, she turned to books to expand her mind and create a new path for herself. She shares her unique approach to reading in this lovely, personal talk about the magic of books.

Joan Halifax: Compassion and the true meaning of empathy

Buddhist roshi Joan Halifax works with people at the last stage of life (in hospice and on death row). She shares what she's learned about compassion in the face of death and dying, and a deep insight into the nature of empathy.

Meg Jay: Why 30 is not the new 20

Clinical psychologist Meg Jay has a bold message for twentysomethings: Contrary to popular belief, your 20s are not a throwaway decade. In this provocative talk, Jay says that just because marriage, work and kids are happening later in life, doesn't mean you can't start planning now. She gives 3 pieces of advice for how twentysomethings can re-claim adulthood in the defining decade of their lives.

Andrew Solomon: Love, no matter what

What is it like to raise a child who's different from you in some fundamental way (like a prodigy, or a differently abled kid, or a criminal)? In this quietly moving talk, writer Andrew Solomon shares what he learned from talking to dozens of parents -- asking them: What's the line between unconditional love and unconditional acceptance?

Wade Davis: Gorgeous photos of a backyard wilderness worth saving

Ethnographer Wade Davis explores hidden places in the wider world -- but in this powerful short talk he urges us to save a paradise in his backyard, Northern Canada. The Sacred Headwaters, remote and pristine, are under threat because they hide rich tar sands. With stunning photos, Davis asks a tough question: How can we balance society's need for fuels with the urge to protect such glorious wilderness?

John McWhorter: Txtng is killing language. JK!!!

Does texting mean the death of good writing skills? John McWhorter posits that there's much more to texting -- linguistically, culturally -- than it seems, and it's all good news.

Keith Chen: Could your language affect your ability to save money?

What can economists learn from linguists? Behavioral economist Keith Chen introduces a fascinating pattern from his research: that languages without a concept for the future -- "It rain tomorrow," instead of "It will rain tomorrow" -- correlate strongly with high savings rates. Read more about Chen's explorations &raquo

Lemon Andersen performs "Please don't take my Air Jordans"

Would you kill for a pair of Air Jordans? Lemon Andersen spins a tale of someone who did, reciting a poem by Reg E. Gaines. These verses taught Lemon that poetry could be about more than self-expression, and could sound like music when given rhythm and infused with the grit of the New York streets around him.

Cesar Kuriyama: One second every day

There are so many tiny, beautiful, funny, tragic moments in your life -- how are you going to remember them all? Director Cesar Kuriyama shoots one second of video every day as part of an ongoing project to collect all the special bits of his life.

Wade Davis: Dreams from endangered cultures

With stunning photos and stories, National Geographic Explorer Wade Davis celebrates the extraordinary diversity of the world's indigenous cultures, which are disappearing from the planet at an alarming rate.

Leslie Morgan Steiner: Why domestic violence victims don't leave

Leslie Morgan Steiner was in "crazy love" -- that is, madly in love with a man who routinely abused her and threatened her life. Steiner tells the dark story of her relationship, correcting misconceptions many people hold about victims of domestic violence, and explaining how we can all help break the silence. (Filmed at TEDxRainier.)

Scilla Elworthy: Fighting with non-violence

How do you deal with a bully without becoming a thug? In this wise and soulful talk, peace activist Scilla Elworthy maps out the skills we need -- as nations and individuals -- to fight extreme force without using force in return. To answer the question of why and how non-violence works, she evokes historical heroes -- Aung San Suu Kyi, Mahatma Gandhi, Nelson Mandela -- and the personal philosophies that powered their peaceful protests. (Filmed at TEDxExeter.)

Maz Jobrani: A Saudi, an Indian and an Iranian walk into a Qatari bar …

Iranian-American comedian Maz Jobrani takes to the TEDxSummit stage in Doha, Qatar to take on serious issues in the Middle East -- like how many kisses to give when saying "Hi," and what not to say on an American airplane.

Thandie Newton: Embracing otherness, embracing myself

Actor Thandie Newton tells the story of finding her "otherness" -- first, as a child growing up in two distinct cultures, and then as an actor playing with many different selves. A warm, wise talk, fresh from stage at TEDGlobal 2011.

Eve Ensler on security

Playwright Eve Ensler explores our modern craving for security -- and why it makes us less secure. Listen for inspiring, heartbreaking stories of women making change.

Lesley Hazleton: On reading the Koran

Lesley Hazleton sat down one day to read the Koran. And what she found -- as a non-Muslim, a self-identified "tourist" in the Islamic holy book -- wasn't what she expected. With serious scholarship and warm humor, Hazleton shares the grace, flexibility and mystery she found, in this myth-debunking talk. (Filmed at TEDxRainier.)

Sam Harris: Science can answer moral questions

Questions of good and evil, right and wrong are commonly thought unanswerable by science. But Sam Harris argues that science can -- and should -- be an authority on moral issues, shaping human values and setting out what constitutes a good life.

Kevin Slavin: How algorithms shape our world

Kevin Slavin argues that we're living in a world designed for -- and increasingly controlled by -- algorithms. In this riveting talk from TEDGlobal, he shows how these complex computer programs determine: espionage tactics, stock prices, movie scripts, and architecture. And he warns that we are writing code we can't understand, with implications we can't control.

Susan Cain: The power of introverts

In a culture where being social and outgoing are prized above all else, it can be difficult, even shameful, to be an introvert. But, as Susan Cain argues in this passionate talk, introverts bring extraordinary talents and abilities to the world, and should be encouraged and celebrated.

Sam Richards: A radical experiment in empathy

By leading the Americans in his audience step by step through the thought process, sociologist Sam Richards sets an extraordinary challenge: can they understand -- not approve of, but understand -- the motivations of an Iraqi insurgent? And by extension, can anyone truly understand and empathize with another? (Filmed at TEDxPSU.)

Neil MacGregor: 2600 years of history in one object

A clay cylinder covered in Akkadian cuneiform script, damaged and broken, the Cyrus Cylinder is a powerful symbol of religious tolerance and multi-culturalism. In this enthralling talk Neil MacGregor, Director of the British Museum, traces 2600 years of Middle Eastern history through this single object.

Dan Gilbert: The surprising science of happiness

Dan Gilbert, author of "Stumbling on Happiness," challenges the idea that we'll be miserable if we don't get what we want. Our "psychological immune system" lets us feel truly happy even when things don't go as planned.

Jeremy Gilley: One day of peace

Here's a crazy idea: Persuade the world to try living in peace for just one day, every September 21. In this energetic, honest talk, Jeremy Gilley tells the story of how this crazy idea became real -- real enough to help millions of kids in war-torn regions.

Maz Jobrani: Did you hear the one about the Iranian-American?

A founding member of the Axis of Evil Comedy Tour, standup comic Maz Jobrani riffs on the challenges and conflicts of being Iranian-American -- "like, part of me thinks I should have a nuclear program; the other part thinks I can't be trusted ..."

Jay Walker on the world's English mania

Jay Walker explains why two billion people around the world are trying to learn English. He shares photos and spine-tingling audio of Chinese students rehearsing English -- "the world's second language" -- by the thousands.

David Brooks: The social animal

Tapping into the findings of his latest book, NYTimes columnist David Brooks unpacks new insights into human nature from the cognitive sciences -- insights with massive implications for economics and politics as well as our own self-knowledge. In a talk full of humor, he shows how you can't hope to understand humans as separate individuals making choices based on their conscious awareness.

Jessi Arrington: Wearing nothing new

Designer Jessi Arrington packed nothing for TED but 7 pairs of undies, buying the rest of her clothes in thrift stores around LA. It's a meditation on conscious consumption -- wrapped in a rainbow of color and creativity.

David Deutsch: A new way to explain explanation

For tens of thousands of years our ancestors understood the world through myths, and the pace of change was glacial. The rise of scientific understanding transformed the world within a few centuries. Why? Physicist David Deutsch proposes a subtle answer.

Charlie Todd: The shared experience of absurdity

Charlie Todd causes bizarre, hilarious, and unexpected public scenes: Seventy synchronized dancers in storefront windows, "ghostbusters" running through the New York Public Library, and the annual no-pants subway ride. In his talk, he shows how his group, Improv Everywhere, uses these scenes to bring people together. (Filmed at TEDxBloomington.)

Julia Sweeney: Letting go of God

Julia Sweeney (God Said, "Ha!") performs the first 15 minutes of her 2006 solo show Letting Go of God. When two young Mormon missionaries knock on her door one day, it touches off a quest to completely rethink her own beliefs.

Caroline Casey: Looking past limits

Activist Caroline Casey tells the story of her extraordinary life, starting with a revelation (no spoilers). In a talk that challenges perceptions, Casey asks us all to move beyond the limits we may think we have.

Frank Warren: Half a million secrets

"Secrets can take many forms -- they can be shocking, or silly, or soulful." Frank Warren, the founder of PostSecret.com, shares some of the half-million secrets that strangers have mailed him on postcards.

Matt Cutts: Try something new for 30 days

Is there something you've always meant to do, wanted to do, but just ... haven't? Matt Cutts suggests: Try it for 30 days. This short, lighthearted talk offers a neat way to think about setting and achieving goals.

Jared Diamond on why societies collapse

Why do societies fail? With lessons from the Norse of Iron Age Greenland, deforested Easter Island and present-day Montana, Jared Diamond talks about the signs that collapse is near, and how -- if we see it in time -- we can prevent it.

Alain de Botton: Atheism 2.0

What aspects of religion should atheists (respectfully) adopt? Alain de Botton suggests a "religion for atheists" -- call it Atheism 2.0 -- that incorporates religious forms and traditions to satisfy our human need for connection, ritual and transcendence.

Tony Porter: A call to men

At TEDWomen, Tony Porter makes a call to men everywhere: Don't "act like a man." Telling powerful stories from his own life, he shows how this mentality, drummed into so many men and boys, can lead men to disrespect, mistreat and abuse women and each other. His solution: Break free of the "man box."

Bryan Stevenson: We need to talk about an injustice

In an engaging and personal talk -- with cameo appearances from his grandmother and Rosa Parks -- human rights lawyer Bryan Stevenson shares some hard truths about America's justice system, starting with a massive imbalance along racial lines: a third of the country's black male population has been incarcerated at some point in their lives. These issues, which are wrapped up in America's unexamined history, are rarely talked about with this level of candor, insight and persuasiveness.

Daniel Goldstein: The battle between your present and future self

Every day, we make decisions that have good or bad consequences for our future selves. (Can I skip flossing just this one time?) Daniel Goldstein makes tools that help us imagine ourselves over time, so that we make smart choices for Future Us.

Mary Roach: 10 things you didn't know about orgasm

"Bonk" author Mary Roach delves into obscure scientific research, some of it centuries old, to make 10 surprising claims about sexual climax, ranging from the bizarre to the hilarious. (This talk is aimed at adults. Viewer discretion advised.)

Peter Eigen: How to expose the corrupt

Some of the world's most baffling social problems, says Peter Eigen, can be traced to systematic, pervasive government corruption, hand-in-glove with global companies. In his talk, Eigen describes the thrilling counter-attack led by his organization Transparency International. (Filmed at TEDxBerlin.)

Mustafa Akyol: Faith versus tradition in Islam

Journalist Mustafa Akyol talks about the way that some local cultural practices (such as wearing a headscarf) have become linked, in the popular mind, to the articles of faith of Islam. Has the world's general idea of the Islamic faith focused too much on tradition, and not enough on core beliefs? (Filmed at TEDxWarwick.)

Richard Dawkins: Militant atheism

Richard Dawkins urges all atheists to openly state their position -- and to fight the incursion of the church into politics and science. A fiery, funny, powerful talk.

Jok Church: A circle of caring

In this 3-minute talk, cartoonist and educator Jok Church tells a moving story of the teacher who cared for him when no one else did -- and how he returned the favor.

Ric Elias: 3 things I learned while my plane crashed

Ric Elias had a front-row seat on Flight 1549, the plane that crash-landed in the Hudson River in New York in January 2009. What went through his mind as the doomed plane went down? At TED, he tells his story publicly for the first time.

Alice Dreger: Is anatomy destiny?

Alice Dreger works with people at the edge of anatomy, such as conjoined twins and intersexed people. In her observation, it's often a fuzzy line between male and female, among other anatomical distinctions. Which brings up a huge question: Why do we let our anatomy determine our fate? (Filmed at TEDxNorthwesternU.)

Mark Bezos: A life lesson from a volunteer firefighter

Volunteer firefighter Mark Bezos tells a story of an act of heroism that didn't go quite as expected -- but that taught him a big lesson: Don't wait to be a hero.

Brené Brown: The power of vulnerability

Brené Brown studies human connection -- our ability to empathize, belong, love. In a poignant, funny talk, she shares a deep insight from her research, one that sent her on a personal quest to know herself as well as to understand humanity. A talk to share. (Filmed at TEDxHouston.)

Mike Rowe: Learning from dirty jobs

Mike Rowe, the host of "Dirty Jobs," tells some compelling (and horrifying) real-life job stories. Listen for his insights and observations about the nature of hard work, and how it's been unjustifiably degraded in society today.

Graham Hill: Why I'm a weekday vegetarian

We all know the arguments that being vegetarian is better for the environment and for the animals -- but in a carnivorous culture, it can be hard to make the change. Graham Hill has a powerful, pragmatic suggestion: Be a weekday veg.

Graham Hill: Less stuff, more happiness

Writer and designer Graham Hill asks: Can having less stuff, in less room, lead to more happiness? He makes the case for taking up less space, and lays out three rules for editing your life.

Brené Brown: Listening to shame

Shame is an unspoken epidemic, the secret behind many forms of broken behavior. Brené Brown, whose earlier talk on vulnerability became a viral hit, explores what can happen when people confront their shame head-on. Her own humor, humanity and vulnerability shine through every word.

Derek Sivers: How to start a movement

With help from some surprising footage, Derek Sivers explains how movements really get started. (Hint: it takes two.)

Patricia Ryan: Don't insist on English!

In her talk, longtime English teacher Patricia Ryan asks a provocative question: Is the world's focus on English preventing the spread of great ideas in other languages? (For instance: what if Einstein had to pass the TOEFL?) It's a passionate defense of translating and sharing ideas. (Filmed at TEDxDubai.)

Daniel Tammet: Different ways of knowing

Daniel Tammet has linguistic, numerical and visual synesthesia -- meaning that his perception of words, numbers and colors are woven together into a new way of perceiving and understanding the world. The author of "Born on a Blue Day," Tammet shares his art and his passion for languages in this glimpse into his beautiful mind.

Michael Shermer: The pattern behind self-deception

Michael Shermer says the human tendency to believe strange things -- from alien abductions to dowsing rods -- boils down to two of the brain's most basic, hard-wired survival skills. He explains what they are, and how they get us into trouble.

Richard Wilkinson: How economic inequality harms societies

We feel instinctively that societies with huge income gaps are somehow going wrong. Richard Wilkinson charts the hard data on economic inequality, and shows what gets worse when rich and poor are too far apart: real effects on health, lifespan, even such basic values as trust.

Isabel Allende: Tales of passion

Author and activist Isabel Allende discusses women, creativity, the definition of feminism -- and, of course, passion -- in this talk.

Beau Lotto: Optical illusions show how we see

Beau Lotto's color games puzzle your vision, but they also spotlight what you can't normally see: how your brain works. This fun, first-hand look at your own versatile sense of sight reveals how evolution tints your perception of what's really out there.

Leymah Gbowee: Unlock the intelligence, passion, greatness of girls

Nobel Peace Prize winner Leymah Gbowee has two powerful stories to tell -- of her own life's transformation, and of the untapped potential of girls around the world. Can we transform the world by unlocking the greatness of girls?

Billy Graham on technology and faith

Speaking at TED in 1998, Rev. Billy Graham marvels at technology's power to improve lives and change the world -- but says the end of evil, suffering and death will come only after the world accepts Christ. A legendary talk from TED's archives.

Eve Ensler: Happiness in body and soul

Eve Ensler, creator of "The Vagina Monologues," shares how a discussion about menopause with her friends led to talking about all sorts of sexual acts onstage, waging a global campaign to end violence toward women and finding her own happiness.

Courtney Martin: Reinventing feminism

Blogger Courtney Martin examines the perennially loaded word "feminism" in this personal and heartfelt talk. She talks through the three essential paradoxes of her generation's quest to define the term for themselves.

Hans Rosling: The magic washing machine

What was the greatest invention of the industrial revolution? Hans Rosling makes the case for the washing machine. With newly designed graphics from Gapminder, Rosling shows us the magic that pops up when economic growth and electricity turn a boring wash day into an intellectual day of reading.

Pamela Meyer: How to spot a liar

On any given day we're lied to from 10 to 200 times, and the clues to detect those lie can be subtle and counter-intuitive. Pamela Meyer, author of Liespotting, shows the manners and "hotspots" used by those trained to recognize deception -- and she argues honesty is a value worth preserving.

Raghava KK: What's your 200-year plan?

You might have a 5-year plan, but what about a 200-year plan? Artist Raghava KK has set his eyes on an ultra-long-term horizon; at TEDxSummit, he shows how it helps guide today's choices and tomorrow's goals -- and encourages you to make your own 200-year plan too.

David R. Dow: Lessons from death row inmates

What happens before a murder? In looking for ways to reduce death penalty cases, David R. Dow realized that a surprising number of death row inmates had similar biographies. In this talk he proposes a bold plan, one that prevents murders in the first place. (Filmed at TEDxAustin.)

Brian Goldman: Doctors make mistakes. Can we talk about that?

Every doctor makes mistakes. But, says physician Brian Goldman, medicine's culture of denial (and shame) keeps doctors from ever talking about those mistakes, or using them to learn and improve. Telling stories from his own long practice, he calls on doctors to start talking about being wrong. (Filmed at TEDxToronto.)

Kathryn Schulz: On being wrong

Most of us will do anything to avoid being wrong. But what if we're wrong about that? "Wrongologist" Kathryn Schulz makes a compelling case for not just admitting but embracing our fallibility.

Clay Shirky: How social media can make history

While news from Iran streams to the world, Clay Shirky shows how Facebook, Twitter and TXTs help citizens in repressive regimes to report on real news, bypassing censors (however briefly). The end of top-down control of news is changing the nature of politics.

Jonathan Haidt: Religion, evolution, and the ecstasy of self-transcendence

Psychologist Jonathan Haidt asks a simple, but difficult question: why do we search for self-transcendence? Why do we attempt to lose ourselves? In a tour through the science of evolution by group selection, he proposes a provocative answer.