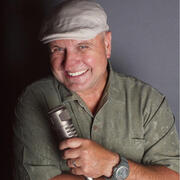 Grazing Green Goats 80914

Grazing Green Goats is a company that rents out their goats to clear property filled with brush, weeds, briars, poison ivy.....or land that is too steep to mow. Not only are they incredibly efficient cleaners, they are a thrill to watch. Learn more at www.grazinggreengoats.com

S&S Wildlife Control 71214

Our "critter gitter" Rick Shadel from S&S Professional Wildlife Control Services is back to help us with critters and creatures invading our backyard, home and garden. Bats, mice and waskly wabbits are the stars in this show. www.sandswildlifecontrol.com

Staudts Gun Shop-Local Gun Shop 60414

The importance of supporting your local gun shop. Joe Staudt opened his shop 3 years ago in an area that has a nearby Cabela's, Bass Pro Shop, Dick's Sporting Goods, and Gander Mountain. His business is booming. His success is friendly service with a hometown feel. And he offers the gunsmithing services the big stores don't offer anymore. There's probably a shop just like this in your town. Support their hard work.

Staudts Gun Shop-Gun Range 60414

If you just purchased a firearm or own a firearm, get out to your local gun range and use it. It's great practice and you'll have a blast (literally). Joe Staudt of Staudt's Gun Shop talks about supporting your local gun and sportsmen's clubs. We'll also talk about laws on transporting weapons and safety measures at the gun range.

The Diabetic Athlete-CPRS 53114

If you are or know of an athlete who is diabetic, there are special preparations and attention you must consider before and during competing. Dan Stone, of CPRS Physical Therapy, who is an athlete and a diabetic is working to help athletes get the answers they've been searching for and create a support group. Contact him at www.cprsweb.com and 866-279-6999 or 717-492-9532.

Pinnacle Health-Palliative Medicine

Dr. Arlene Bobonich explains this program which focuses on the relief of suffering and the promotion of quality of life

TAKING CARE OF BUSINESS-EXSP

Taking your fitness and training program to the next level, the old fashion way. Dave Brixius of EXSP-Explosive Sports Performance tells us how he trains young athletes to explode on the playing field with speed, strength, power and endurance. EXSP is also the training ground for future pro athletes preparing for the NFL Combine. Marques Colston trained there. Learn more about it at www.exsp.biz and hear the entire interview by clicking here. http://www.whp580.com/player/?mid=23878399

Lymphedema Therapy

Lymphedema Therapy is extremely beneficial for cancer patients, especially patients with breast cancer. Karen Gallo is a certified lymphedema therapist with CPRS Physical Therapy who will explain the therapy and Melanie Rice is with Lancaster Hematology/Oncology Care to talk about lymphedema. You can hear our entire 20-minute interview here: http://www.whp580.com/player/?mid=23878535

Pet Talk Radio-Dealing W Death

Michael Parks along with Karen Steinrock discuss dealing with the death of a pet and when it's time to replace with another.

S&S Wildlife-Snakes-Rabbitts 100312

Our Critter Gitter, Rick Shadel tellls us about more home & yard invaders and how to keep them out. This time we're looking for snakes and rabbits.