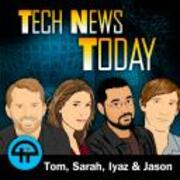 TNT 961: OLPC R.I.P.

Apple wants Samsung to pay 40 dollars for every patent-infringing phone they sell, one parent wants Google to pay for the Apps her own kid downloaded, One Laptop Per Child project is "dead", and more.

TNT 960: Gox Gets Doxxed

Snowden says the NSA is setting fire to the Internet, Gox gets doxxed, Niel Young to launch a music player, and more.

TNT 959: Desperately Seeking Satoshi

Desperately seeking Satoshi, Turkey may ban Facebook and YouTube, the NSA has an advice columnist, and more.

TNT 958: Bitcoin Founder Found?

Bitcoin founder found? Getty gives away photos,Facebook cracks down on guns, and more.

TNT 957: Flipboard Buys Zite

Flipboard buys Zite from CNN, Dish will stream cable content over the Internet, poor BlackBerry just can't catch a break, and more.

TNT 956: Facebook Drones!

Apple is getting a new CFO, Microsoft is getting a new Outlook feature, Facebook is getting a space program, and more.

TNT 955: Xbox Live Goes Cross Platform

Cortana shows its face, XBox Live might go cross platform, Satya Nadella shuffles the deck, and more.

TNT 954: Gox Goes Bankrupt

Mt Gox goes bankrupt, how to intercept phone calls using Google Maps, Microsoft might make Windows free, and more.

TNT 953: GCHQ is Watching You

Brit Spies Caught Watching Yahoo Sex Chats, Boeing Makes a Self-Destructing Spy Phone, Google's Project Ara Modular Phone Concept Gets Real, and more.

TNT 952: House of SIM Cards

Congress moves to legalize phone unlocking, personal data for 360 million people is now for sale online, Motorola reveals plans for phones and smartwatches, and more.

TNT 951: Is Glass a Killer Device?

Killer Phones and Smartwatches Unveiled At Mobile World Congress, Google Lobbies to Keep Google Glass Legal, Bitcoin is Under Attack, and more.

TNT 950: Mobile World Congress Kicks Off

Mobile World Congress finishes day one, Comcast makes a deal with Netflix, is there a Nexus Smartwatch at hand?, and more.

TNT 949: I Want My Amazon TV

Microsoft's answer to Siri is coming to Windows Phone, Amazon's TV box could ship in March, a new Google phone prototype maps the inside of your house, and more.

TNT 948: Facebook to Buy WhatsApp

Facebook will buy WhatsApp, Yahoo is working on a Siri-like assistant, HTC plans to announce a smartwatch that runs Google Now, and more.

TNT 947: FCC Rewriting Net Neutrality?

The FCC will rewrite the rules for net neutrality, Kim Dotcom's arrest was ruled legal, China cracks down on chip giant Qualcomm, and more.

TNT 946: WikiLeaks Visitors Tracked

The UK's Spy Agency Tracked WikiLeaks users, Bitcoin ATMs Coming To America, Why You May Soon Give Samsung the Finger, and more.

TNT 945: Solar Power Future Looks Bright

Rakuten buys Viber, Bitcoin under attack, Facebook gender options, and more.

TNT 944: Comcast to Buy Time Warner Cable

Comcast gets bigger, Apple gets cleaner, Motorola chief Dennis Woodside gets a new job, and more.

TNT 943: The EU Says ICANN, Too

Nokia's Android phone is real, Google robots might build iPhones, the Internet protests the NSA, and more.

TNT 942: Microsoft's Android Phone?

Nokia's Android phone is real, Google robots might build iPhones, the Internet protests the NSA, and more.

TNT 941: Comcast Email Scandal

Comcast keeps hacking a secret, a wearable smart ring for teens, Flappy Bird flaps no more, and more.

TNT 940: NSA Can't Handle the Metadata

The NSA can't keep up with all the data, kickstarting science, pay your restaurant check through a phone app, and more.

TNT 939: Watson Goes to Africa

Turkey cuts Internet freedoms, IBM's Watson goes to Africa, Amazon buys a game company, and more!

TNT 938: Google Ad Chief in at YouTube

Google's Ad Chief Taking Over YouTube, Sony may be getting out of the PC racket, Google agrees to promote competitors in their search results, and more.

TNT 937: Microsoft's New CEO Satya Nadella

Big changes at Microsoft as Satya Nadella is named CEO of the company, and more.

TNT 936: Xbox One, Bear Zero

Microsoft retreats from Metro, Super Bowl gets hashtag fever, mobile computing being held back by batteries, and more.

TNT 935: Politely Tracking Canadians

Microsoft's top contender for CEO, the Canadian version of the NSA, Zynga layoffs, turn anything into a instrument, and more.

TNT 934: Google Loses Its Moto

Google sells Motorola to Lenovo, Facebook launches Paper, a fitness app shames you into losing weight, and more.

TNT 933: Dude, Where's My iBeacon?

The president trolls congress to stop patent trolls, your car might become an iBeacon, a new smartphone-controlled bartender might save your party, and more.

TNT 932: Lego My Chrome

Amazon's New Game Console, Apple's new solar patent, Jason Calacanis's new joint, and more.

TNT 931: DeepMinds Think Alike

Google buys AI startup, Samsung working on smart glasses, an app that won't let you watch TV until after your workout, and more.

TNT 930: We're Not Buzzworthy!

The Mac Turns 30, Facebook turns the tables on Princeton, Sony wants to turn your TV into a makeup mirror, and more.

TNT 929: Hope It All Twerks Out

NSA phone spying called illegal, Google is thinking about Bitcoin, Apple may show ads based on your mood, and more.

TNT 928: Wyoming's Shady Street

Russia tries Chinese-style hacking, T-Mobile tries banking, the future of Windows, and more.

TNT 927: Orkut Still Exists!

Instagram on the rise, premium TV on the decline, AT&T wants to tear up your contract, and more.

TNT 926: Get Adam Curry on the Phone

HP is promoting Windows 7, SK Telecom rolling out 300 Mbps, Samsung VS Google Now, and more.

TNT 925: Home Theater Death Boat

The President's Meta-Data, buying stuff with Twitter, Google announces smart contact lenses, and more.

TNT 924: Driving Reckless Growth

3D printing from Photoshop, Tesla gets reckless, Google Now dealing cards on the desktop, and more.

TNT 923: For Their Eyes Only

The NSA hacks 100 thousand computers, a new super-secure Android phone, a Mac Pro made with a real trash can, and more.

TNT 922: Citizen Kim

The end of Net Neutrality? Windows Phone on Android? Getting a paycheck in Bitcoins, and more.

TNT 921: Drone Chaperone

Target wasn't the only target, crime does pay for iPhone thieves, surveillance drones as classroom narks, and more.

TNT 920: Photobombed by Planet Earth

The PC market in decline, lifelogging on the rise, the Selfie Olympics Medal Ceremony, and more.

TNT 919: The Jogging Dead

IBM's Watson gets a job, an app that parks your car, the ultimate motivation to run fast, and more.

TNT 918: Print Me a Sandwich

More CES madness, Ultra-HD gets ultra cheap, new technology might someday put a computer into your contact lenses, and more.

TNT 917: Bend It Like Samsung

The world's smallest PC, dashcams or crashcams? Camera phones that let you shoot now and focus later, and more.

TNT 916: Big Brother's Toothbrush

Yahoo spreads malware, Google gets into your car, CES hits Vegas, and more.

TNT 915: My Robot Landlord

The NSA's quantum computer, augmented reality contact lenses, Android on the desktop, and more.

TNT 914: Glass Half Full

is Google Glass really doomed? Snapchat gets hacked, everybody's previewing CES news, and more.

TNT 913: An Informal New Years Eve Chat

Join us for an informal discussion around the upcoming relaunch of Tech News Today, as well as the current state of media and technology.

TNT 912: Episode Title for 912

We kick around the top stories from 2013 and discuss why they were so important to the world of tech.

TNT 911: 2014 Predictions

A fresh new year means a fresh new batch of tech predictions!

TNT 910: 2013 Prediction Results

The crew check in on their predictions for 2013 to see how good (and how bad) they did.

TNT 909: Best of 2013

A super duper mega-cut of some of the best moments from Tech News Today in 2013, both from the show as well as from the pre-show.

TNT 908: Open Mic

The crew invites three fans of the show to tell us all about who they are, why they listen, and what they love about tech.

TNT 907: Hope for the Llama

NSA told to back off cell phone metadata, Yahoo is/isn't making its own Siri, Bill gates wins Christmas, and more.

TNT 906: Bitcoinvoluted

NSA told to back off cell phone metadata, Yahoo is/isn't making its own Siri, Bill gates wins Christmas, and more.

TNT 905: Bit Hummels

How much will you pay for LG's Chrome desktop PC? Bitcoin plummets, tech execs give US President what for, and more.

TNT 904: Scrolling Through the Nose Feed

Facebook launches autoplay video ads, Amazon buying mobile payments company, best apps of 2013, and more.

TNT 903: Not Everybody is a Beyoncé

Google buys big robots, Beyonce bucks big music, Twitter senses you are near, and more.

TNT 902: RISC of an ARMs Race

Twitter angers users with a new block policy, Google may take on Intel in chips, Gmail steals all the email images, and more.

TNT 901: The Necessary-ness of a Second Screen

Instagram launches private parts, Yahoo's mail nightmare, Twitter wants to control your cable box, and more.

TNT 900: Stairway to Spotify

Will Microsoft kill Nokia's Android phone? How you can get Led Zeppelin on Spotify, Twitter competing with SnapChat, and more.

TNT 899: Pupu Platter of Content

Qualcomm open sources the Internet of Everything, MS might bring back Start MENU, Chromecast gets more app support, and more.

TNT 898: National Second Life Administration

Tech Titans tell NSA to stop it, meanwhile NSA plays Warcraft for great justice, Google may launch Nexus TV next year, and more.

TNT 897: Compelled by This Monstrosity

Spotify free for mobile, Apple tracks you in stores, 23andMe gives up (a little), and more.

TNT 896: Fight for Your Freedumb

China squashes bitcoin, iPhone in China has no more excuses, connect all the chat apps, and more.

TNT 895: Andyroid

Google Chrome apps for iOS? Andy Rubin working on androids again, Snapchat pulls a Facebook move, and more.

TNT 894: Tom Finally Snaps

Apple buys all of Twitter's data, Huawei wants to leave US, Spotify wants to make friends with musicians, and more.

TNT 893: Computers Should Know

Is Amazon's drone delivery just a publicity stunt? Is it rude to live-tweet a conversation? Jolla promises to convert your Android phone, and more.

TNT 892: I'm Spatially Dense

Why Apple really bought PrimSense, should your DNA be regulated, Bitcoin passes the $1,000 mark, and more.

TNT 891: Twitch Roullette

Newegg loses encryption patent fight, iBuyPower's Steam game console, QuizUp leaks your data, and more.

TNT 890: Silver Ring of Death

Apple will sense your motions, Katie Couric will anchor Yahoo's world, who's winning the console war, and more.

TNT 889: Fly the Quiet Skies

Should you get the Xbox One? Chromecast about to bust out, cell phone calls coming to planes, and more.

TNT 888: Wig Lover

Pinterest wants your travel money, Acer eliminates CEO after two weeks, Windows Phone's march to victory, and more.

TNT 887: What's Yours is Mined

The truth about the Xbox One, fined for mining Bitcoins, carriers fight the law on theft

TNT 886: Me, My Selfie, and I

Dropbox is an $8 billion bargain, 800,000 Galaxy Gear sales can't be wrong, Valve promises Virtual Reality prototype coming to Steam, and more!

TNT 885: Woo Woo to Internet

Apple buying Kinect-maker, NFL threatens to leave broadcast if Aereo wins, Sony sells 1 million PS4s, and more!

TNT 884: Toblerphone

Is this the last huge game console launch season? How about wraparound phones! Fight for your right to unlock a phone, and more!

TNT 883: $3 Billion? No Thanks.

Snapchat says no to Facebook's billions, Amazon puts your Windows desktop on the Kindle, MapQuest is back, and more!

TNT 882: Netflix Looking Purdy

Moto G wants to be your hot cheap phone, Sony surprised people still like music, Twitter lets you change history, and more!

TNT 881: Count On Not Counting On Apple

What's killing TV? You can't buy the Retina iPad Mini in meatspace, Facebook joins most powerful lobby group in the world, and more!

TNT 880: iNfinity iPhone

The next iPhone may be curved, how Netflix and YouTube dominate the Internet, Amazon to start Sunday delivery, and more!

TNT 879: No, No, annnnd No.

The Xbox One's feature set is a cord cutter's dream, Facebook wants its own rating system, Stephen Elop is gonna chop Microsoft to pieces and more!

TNT 878: Good buy, $TWTR

How much should Twitter be worth, is Square the next big tech IPO, Marvel originals coming to Netflix, and more.

TNT 877: The Samsung Clamblet

Who will be the next Microsoft CEO? Samsung's crazy predictions, a personal Google map for every person, and more.

TNT 876: The Google Reader of Countries

What is Dropbox scheming? Google wants to help (for a fee), why Twitter is not the next newspaper, and more.

TNT 875: Face to Pay

BlackBerry changes its mind. Again. IBM threatens Twitter, Gas stations that scan your face, and more.

TNT 874: Spectaclefest on a Party Barge

The patent wars gang up on Google, but Google's mystery barge secret is revealed and mystery malware travels by speaker, and more.

TNT 873: NSA Eats Your Fiber

NSA outrages Google with fiber tap, smartphones allowed during takeoff and landing, Sprint promises 1Gbps wireless, and more.

TNT 872: Bad Ideas All Around

iPad Air reviews are in, Twitter's getting a lot more visual, what happens when you drive with Google Glass, and more.

TNT 871: Your Own Personal NSA

Netflix to deliver movies same day as theater? Motorola gets behind modular phones, Google to mass produce its own smartwatch, and more.

TNT 870: Google Barges In

Nvidia Shield a good idea? Google's bay barge mystery? Nielsen starts rating phone video, and more.

TNT 869: HBO Tiptoes Around the MSOs

How is Microsoft making money? Do you hate the Instagram ads? Comcast bundles HBO with Internet, and more.

TNT 868: User Friendly and Smooth

The Internet is ruining your sleep, BBM reviews getting astroturfy, YouTube taking on Spotify, and more.

TNT 867: The Quantified Car

What Apple's free software really means, Microsoft caught faking apps, Netflix wants to make movies, and more.

TNT 866: iPads on Air

Did Apple announce anything good? Microsoft taking on Google Glass? Nokia enters tablet fray, and more.

TNT 865: Siriusly, an RT tablet?

What Apple will announce, what Nokia will announce, how to fix Windows 8.1, and more.

TNT 864: The Apple Reverse Blah-Blah

Is Google unstoppable? AT&T daypass competes with hotel wifi, Xbox losing the console war, and more.

TNT 863: Clicking in Your Sleep

Windows 8.1 is here! Is it good? Twitter revamps DMs, Facebook loosens up for teens, and more.

TNT 862: The Path to Unemployment

HTC to make Amazon phone? Intel thinks PC market has moment of clarity, Square makes sending cash dead simple, and more.

TNT 861: Redonkulously Gargantuan

Apple's got more Burberry to cover, Google's watch coming soon, Amazon invades retail warehouses, and more.

TNT 860: Trojan Pony

Bypass carriers for Windows Phone updates, Facebook buys mobile data optimizer, Netflix wants to partner with cable providers, and more.

TNT 859: The Dragon in the Room

Google TV changes name, Google wants to sell your face, Facebook kills a privacy setting, the Internet rebels against the US, and more.

TNT 858: Foursquare Gets Pushy

T-Mobile frees up International roaming, Twitter's secret news service, HP bites the hand that fed it for so many years, and more.

TNT 857: A Punch in the Pants

Nest makes smoke alarms cool, Samsung buys itself into being a software maker, Apple wants to crush Pandora overseas, and more.

TNT 856: Bob's House of Detectors

Nest makes smoke alarms cool, Samsung buys itself into being a software maker, Apple wants to crush Pandora overseas, and more.

TNT 855: LG Gets Bent

Everybody's doing flexible phone screens, Nielsen's Twitter ratings, BlackBerry gets bid up, and more.

TNT 854: It Doesn't Make HTC Sense

Can Microsoft save HTC? Will ads ruin Instagram? Why it doesn't matter that Twitter loses money, and more.

TNT 853: People Spinning in Crosswalks

Why Lavabit really shut down, Amazon's 3D phone interface, Facebook builds a village, and more.

TNT 852: Having Fun with Video Orgies

Is iOS 7 the buggiest iOS yet? Is Chromecast blowing it? Why Bill Gates must leave Microsoft, and more.

TNT 851: Surface 2 Air

FreedomPop starts cell phone service, YouTube to launch music awards, Dropbox wants to eat your photos, and more.

TNT 850: iOS7 Makes You Sick

Why Apple and Google are bigger than Coke, NSA maps your social graph, PS4 beating Xbox, and more.

TNT 849: Return of the Intel-evision

Steam drops the third shoe, Microsoft might steal Ford's chief, Evernote's thunder, and more.

TNT 848: Target Targeting Target Audience

eBay buys more customers for Paypal, US Senators fight NSA surveillance, Netflix type service that's just for kids, and more.

TNT 847: The Little Man in Your Kindle

Amazon puts people in your Kindle, YouTube comments to get less horrible, Valve's hardware announcement, and more.

TNT 846: Father, Son, and the Holy Moley

Teens can delete MySpace, it's the LAW! China unblocks Facebook and Twitter, why Fairfax wants to buy BlackBerry, and more.

TNT 845: Carpet Diem

Is the iPhone 5S a success? Microsoft's new tablets surface, Steam arrives in the living room, and more.

TNT 844: Spirit of the 90's

iPhone 5C and 5S on sale, Pinterest to sport ads, Google's new flat logo, and more.

TNT 843: Cat to Unlock

Google takes on aging, HP's new laptop with motion tracking, Tim Cook sets the record straight, and more.

TNT 842: Who Cares About Technology?

iOS 7 OMG!!!!! Also YouTube allows offline video, Microsoft has hundreds of new TV shows coming, and more.