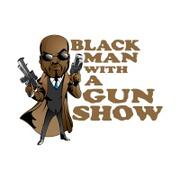 Black Man With A Gun Show #344

Thanks for listening here. I'd like to know why you listen on Spreaker vs itunes or stitcher radio or the blackmanwithagun.com blog where you can also get it? you have have it downloaded to your phone thru the rss feed at http://blackmanwithagunshow.us. This was a Mulligans Stew. Dr. Zehrung interviews to professional shooters for me, Hurshell gives some hunting tips, and Barbara talks about hand me downs. It was a warm and fuzzy episode that shares the love of this community in a way nobody else does.

Black Man With A Gun Show- 343

One hour long show dedicated to hunters this week. Interviews with DCCoverscent.com Hurshell Stroud and HuntingLife.com Kevin Paulson. Black Man WIth A Gun Show #343 sponsored by Crossbreedholsters.com and ErgoGrips.net. Show notes found on blackmanwithagun.com and made 100% in the USA. Made possible by encouragement from friends like you. @kennblanchard

Black Man With A Gun Show #342

Relationships Matter Most. Kenn Blanchard's share that his success as a podcaster has been because of the people that he calls friends, plus Max Michel with some shooting tips, with Barbara Baird on the Duck Dynasty and more...

Black Man WIth A Gun Show -339

The Great Maryland Gun Rush Interviews with: · Del. Mike Smigiel · Del. Ron George http://Ndivisible.org http://www.booster.com/onenation Community News: Infringed The Movie-kickstarter project Mr.ColionNoir Spanks Silverman http://Crossbreedholsters.com http://ndivisible.org http://Freedomsnetwork.org http://gunrightsmagazine.com http://ErgoGrips.net Dock of the Bay cover for my friend Dan kennblanchard.com

335 - Black Man With A Gun Show

"Help A Brother Up." A 45 min. show featuring interviews with Maryland State Del. Michael McDermott, Author Nikki Goeser, black women and guns, thoughts about morality, lessons learned from recent self defense course taught by Massad Ayoob and Kenn covers a CCR and a Doobie Bros hit.

334 Black Man WIth A Gun Show

Massad Ayoob is a guest this week as I attended his MAG40 course. Kenn talks about the dirty little secret of drugs and guns.

333 - Best Shot

Interviews with Daryl Jamison/GOGunowners.com, Tom Munson/Trijicon.com and Tommy W./CentermassCombatTactics.com, and Barb Baird of WomensOutdoorNews.com talks about the NSSF report on new shooters. Plus commentaries on a Bloomberg article about white men and guns. show time 1hr:04min.

Life Isn't Fair, But It's Still Good

Training Tips for new AR shooters from Center Mass Combat Tactics News Interview with the publisher of Concealed carry magazine, Tim Schmidt tale of two cities thoughts on crime and domestic violence Hard Times Episode 332 of the Black Man With A Gun Podcast.