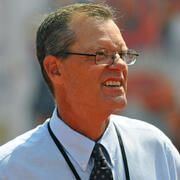 Jen Tilton

Local soccer mom breaks down her daily sports schedule with Chick.

Gerry Dulac

Columnist for the Pittsburgh Post-Gazette, on Steeler Week! His towns Black & Gold travel to Cinicinnati to take on the Bengals, on Monday Night Football.

Sonny Fulks

Sonny Fulks - from Pressprosmagazine.com

Dave Odom

Dave Odom, Maui Invitational. Interviewed July 18, 2013. WONE-AM Chick Ludwig

Joe Reedy

Joe Reedy, Bengals beat writer (a position the Chickster used to hold in Dayton) for the Cincy Enquirer spoke with him about the team, on Friday June 28th, 2013.

Yoon Ha

Yoon Ha - Fenwick coach of girls & boys high school volleyball. May 30th, 2013

Artrell Hawkins

Chick talked to Bengal great and 51% of our Fox morning show Artrell Hawkins, on June 4th, 2013.

Micaela Powers

Rae Burick Women In Sports Award winner. Interview originally aired May 7th, 2013.

Susan Justus Jenkins

Susan Justus Jenkins joins Chick with a box of Kleenex, to reflect on the life & times of Diana Schwab, on Thursday May 9th, 2013.

Mike Zimmer

Chick (former DDNews beat writer for the Bengals) talks again to Defensive Coordinator Mike Zimmer on May 1st, 2013.

Dwight Anderson

The Daytonian spoke with Chick on April 12, 2013.

David Sayler

Chick's guest: Miami University Athletic Director David Sayler on 4/10/2013

UK's Julius Mays

Julius Mays from the University of Kentucky Wildcats talks to Chick, and somewhere closeby, TNT is totally stoked.

Terence Moore

CNN & MLB.com's Terence Moore talks with Chick on April 3rd, 2013.

Reds Hall of Fame & Museum

Rick Walls, the executive director of the Reds Hall of Fame talks about the museum and a new chapter now forming in Dayton.

Clark Kellogg

Chickster interviews Clark Kellogg on 3/25/2013

Kil Kare

The Chickster talks local racin' all hour with the folks at the legendary Kil-Kare Speedway & Dragstrip!

Sidney Williams

The First African-American QB in Big Ten history (Wisconsin)

Paul Hornung

NFL Hall of Famer & Green Bay Packer legend talks about Vince Lombardi. Jan. 29th 2013

Sam Wyche

The Bengals former head coach & player called in to speak with Chick on Monday January 14th 2013.

Kevin Dillard

University of Dayton Point Guard Kevin Dillard spoke with Chick on 1/8/13.

Archie Miller

UD Men's basketball head coach Archie Miller chats it up with Chick Ludwig on 12/10/12.

Hal McCoy

Hall of Famer Hal McCoy appears on the Chick Ludwig show for the 1st time. Chick will never wash that microphone again!

Tommy Lasorda

With former Dodger manager Tommy Lasorda in town, Chick gets the chance to speak to the Hall of Famer.