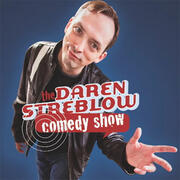 Daren Streblow Comedy Show March 1, 2014

Will Rex Havens rescue his son who needs $917 to close his checking account? Kermit Apio is rescued by his wife, "I married a Texan. I didn't really propose to her, I just told her I'm from Hawaii and I sure would like to stay in this country." Denny Brownlee rescues himself from vermin. Special Guests: David Pendleton, Riley Armstrong, Rex Havens, Keith Alberstadt, Denny Brownlee, Kermt Apio & Gid Pool.

Daren Streblow Comedy Show February 22, 2014

Tim Clue demonstrates why Time Out should not be used for discipline, "Remember the good old days. Remember when I gave the fish Grape Nuts? That was a fun one, wasn't it? Remember when I gave my brother hamster turds, told him they were tiny chocolates?" John Pinette has self discipline and will not allow himself to get addicted to the gym and Tim Hawkins needs some discipline when it comes to his cereal. Special Guests: David Pendleton, Riley Armstrong, John Pinette, Jeffrey Jenna, Robert G. Lee, Nick Arnette, Rex Havens Tim Clue and Tim Hawkins.