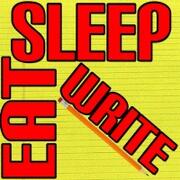 ESW 123. Little Yellow Stickies

Join Eat Sleep Write host Adam Scull in this fascinating conversation with Rachael L. McIntosh, author of "Little Yellow Stickies" about corporate shenanigans. Her book is a fictionalized version of events that actually happened. Jocelyn McLaren is a beautiful, hard working, yet naive visual artist who, through a twist of fate, ends up working for a major US defense contractor during the lead up to the Iraq war. She unknowingly witnesses and unwittingly participates in crimes that haunt her and are ultimately interlinked with the most nefarious psychopaths on the planet. Divided into three books, SECURITY THROUGH ABSURDITY is the story of corporate shenanigans, an unstable home life, and a q...

ESW 122. A Deal With God

Join Eat Sleep Write host Adam Scull on this fascinating conversation about reliving a life by making a deal with God. When Deana Murphy died she told God she would do anything if he would let her come back. Deana didn't realize what she was getting herself into. God granted her request, but in the form of a deal. He had a mission for Deana that would change everything. Follow Deana as she takes on this mission with full commitment. Deana is sent on a path that will require her absolute faith and devotion. She is tasked with stopping a high school massacre that would destroy many lives. She will have to move hundreds of miles away from any family or friends; she will have to leave urban Tamp...

ESW 120. Worlds Apart - Leah

Join Eat Sleep Write host Adam Scull in a conversation with British paranormal author Andrea Baker. Nightmares are just dreams, aren't they? They can't hurt you, not really. Leah's can. They're trying to tell her the truth, and won't stop until she understands... Nineteen year old Leah struggles to cope with normal life after the recent loss of her mother. Her heart-broken father decides to uproot them to Little Virginia for a fresh start, so they can bury the past behind them. At once Leah is captivated by the castle ruins near her new doorstep, and whilst exploring she comes across a mysterious stranger. Recurring nightmares long thought dead reawaken, and new strains appear in her relatio...

ESW 119. Portals, Passages & Pathways

Join Eat Sleep Write host Adam Scull in this engrossing conversation with B.R. Maul about being a YA author. When a portal to another world cracks open just outside the small town of Riverside, it sets off a series of events forever changing the lives of two boys; one boy is chosen to lead a world to peace while the other one is chosen to tear it apart. Simon Whittaker lives an ordinary teenage life. That is until the most powerful ring in the land of Magnanthia chooses him to become its guardian. Overnight, Simon has had to flee from something trying to kill him, seen magical spells he had only read about in stories, and stepped into the most majestic world ever imagined. Swept away to the ...

ESW 118. Courier with Terry Irving

Join Eat Sleep Write host Adam Scull in a wonderful conversation with tv writer-turned-novelist Terry Irving. Vietnam veteran and courier for one of the capital's leading television networks, Rick Putnam is trying to get his life back together after his nightmarish ordeal in the war. Racing at breakneck speed through the streets of the capital, he not only intends to be the best courier in the business, he also intends to escape the demons that haunt him. But when Rick picks up film from a news crew interviewing a government worker with a hot story, his life begins to unravel as everyone involved in the story dies within hours of the interview and Rick realizes he is the next target. Enlisti...

ESW 117. Quality Snacks with Andy Mozina

Join Eat Sleep Write host Adam Scull in a delightful and informative conversation about the art of writing short stories. "Quality Snacks" has already made some waves. The short story collection was a semi-finalist for the Mary McCarthy Prize in Short Fiction (2011) and finalist for multiple honors including the Elixir Press Fiction Award (2012), Dzanc Short Story Collection Contest (2012), Flannery O'Connor Short Fiction Award (2011) and the Autumn House Fiction Contest (2011). Mozina grew up in Brookfield, Wisc., a suburb of Milwaukee. He studied economics at Northwestern University and later attended Harvard Law School for a year. He earned a master's degree in creative writing from Bosto...

ESW 116. Life in the Pubbing Fast Lane

Join Eat Sleep Write host Adam Scull for this continuing series; a no-holds-barred conversation on the good and the bad about being a writer today. With over 9,000 books published per month, learn from Elizabeth Pryblski, a professional book editor, how to stand out from the crowd and rise above the competition in this very frank discussion on how to meet the challenges of becoming a published author. This 2nd episode of Life in the Publishing Fast Lane will guide you through the maze of both self-publishing and traditional publishing. Stay with us for this new and exciting monthly podcast!

ESW 115. In the Spirit of Forgiveness

Join Eat Sleep Write host Adam Scull in this revealing conversation with Author Debbie A. McClure on her paranormal/murder mystery sequel, "In the Spirit of Forgiveness". Death can hold as many uncertainties as life. Destiny brought them together, but greed could tear them apart. In England for a much-deserved vacation, Claire Jacobs has fallen in love. However, fate has played a cruel trick on Claire, and now a mystery more than a hundred years old could take her happiness, as well as her life. Sir Richard Abbottsford, of England's grand Kent Estate, has finally reunited with his true love. He never imagined it would take more than a century for that to happen. But the past and present are ...

ESW 114. Fin's Magic

Join Eat Sleep Write host Adam Scull in this fascinating conversation about fantasy writing with KateMarie Collins. Fin's Magic: A Book of the Amari. Fin is one of the Amari, the only race that can do magic. They don't wave their fingers or cast spells. The magic is very organic and comes about because of the connection between them and the earth itself. Because of this ability, the Amari have been enslaved and forced to do magic for those who chain them. If their magic is used for ill/harm, the earth retaliates by harming the caster. Not only is Fin's race enslaved, it's in danger of becoming extinct. Fin has spent her entire life looking over her shoulder, hiding her true nature. With the ...

ESW 113. Final Trimester

Join Eat Sleep Write host Adam Scull talking with returning suspense writer Dianna T. Benson about her new book, "Final Trimester". Synopsis: Paramedic Jodi Duncan recognizes the work of a serial killer before Myrtle Beach PD even suspects a connection between the deaths of two pregnant women. Despite the vast differences in the two cases, Jodi urges Detective Nate Quigley to think outside the box. After digging deep into the separate investigations, Nate finds no evidence to support a serial killer theory, and he warns Jodi to back off police business, which only fuels her obsession with the cases. When another pregnant woman is murdered, Nate is named lead detective on the case. As he work...

ESW 112. Legends of Windermere

Join Eat Sleep Write host Adam Scull as we dig deep into the world of writing high fantasy with Charles E. Yallowitz, the author of Legends of Windemere, which includes, Beginning of a Hero, Prodigy of Rainbow Tower, Allure of the Gypsies, and Family of the Tri-Rune. Take a step into the magical world of Windemere where history is forged by brave adventurers. Luke Callindor was born into Windemere's most decorated family of adventurers. Since his birth, he has been treated with the greatest amount of respect and awe. Now, with a lifetime of training and the reckless cockiness of youth, Luke has set out to prove that he deserves the admiration that comes from being a Callindor. Luke gets his ...

ESW 111. See You in Hell

Join Eat Sleep Write host Adam Scull in this delightful podcast with Australian writer Demelza Carlton. Melody Angel takes a job as a temp at the HELL Corporation. Surrounded by eternal bureaucracy gone mad, demons who love making life miserable, and dying for a decent coffee, it may take a miracle for Mel's mission to succeed. She must find out what evil plans Lucifer and his minions have in store and stop them, using any means necessary. Adding trouble and temptation to Mel's job is Luce Iblis, the damnably hot CEO, who has set his smouldering eyes on the new office angel and he's determined to claim her, body and soul.

ESW 110. Life in the Pub Fast Lane

Join Eat Sleep Write host Adam Scull for this no-holds-barred conversation on the good and the bad about being a writer today. With over 9,000 books published per month, learn from Elizabeth, a professional book editor, how to stand out from the crowd and rise above the competition in this very frank discussion on how to meet the challenges of becoming a published author. This episode of Life in the Publishing Fast Lane will be the premiere of our new monthly podcast guiding you through the maze of both self-publishing and traditional publishing. Stay with us for this new and exciting monthly podcast!

ESW 109. At the End of the Line

Join Eat Sleep Write's host Adam Scull for this wonderful account of a writing collaboration between two authors that have never met face-to-face. A wrong number and a cry of desperation at the end of the line sparks a long distance friendship between two women who've never met. Through fourteen years of trouble and heartache from a stagnant domestic life, the struggle for civil rights, and the stigma of interracial relationships, a bond forms between the two that changes both of their lives forever. It's 1958, a time when women and Negroes are deemed second-class and are being second-guessed, from there arises the perfect storm for change, and the perfect time for an unlikely friendship. Be...

ESW 108. On Being A Teenage Writer

Join me on the Eat Sleep Write Podcast for this very interesting interview centered around a teenage writer. Henna Hundal is a 16 year old high school junior from Turlock, California. She writes regularly for two local newspapers and has been published in a variety of print and online publications. She has a special focus on health writing, particularly as it relates to young people, and blogs on teen health issues for the Huffington Post. In her free time, she can be found either reading, writing, or doing radio.

ESW 107. Pretty Dark Nothing

Join Eat Sleep Write host Adam Scull in a conversation with paranormal author Heather L. Reid. Seventeen-year-old Quinn hasn't slept a full night in twenty-three days. She's terrified of the demons that stalk her dreams, pull her into a deep dark nothingness and whisper hauntingly of her death. Exhausted, Quinn dozes off in the school hallway, and Aaron, an amnesiac with a psychic ability, accidentally enters her nightmare. If Quinn can learn to trust her heart, and Aaron can discover the secret locked away in his fragile memory, their combined power could banish the darkness back to the underworld for good. That is, unless the demons kill them first.

ESW 106. My Grl with John Howell

My GRL is the story of John J. Cannon, successful San Francisco lawyer, who takes a well-deserved leave of absence from his firm. He travels to a small Texas fishing town and buys a boat, unaware that his new purchase, renamed My GRL, had already been targeted by a terrorist group. John's first inkling of a problem is when he wakes up in the hospital. He learns he was found unconscious next to the dead body of the attractive young woman who sold him the boat in the first place. John now stands between the terrorists and the success of their mission.

ESW 105. The Lollipop Tree

A journey of a strong and proud little tree! Once remarked upon for her tall stature and growing limbs, an incredible storm leaves her scarred and the tree must fight all odds to regain the strength and beauty once marveled at by passersby. The Lollipop Tree is a beautiful and unusual story that young readers will come to love through seasons of change. Join me in conversation with author Karen Schaufeld about the mechanics of writing a children's book.

ESW 104. Faces On My Wall

A coming-of-age story, meet Jamey Fuller, a cocky California kid who achieves his wildest ambition: admission to The Juilliard School in New York City, the country's most prestigious acting school. Once there, he is sure, he will find fame and glory. He will dance on tables, as in "Fame." He will take his place among the Great Actors of his time, freed from the fear of becoming just like his father, a director of Hollywood TV spots. He will be worthy of the famous artists adorning his bedroom wall, from Jim Morrison to Jack Kerouac. Jesse's podcast is much more about the philosophical side of acting and writing than the details of his story, and can be used as an aid to becoming a better wri...

ESW 103. Roundtable-Building Worlds

Join me and Demelza Carlton, author of the Ocean's Gift series, Brian Larson, author of The Secret of the Crystal Series and James Hill, author of Pegasus: A Journey to New Eden, as we examine the methods and techniques of how to build worlds in this enjoyable roundtable discussion.

ESW 102. Writing Is A Business

As the world of newspapers imploded and jobs in her field became scarcer than gold, Sonja let her dream of winning a Pulitzer while working at The New York Times die. When she did, she discovered a new dream: to continue earning her living at the thing she loves best by starting her own writing business. She is now the Chief Wordsmith for her Writer's Chat Stew and utilizes her journalistic edge and quick wit as an editorial consultant, helping business owners and other writers with social media, website content, and all of their writing needs. Follow Sonja on twitter @ChiefWordsmith, to learn even more about how to treat writing as a business.

ESW 101. Death in Venice, California

Jameson Frame is a minor poet, a disinterested scholar, and a sometimes television talk show guest who is haunted by the idea that the best part of life is behind him. He impulsively trades the cold canyons of Manhattan for the sun-drenched Bedouin village that is Venice, California, home to wiccans, vegans, transients, artists, drummers, plastic surgeons, tarot card readers . . . and Chase, a youth of such arresting beauty that he becomes the object, the subject, and the reason for Frame's obsessive yearning. Yearning, for Frame, becomes a hair-trigger thing, as his desire for youth—the restoration of his own, the possession of the boy's—sets him off, unmoored, on a journey through all that...

ESW 100. What Method? By Jessie Fahay

There are many methods an actor may choose to study. There is Stanislavski,Meisner, Adler, Alexander, Hagen, that random British director you met in college who changed your life, that Spanish actor you watched in that play who has been your entire inspiration, etc. What do all of these methods really do for the actor's instrument? How can these methods help you in your writing? Learn about acting, writing and character development in this fascinating podcast with author Jessie Fahay.

ESW 99. The Outmate

Chrissie Laursen doesn't date models. Having barely survived her battle with alcoholism and just out of a ten-year marriage that lasted nine years too long, she's laser focused on her thriving Miami Beach business: promoting erotic photographers in local galleries. She has no time for the ego driven pretty boys that proliferate in that business. For so long she's wondered if life and love would ever truly touch her that she decides to go it alone. Then she sees the glacial blue eyes and rugged, animal intensity of Nick Jessup, and her resolve begins to fracture. Irresistibly drawn to him, she begins a relationship with Nick and soon becomes obsessed with his dominant, controlling personality...

ESW 98. Green Valley with Israel Parker

A serial killer is on the loose in Green Valley, but what if he's the good guy? The year is 2036 and the United States is pulling out of an economic crisis, thanks to new industries and technologies that thrive in Green Valley, Ohio. Regarded as "America's Hope," the city also boasts being named the safest city in America for five years running. But now Green Valley, one of only a handful of cities protected by the still-experimental Unified Enforcement Police, struggles to catch a new-era murderer who continues to kill and elude capture. As the elite federal police close in on the killer, they discover that something darker has infiltrated their perfect city. Happily bumbling through his pr...

ESW96. Ocean's Gift with Demelza Carlton

Three mermaids - Vanessa, Belinda and Maria - swim ashore to pick humans' brains and indulge their taste for chili, chocolate and ice cream. They encounter Joe, a foul-mouthed fisherman with an eye for nice boobs and quite a handy man to have around when the lights go out. He'll fix your generator and have the lights back on in no time, no worries. Just as long as the dolphins don't get him first. A story about fishing, lobsters, beer and boobs, on some cursed islands off the West Australian coast. At least that's how Joe tells it. For the mermaids, it's a slightly different story.

ESW 94. Java Man with Harris Gray

What do you do when a nightmare threatens your dream? In the disturbingly funny new novel from the authors of Vampire Vic, Brian Lawson receives a dread diagnosis: cancer. But he won't spare a moment from saving his struggling coffeeshop, even if success comes with his dying breath. Divorced and ostracized in the rural community, Andrea Goldine sets her sights on the charismatic java man. Brian's doctors ravage him with chemo and radiation, yet the tumor on his shin grows. Brian drafts Andrea into his battle with a competing coffeeshop, desperate to tap the college campus's retail gold mine. But Andrea yearns for a different partnership. Passions simmer below the surface of the tight-lipped ...

ESW 93. Hunter's Moon with Cory Williams

Harrikh was a military leader and a hero on the world of Lonari, until he was condemned for crimes against that world and his people, the Ynan. In his exile, he transformed from pariah to monster, and undertook a life's mission written in blood and fire. Jan Baker, a young man raised on Earth, is one among many Ynan refugees who were scattered amongst the stars when Harrikh returned to Lonari to fulfill a terrible promise in a single act of unparalleled barbarity. Valerie Phillips, a young Philadelphia art student, comes to love Jan and provide for him an anchor of reality, while he, in turn, makes her life more surreal than she could have ever imagined. With their numbers gradually dwindlin...

ESW 92. Declaration with Rachel Wade

Carter Montgomery spent most of his life blending in, and he liked it that way. It was always better to be seen, not heard. And while a theatric streak and friendly demeanor might have fooled most people, he knew the truth—he was the shy one. The quiet kid most people forgot about. Some might have considered that a bad thing, but those people all wanted to be in the spotlight. The only place Carter didn't mind attention was on stage, with The Hellions. Once content in his comfort zone in Seattle, Washington, he only knew three things: confrontation was to be avoided, keeping the peace was priority, and the moment he lost Kate Parker to Professor Ryan Campbell, he had no clue what to do with ...

ESW 91. Given Away

In Sicily, 1935 a four-year child walks away from her loving family, her mother, her sister and an infant brother, with a great-aunt for a vacation. She spends the next eight years of her life absent from their lives. It was not an abduction nor was it an adoption. Tina lives in a one-room house in one of the poorest regions of Sicily. She sleeps between a loving aunt and a deranged uncle. She shares her breakfast with goats and chickens while living in the shadow of fascism. The child grows up while WW II ravages the town. Her school is taken over by German soldiers and the things like bread and eggs that were once plentiful, no longer exist. Less than 25 kilometers away her family leads a ...

ESW 90. New Wings with Donna Stanley

Olivia Stanton always knew the Bible says guardian angels exist. But, in all her seventeen years, she assumed they only showed up when people were dying or needed rescue from sudden disaster. Her assumption is shattered with the appearance of her own guardian angel – in the form of the good-looking Mike, no less. As Olivia gets to know Mike, more and more of her misconceptions about the spiritual realm are revealed. And, as her spiritual eyes are opened to the presence of angels all around, she'll find they can be good or evil.

ESW 89. There Are No Do-Overs

There Are No Do-Overs is a game-changing management book that offers readers insight on how to create a winning team at the office by reviewing lessons from the basketball court. Think of it as a full-court press that shows business leaders how to bring their A game—from tip-off to working overtime—and what it takes to win. Combining lessons from the boardroom with directives on how to make big wins in the NBA, There Are No Do-Overs shows readers the devil is in the details. In other words: success is the sum of paying attention to detail when it comes to business, sports, and life.

ESW 88. The Blue Hour

Cancer researcher Alexandra Kaminski is on the verge of a scientific breakthrough when she crosses paths with pharmaceutical representative, Val Dorsainville, and the two are drawn into the mystery, passion, and tragedy of their past lives in 1880s Paris. Can they solve the mystery and avert tragedy this time around?

ESW 87. Divas Never Flinch

Battles never cease and sparks fly when Sonora and Connye—the two Grand Divas of the Santa Fe Social Scene—strategize to best each other in a no-holds-barred look at adventures in social one-upmanship. Who says there are no longer civil wars in America? Santa Fe, New Mexico is the epicenter of epic battles fought between the two Queens of the local social scene. Told through a series of episodic tales, this satirical novel lurches back and forth between stories of the two Divas, tracing the rise and fall in the fortunes of Sonora and Connye, as they try to outdo each other and reign as Queen. The battles are played out in the most civil of terms. Dinner parties, social events, and outside jo...

ESW 86. Salem VI: Rebecca's Rising

Having stepped off the fast track of prime-time network television news, John Andrews has chosen a quieter life as editor of Salem News, a small paper in a quiet New England town. Life is perfect until Andrews' wife is killed in a tragic accident. After several years of trying to numb the pain with alcohol, Andrews is visited by the spirit of a long dead ancestor who opens a door to a shocking family history. After he experiences a surreal glimpse into the past, Andrews must confront the question of whether he is losing his mind or whether for several hundred years his ancestors have been engaged in a secret battle with a coven that worships Satan. Fueled by the need to understand whether hi...

ESW 85. Cloak & Dagger

When Ruby Rahman runs away from the (fictitious) Middle Eastern country of Inevia to the United States to avoid an arranged marriage, instead of achieving the freedom she seeks, she finds herself trapped instead—in a house full of vampires. This "family" of attractive young vampires, known as the Scotts, don't want to suck her blood. In fact, they have been taking care of Ruby since the accident she was involved in leaving the airport from Las Vegas. But when she tries to leave their house, they inform her that they're going to have to kill her, before their leaders kill them for the crime of exposing her to the truth of their existence. The worst part of all: Ruby finds out that one who has...

ESW 84. Storyteller Gerald Hausman Reads

Got time for a good tale? Slip on your ear-buds, get comfortable and listen with fascination as storyteller Gerald Hausman reads Doctor Moledinky's Castle: A Hometown Tale. This excerpt comes from a collection of stories shaped into what I called a "hometown novel" because I didn't know what else to call it. As a whole it was a novel, a memoir and a collection of short stories all rolled into one. The book got good reviews and also was honored by appearing on School Library Journal's selection of "100 Children's Books Too Good to Miss." Reviewers called Doctor Moledinky's Castle "... eerie, poetic, engaging, memorable, mysterious, surprising, unusual and original."

ESW 83. A Conversation: Science Fiction

Psycho Science Fiction Book Gives a New Twist To Noah's Ark. Author James L. Hill creates a futuristic world where technology has replaced God and mankind struggles to retain its humanity. Pegasus: A Journey To New Eden is a psychological thriller that show how wrong society can go when technology is uncontrolled. This suspenseful hair-raiser allows the readers to explore a twisted future where corporations replace governments and humans are an expendable commodity. It is a dark time of power and greed set against the desolation of space exploration. Pegasus, the first starship, will take the best that the world has to offer and transplant it on another world. Readers are taken on an emotion...

ESW 82A. The Eleventh Hour

When archaeologist, Sophia Conrad, uncovers an ancient scroll hidden deep in the Judaean hills, a force greater than her conscience compels her to steal it. As she begins to translate the writings she realizes three very important facts. This is a book of prophecy foretelling the end times; it is the personal diary of Jesus; and she has been chosen to save mankind from the next cataclysmic event. But when she discovers a small piece of fabric tucked inside the scroll, she and her husband David, a geneticist, are propelled into a life of science, secrecy and government conspiracy.

ESW 82. Werelord Thal

Thal is wanted for Devil worship and shape shifting but still boldly walks the streets of 16th century Prague. Jesuits hunt him. Mercenaries fear him. Musicians sing his praise, and women are captivated by his alpha swagger. Born of a witch and a sorcerer, he is summoned when his desperate mother casts the werewolf spell before facing torture and execution. Burdened with her magical call for vengeance Thal seeks the men that killed her. His hunt is complicated when the Magistrate's stepdaughter Altea Kardas crosses his path. Horrified that her community is burning women to death, she can confide her doubt and fear only to Thal.

ESW 81. The Creative Compass

The Creative Compass: Writing Your Way from Inspiration to Publication by father and daughter coauthors Dan Millman and Sierra Prasada. If you're a writer, storyteller, artist, or innovator, the five universal stages of creativity presented in this book will help you to: pursue ideas with which you strongly connect; observe what works for you and commit to it; work through inevitable doubt and anxiety; appreciate drafts as essential layers leading to quality work and mastery of craft; and recognize, in the practice, a metaphor that will enrich your life.

ESW 80. Heiress Strangled

Peter Hochstein's story of how and why he became a writer and, for a while, a newspaper reporter. What it boils down to — aside from the fact that the only thing Peter ever did well was to write — he was misinformed. His whacko mother led him to believe that all writers with millionaires. Peter wanted to be rich so he could become a chick magnet. He went to a college that offered a creative writing program only to discover, when he got there, that the program had been discontinued. In his search for people who knew something about writing, he discovered the campus newspaper. This led him to a short career in the newspaper business where he was a reporter and then an editor for a now-defunct ...

ESW 79. The 228 Legacy

Three generations in an all-female Taiwanese family living near Los Angeles in 1980 are each guarding personal secrets. Grandmother Silk finds out that she has breast cancer, as daughter Lisa loses her job, while pre-teen granddaughter Abbey struggles with a school bully. When Silk's mysterious past comes out—revealing a shocking historical event that left her widowed—the truth forces the family to reconnect emotionally and battle their problems together. A novel of cultural identity and long-standing secrets, The 228 Legacy weaves together multigenerational viewpoints, showing how heritage and history can influence individual behavior and family bonds.

ESW 78. Midrealm: Realm Keepers

Six mismatched high school kids start going to a magical universe every time they sleep. There they become the Realm Keepers, heroic wizards, each a master of one element. Now they must balance their ordinary lives on Earth with their extraordinary lives in Midrealm and stop an evil warlord from destroying civilization. Because if they fail, Earth is next.

ESW 77. The Savvy Girl's Guide to Grace

The Savvy Girl's Guide to Grace – Channel your inner Audrey Hepburn! Simple ways to tap moments of grace and kindness amid the rush of modern life. A light and bright read for Savvy Girls everywhere…exploring ways to celebrate your life, find beauty in small moments and relish the magic around us.

ESW 76. Travels With Lili

Travels with Lili is a children's fantasy book by Carl Delvic. The main character is a cat named Lili who has special powers (she can speak most human languages as well as the languages of animals). She uses her powers to rescue other animals from abuse and mistreatment by humans. Her owner is named Carl who remains unaware of her activities until the very end, although he does have his suspicions. There is a great deal of adventure and humor in Travels with Lili, however, it also has a message for middle readers aged 9 to 12 - The message is compassion for animals and the value of working together for a better world.

ESW 75. Blade of Amber

In Blade of Amber, the traditional motifs of high fantasy—the quest, the talisman, the war against evil—frame the story of a young woman's effort to define herself. Born on the world of Knownearth, Vic grew up in a small town isolated from the goings-on of the larger world. She studied as a child to be a Logkeeper and preserve knowledge handed down 200 generations from a group of spacefarers marooned and abandoned in an uncharted solar system. Kidnapped by pirates, Vic is sold as a concubine to Lornk, the Lord of Relm. He discards her knowledge, robbing her of her sense of hersel

ESW 74A. In the Beginning

A special edition of the Eat Sleep Write Podcast: A Conversation with author Abby Vandiver during her Blog Tour. In the Beginning is set in 1997 and finds Biblical Archaeologist Justin Dickerson unhappy with her life. She has decided to run away from her problems. Intervening, her mentor asks that she go with him to the Fifty Year Jubilee commemorating the finding of the Dead Sea Scrolls in Jerusalem. There she finds that in 1949 Jerusalem some of the 2,000 year old manuscripts, hidden in clay pots in the caves of Qumran, may have been destroyed. Justin, obsessed with this revelation, is determined to get to the bottom of the deceit. Uncontrollable emotion takes hold of her, and family and f...

The Hidden Son/Dianna T. Benson

When U.S. DEA Special Agent Lelisa Desmond refuses to follow an order to bury evidence in a high profile case, her superior hires a hit man to kill her deep in the ocean off Grand Cayman Island. Lelisa survives the first attempt on her life, but someone close to her is mistakenly murdered in her place. With no one to trust, Lelisa enlists Inspector Alec Dyer for help but learns she's his number one suspect in the scuba diving homicide. She sets off on a daring mission to bring down the man who ordered her execution. A man in a high position, with powerful friends. A man who will stop at nothing to silence her forever in order to hide his son's crimes.

ESW 73. Paranormal Roundtable

Join authors Debbie McClure (In The Spirit Of Love), Bestselling author Karen Perkins (Thores-Cross & The Valkyrie Series) and USA Today Bestseller Tonya Kappes (Grooming Mr. Right), as we examine the underpinnings of writing in this increasingly popular genre.

ESW 72. This Has Happened

On the evening of April 14, 2011 Alex Chappell and David Brehmer were headed back to Richmond from band practice in Alex's truck when they were struck from behind by a drunk driver. The truck rolled several times. Alex died on the freeway that night. David suffered serious internal injuries and two broken legs. During his recovery he began to document his thoughts, exorcising images and emotions through poems when he could not sleep. In the months following Alex's death his mother, Jeannine Chappell, began to sketch the many powerful and haunting feelings she was experiencing, unaware of my poems. Months later she and David saw each other's work for the first time and discovered a common bon...

ESW 71. Francine's Miracle

Francine's Miracle is a story that tells the life of a young Irish girl named Francine who immigrates with her family to the United States from Ireland in the search for the American Dream. This story is the beginning of The Miracle Trilogy which takes place during the 1920s era. In this setting, Francine incurs many challenges during her childhood. Despite the world of Prohibition and organized crime, the young girl endures a life of verbal abuse, violence, a dysfunctional family, poverty, tragedy, endless domestic chores and a constant plea for help away from her surroundings. It isn't until a sudden twist of fate compels the young girl to receive aid and coaching from a special woman who ...

ESW 70. Redemption Road

Mark Shaff is a first time published author of the thriller Redemption Road. The book is receiving rave reviews, reads like an action movie, and is the first in a 2 part sequel. A family outing turns into a nightmare when Annie Diablo goes missing while backpacking in the Eastern Sierras with her husband Marcus and their two young sons. Despite Marcus's claims that Annie was abducted by a group of homegrown terrorists, planning to set fire to forests in and around Yosemite National Park, the FBI is convinced Marcus is responsible.

ESW 69. Roundtable Discussion

With Cheryl Renee Seagraves, El Phoenix Farris and Rene Shultz. The roundtable focuses on why they believe the indie author is a real competitor for the big time publishing houses. All three have recently published books and became acquainted with each other online. They each write in a style that is like talking to a friend, and their books deal with tough subjects of abuse.

ESW 68. Mr. Joe

Do you believe in ghosts? Joseph Barnett didn't give much thought to the departed until he became a school custodian in a midlife career change. Joe had no idea that his first assignment, working nights in a kindergarten school, would give new meaning to the term "graveyard shift." When he learned that the eighty-five-year-old school had been constructed near a cemetery, the news barely registered; but then, walking the dim halls alone at night, listening to the wind outside and the sounds of the building settling, Joe was forced to confront his darkest fears.

ESW 67. A Good Day For A Story

Join author, folklorist and storyteller Gerald Hausman for his monthly series A Good Day For A Story. Sit back, listen and enjoy some fun stories of his travels.

ESW 66. Obsession with Sharon Buchbinder

A year after a barbaric childbirth, complete with a near-death experience and an encounter with her guardian angel, Angie Edmonds is just happy she and her son, Jake, are alive. She's finally in a good place: clean, sober, and employed as a defense attorney. But at the end of a long work day, she finds herself in a parent's worst nightmare: Jake has been kidnapped and taken across the Mexican border by a cult leader who believes the child is the "Chosen One." Stymied by the US and Mexican legal systems, Angie is forced to ask the head of a Mexican crime syndicate for help. Much to her chagrin, she must work with Alejandro Torres, a dangerously attractive criminal and the drug lord's right-ha...

ESW 65. Sharing the Earth

What if you could live in a world where everyone had enough? Where financial struggle would not exist, and where involuntary unemployment and poverty could become a thing of the past? A world where our economies are thriving, yet our ecologies are sustained? SHARING THE EARTH not only shows that such a world is possible, it also shows how it can be accomplished. This book builds a case for a detailed and comprehensive economic reform of unprecedented scope, and it does so with both sound logic and a passion guaranteed to draw in anyone who has ever dreamed of a brighter future and a better world, for ourselves and future generations.

ESW 64. The Naked Truth

Despite the threat of a lawsuit by his former company, Mr. Lester publishes a daring unauthorized tell-all about the company known as the "granddaddy of sweepstakes." The saga of Publishers Clearing House -- from a small mom-and-pop company to one of the most profitable private companies in the country to the brink of bankruptcy -- is a totally unknown story that is nothing short of "shocking." The Naked Truth includes many never before told secrets about the company's great success and subsequent battle for survival, private stories of an eccentric and mischievous management team, and antics of the fun-seeking Prize Patrol and their unsuspecting targets.

63. Saving Jackie K

Enter an upside-down world where Soviet henchmen botched their mission to eliminate John F. Kennedy fifty years ago, slaying his wife Jackie instead. The unthinkable crime incites Americans and triggers an unending war with Russia.

62. Happily Ever After

When her engagement was broken off just days before her wedding, Mona was forced to deal with the heartache, embarrassment and financial ramifications that ensued. Citing it as the toughest experience of her life, Mona is now turning to help others fight through their own relationship struggles and triumph in their time of need.

61. He Never Liked Cake with Janna Leyde

On a balmy Tuesday during the summer before ninth grade, a car accident on a rain-slicked highway flipped Janna's safe and happy world upside down, and her adolescence dissolved into a summer of restraining belts, feeding tubes, therapy schedules and chicken salad sandwiches from the hospital cafeteria. Since that day, Janna's life has been a navigation through the inescapable struggles of her father's brain injury, a study of her mother's resilience and unconditional love, and a challenge to find herself.

60. The Voices Never Stopped

'The Voices Never Stopped' deals with Jennifer Myers' personal journey and road to recovery from mental illness and gives insight into what someone with schizophrenia disorder is thinking and feeling and how Jennifer started blogging about her illness and ended up writing a book.

59. Black Roses with Jenn Brinks

Jessica Hart is new to Seattle, days away from the big three-o, and just months away from marrying the perfect man when her fiancé, Jim Carozza, gets into a car with a creepy stranger who looks like a Vegas pit boss. Suddenly, her seemingly perfect life takes a bizarre turn. Her big brother, Greg, tells her to go home. The police tell her to go home. Her inner voice even tells her to go home. Unfortunately, Jessica has never been the kind of girl to do as she's told. Instead, she dives head first into trouble looking for answers but soon finds out that every answer leads to more trouble.

58. Billy Moon with Douglas Lain

Douglas Lain work has regularly appeared in nationally distributed literary magazines and journals such as Lady Churchill's Rosebud Wristlet and Amazing Stories since 1999, and his first book Last Week's Apocalypse was a collection of these stories published by Night Shade Books. His second short story collection is entitled Fall Into Time and was published by Fantastic Planet Press (an imprint of the Bizarro publisher Eraserhead) in June of 2011. His novella entitled "Wave of Mutilation" appeared in October of 2011. His surreal nonfiction book "Pick Your Battle" was published in July of 2011 with Kickstarter funding. Finally, Lain's first novel, entitled Billy Moon tells the story of Christ...

57. Ad Nomad with Eric Sonnenschein

Drugs, sex and advertising...not necessarily in that order. In Ad Nomad, the Case Histories of Dane Bacchus, we enter the world of pharmaceutical advertising, where corrupt and ingenious creative minds market medicines and devices with more flair and guile than is used in promoting corn flakes, cars, and mouthwash. In these pages, you will find driven account people, maniacal creative directors, art directors and copywriters pushed to the brink of mental mayhem. Ad Nomad—conspiracy, criminal acts, sexual deviancy, drug abuse, fraud, strange heroism, deception, psychological torture, political oppression, violations of trust and the only question you should be asking is, "Am I in it?"

56. Chillin' Out with Leesa Dean

Chilltown is a wild, hip-hop oriented animated comedy web series. Based on the hit underground comic book and created, written and animated by Leesa Dean, it revolves around the lives and misadventures of three hip-hop heads, G, Marv and Plad, straight outta Chilltown, NJ. Added in the mix: G's wannabe mogul cousin, K Deuce and Lele, K Deuce's girl. Most of the episodes satirize pop and rap culture and many revolve around the music business. A second show, Lele's Ratchet Advice, a animated parody of dating advice shows, hip-hop style, also recently launched.

55. Trains - A reading

"Some days I am overwhelmed by the amount of thoughts and ideas circling through my mind. I reach in to grab one so I can mull it over, feel it, turn it inside out and get to know it, but another always attaches itself to the end and a train forms. I open up the drawers to my card catalog file I keep in my brain and begin to dismantle the train and stick everything into it's proper drawer. This is tricky and cautious work. The opening of a drawer to place something inside is often an invitation for something else to pop out. Much like the Sorcerer's Apprentice, the more thoughts and ideas I try to file away, an exponential amount slips out and begins dancing around distracting me from my ini...

54. The Secret of Your Perfect Memory

Are you looking for an advantage in life? Learning how to use your memory will give you that advantage. Most people who succeed in life have an above average memory. You will learn to: Memorize entire books, plays, scripts or speeches. Actually raise your I.Q. Get excellent exam results. Cut your study time in half. The true potential of your mind is virtually limitless. Explore it!

53. School for Startups with Jim Beach

You want to start your own business, but "risk" isn't your middle name. You're not alone. Many successful entrepreneurs are averse to risk--but they have learned the tricks to working around it. And now you can too, with School for Startups. This practical guide shows you how to build a business the smart way--without risking major assets such as your house, savings account, or health insurance.

15. Writing for Resumes

Melanie Denny has partnered with numerous clients from a wide range of industries to create unique, compelling self-marketing documents and tools. With expert knowledge in résumé writing concepts, modern job searching tactics and effective keyword strategies, she has a passion for helping job seekers reach their long and short term career goals.

Author Mary McGrath

Mary McGrath is a freelance writer and photographer based in Los Angeles. Her interests in writing date back to junior high school, when she began contributing to her school yearbook as a poet. Her first book of poetry, Trespassing Stoplights and Attitudes was published through Mudborn Press in Santa Barbara while she attended UCSB. Writing, photography and music have always been passions of hers, and after spending 25 years in the advertising field, Mary finally left corporate life to concentrate on her love of the arts. Beyond writing and photography, she collaborates as a jazz vocalist on several music websites.

17. Poet Jim Hart

You like poetry? You understand poetry? You get poetry? If you don't, you will after listening to Jim Hart talk about the nuances and greatness of being a poet. Jim Hart is an internationally published poet was whose works have appeared in publications in United States, Canada, England, Scotland, Austria, India, Germany and New Zealand. Hart worked for the New York City Sanitation Department in positions including Deputy Director of Public Affairs, adn Director of Correspondence for sanitation police. Hart was born and raised in Brooklyn New York and currently lives there with his wife.

14. From Paramedic to Author

Jackie Patricks started writing fiction when she was 15, and like most aspiring writers, thought her work terrible, immature, cliched drivel. But she kept at it, even going to college for her creative writing degree before she understood how useless such degrees tend to be for real world applications. she also got used to the typical reject letters. Eventually, she needed annoying things like food, clothing and rent, so she got a real job and ended up finishing her degree in paramedicine. Since then, she's gained 19+ years of experience as a paramedic, and that's after joining the army which paid for her degree. Of course, becoming a medic and honing skills takes a lot of energy, so her writ...

37. In the Spirit of Love

In The Spirit Of Love is a paranormal romance with a unique murder mystery twist. Sir Richard Abbotsford, a ghost wrongfully accused of murder almost a century and a half ago, believes his love has returned to release him from his eternal prison at England's stately manor, Kent Estate. Claire Jacobs doesn't believe in ghosts, and has no recollection of Richard, or a love he claims they shared a lifetime ago! Rife with twists and turns that keep the reader engaged, In The Spirit Of Love reminds us that the past and the present are connected in ways that can change the course of the future, and that sometimes, even death is not an end.

30. The Family That Stays Together

Deborah Plummer Bussey introduced readers to a new kind of mystery with her first Sister Nun novel, and she gives fans the second psychological-social installment of her page-turning series this July. "The Family That Stays Together" continues the fast-paced adventures of sisters Kathy and Tina first chronicled in Bussey's debut book "They Still Call Me Sister." This time, the two women join forces to protect a family friend, a television celebrity who has been accused of murdering her ex-fiancé. But as usual, scandal, foul play and trouble lurk around every corner. Bussey bases Kathy's character on her own life as a psychologist and former nun. In each mystery, Kathy is faced with the chall...

40. Truth Be Told: Adam Becomes Audrey

"Truth Be Told: Adam Becomes Audrey is a tragedy, a comedy and a love story. It is my story. In vivid detail, I recall how I met, fell in love with and married the man of my dreams, only to find that he self-identified as and wanted to become a woman. Read what happened after I learned the truth".

36. The Savior At The End Of Time

Come along for a magic ride with author Dee Rapposelli as she weaves her stories filled with fantasy fictional exploits of Sorcerers and Magi. Dee writes under the magical name Soror ZSD23, a code that refers to life, wisdom, divinity, and connection with the Zos-Kia (life/bliss) current of Chaos Magick.