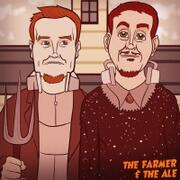 Title Pending

Another episode with a melting pot of topics. So random that it's hard to describe. Special pop-ins by Rex Gabriel of C101′s "Two Guys in the Morning" as well as Gabriel (aka Roy).

Episode 24 - BEEF

More heroic actions by the farmer, the ale's strange podcast related dreams, and some sort of New Jersey related controversy.

Episode 23 - Just Punishment

The Farmer can't communicate effectively, so he had to be punished. Also, professional cuddling and old dead clams. See the Farmer's punishment at http://thefarmerandtheale.com

Episode 22 - Geek Farmer

Don't let his farming background fool you. Chris is a bigger geek than most.

Episode 21 - Not for Moms

Our moms listen to the show, so you'd think we wouldn't talk about certain things....but we do. So if you are the mother of either the Farmer or the Ale, don't listen. All other moms are welcome.

Episode 20 - School Bus Yellow

CARD READY! Sonny the Wolf joins in on the action! It's a reunion filled with many laughs. See more at http://thefarmerandtheale.com

Episode 19 - Clean Shirts

Biker rallies and the importance of clean shirts. Kingsville may be a small town, but crazy stuff goes down.

Episode 18 - John McRain

The true identity of Company X is revealed! Though, it wasn't really a secret if you just go back and listen to some earlier episodes.

Episode 17 - Revenge of Roy

Roy pops in for a few stories, including the Farmer's latest injury report, how the Ale inadvertently received porn in the mail at work, and a new segment, "Spam Comment Theater." Plus some studio hopping.

Episode 16 - Company X

Not a good week for the Farmer, who has suddenly forgotten he's not supposed to say the name of the company he works for. The debut of our theme song by J Sarge and special guest appearance (somewhat against his will) of Walt Flanagan of "Tell 'em Steve-Dave" and "Comic Book Men." Oh, and what does the fox say?

Episode 15 - I Need a Hero

Don't run from the police, kids. There's a new hero in town to assist them.

Episode 14 - Spreaker Appeal

Topics include the worst jobs, name the phobia, and ridiculous claims by PETA.

Episode 13 - Injury Report

Injuries plague the Farmer as he receives more training, leading to conversation about past injures. Other nonsensical talk follows.