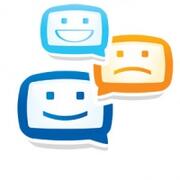 Amplifying Your Brand Using Podcasts

Need another marketing tool to help your business? Watch here and learn how to use podcasts and social media to amplify your brand. Podcasts are added to websites and blogs daily, you want to make sure yours has valuable content. You'll learn tips on that from Michael Guarnieri, Founder and CEO of Nu Media Mix.

The State of Content Marketing

Fact: Everyone is talking about the importance of not just creating content, but creating quality content that drives sales and increases brand awareness. So, how do we measure if we're making it work or not?

The State of Content Marketing

Is content marketing even a thing any more? That may depend on how you define it! On this episode we're talking with Robert Rose, who has more than 20 years experience helping marketers become stellar storytellers.

Content, Thought Leadership & Brands

Listen in as we're talking with Jason Falls about using content to define thought leadership and how that affects brands and marketers.

Advertising is a Conversation

Please welcome Lou Covey, he's been watching the #FridayHangout and asking great questions for so long we just had to have him on the show! We will be discussing how advertising really is a conversation between a brand and the consumer.

Networking in the Age of Social Media(1)

Dave Delaney joined us to talk about Professional Networking in the Age of Social Media on a recent #FridayHangout.

The 3Ps of Killer Drip Campaigns

Check out this newest #fridayHangout on Killer Drip Campaigns for Sales.

What does it mean to be a human business

He's back. If you're interested in bringing back the human side to communication then listen in as we talk again with Bryan Kramer.

Gamification-What Marketers Need to Know

Join us as we talk with Gabe Zichermann about what marketers need to know about Gamification, which is a dynamic and exciting industry bringing together game mechanics and marketing to create engagement and solve problems.

Brands Need Smarter Conversations!

Learn how brands can have smarter conversations with their market and use a variety of media in order to deliver it the way they want to receive it!

Automotive Social Business

What does social selling have to do with cars? According to our Kathi Kruse, A LOT

B2B Communications and Story Telling

Contrary to Popular Myth, Storytelling Does Have a Place in B2B Communications!

What is Realtime Marketing?

88% of marketers say they employ real-time marketing and consider it important in their 2014 marketing plans. But what does that mean? How do we measure it? This week on the show we have Tonia Ries, editor of The Realtime Report, CEO and Founder of Modern Media, an agency that builds media brands, produces conferences, and designs web sites and marketing strategies, basically anything that is live, digital or social.

Spin Sucks in the Digital Age

Gini Dietrich, Author of Spin Sucks: Communication and Reputation Management in the Digital Age joins us on the show to talk about how marketing has transformed in the digital age.

Developing Real Thought Leadership

How does a person establish themselves as a thought leader within their corporation and then in the marketplace? This week we're talking with Mitchell Levy of ThinkAha to answer that very question. He'll share best practices in creating your own place as a thought leader.

Google+ For Marketers

This week's show is all about using Google+ for marketing. Our guest, Mike Allton, has been using G+ since it launched, and his blog, The Social Media Hat is loaded with tips and tricks for small business. Join us to talk about strategies that work on Google+ and how you can put it to work for you.

Social Selling with Jill Rowley

Jill Rowley joins us to talk about creating a social selling program at Oracle, press, social selling where it is now and where it's going. This was a great show for anyone who wants to understand the concepts of social sales.

Digital Marketing Strategy

You know when you get 3 digital marketers together you're going to find some unique solutions to any problem. This week Steve Farnsworth, Janet Fouts and Adam Helweh lend their expertise to answer your questions about digital marketing strategies that work.

Your Brand Image and LinkedIn

Is your brand really making the most of LinkedIn or did you toss up a company page and forget about it? We've got Viveka von Rosen on the show this week to tell us how brands can really leverage LinkedIn as a platform.

Location Based Marketing

Aaron Strout join us on The Friday Hangout to talk about what's next in Location Based Marketing.

The Changing Role of Agencies

We're excited to have Todd Defren on the show this week, CEO and co-founder of SHIFT Communications, recently named Small Agency of the Year by The Holmes Group. Join us and bring your questions about the future of PR.

Align Marketing W Business Goals

Andreas Ramos joins us this week to talk about using content marketing to align your marketing with your company's business goals to meet top-line and bottom-line KPIs. Author of The Big Book of Content Marketing, Andreas is currently managing global SEO at Cisco, a well respected author of nine books on digital marketing and SEO.

Epic Content Marketing-Joe Pulizzi

Our guest this week is "the guy" behind Content Marketing. Joe Pulizzi, author, speaker and evangelist, is a content marketing expert dedicated to helping companies grow profits by creating better content. He is the Founder at Content Marketing Institute (CMI), a true online resource for those interested in content marketing and brand storytelling. CMI is responsible for producing Content Marketing World, the largest content marketing event in the world, as well as the leading content marketing magazine, Chief Content Officer.

Content Marketing in Context

with Robert Scoble

Content Marketing Maturity Model

As content marketing has evolved it's been through a lot of iterations. Who's getting it right? Who can we learn from? Where is it going? Our guest this week is an active thought leader in the digital marketing and public relations industry, he's contributed to top industry publications such as Mashable and MarketingProfs. Sometimes referred to the person who got it right in terms of social media marketing.

Trends in Engaged Customer Communities

"The reality is that social networks are great for acquisition...They are great for reach, they are great for acquiring consumers you might not normally get," says our guest for this week. Join us as we have a discussion with Katy Keim of Lithium on Trends in Engaged Customer Communities.

Changing Face of Social Media

Social media is constantly in flux. New networks pop up, new catch phrases like "content marketing" , "email is dead" and "Social Graph". Trends come and go at the drop of a shoe. Watch the hangout live here and get the links mentioned in the show at http://thefridayhangout.com

The Collaborative Economy

We've got a great show lined up this week with our guest Jeremiah Owyang talking about the implications of the disruption of collaborative ventures on the business status quo. Jeremiah is the Chief Catalyst and Founder of Crowd Companies, which focuses on how large companies tap the collaborative economy, maker movement, and customer collaboration. Prior, he was an industry analyst and Partner of Customer Strategy at Altimeter Group, an industry analyst firm based in Silicon Valley.

Focus on Facebook with John Haydon

There have been so many changes of import at Facebook this month that we've decided to dedicate a show to it! Who better to bring on as a guest than John Haydon, Author of Facebook Marketing for Dummies, Chief Heretic and Pyrotechnician at Inbound Zombie and the man to whom non-profit and for-profit businesses alike have turned for help with Facebook over the years at CharityHowTo.com, JohnHaydon.com, MarketingProfs.com and the Huffington Post?

Pinpoint Marketing

This week on the show we've got author and consultant Shel Israel, who is co-authoring a new book with Robert Scoble called "The Age of Context: How it Will Change Your Life & Work" due out in just a few weeks. We'll talk with Shel about the concept of "Pinpoint Marketing", the ability to avoid noise and send the right signals to the prospects you want to attract with an offer that is just what they're looking for.

Consumer Advocacy and Social Media

How important is community and social media to a brand today? Join us this week with Lauren Harper, Community and Social Media Manager at Eloqua. We'll be talking about how brands can use social media to nurture customers and create advocates for the brand.

Social Media and the C-Suite

How many C level execs do you know who actively use social media? Should they use social at all? What about the rest of the staff? Are they doing the best they can to support your digital marketing efforts? This week we've got Amy Higgins on the show, content and social media manager for Concur SMB and a well respected digital media strategist. We'll talk about encouraging the c-suite to embrace (or hey, at least understand) social media and it's value and how to enable staff in general to become brand ambassadors through social media.

Global Content Strategies

How do you create content that reaches a global audience? What are the issues that come up? In this show we are talking with Val Swisher, Founder and CEO of Content Rules about how to approach, setup, and maintain global content and the nuts and bolts of creating global-ready content.

Collaborative Content Curation

This week's show was supposed to be about collaborative blogging, but a snafoo lead to Adam Helweh and Janet Fouts discussing breaking news in digital marketing this week. We talked about the impact of hashtags on Facebook and the opportunities it will bring to the people who use Facebook as a part of their marketing arsenal and to people who previously didn't know what a hashtag was or how it works.

Profit-Driven Digital Marketing

Why are you using digital marketing for your brand? Most people answer that question with "To generate income of course!" The thing is, most brands don't have a clue how digital marketing works to bring them business! That's why this week's show with John McTigue is one you shouldn't miss.

Who Are Your Buyers and Why Do You Care?

Understanding your buyer is key to sales, whether online or off-line. This week we are talking about identifying the personas of people who buy your product and how to market to them once you've figured that out. Clearly this week's guest is a master at just that. Jason Keath is the Founder and CEO of Social Fresh, a social media education resource, where he curates some of the smartest voices in online marketing. Also on the show this week are Adam Helweh and Steve Farnsworth

Lead Gen and the Offer

This week we're talking with Howard J. Sewell, president of Spear Marketing Group (www.spearmarketing.com), a full-service demand generation agency. Get the links an show notes at http://thefridayhangout.com

Social Business? @ith Amber Naslund

Social business. Is it a buzzword? The future of marketing? A way to tailor your business to your customers? This week on http://thefridayhangout.com we're talking with social business strategist Amber Naslund. Amber is the Co-Founder and President of SideraWorks, along with Matt Ridings. SideraWorks a social business advisory firm, and focuses on helping companies adapt their internal culture and operations to the shift toward social business.

The Evolution of Community Management

This week on the show we have rockstar community strategist Connie Bensen to talk about how community management has changed over the last decade and where it's going. Learn more about the show at http://thefridayhangout.com

Your Real-Time Marketing Sucks

-- Shel Holtz On How To Do It Right! We can trust our guest this week to tell it like it is, which always makes for a fun show doesn't it? Shel Holtz, ABC, is principal of Holtz Communication + Technology. Shel has nearly 30 years of organizational communications experience in both corporate and consulting environments. He is experienced in employee communications, compensation and benefits communications, corporate public relations, media relations, financial communications, investor relations, and marketing communications.

Brand and Reputation Management

Brand and Reputation Management for the Small Biz- with THE Ken Cook Most small companies don't have the luxury of hiring million dollar firms to help plan their branding and to protect or rebuild their reputation. That's when they turn to Reuter's Top 10 Small Business Expert on Twitter 2012 Ken Cook. Ken is also Founding partner at Social Media Edge, a Blog Talk Radio show that is now in their 5th year of broadcasts. The show broadcasts every Tuesday at noon EST, and addresses using the Social Media tools, part of New Media, mainly for business purposes. This week our panel is: Adam Helweh, Janet Fouts and Steve Farnsworth and we're looking forward to talking with Ken about the most recent...

What's your brand- with Karen Kang

Do you know what you want your personal brand to be? Is you perception of it the same as those who see it? Mebbe so, mebbe not. This week on the show we're talking with Karen Kang, a recognized brand strategist and the CEO and founder of BrandingPays LLC, a corporate and personal branding company. She has trained thousands of professionals on the unique BrandingPays™ System for personal branding. Karen was a principal and partner with Regis McKenna Inc., the legendary marketing firm that created and launched the Apple brand. She's consulted to more than 150 organizations in the U.S., Europe and Asia from Fortune 100 companies to non-profits and startups. Her broad experience has included suc...

Mapping Content to the Funnel

Lots of people *think* they're using content marketing effectively, but are they really getting the results they should be? This week we've got Michael Brenner on the show. Micheal's blog, B2B Marketing Insider is dedicated to sharing the ideas, topics and marketing strategies that drive real results like sales, leads, and higher customer loyalty. We'll talk with him about how to create and follow a methodology that helps drive the sales process. We'll talk about how we do that with out clients and what works, what doesn't, and how you can learn from our mistakes. See more shows on http://thefridayhangout.com

The Failure of Content Marketing

Content Marketing is the new buzzword isn't it? But is it really all it's cracked up to be? What is it? It certainly isn't the "spray and pray" approach taken by some brands. Does context matter? How do you make sure the content you doput forth speaks to your target demographic? This week we'll talk about this and more with Geoff Livingston, an author, public speaker and strategist who helps companies and nonprofits develop outstanding marketing programs. He brings people together, virtually and physically for business and change. Get the full show notes and links on http://thefridayhangout.com

Corporate social media management

We're talking with LaSandra Brill this week. LaSandra is part of the Global Marketing group at Cisco Systems where she shaped Cisco's marketing strategy to include a mix of social media marketing techniques leveraging web 2.0 and virtual technologies. Cisco systems is known for their generosity in supplying information on effective social media engagement. Obviously creating and implementing a social media strategy for a corporation as large as Cisco entails a lot of organization and buy-in at several levels. We'll chat with LaSandra about how that works, gather some ideas and talk about where social media is going within the corporate environment. Links mentioned in the show can be found at...

Social Sales with Nimble

This week we are joined by Nimble founder and CEO Jon Ferrara. A relationship entrepreneur at heart, Jon founded GoldMine Software, one of the all time best selling CRM products and helped pioneer the entire Sales Force Automation (SFA) and Customer Relationship Management (CRM) market. After seeing the immense power of Social Media and the lack of any products that effectively combined Relationship Management, Social Listening and Engagement, Collaboration with Sales and Marketing, Jon founded Nimble to create an extensible Social Business platform.

Storytelling in a Digital Age

Marketing relies more now than ever on telling a good story and that story being shared. With the explosive growth of digital media that makes it easy to get a story out to the world, but once it's out there who's in charge? What issues face today's digital marketer in creating a winning story and reaching their market with it? This week we'll talk with Lou Hoffman, CEO of The Hoffman Agency, a communications consultancy focused on the tech sector with offices in Asia, Europe, and Silicon Valley. He made his first trip to China in 1998 before opening the firm's office in Beijing. He blogs on storytelling through a business prism at Ishmael's Corner. We're also happy to welcome Frank Strong b...

Blogging and Building Readership

We've got Dino Dogan on the show this week. Dino is the founder of the popular content distribution network built for bloggers, by bloggers Triberr. All of us on the panel for the Friday Hangout are regular users of the site and we're excited to have Dino on the show to talk about the evolution of content distribution and getting your blog seen among the millions of links that go live every day. The panel on the show this week includes Adam Helweh, Steve Farnsworth, and Janet Fouts.

Facebook Graph Search +Digital Marketing

This week's show is all about Digital Marketing, PR and how the new Facebook Graph Search is going to affect how we market on Facebook. We've got two guests this week: Brian Remmel, a digital marketing specialist at Cohn & Wolfe, a global communications and public relations agency. He leverages his background in strategic communications and passion for storytelling to develop and manage content marketing and social media programs for his clients, including tech startups and Fortune 500 companies. Liva Judic is Director of Merry Bubbles Communications LTD., a marcomm agency that caters primarily to the technology ecosystem. Our current activity hubs are NYC, SF, Barcelona, London and Paris, w...

On PR and Marketing with social media

This week the panel welcomes Frank Strong to the show. Frank is a seasoned, well-rounded and talented marketing executive with 14 years of combined corporate and agency experience, and core competencies in PR, content marketing and social media. His Blog, SwordandtheScript.com is chock full of thoughtful posts about marketing, PR and social media. Frank most recently was director of PR for Vocus (NASDAQ: VOCS) a leading provider of marketing software that helps organizations reach and influence buyers across social networks, online and through the media. learn more at http://thefridayhangout.com

Building a brand for your business

It's a brand new year, and our first show is with Julie Cottineau of Brand Twist, a brand consultancy focused on helping entrepreneurs and corporations build their brands and leverage them as actionable business assets. this week the panel is made up of Janet Fouts, Steve Farnsworth and Adam Helweh and we talk with Julie about branding, working with Virgin, how that applies in particular for startup and young companies and how building a brand has changed with the advent of social media.