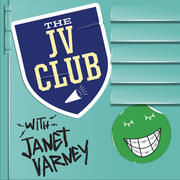 Boys of Summer: Mike DiMartino and Bryan Konietzko

The last duo of Boys of Summer: the insanely talented and terrific Mike DiMartino and Bryan Konietzko, the minds behind "Avatar: The Last Airbender" and "The Legend of Korra." Art! Music! Travel! Adventure! And of course, squirrel suits. PLUS! A VERY, VERY special rendition of "Boys of Summer" from Paul and Storm!

Graham Elwood

Surf's up! Guest Graham Elwood (Comedy Film Nerds) puzzles over moralistic quandaries, zen and control, sports and feelings, and (gulp) the gluttony of a good buffet

Boys of Summer: The Sklar Brothers

Now entering Sklarbro Country! Jason and Randy Sklar make JV Club history as the first (and let's face it, possibly only) twins to appear. Applaud their patience as Janet asks what are probably twin-related questions that the boys have been forced to answer their entire lives (and somehow still make it entertaining and fresh).

Boys of Summer: Howard Kremer

How's your summah? It's about to get a bit brighter with the delightful Howard Kremer (Who Charted?) whose stories of non-caped crusading, rocks from the Boss, and the changing phases of his erstwhile band do not disappoint. What would YOUR superhero name be?

Ben Acker and Ben Blacker

It's back-to-back duos! This week welcomes The Thrilling Adventure Hour's Ben Acker and Ben Blacker, with tales of suburban east coastery, unrequited crushery, and odd coincidencery, plus possibly more made up words!

Boys of Summer: Paul and Storm

The Boys of Summer return in the corporeal forms of Paul and Storm, in town on their way to Comic Con! The gents try to explain D & D to Janet even though neither of them were really that into it, until she finally lets it drop and they move on to other equally delightfully nerdy subjects. w00t w00t!

Live at Bridgetown with Carrie Brownstein

Taking a brief break from the Boys of Summer series while Janet's out of town, it's the live episode from Bridgetown Comedy Festival in Portland, Oregon with Carrie Brownstein!

Boys of Summer: Paul Gilmartin

The lightning-quick-minded Paul Gilmartin reunites with his Dinner and a Movie co-host for a frank discussion about the good and bad that shapes us, finding humor in darkness, and... Chaka Kahn.

Boys of Summer: Danny Pudi

Oh no- not ANOTHER Polish-Indian-silly-wonderful-trail-running-twin-fathering-Community-castmember. Wait... There's only ONE Danny Pudi. And he's the guest of episode 116- as the Boys of Summer rolls on!

Boys of Summer: Paul F. Tompkins

This week with the always wonderful Paul F. Tompkins: build a snow tunnel, sing a few piano tunes, or recite Edgar Allen Poe in the place where his macabre work truly shines: a brightly lit classroom. Boys of Summer continues!

Boys of Summer: Greg Behrendt

You knew this Boys of Summer episode was inevitable… so SWEATER UP! It's the just-plain-awesome Greg Behrendt and his rugby-playing, alt-rock-discovering, girl-crazy younger self, all wrapped up in a quality cardigan and a good pair of Purcells.

Bruce McCulloch

Spend an hour and change with erstwhile Young Drunk Punk Bruce McCulloch (Kids in the Hall) as he class-clowns, competitive-weightlifts, and rock-and-rolls his way through his teens in Calgary and Edmonton. Yes, those are both places in Canada. C'mon guys. We knew that.

Phil LaMarr

Get soothed by the dulcet tones of the charming and absurdly talented Phil LaMarr (Futurama, Mad TV) as he channels Bogart, Poitier... and even Winkler. Plus: Discover the sci-fi plots of books he really should write, courtesy of the M.A.S.H. game!

Boys of Summer: Jimmy Pardo

Cross over the Rainbow Bridge for a listen to some of Boys of Summer guest Jimmy Pardo's (Never Not Funny) Greatest Hits. Now imagine Jimmy rolling his eyes when he reads this description, and you've got a sense of this episodic gem!

Boys of Summer: Cole Stratton

Extra! Extra! Read all about it! The "it" in question being, amongst other things, guest and Pop My Culture Podcast co-host Cole Stratton's job at the local newspaper. What other adventures did this moxie-laden self-starter have while the rest of us were eating multiple hot fudge sundaes after school (okay, maybe that was just Janet.)? Find out in Episode 110, otherwise known as the third installment of the Boys of Summer series!

Oscar Nunez

Things you will know A LOT about after you finish this episode with the simply delightful Oscar Nunez (The Office): Hot dogs! Dental Technology! And the entire history of Castro's dictatorship in Cuba! And heads-up- this might be the most giggly Janet has ever been on the podcast. You've been warned!

Boys of Summer: Steve Agee

Military-schooled Steve Agee (The Sarah Silverman Program) is the guest for the premiere of the "Boys of Summer" series on the JV Club! Tools you may find useful: rock-climbing gear, headphones, a Trans-Am and a bottle of Boone's.

Joselyn Hughes

It's Episode 107 with comedian Joselyn Hughes! First up: hair, hair hair. Plus: 311! Everclear! No Doubt! And later... a deeper dive... into snorkeling.

Jennette McCurdy

In this very special episode, Janet podcasts her very own DAUGHTER! ...Well, at least someone who played her daughter in a thing. It's the terrific Jennette McCurdy ("Sam and Cat") and a sitting-on-the-rug hangout, covering such topics as feminism, faith, and becoming a real life Ghostbuster.

Suzy Nakamura

Put on your safety googles and fire up the furnace with this week's guest, the handy and hilarious Suzy Nakamura (Bad Teacher). Take a tour of pizza shop and comic book-basement-vacations-- but don't fall asleep or you'll miss your train stop!

Aisha Tyler

It's a deep-delving discussion of ethics and morality (science fiction nerds welcome!) with the inimitable Aisha Tyler, otherwise known as a video gaming champ of her local laundromat. Plus: enough rad book recommendations to last you for weeks!

Sarah Tapscott

Will Episode 103 cut the mustard? Join Janet and guest Sarah Tapscott (Kroll Show) on a verrrrrry long adventure where, if you're lucky— or unlucky— you may even be given your own horse. Plus: More Creepy Emma Thompson worship!

Pilar Alessandra

This episode comes with a collectible set of apologies for all of the apologies from the apologizing team of Pilar Alessandra (On the Page). Plus: a houseful of grandparents, a dad with a perm, and marrying Bugs Bunny.

Ginger Gonzaga

Finally, the ALL-ALMONDS episode you've been waiting for! Sympathize with awesome guest Ginger Gonzaga (ABC's Mixology) as she patiently discusses almonds with Janet for almost the entire hour.* Oh, and a little bit about debate teams, hallucinogenic teas, and a "free-farting" flute teacher. *Extreme exaggeration

Busy Philipps

Our very first live episode video-streamed with the amazing Busy Philipps (Cougartown) and MANY OF YOU! Thanks to everyone who tuned in and commented and asked awesome questions. And thanks to the guys at Cogo for hosting! Happy 100th episode!

Special 100th Episode Announcement!

A special announcement from Janet about the LIVE 100th episode streaming March 13th at 4pm PST on https://www.cogo.tv/jvclub!

Heidi Rose Robbins

Feel it all! Lean into every bit of Episode 99 with the inspiring Heidi Rose Robbins, who celebrates the delight of a great poem, the magic of children's books, and the extraordinary appeal of a little something called midnight moon cheese!

Daniele Gaither

Come hang out in the principal's office with the hilarious and talented Daniele Gaither (MadTV), read up on your Mary Higgins Clark, and if you're lucky, you might even become a member of the elite club the Rumbling Knights.

Zandy Hartig

It's tough to beat New York City in the 1980's, as this week's guest Zandy Hartig (Childrens Hospital) proves with memories of museums, clubs, and a very special classroom. Plus: Sting!

Caitlin Gill

One of the Bay Area's shiniest stars, comedian and writer Caitlin Gill takes a break from her 7,000 Sketchfest appearances to hang out in Janet's hotel room and jaw about buffalos, Murphy Brown, and livin' tall in Episode 96, as we draw ever closer to the threat of Episode 100.

Maria Thayer

Walk into the light - or follow the smell of toast- for a morningtime chat with the splendid Maria Thayer (Eagleheart) about bee farms, how flunking art leads to art school, and the delight of watching garden things grow in Episode 95 ("95, Feel Alive!") of this podcast, also known as The JV Club.

Kathryn Borel

This week's guest, the incredibly bright and hilarious Kathryn Borel (Corked: A Memoir) does not need another copy of the children's book Eloise. Find out why, and while you're at it, learn about the random anarchy of the universe, the unexpected ways we connect to other humans, and of course (of course??), French clowns.

Amiira Behrendt

Jigsaw Puzzles! Eating the bread basket! Cutting your hair! Find out about all of these metaphorical meanings in this in-depth mind-meld with episode 93's guest Amiira Behrendt (It's Just a F*ing Date), fresh from teaching her "Oprah Life Class" with Ms. Winfrey herself!

Kimmy Gatewood

Put on your fluffiest cat tail and your Elizabethan collar for this episode with special guest pirate-princess-trombonist Kimmy Gatewood (The Apple Sisters), whose teenage Garth Halloween costume puts Dana Carvey to shame. To shame!

Annie Lapin

Just hear those sleigh bells jinglin', ring-ting tinglin' with guest Annie Lapin, whose paintings involve descriptions by others such as "obfuscating figuration through a remarkable language of painterly abstraction." You may still not know what that means by the end of this episode, but you WILL know how Annie ruined Christmas.

Danielle Koenig

Slip on your long prairie skirt and straw ribboned hat for Episode 90's chat with writer and comedian Danielle Koenig, who may or may not end up with a Goodfellas actor, an rare and endangered pet, and a fictional father figure from a beloved 80's sitcom.

Beth Littleford

For next week: It's a post-Thanksgiving feast of non-sequitors and tangents with the fantastic Beth Littleford (The Daily Show), with a parade of bad perms, bad boys, and good friends to save us from ourselves.

Hilda Rasula and Lorelei Butters

Episode 88's guests Hilda Rasula and Lorelei Butters join Janet to talk about the new Mortified Nation documentary, boys in black lipstick, the perfection of avocados, and storyboarding to make your dreams come true. Plus, Jeremy Irons? Really?

Arden Myrin

A M.A.S.H. game mind-meld gets this week's guest, the radiant Arden Myrin (Chelsea Lately) literally up on her feet with excitement in Episode 86, where it's all about breaking the plaid mold, embracing humiliation, and snow, snow, SNOW!

Kate Flannery

Jump into your station wagon and buckle up for a ramble through the mind of the fantastic Kate Flannery (The Office) as she and Janet discuss flight simulators, the luck o' the Irish, and the monumentally profound and dangerous influence of... the musical Annie.

Lennon Parham

It's a laser lightshow of joy with the delightful Lennon Parham (Accidentally on Purpose, BFFs) as she and Janet marching-band their way through memories of snare drums, choir, and late blooming. Oh, and Happy Halloween!

Starlee Kine

Two very special guests join Janet for this episode: the amazing Starlee Kine (This American Life), and her amazing dog, Oh Papa. Richard Nixon! Child Stardom! Gravity spoilers! Seriously, don't listen to this if you haven't seen Gravity yet but you want to. Otherwise, treat your ears to one of the coolest writers around, New York-style.

Edi Patterson

Hear her on The JV Club before she rises to the top of the arm-wrestling world! It's Edi Patterson (The Groundlings), who bonds with Janet over the appeal of the celluloid "horndog," pygmy unicorns, and being the good girl.

Chemda

Take a break from sneaking out to New York dance clubs long enough to enjoy the delightful Chemda (Keith and The Girl podcast) as she and Janet explore some VERY frank talk about teenage sex, the generation gap between emigrant parents and their kids, and what to do if you get a bump in your ponytail.

Christine Woods

Come for advice on the best music to clean a shower by, stay for the volleyball tips. Or just drop in for the occasional rave and Del Taco parking lot hang. It's Christine Woods (HBO's Hello Ladies) and her tiny dragon in Episode 81!

Kate Micucci

Trom-bone up on your knowledge of marching bands, polar bears, and Peter Panning your way into adulthood with the simply delightful Kate Micucci in Episode 80 of The JV Club. BYOP (Bring your own paintbrush)!

Gillian Vigman

The secrets to perfect skin-- or at least a mother who tells you that you don't have it-- are revealed in Episode 79 with the insanely funny Gillian Vigman (the Hangover trilogy) as she extolls the virtues of managing a football team, frequently being mistaken for a boy, and dating someone named "Spooge."

Lauren Ashley Bishop

Pull off those white gloves and get down and dirty with cotillionairess Lauren Ashley Bishop (#nitTWITS) while she and Janet discuss the butterfly feeling of "limerence," playing it safe (or boring?), and when real intimacy is created. If you're not making out with someone to the tearjerker Last of The Mohicans by the time you finish this episode, we haven't done our jobs.

Ursula Whittaker

What becomes of an eight year-old who masters the LA public transit system, is the subject of an angry petition at school, and has imperfect feet? Find out with the lovely Ursula Whittaker, who schools Janet on the secrets of parental forgiveness and marrying a charming and hilarious Cuban.

Jane Espenson

You'll want to laminate Episode 76 of The JV Club, thanks to the fantastic conversational stylings of Jane Espenson (Once, Buffy The Vampire Slayer), who spins yarns about such matters as historically significant dollhouses, disappointing french horns, and the decidedly unromantic quality of The Kentucky Fried Movie.

Sara Watkins

Episode 75's conversation  provides guest Sara Watkins with innumerable ideas for songs yet-to-be-composed, including tiny horses and boogie boards.

Jackie Kashian

Proud Wisconsinite and Dork Forest podcast creator Jackie Kashian joins Janet for a discussion about the families we love - even as they drive us nuts- to books, books, and more books, with a sprinkling of dogs, dorks, and death thrown in for good measure.

Autumn Reeser

Two special guests join Janet in Episode 73, but only one of them - the fantastic Autumn Reeser (Thrilling Adventure Hour, No Ordinary Family) actually speaks. Topics include summer camp, the perennial talent of speedy typing, and getting attacked by tiny fish. Plus: Janet admits the shocking truth: she's never been to Hawaii.

Etta Devine

From growing up as a lovably snobby kid nerd in Chico, CA to making award-winning indie movies, Etta Devine (The Selling) talks saints, science and sugar in episode 72 of the podcast, where coincidental references to both the "N" word and the "V" word occur.

Emma Bates

The podcasting machine is revved up and ready with episode 71's guest Emma Bates (Whedon's Much Ado About Nothing) for an in-depth look at love, loss, and the experiences that shape us... including living across the creek from someone named Catbird!

Laura Kightlinger

The talent of pleasing other people's parents (but not your own), the allure of knowing your neighbors, and the thrill of wearing a boy's class ring get their due in episode 70 of The JV Club, plus fantastic comedian, author, and guest Laura Kightlinger (The Minor Accomplishments of Jackie Woodman) plays a new game, courtesy of previous guest Lucy Davis!

Jessica Makinson

Two Arizona gals talk backyard wonderlands, card catalogs, and being a girl in boy-centric worlds in Episode 69 of the podcast, featuring Janet's dear friend and collaborator, Jessica Makinson (South Park). Includes a Junior Varsity advice segment!

Kristen Schaal

Janet and guest Kristen Schaal (Flight of the Conchords) put the "cyst" back in "sisterhood" with tales of OBGYN terror, Twin Peaks-themed shopping malls, and good boys, bad boys, and no boys at all. Want more? How about the non-revelation of how delicious cereal is?

Jolie Jenkins

Hold onto your hats and sew your glasses into your jacket pocket for this illuminating episode with writer and actress Jolie Jenkins (Body of Proof) as she and Janet delight in chagrin over misguided wardrobes, being a marching band groupie, and the powers and pitfalls of having motivational speaking in your immediate family. Bonus: Visit the JV Club Facebook page for Jolie's cookie recipe!

Clea Duvall

The perennially awesome Clea Duvall (Argo, Girl Interrupted) talks bullying, bands, and bringing back your best vintage tees in episode sixty six of the podcast; meanwhile, Janet tries to come off as cool as Clea... and fails (no surprise there!).

Sara Benincasa

Can baton twirling lead to a promising fencing hobby? Can a tree administer psychological advice? Will Michael Caine leave his wife Shakira for Episode 65's marvelous Sara Benincasa (Agorafabulous)? There are only two ways to find out: listen to the episode, or talk to someone who listens to the episode.  C'mon. Do the right thing.

Sara Benincasa

Can baton twirling lead to a promising fencing hobby? Can a tree administer psychological advice? Will Michael Caine leave his wife Shakira for Episode 65's marvelous Sara Benincasa (Agorafabulous)? There are only two ways to find out: listen to the episode, or talk to someone who listens to the episode.  C'mon. Do the right thing.

Christina Jasberg

Janet's high school friend and mental health advocate Christina Jasberg travels from Tucson to rug-it-up with an intimate discussion about the roles of family history, brain chemistry, environment, hormones, and Scooby Doo in the life of a person faced with extraordinary challenges, and how our society supports-- and doesn't support-- the mentally ill.

Sex Nerd Sandra

Synergy Alert! Firing on all cylinders (and then some), Janet and Episode 63 guest Sandra Daugherty (Sex Nerd Sandra) give each other brain orgasms with a deep dive into intimacy and honesty, long term teen romance, and roughly 5,000 other things at once.

Christy Stratton Mann

It's a little bit country, it's a little bit rock 'n roll... and it's everything you'd hope from an eager-to-please Texan with a dream to cheerlead (that word doesn't seem right without an "er" attached). Christy Stratton Mann (King of the Hill, Awkward) sets Janet straight about Donny, Marie, and so much more.

Non-Emergency Emergency Broadcast

A quick mea culpa about this week's episode with Christy Stratton Mann- and an update on a new episode coming out to replace it!

Casey Wilson

All quipping aside, Episode 61 with Casey Wilson (Happy Endings) is NOT sponsored... by anyone. But hey, It's all good. There's still plenty to chew on with topics like Girl Scouts, feminism, and the best and worst of Billy Joel.

Live from Bridgetown!

Janet is joined by returning guest Natasha Leggero and first-time JV "Club Foot" Karen Kilgariff in this live recording from Portland's terrifically fun Bridgetown Comedy Festival. Music! Hats! Eggs!

Mindy Sterling

It's sort of a conversation between Korra and Lin Beifong as Mindy Sterling (Austin Powers) joins Janet in Episode 59, and yes, they DO discuss The Legend of Korra. Other topics include the etiquette of neighbors and barking dogs, the renowned LA Groundlings, and the magnetic pull of a funny gentleman.

Susan Orlean

This week multiple literal and metaphorical doors are knocked on and opened when Susan Orlean (The Orchid Thief! The Bullfighter Checks Her Makeup! Many other amazing books and essays!) and special guest star, her son Austin, stop by to unsettle Scott the Dog. Plus, find out why Janet suggests Susan's nickname be "Puddin."

Lucy Davis

The world turns upside-down when guest Lucy Davis (original UK's The Office) shocks Janet with the news that in Britain, blankets are called rugs. More startling revelations, hearty laughs, and shameless mutual Emma Thompson idol-worship round out Episode 57!

Emily Gordon

Doughnuts, Cigarettes, and Hot Sauce, Oh My! It's Episode 56 with Emily Gordon (The Indoor Kids) chock-full of fond remembrances of first kisses, My So Called Life, and the once-pervasive Manic Panic hair dye, the use of which apparently makes you a communist. This week's bonus: Theories on how hot dogs got their name.

Constance Zimmer

Prompting the occasion for a friendly, folksy episode description, Janet's nearby neighbor Constance Zimmer drops by (with fresh-squeezed juice, no less) for a chat ranging from spiders to barbies to what seems like it might be a record-breakingly long game of M.A.S.H.

Lynn Chen

How do YOU pronounce the word "nougat?" Janet and guest Lynn Chen (The Actor's Diet blog) take a big bite out of the good, the bad, and the ugly sides of food. Also on the menu: when vanity bites you back, doorknocker earrings, and the savory churro of Taiwan.

Andrea Savage

Nudity, nudity, and more nudity. And some other stories that don't involve nude people in this episode of The JV Club with the delightful Andrea Savage (Stepbrothers), including anecdotes about farting and cologne. Yes, these two women are technically grown-ups.

Sarah Silverman

It's the first anniversary of the JV Club and what better way than to spend it with the one and only* Sarah Silverman? *Janet discovers that there is in fact more than one Sarah Silverman out there. But this is THAT Sarah Silverman.

Michaela Watkins

It's a campfire-worthy episode of The JV Club with guest Michaela Watkins (Wanderlust) as she and Janet settle in for an evening of conversation about ghosts, close encounters of the litter kind, and pursuing careers in the spiritual realm.

Carla Gallo

It's an embarrassment of riches... or maybe just an embarrassment of embarrassments in episode 50 (Wow! We made it to 50!) with ridiculously fun guest Carla Gallo (Bones) - complete with revealing stories about prom nights gone awry, blooming late, and... um... cat lockets.

Live at SF Sketchfest with Tig Notaro

In this second-ever live episode of The JV Club, first-ever returning guest Tig Notaro sits onstage with Janet at SF Sketchfest in San Francisco to discuss the events of her life since the last time they recorded together. What follows is a frank, intimate and emotional discussion... with a very liberal dose of laughter. (Special thanks to SFSF photographer Jakub Mosur!)

Lin Shaye

A far cry from the overly-tan, dog-frenching Magda of There's Something About Mary fame, actress Lin Shaye gives Janet a peek into her aptly-named girl gang The Coquettes, the challenge of a corkscrew ponytail, and what you can expect from a psychedelic wedding.

Erica Rhodes

Episode 47's guest Erica Rhodes gives Janet a peek into the cruel world adolescent ballet, the passionate poetry borne of a broken heart, and the balance between ambition and contentment. Plus, Janet geeks out over Erica's involvement with the delightful live radio show A Prairie Home Companion.

Paget Brewster

Take an evening walk down a quiet street or spend an afternoon riding your bike through the woods... or at least listen to Janet and guest Paget Brewster (Criminal Minds) revel in the magic of unstructured time spent alone in this episode, where Paget also proves herself to be the creator of a VERY important masterpiece.

Morgan Walsh

It's an episode filled with mystery as Janet and guest Morgan Walsh (Burning Love) shower praise on the magic of Portland, Oregon and then begin to wonder if they share a dad. Further intrigue abounds with talk of living a double life in high school and the puzzling appeal of the Salton Sea.