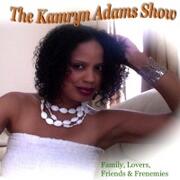 Don't Be Afraid of the Dark

There inevitably comes a time in life when darkness falls. In those times you need to use your internal light to navigate your way. There is not better strategy than dancing in the dark.

The Three Little Pigs and a Side Chick

Can a woman wreck your home? Not if it is strong enough to withstand the winds of life. But if she does, place blame where blame is due.

Side Chick Saturday

The Courage to Be Me

Everyone struggles with being who they are at different times in life. The problem is that "me" is an evolving person so it takes different levels of courage at different stages.

Remembering the Nervous Laughter

Kamryn Adams reflects on past relationship turmoil

I Love Me First

In order for me to love others I have to love ME first. Once I learned to love me, the rest was easy.

Work What You've Got

It's foolish to brood over an ability you don't have while wasting the ones that you do.

My 3 Wishes

"Peace on Earth" is cliche' but I can still wish for a better world, don't you?

Parenting: When You Have to Go There

Parenting requires God-inspired levels of patience, love, discipline and consistency. It is undoubtedly, one of the most rewarding and most difficult tasks given to us as human beings. Though we are always mindful of our parental controls...sometimes...at least once, you'll need to go THERE with you children.

Words: "You Can't Take That Back!"

I do a lot of good with my words, but I can be equally as damaging.It is imperative that we choose our words carefully before putting them in the air for others to hear. Many relationships suffer because of the words we choose.

PISST! Parents In Shameful Society Teach

Parenting in today's social media world is hard because our children have access to information. I'm PISST. Are you?

Love thy Frenemy

A frenemy is someone who hates that they like you so much. You need to keep it in perspective and understand how to show that person love.

Intro

A Tooth Fairy and a Post-Racial America

Santa Claus, the Tooth Fairy, the Boogie Man all share the same phantom reality as a Post-Racial America. Until you are old enough to know the truth it seems very real. Doesn't it?

Fix My Heart, Not my Car

Men and women have different love languages. Women SAY "I love you". Men DO "I love you. Sometimes you just have to appreciate the effort.

True Story: "My lips Drip With Honey"

Imagine being so sexy that your lips drip with honey and your worship is seductive. Yeah, I guess I was just that hot. True Story! Even so I chose to keep my relationship with Christ and end my relationship with Church Hurt.

"THE LIST"

Are the things you require in a mate Funny? Smart? Kind? Duh!!! Get something a little more concrete.

Who Can I love?

I love LOVE. So do you. But you better be careful. Love can sneak up on you. Who can I love? Can you love me?

Kissing Frogs: 5 Things You Should Know

The Princess and the Frog is a fairytale. Kissing frogs to find a prince is not the right strategy. How many frogs have you kissed? Do tell.

God Said What?

Everybody knows that dating is a "game" and nobody has more "G" than those folks talking about "GOD SAID". God said I'm your wife? Really? Do tell.

My 50 Shades Moment of Submission

Kamryn's Confession

How I began on Spreaker and why I use social media.