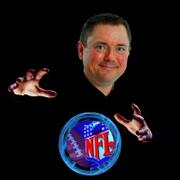 Toolbox Radio - Tuesday May 13 2014

The MagicMan is back, complete with a toolbox. The FFToolbox, that is. Join Micah James as he welcomes Sporting News' own Vinnie Iyer, talking about the 2014 NFL Draft and players you need to have on your radar as we get into the fantasy football season.

April 5, 2014 - Football Diehards

The Fantasy Football MagicMan is out from winter hibernation and talking fantasy football player movement with Mike Dempsey and Bob Harris from the Football Diehards show on satellite radio. Enjoy!

Week 20

And we're down to four...the Broncos host New England and San Francisco travel to face their rivals the Seahawks for the right to go to this year's Super Bowl. Dennis and Micah look back at the games last weekend and preview this Sunday's Championship games.

Week 19 - 2013 NFL Season - Playoff Talk

After a brief holiday hiatus, Dennis and Micah are back for the new Year bringing you an overview of the Wild Card games and previewing the weekends' Divisional matchups. Fantasy football discussion you'll hear nowhere else, and be sure to send Dennis your condolences - going 0 for 10 in championship matchups is a pain that takes some time to ease.

Week 16 - 2013 NFL Season

This is it - Championship Week! Welcome to Week 16 and we truly hope you have to make some lineup decisions this week! Dennis and Micah will get you set for your championship matchup, especially if you will be without Victor Cruz, Cecil Shorts or Jordan Cameron... Plus the final Primetime Pick'Em results - enjoy the show and we wish you the happiest holiday season and a Happy New Year!

Trick Plays - Week 15 - Dec 11 2013

It's winter and the snow was in full effect during the Week 14 games. Dennis and Micah recap the action, the injuries (sorry Rob Gronkowski owners) and get you prepared for Week 15 and your fantasy football playoffs! Which TE to pick up? We've got you covered. Which running backs to trust, which to leave on the bench...all that and our sleepers and Primetime Pick'Em in this jam-packed show!

Trick Plays - Week 14 - Dec 4 2013

As your fantasy football playoffs begin, or perhaps you are in the final week to qualify, Dennis and Micah get you ready for the final push to a championship. Your sure-fire, 100% guarantee for success? Do the exact opposite of whatever Micah says... Be sure to catch the Primetime Pick'Em wrinkle at the end of the episode too!

Week 13 - NFL Fantasy Football Preview

Happy Thanksgiving! Three Thursday games highlight the Week 13 slate - listen in as Micah and Dennis look at the players that will make a difference for your fantasy squad in the last regular season matchup... Sleeper calls (better than Aldrick Robinson) and Primetime Pick'Em round out this special holiday episode.

Week 12 Preview - 2013 NFL Season

Micah and Dennis try and make sense out of Gary Kubiak and break down the Denver/New England matchup, along with the week's injury recap, breakout players, and Week 12 sleeper calls you need to hear. Listener questions and Micah discovers sound effects...you won't want to miss it.

Trick Plays Week 11 - Nov 13 2013

Micah and Dennis discuss the surprises from Week 10 and try and explain why the Colts and 49ers are struggling to score. News, injuries and who you need to start for Week 11 are all on the table in this episode.

Week 10 - 2013 NFL Season

The latest edition of the Trick Plays fantasy football podcast will get you ready for all of your Week 10 matchups. Micah and Dennis discuss what Aaron Rodgers' injury means for his owners, whether the Eagles' offense is back, and more. Of course we also have your Week 10 sleepers and our choices for Primetime Pick'Em...thanks for listening!

Week 9 - 2013 NFL Season

Micah and Dennis recap Week 8 and talk about the challenges that fantasy owners face in Week 9, with so many potent offenses on Bye. Dennis basks in the sunlight of his Marvin Jones sleeper call, and follows it up with the next WR to score 4 TDs... Join us and get on track for a Week 9 win.

Week 8 - 2013 NFL Season

Dennis and Micah break down all of the important information you need to know for this critical Week 8. Between Bye weeks blues and injuries, lots of fantasy rosters are in tatters right now, and we cover what you need to know to secure a WIN this week. And of course, we recap those Sleeper calls and update the Primetime Pick'Em standings. (Micah still sucks.)

Week 7

Week 7 Sleeper calls, an in-depth fantasy breakdown of the Broncos/Colts game, and what Randall Cobb's broken leg means for your fantasy football team...all this and so much more on a Week 7 episode. Hope you enjoy it!

Week 6 - 2013 NFL Season

Welcome to the tens of thousands listening over the Armed Forces Radio Network as we stream across the globe...as for the show, Dennis gets behind the chalk in Sunday's Dallas/Washington NFC East showdown and Micah laments his terrible Week 5 showing in Primetime Pick'Em.

Week 5 - 2013 NFL Season

Micah James and Coach Dennis Esser break down all of the fantasy football information you need to know to set your lineups and crush your competition here in Week 5.

Episode 28 - Jamey Eisenberg

Jamey Eisenberg of CBS Sports joins me for a quick preview of Kickoff Week 1 from a fantasy football perspective.

Episode 27 - John Tuvey

John Tuvey (@jtuvey) from USA Today and The Huddle join me to share some of his best tips on managing your Fantasy Football roster once the season gets under way. It's a great show, hope you enjoy it

Episode 25 - Jules McLean

For this special 25th episode, I forgo the traditional silver and opt for fiery red as Jules McLean (@FFFInfo) from Fantasy Freakin' Football joins me to talk high-stakes fantasy football.

NFC SOUTH

My good friend Ladd Davies (@Ladd_Davies) sits down and helps me break down the NFC South from a fantasy football perspective.

AFC WEST

Brandon Lee (@HerFantasyFB) stops by to talk about all the key fantasy football information you need to know about the AFC West.

AFC EAST

Nick Raducanu (@FantasyTrade411) joins me in previewing the AFC East from a fantasy football point of view.

NFC NORTH

Sporting News Associate Editor Bill Bender (@BillBender92) joins me in this preview breaking down fantasy football prospects in the NFC North.

AFC SOUTH

Marcus Katkin (@MarcusKatkin) from BlindsideFootball.com joins me on this preview talking about the fantasy football info you need to know in the AFC South.

AFC NORTH

Pat James (@TFC_PatJames) from FantasyCouncil.com sits in with me and looks at the AFC North division. All the fantasy football info you need to know.

eagles Training Camp

NFC WEST

Adam Pfeifer (@APfeiferRS) from Rant Sports joins me to break down the NFC West. All the fantasy football info you need to know about this division, packed into less than 20 minutes. Blam.

Episode 24 - Greg Kellogg

Fantasy Hall of Famer Greg Kellogg (@komments) joins me on this episode talking about some of the best things he's learned over his 25+ years playing fantasy football.

Episode 23 - C.D. Carter

Denny Carter from 4for4.com, TheFakeFootball.com and Sportsjerks.net talks about his best-seller, How to Think Like a Fantasy Football Winner.