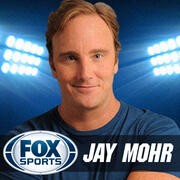 Yankees fired Alfonso Soriano

After designating Alfonso Soriano for assignment, the Yankees' roster problems are starting to pile up.

Prince Fielder and the Body issue

Prince Fielder on the cover of ESPN the Magazine's "Body" issue makes no sense.

NBA's Top 5 Unknown Free Agents

NBA's free agency is in full swing and everyone is speculating about LeBron and Carmelo, but here are 5 guys that can help your team that nobody is talking about.

Don't celebrate a loss

U.S. Men's National Team goalie Tim Howard should remember the team's win over Ghana, not the loss to Belgium.

Pacers are in love with Lance Stephenson

The Indiana Pacers are going out of their way to try and bring back Lance Stephenson, who isn't worth the effort.

76ers picks can't play

The Philadelphia 76ers need all sorts of help, but their GM is drafting players that won't be healthy for a year or two.

FIFA fines Suarez $3500 per tooth

FIFA hands down the punishment for Luis Suarez! A 9 game suspension and Jay Mohr sounds off.

We Lose, We Win

USA advanced in the World Cup despite losing to Germany, and nobody feels good about it.

Baseball is special

Baseball is unpredictable, and that is what makes it so exciting and special.

LeBron's new nickname

By getting two major U.S. cities to hate him in a matter of years, LeBron James has earned himself a new nickname.

Americans don't like ties

In the most-watched US soccer game of all time, America tied. This is why the country hates soccer.

Cavaliers' new coach

The Cavaliers need to hire a head coach that can lure LeBron James back to Cleveland, but instead they're trying to hire David Blatt.

Kershaw throws no-hitter

Clayton Kershaw's no-hitter on Wednesday night was just another display of his greatness, and another reason why sports fans should appreciate him.

LeBron is everywhere

Despite losing in the NBA Finals, all talk in the league seems to revolve around the Miami Heat and LeBron James.

Why isn't soccer popular in USA?

Trying to figure out why the sport of soccer is so big around the world, and with children, but not with American adults.

Stupid questions at the NBA Finals

Major sporting events always bring out the worst in the media, and the NBA Finals have been no different.

Clean the ice!

The Kings lost by an inch, and only because of a pile of snow on the ice at MSG.

Eli Manning Pop Quiz

On Jay Mohr Sports, Eli Manning takes a pop quiz to determine which Manning brother is the best Manning brother.

Derek Fisher gets paid

Derek Fisher didn't need any coaching experience to become one of the highest paid head coaches in the NBA.

It's an animal, not an athlete

According to Jay Mohr, horse racing is not a real sport and horses are not real athletes.

Gatorade was trolling LeBron

After LeBron James cramped up in Game 1 of the NBA Finals, Gatorade took to Twitter to troll the Powerade-sponsored Heat forward.

David Ortiz is still mad

After arguing with Rays pitcher David Price all week, David Ortiz is is still mad and now it's over Brandon Workman's suspension.

No one gives Spoelstra credit

Miami Heat head coach Erik Spoelstra deserves credit for keeping his team boring and drama-free while winning championships.

It's hard to watch the NHL

The NHL Playoffs have been incredible and the TV ratings have been great, which is impressive since the league's TV contract is terrible.

Sterling diagnosed with Alzheimer's Disease

It's a sad ending to the drama of Clippers owner Donald Sterling, as his doctors have diagnosed him with Alzheimer's Disease.

Sports are humbling

Sports has a funny way of making even the smartest people look like fools because it is so unpredictable.

Lance Stephenson gets worked by LeBron

Indiana Pacers guard Lance Stephenson had some choice words after his team lost Game 4 to the Miami Heat, and LeBron James had the perfect response.

Lazy media coverage of Cuban's comments

Instead of taking a deeper look at Mark Cuban's comments, the media is taking the lazy route and criticizing him for them.

Don't pose for pictures at the lottery

Winning the NBA Draft lottery is nothing to be proud of, so teams should stop celebrating so much when it happens.

Adrian Peterson responds to LeSean McCoy

Vikings RB Adrian Peterson tells Jay Mohr Spots what his immediate reaction was to LeSean McCoy's claims of being the best RB in the NFL.

Kevin Love wants out of Minnesota

Kevin Love's desire to stay with the Timberwolves changed as soon as they missed the playoffs. Might he be a Laker soon?

Kobe not asked about Lakers head coach

Why wouldn't Mike Kupchak, GM of the Lakers, want Kobe Bryant's opinion on the next Lakers head coach?

Mike Brown makes money being fired

By being bad at his job, Mike Brown makes more money than any of us. Maybe he's a genius.

Don Jones tweets about Michael Sam

Miami Dolphins Safety Don Jones took to twitter after Michael Sam was drafted and is now in trouble, but should he be?

Mike Richards understands Darryl Sutter

Jay Mohr tests Kings C Mike Richards with audio clips of Kings head coach Darryl Sutter to see if he can figure out what is being said.

Gortat sounds like a Bond villian

Washington Wizards C Marcin Gortat sounds like a Bond villain, so Jay tells you why Bond villains were so dumb.

What happened to Roy Hibbert?

Roy Hibbert was one of the league's best centers and is now struggling to contribute in any way to the Pacers.

Mark Jackon's future with Golden State

The Golden State Warriors owners are the only ones that want to replace Mark Jackson, which means it's the wrong decision.

Why is everyone bashing Manziel?

Johnny Manziel isn't getting nonstop coverage heading into the NFL Draft because he's a bad player.

The Sharks are still cursed

The San Jose Sharks are still cursed, but give the Los Angeles Kings credit for an amazing playoff comeback.

The Washington Wizards surprised us all

The Washington Wizards defeated the Chicago Bulls to get to the second round of the NBA Playoffs, which is crazy when you think of where they were when the season started.

The Clippers could have made history

The Clippers players missed an opportunity to make history, and a huge statement, when they decided to play on Sunday's playoff game against the Warriors.

Roy Hibbert shouldn't be this bad

It should be more difficult to go into a slump if you're a 7-foot tall NBA player, but Roy Hibbert could end up costing Frank Vogel his job as Pacers head coach.

Suzyn Waldman on Michael Pineda

Yankees radio announcer Suzyn Waldman has had a chance to re-think her position on Michael Pineda's ejection from Wednesday's game.

Nothing is better than the NHL Playoffs

One night into the NHL Playoffs, Jay Mohr is convinced that there's nothing better in sports than playoff hockey.

Yasiel Puig knows nothing

Dodgers outfielder Yasiel Puig knows better than to rat out a drug cartel.

Kliff Kingsbury Dating Game

Texas Tech head football coach Kliff Kingsbury joins Jay Mohr Sports to play a lightning fast round of The Dating Game.

Aldon Smith said "bomb"

Apparently, 49ers LB Aldon Smith did not get the memo regarding airport etiquette.

Yankees keep dirt in the dugout

Michael Pineda's claims that the substance on his hand was dirt, and Jay Mohr has some questions.

HGH should be legal in sports

Baseball is suffering with its stars on the sidelines due to injuries, so why not allow them to get back sooner by using HGH?

Fans running on the field

Fans should not be allowed to run onto the field at baseball games. At the very least, players should be allowed to attack those that do.

Duh, they're freshmen

John Calipari's go-to excuse for his Kentucky Wildcats has gotten very tired.

This is why Popovich is great

Spurs head coach Gregg Popovich was mic'd for last night's game against the Thunder, and we found out why he's such a great coach.

Deion Sanders backpedals

Deion Sanders is trying to walk back his comments about Johnny Manziel, which were wrong in the first place.

Tiger Woods is a robot

Tigers Woods is either a robot or a psychopath, or both!

Danica Patrick on doubters

Does Danica Patrick have to make the NASCAR's "Chase for the Cup" to quiet her doubters?

MLB's Opening Day (again)

MLB has deluded the magic of Opening Day by having it once in Australia, and twice in America.

What motivates Buzz Williams?

What brought Buzz Williams from Marquette to Virginia Tech?

NFL is king, just ask Mark Cuban

By talking about the NFL's future on the eve of the NBA Playoffs, Mavericks Owner Mark Cuban disproved his own point.

Bob Knight picks the wrong word

When talking about the "One and Done" rule for college athletes, Bob Knight used an unfortunate word to describe his feelings towards the NBA.

Pau's vertigo is no joke

Leave it to Lakers coach Mike D'Antoni to make jokes about Pau Gasol's terrifying vertigo.

Greg Gumbel has the wrong Miller

Greg Gumbel apparently thought he was getting a different Miller brother when interviewing Dayton head coach Archie.

Celebrities trading kids

Upon hearing the news that Mike Scioscia traded his own son for Wayne Gretzky's son, celebrities are now swapping children as if they're trading cards.

Cal Poly is Cinderella

In the NCAA Tournament, Cal Poly is a real Cinderella.... before the Fairy Godmother showed up.

CBS's Gregg Doyel sounds like Chrisopher Walken

Has anyone ever noticed that Gregg Doyel, CBS's college basketball expert, sounds like Christopher Walken?

Phil Jackson preaches teamwork

Phil Jackson won his first press conference with the Knicks, and put the ball in Carmelo Anthony's court, by preaching the value of teamwork instead of talented players.

SMU did not get snubbed

When SMU's Head Coach Larry Brown says that he team should have been in the NCAA Tournament, he's wrong.

Steve Smith is like Gallagher

It's not enough for ex-Panthers WR Steve Smith to play against his former team, he wants to make a spectacle of it.

Sproles' wife fires back at Saints

There's nothing better than when an athlete's wife goes off on social media, and Darren Sproles' wife took to Instagram to light up the Saints after her husband was traded to the Eagles.

Ryan Braun is an artist

Brewers OF Ryan Braun thinks he's an artist, but he's actually just a douchebag.

John Henry blasts Miami Marlins

The Miami Marlins probably shouldn't have called out the Red Sox, and Boston's owner made them look foolish for doing so.

How to keep fans off the field or court

Want to stop fans from running out onto the field or courtt Jay Mohr knows how to solve the issue.

Why would you take a pay cut

NFL contracts are a joke, and NFL players don't get the same rights as normal people in regular jobs.

Saban attempts to slow down tempo

Nick Saban's attempted justification of the proposed "pace of play" rule for college football is as ridiculous as the rule itself.

Blame Dan Gilbert not LeBron

It's not LeBron's fault that he left Cleveland, it's Dan Gilbert's fault for not building around James when he was there.

"Los Lakers" uniforms are ridiculous

Jay Mohr says the "Los Lakers" uniforms are unnecessary for a team located in Los Angeles.

Some QBs are going to be busts

Some of the highly-drafted QBs in this year's draft are going to be busts. Which teams are able to avoid those QBs will avoid a difficult future.

Quarterbacks are Very Important

Fans obsess over QBs for good reason. They're the most important players in the most popular sport.

Jameis shouldn't play baseball

Florida State's Jameis Winston wants to play both football and baseball, and Jay Mohr thinks that's nuts.

Felton's wife turns him in

While Knicks PG Raymond Felton was busy losing to the Mavericks, his wife was busy turning him in to the police.

It's Johnny Football!

The NFL Scouting Combine is all about measurables, and losing focus of players that have had success in college.

LT on the weirdest Combine activity

LaDainian Tomlinson tells Jay Mohr Sports about the weirdest part of his experience at the NFL Combine.

Mohrrior Minute: Zombie Dwight Howard

He may have moved on to basketball heaven in Houston, but Jay Mohr wants to know how good a zombie Dwight Howard would be against the Lakers.

Mohrrior Minute: Manziel as Most Controversial?

NFL teams that are worrying about whether or not Johnny Manziel is "controversial" are going to miss out on a great QB.

Mohrrior Minute: Screwing Up College Football

A committee is threatening to ruin the competitive balance of college football with a proposed rule change.

Mohrrior Minute: Dolphins Couldn't Handle a Gay Athlete

As the Incognito/Martin situation gets even messier in Miami, Jay Mohr says you can bet the Dolphins won't be drafting Michael Sam.

Mohrrior Minute: LeBron on the Mount Rushmore of NBA

LeBron James says that he's one of the four best NBA players of all time. Is he delusional?

Mohrrior Minute: Cleveland Deserves Better

After using public funding to build the Browns a stadium, Jay Mohr says that the Cleveland fans deserve a competitive team.

Mohrrior Minute: Michael Sam's "Baggage"

Jay Mohr compares Michael Sam's "baggage" to the off-the-field issues of some recent NFL draft picks.

Mohrrior Minute: Russia's Epic Olympic Failure

How is it that Russia planned so poorly for the Winter Olympics in Sochi? Jay Mohr is wondering exactly that.

Mohrrior Minute: Sochi is a Disaster

Jay Mohr doesn't care about the Olympic events, but he can't stop following how Russia is mishandling the games.

Mohrrior Minute: Gasol Should Retire

After being the subject of trade rumors for years, Pau Gasol should retire from basketball rather than play another minute for the Lakers.

Mohrrior Minute: College Basketball is on

Sports never stops, and now that the football season is over, it is time to turn our attention towards a great college basketball season.

Mohrrior Minute: Seattle, I Was Wrong

Jay Mohr apologizes to the Seattle Seahawks for doubting them, and says that their performance on Sunday was the best he's ever seen in a championship game.

Mohrrior Minute: We Will Be Okay

Jay Mohr reminds everyone that they will be safe, and not to let the media scare them this weekend.

Mohrrior Minute: Peyton Manning's Ducks

Peyton Manning and Richard Sherman go back and forth over Peyton's arm strength, and Jay comes up with an idea for a touchdown dance.

Mohrrior Minute: Peyton's Legacy is Not a Story

Jay Mohr says that arguing about Peyton Manning's legacy is not story, it's not news, it's crazy.

Mohrrior Minute: Appreciate a Great Matchup

A legendary QB is going up against one of the best secondaries ever on Sunday, and NFL fans should be thankful.

Mohrrior Minute: Will Peyton Retire?

Jay Mohr doesn't think Peyton Manning would retire if he won this year's Super Bowl, but Jay would if it were him.

Mohrrior Minute: Richard Sherman is not a 'thug'

Jay Mohr says that anyone calling Seahawks CB Richard Sherman a "thug" is wrong.

Mohrrior Minute: Double Standards

Jay Mohr is tired of the double-standard that allows some sports figures to get away with being crazy and some to be criticized for it.

Mohrrior Minute: Don't Apologize, Richard Sherman!

Jay Mohr says that, instead of apologizing, Seahawks CB Richard Sherman should have played the villain role in the Super Bowl.

Mohrrior Minute: Kershaw Deserves His Payday

Clayton Kershaw's new deal may seem expensive now, but Jay Mohr thinks it could be a great value in five years.

Mohrrior Minute: RBI Baseball is Back!

Nintendo is reviving the RBI Baseball franchise and Jay Mohr couldn't be more excited about it.

Mohrrior Minute: Cubs Need More Than A Mascot

The Cubs finished in last place in the NL Center last year, and to fix it they've added.....a mascot!

Mohrrior Minute: Bill Belichick is Amazing

Mohrrior Minute: Bill Belichick is Amazing

Mohrrior Minute: Charlie Strong on dealing with the media

Mohrrior Minute: Charlie Strong on dealing with the media

Mohrrior Minute: Give Jay a vote!

Mohrrior Minute: Give Jay a vote!

Mohrrior Minute: Pete Rose is not getting into the Hall of Fame

Mohrrior Minute: Pete Rose is not getting into the Hall of Fame

Mohrrior Minute: You're just a donor, Red!

Jay Mohr wants to remind billionaire Red McCombs that his donations to the University of Texas do not mean he gets to pick the head coach.

Mohrrior Minute: Philip Rivers is Pumped Up

Jay Mohr loves Chargers QB Philip Rivers because he sounds like a WWE superstar.

Mohrrior Minute: A Good Knight

Jay Mohr reacts to Oklahoma QB Trevor Knight, who carried his team to a Sugar Bowl upset win over Alabama.

Mohrrior Minute: Crazy O'Leary

Jay Mohr says that Central Florida football coach George O'Leary is a crazy old man, or a stand-up comedian.

Mohrrior Minute: Jay Thanks the Mohrriors

After a year on the air, Jay Mohr takes a minute to thank the fans of Jay Mohr Sports.

Mohrrior Minute: Celebrating Too Many Bowl Games

According to Jay Mohr, far too many college football teams are being rewarded for mediocrity.

Mohrrior Minute: Lions Should Be Winning

The Detroit Lions are loaded with talent but could miss the playoffs, which Jay Mohr says should cost head coach Jim Schwartz his job.

Mohrrior Minute: Blame the Defense, Not Romo

Jay Mohr says that the last two Cowboys losses are the fault of the Dallas defense, not Dallas' quarterback.

Mohrrior Minute: Cutler is Better Than McCown

Stop the nonsense! The Bears are making the right move by giving Jay Cutler back his starting job.

Mohrrior Minute: Jeff Vandy Gundy is Mr. Burns

The New York Post gets Jeff Van Gundy a night off, and Jay thinks he looks like Mr. Burns from The Simpsons.

Mohrrior Minute: Sports is Better Than Reality TV

Jay Mohr explains why he loves sports, and why it is more entertaining than reality TV.