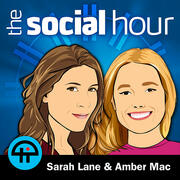 TSH 158: Stageit Founder/CEO Evan Lowenstein

Amber & Sarah chat with Stageit's Evan Lowenstein on connecting artists and fans, Twitter's new ad strategy, US Airways' major major tweet fail, is Runkeeper's Breeze app Rad or Fad? And more!

TSH 157: Gigaom's Mathew Ingram, Heartbleed Woes, Dropbox's Carousel

Sarah and guest host Shannon Morse chat with Gigaom's Mathew Ingram on Facebook's anonymity changes, Heartbleed privacy issues, & Twitter's new profile design, plus Dropbox's Carousel app, & is social privacy training rad, or a fad?

TSH 156: Will Weinrub, LiveNinja

Amber & Sarah chat with LiveNinja's Will Weinrub on the future of live video chats, Google+ makes view counts public, OkCupid's stance on the Firefox browser leads Mozilla CEO to step down, search Twitter via date range, social media jobs at HootSuite University, the rise of Upworthy, & more!

TSH 155: Mark Cuban and Cyber Dust

Amber & Sarah chat with Mark Cuban about his new app Cyber Dust, the future of privacy and ephemeral messaging, Twitter's new photo tagging features, a tool to count your "fake" followers, & more!

TSH 154: Sarah Hill, Interviewly, Cloak app

Amber & Sarah interivew Veterans United's Sarah Hill about the power of Google+, Facebook's DeepFace tool, Cloak is the anti-social app, Interviewly for Reddit AMAs, the potential of Coin, & more!

TSH 153: Whisper, Steller.co, Tynker

Amber & Sarah chat about social norms in Russia, Nikon's new video series, Whisper for anonymous venting, steller.co builds visual stories, Tynker helps kids code, & more!

TSH 152: Findery, Trippy, HUVr

Amber & Sarah chat about Flipboard's Zite buy, Foursquare's revenue growth, Trippy for travel, Findery for social location tips, Getty goes free, & more!

TSH 151: Pheme, Crowdpilot, HLN Goes Social

Amber & Sarah on why Canadians are so Facebook-crazy, how social media defines beauty, detecting Twitter "lies", Venmo payments go location-based, Crowdpilot.me for conversations, & more!

TSH 150: WhatsApp, Yahoo's Siri, Pinterest Stars

Amber & Sarah chat about Facebook's WhatsApp buy, realtime stories from Ukraine, live-tweeting heart surgery, LinkedIn opens influencer blogs to all, Yahoo's "Siri" project, GrubHub Seamless IPO coming, & more!

TSH 149: Secret Hoaxes, Attending.io, BloKO

Amber & Sarah chat small biz social marketing, Facebook narcissism, hoax mania on Secret, events with attending.io, Virgin America's new social network, & more!

TSH 148: Facebook's Look Back, Secret app, ProFlowers

Amber & Sarah on the pros and cons of a Facebook Look Back, the Secret app is an anonymous nightmare, ProFlowers app helps you send quick gifts, the big business of fake social clicks, & more!

TSH 147: Rocketrip, Facebook's Paper, Staance

Amber & Sarah chat about Twitter and CNN's partnership, Facebook's news app Paper, Staance for social "stances", Pinterest GIF use, & more!

TSH 146: Pinterest Recipes, Facebook Infections, Desktop Snapchat

Amber & Sarah chat about Pinterest's new search engine for recipes, if Facebook is doomed to lose 80% of its users, Flying app for flight travel enthusiasts, Snapchat sending via Mac app, & more!

TSH 145: MyCoop, Quit Your Job, YouTube Comment Overhaul

Amber & Sarah chat about Tumblr people tagging, the Snapchat "privacy phenomenon", Tuxedo Kittie, a social network for apartment dwellers, the Quit Your Job app, & more!

TSH 144: HipChat, Hisy for #selfies, Jelly!

Amber & Sarah chat about Jelly for crowdsourced answers, HipChat for team communication, Hisy for remote selfies, Google's ferry, Confide for secret correspondence, & more!

TSH 143: Tracking Snow Plows, Sharks, and Social Weather!

Amber & Sarah talk about tracking snow plows in NYC, why social media marketers need to follow the weather, and sharks on Twitter!

TSH 142: 2013 Social Year in Review

Amber & Sarah run down their favorite stories, trends, services, hoaxes, and general social greatness of 2013!

TSH 141: "Hatching Twitter" Author Nick Bilton

Amber & Sarah chat with "Hatching Twitter' author Nick Bilton, autoplay ads are coming to Facebook, Exposure is a beautifully visual blogging tool, crowdsourcing the news with Storyful, Lil BUB yule log, & more!

TSH 140: The Social Hour 140

Amber & Sarah's thoughts on Twitter's blocking backtrack, YouTube's biggest vids of the year, WestJet's Christmas miracle, Leo app is the new Snapchat, & more!

TSH 139: Gary Vaynerchuk Jab Jab Jabs!

Amber & Sarah chat with social expert Gary Vaynerchuk about Twitter faux pas, smart/easy marketing, & his new book, Pinterest wins on Cyber Monday, LastPass for password security, Apple buys Topsy, and more!

TSH 138: Pinterest travels, Snapchat passes Facebook, Windows gets Instagram

Amber & Sarah discuss Pinterest getting into the travel game, Snapchat passes Facebook in photo snaps?, Windows phones get Instagram, Jean-Claude Van Dam impersonated, and more!

TSH 137: BAT KID! Snapchat's offer, Toymail

Amber & Sarah watch Bat Kid save Gotham city, Toymail for parents and kids, Pinterest's new API, Quad app for college kids, tips for better YouTube thumbnails, & more!

TSH 136: Twitter IPO! Context photo text app! Doge!

Amber & Sarah chat about what Twitter's IPO means for the future, YouTube's new Google+ commenting system, Facebook's new Like buttons, Context photo app is the new Snapchat, Sunrise calendar is socially superior, & more!

TSH 135: Facebook loses teens, PiP for pets, FrontBack, Pinstamatic

Amber & Sarah chat about Facebook's teen exodus, PiP is facial recognition for lost pets, Pinstamatic opens up Pinterest to everything, FrontBack is creatively odd, Twitter's new timeline, & more!

TSH 134: LinkedIn Intro, Vine Time Travel, About.me Collections

Amber & Sarah chat about Twitter's teen popularity, the decline of Wikipedia, Medium opening to all, About.me Collections, LinkedIn "Intro", & more!

TSH 133: Twitter's DM turmoil, Patreon, FriendFlop

Sarah & guest host Iyaz Akhtar chat about Twitter's new DM strategy, why Facebook trumps all other networks in referral traffic, Path's layoffs, the iKettle, & more!

TSH 132: Alexis Ohanian, Author

Amber & Sarah chat with TSH favorite Alexis Ohanian about his new book, social don'ts, & spirit animals, Instagram forces video autoplay, superhero social scores, SCR Screen Recorder for Android, & more!

TSH 131: Twitter's IPO, Snapchat Stories, Pinloadr

Amber & Sarah weigh the pros and cons of Twitter's IPO, get ready for Instagram ads, Pinloadr makes bath pinning a snap, Snapchat launched "Stories", Cover app helps you pay your restaurant bill, & more!

TSH 130: TWiL's Denise Howell, Facebook Edting, #Hashtags

Amber & Sarah chat with This Week in Law host Denise Howell about the legal side of social, big week for Twitter spats, the insanity of hashtags, & more!

TSH 129: Pinterest ads, Cinch, Contactive

Amber & Sarah chat about the future of ads on Pinterest, social anger, Tim Cook joins Twitter, Contactive for Android, Cinch for expert advice, & more!