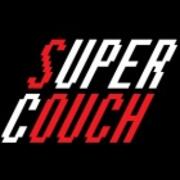 Episode 7- Gamescom and Batfleck!

Properly numbered this week, Daniel and Logan are joined by Paul and Topher to discuss the big PS4 news coming out of Gamescom, the upcoming Cataclysm in the Ultimate Marvel universe, give a brief ranking of this summer's biggest movies, and spend some time on the blockbuster casting news regarding the follow-up to Man of Steel!

Episode 6 - Not Episode 7

Logan and Daniel are joined by Paul on this super late episode of the Super Couch Show. Daniel's tired, Paul's drunk, and Logan doesn't care. Aside from the constant faulty enumerating of the podcast, the crew discuss a fairly wide variety of movies and video games, a few comic books, a new listener poll question, and introduce a new element- the cinema theme of the month.

Episode 5- Wolverine and Giant Robots

While a mic-less Paul texts in, Daniel and Logan discuss the summer lull in video games and compare notes on recent movies including The Purge, The Lone Ranger, Pacific Rim, and The Wolverine.

Episode 4- Post-E3 Podcast of Steel

After a week hiatus, Daniel and Logan discuss more of what was shown at E3 and the fallout, then are joined by Topher to discuss the previous weekend's box office and share their thoughts on Man of Steel.

Episode 3- E3!

Daniel and Logan are joined by Topher, Paul, and Nick to discuss the bombshell announcements, stunning reveals, and tremendous fallout from the various E3 press conferences, as well as their preferred pizza chain. This episode has some slight sound issues, but none nearly as bad as those suffered by most of the day's E3 conferences.

Episode 2- E3 on the Horizon!

Topher joins Daniel and Logan this week for a rundown of what we expect and are looking forward to from E3 on Monday!

Episode 1- We are Super Couch

Daniel Drach and Logan Witt bring you their take on video games, movies, comic books, and more in this weekly podcast series.